Can I import music from Spotify to GarageBand for editing and making ringtone? When you ask the same question in the Spotify community, you will get a disappointing answer. As we all know, GarageBand only works well on iTunes. You need to purchase and download the same song in the Spotify playlist from iTunes store and then download it to GarageBand for editing.
In this case, is there any solution to add Spotify Music to GarageBand without using iTunes? The answer is positive! Here, we will introduce an alternative way to put Spotify Music on GarageBand so that it's possible to play and record Spotify Music through GarageBand without a problem.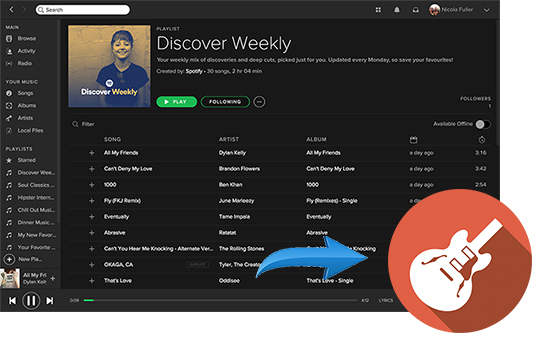 Part 1. How to Import Music from Spotify to GarageBand - Tool Required
In reality, if you want to make Spotify Music available in GarageBand, the extremely important task is to remove Spotify protection restrictions and then convert Spotify Music as audio tracks that can be recognized by GarageBand. Here, the best Spotify to GarageBand converter - AudFree Spotify Music Converter is exactly the Spotify solution you desperately need.
As its name suggests, it is dedicated to downloading and converting Spotify Music to MP3, WAV, AAC and other GarageBand-supported formats for easy use. What's more, whether you are Spotify free or Premium users, it can download Spotify tracks at 5X speed to suit your needs, in consequence, you have the privilege to add Spotify Music to GarageBand for free.
How to Convert Spotify Music to GarageBand Compatible Audios
Now, let's see how to use AudFree Spotify Music Converter to download Spotify Music for GarageBand with high quality kept.
Step 1

Import Protected Spotify Music to AudFree SpoDable

Double click to launch AudFree SpoDable and the Spotify app will start automatically. Then you can drag and drop the Spotify songs into the conversion window of this converter directly. Alternatively, you can copy and paste the URL of Spotify Music in the search box at the top, then click the "+" button to add audio files.
Step 2

Customize Output Settings for GarageBand

Click the top menu and click the Preferences > Convert button to open the settings window. Then choose one of the audio formats supported by GarageBand, such as MP3 or WAV as the output format of Spotify Music. Also, you can customize the output bit rate, sample rate, audio codec, channel, etc. as you like.
Step 3

Download Spotify Songs for GarageBand

Now, please click the "Convert" button at the bottom right corner to start the conversion process. It will start downloading and converting Spotify songs for GarageBand to the audio format you set before. Once it's done, navigate to the target folder on your computer and thus it's able to get music from Spotify to GarageBand without any restrictions.
Part 2. How to Put Spotify Music on GarageBand for Mac/iPhone
Congratulations! Spotify Music is saved as GarageBand supported audio formats on your computer. Now, you can put a song from Spotify into GarageBand on Mac or iPhone. Let's check out the detailed guide on how to do it.
How to Export Spotify Song to GarageBand on Mac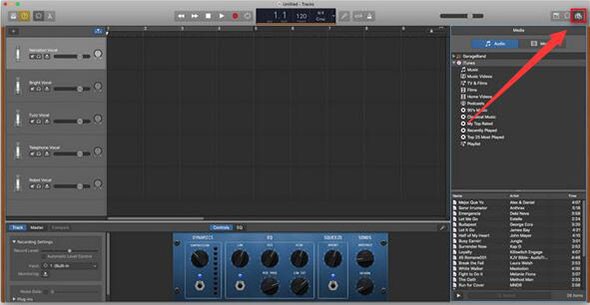 Step 1. Transfer the converted Spotify songs to iTunes library. Then open GarageBand for Mac on your MacOS computer.
Step 2. Launch "Media Browser" and select Spotify songs from iTunes. And then, you can add them to the timeline in GarageBand.
Step 3. Now, you can edit Spotify Music on GarageBand. In turn, it's able to add audio effects or just create a ringtone for your mobile device.
How to Import Songs from Spotify to GarageBand on iPhone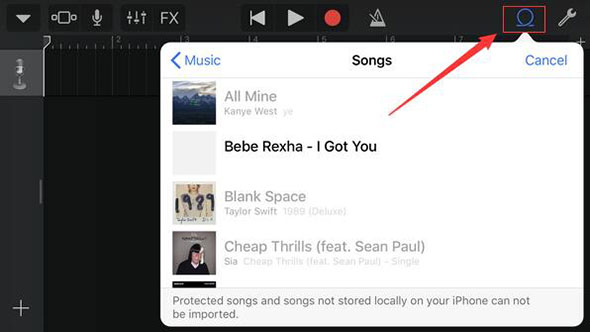 Step 1. Sign in to your iTunes account on your iPhone, then you need to launch GarageBand on your iOS device. Please check again if the "iCloud Music Library" option is turned on.
Step 2. Click on "Track View" > "Loop Browser" > "Music" option. It will automatically detect converted Spotify songs that can be imported into GarageBand. Just Select the favorite songs to get music from Spotify to GarageBand.
Part 3. How to Make Spotify Music as iPhone Ringtone in GarageBand
As a matter of fact, more and more users would like to create a special ringtone with Spotify Music. To meet this demand, so here, we will take iPhone as an example and guide you to edit and record Spotify songs on GarageBand to create a ringtone.

Step 1. Click the 'Audio Recorder' button on GarageBand for iOS. It will show up a new window, in which please click the 'Track' > 'Audio' icon. It will be turned into an interface that indicates the audio tracks you are adding. Now, please click the 'Metronome' button to close the metronome.
Step 2. Touch the 'Loop Browser' icon, it will show the audio files stored on your iPhone. Click 'Music' > 'Songs' option to locate converted Spotify Music files. Once found, just drag and drop the target track to this window.
Step 3. Tap the 'Play' button to play Spotify Music. Click the 'drop-down' icon and choose 'My Songs' to save playing Spotify audios to iPhone. Please be well noted that you can only create audio as a ringtone within 40 seconds.
Step 4. To set Spotify Music as a ringtone, please select the Spotify audio track and click the 'Share' button. It will pop up a window for you to save Spotify Music as 'Song', 'Ringtone', or 'Project'. You need to select the 'Ringtone' button and then Spotify Music will be your iPhone ringtone.
Tips: Besides, you can also use iTunes to make Spotify Music a ringtone. As for the tutorial, please refer to this source page: How to Make Spotify Music as iPhone Ringtone.
Part 4. How to Put GarageBand Songs on Spotify
Now that you've learned how to put Spotify songs into GarageBand, by the same token, do you have any ideas for uploading GarageBand to Spotify? If not, please read on for more details.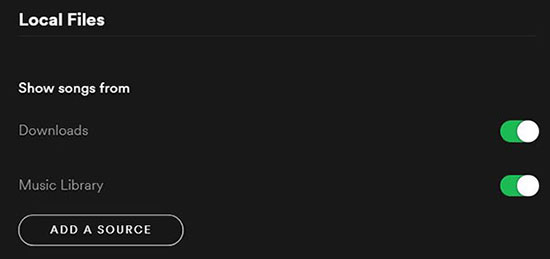 Step 1. Launch the GarageBand program on your device and export your GarageBand project as your local file.
Step 2. Go to the Spotify app, tap the Profile icon and select the "Settings" option.
Step 3. Touch "Local Files" and select the "Show Local Files" option. Click on "Add Source" and select the folder containing your GarageBand project.
Step 4. Now you've put GarageBand songs on Spotify. Restart the Spotify app and click on "Your Library" at the top left to listen to your uploaded music on Spotify.
Part 5. FAQs about Spotify to GarageBand
Q: What's GarageBand?
A: GarageBand is a professional digital audio workstation with excellent features. It covers audio recording, virtual software instruments, guitar features, MIDI editing, and more for MacOS and iOS devices. In addition, GarageBand offers the ability to create enjoyable multiple-track music and podcasts with pre-made audio loops and make exclusive ringtones.
Q: What Input Audio Formats Does GarageBand Support?
A: GarageBand is compatible with a wide variety of unprotected audio files, including iTunes unprotected music. In general, GarageBand supports MP3, AAC, Apple Lossless, M4R, WAV, CAF, and AIFF.
Q: How to Put a Song in GarageBand?
A: Click Finder in the Mac Dock, find the song file you want to import, click and drag the file to an existing track or a new track in GarageBand. Remember, the music file must be in a format supported by GarageBand as mentioned above.
Q: Can You Import Songs from Spotify to GarageBand?
A: Sorry to say that GarageBand isn't compatible with the Spotify app. From the discussion above, we know that GarageBand supports types of audio files, but Spotify songs are encoded in Vorbis Ogg format, which is not in this list of formats. So, this is the key reason why you can't import a song from Spotify into GarageBand directly.
Fortunately, the AudFree Spotify Music Converter mentioned here is specially designed to convert Spotify to MP3, AAC, WAV which are GarageBand compatible formats, as a result, you are free to import music from Spotify to GarageBand effortlessly.
Part 6. In Conclusion
Obviously, with AudFree Spotify Music Converter, GarageBand Spotify turns into a bright reality, thus making it extremely simple to import music from Spotify to GarageBand. By the way, if you have any issue when putting Spotify Music on GarageBand, please leave a message in the comment area. We'll get back to you as soon as possible to get them sorted out.