Waking up in the morning can be a daunting task for many of us. However, the right music can make all the difference. That's where Spotify comes in. With its vast library of music, it's no wonder that more and more people are turning to Spotify to help them start their day on the right note. In fact, there are now several alarm clock apps that allow you to use Spotify songs as your alarm. In this article, we will take a look at the top 5 best Spotify alarm clock apps available on the market today.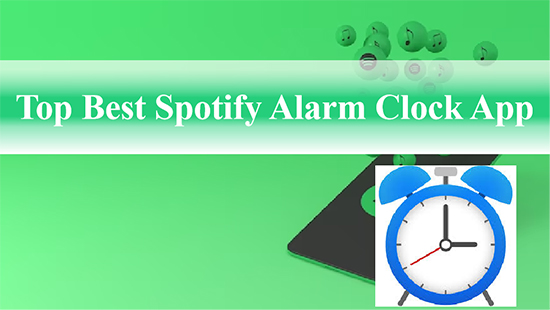 Part 1. Top 5 Best Spotify Alarm Clock Apps
For music lovers, alarm clock app that works with Spotify is a great option to wake up to their favorite songs. These apps can play Spotify playlists or songs as the alarm tone. Now, these are some of the best Spotify alarm apps available for Android and iOS devices. You can choose the one that suits your needs and preferences the best.
⏰ # 1. Spolarm
Spolarm is a mobile app that helps you start your day with your favorite music. With Spolarm, you can set your alarm to play any song, playlist, or podcast from Spotify. One of the best features is that it gradually increases the volume of your music over a period of time, so you wake up gently and naturally. The app also has a snooze feature that allows users to snooze the alarm for a few minutes.
It has a simple user interface and is easy to use. Simply download it from the Google Play and connect it to your Spotify account. Then, set your alarm time and choose the music or podcast you want to wake up to. You can even choose a different song for each day of the week. You can also choose to have the app display the weather forecast for your location when you wake up.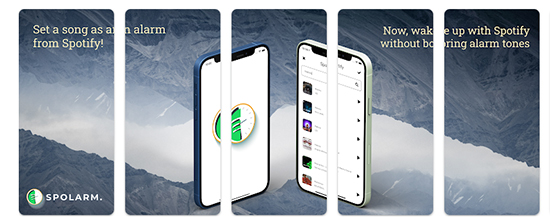 👍 Pros:
Easy to use
Allow you to set multiple alarms
Let you choose from different alarm sounds
👎 Cons:
Limited customization options
Only available for Android devices
⏰ # 2. Mornify
Mornify is an alarm clock app for Spotify designed to help you wake up feeling energized and motivated every morning. The app integrates with your Spotify account to create customized wake-up playlists that are tailored to your preferences and mood. With Mornify, you can say goodbye to the annoying and jarring sound of traditional alarm clocks.
Instead, you can wake up to your favorite songs or playlists, which can help you feel more alert and ready to start your day. The app is easy to use and allows you to choose from a variety of pre-made playlists or create your own. You can also set the app to gradually increase the volume of the music, so you don't wake up with a start.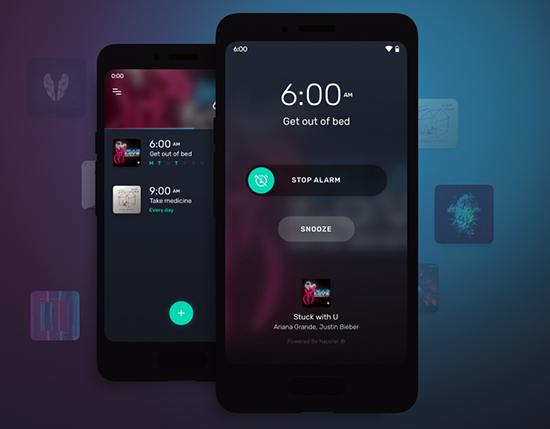 👍 Pros:
Allow you to create custom playlists for your Spotify alarms
Have a snooze feature
Available for both iOS and Android devices
👎 Cons:
Can be buggy at times
⏰ # 3. Morning™
Morning™ Alarm Clock & Music offers a variety of features to customize the wake-up experience, including a selection of soothing alarm sounds and the ability to choose a favorite song from the Spotify music library. It also provides the ability to set multiple alarms for different days of the week, a sleep timer function that allows users to fall asleep listening to soothing sounds or music, and a customizable clock display with a variety of themes and color options.
One key feature is its gradual wake-up function. Instead of jolting users awake with a loud, abrupt alarm sound, the app gradually increases the volume of the selected alarm sound over a period of several minutes. The alarm clock app with Spotify also offers a snooze feature that allows users to set a specific snooze time and customize the length of time between snoozes.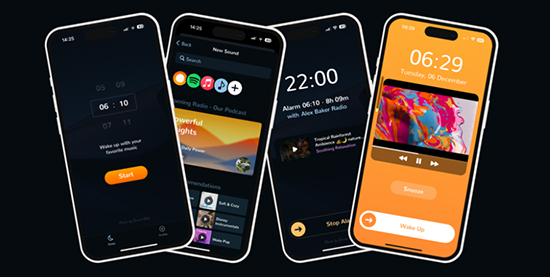 👍 Pros:
Have a sleek and simple design
Choose preferred Spotify music or nature sounds to wake up to
Offer a snooze option for those who need a few extra minutes of rest
👎 Cons:
The app is only available for iOS devices
Can be expensive compared to traditional alarm clocks
⏰ # 4. Google Clock
Google Clock is a mobile app developed by Google that serves as an alarm clock, timer, and stopwatch. It comes pre-installed on many Android devices and can also be downloaded from the Google Play Store. One of the standout features of Google Clock is its integration with Spotify. Users can set their favorite Spotify song or playlist as their alarm tone, allowing them to wake up to the music they love.
Users can set multiple alarms and customize them with different tones and labels. The app also includes a timer and stopwatch, which can come in handy for a variety of tasks. It also offers a "Bedtime" feature that helps users establish a consistent sleep schedule by reminding them when it's time to wind down for the night.
See More: How to Connect Spotify to Google Clock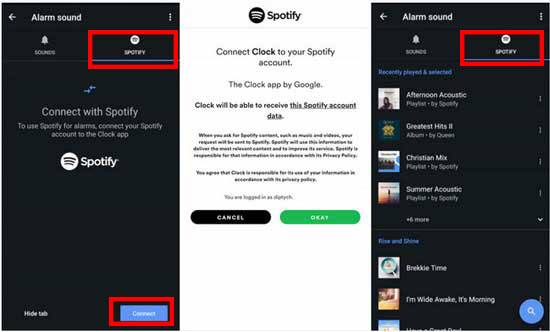 👍 Pros:
Easy to use
Offer a variety of alarm tones and sounds to choose from.
Have a built-in timer and stopwatch.
Can integrate with Google Assistant and other Google services.
👎 Cons:
Doesn't have advanced features like sleep tracking or smart alarms.
Doesn't have a built-in way to backup or export your alarms.
⏰ # 5. Kello Alarm Clock
Kello Alarm Clock is a revolutionary new product that combines the functionality of a traditional alarm clock with the convenience of modern technology. With Kello, you can wake up to your favorite tunes from Spotify, and even use it to help you fall asleep at night.
In addition to its alarm clock functionality, Kello also serves as a powerful sleep aid. The device includes a variety of features designed to help you relax and fall asleep more easily, such as a white noise generator, guided meditation exercises, and even a breathing coach.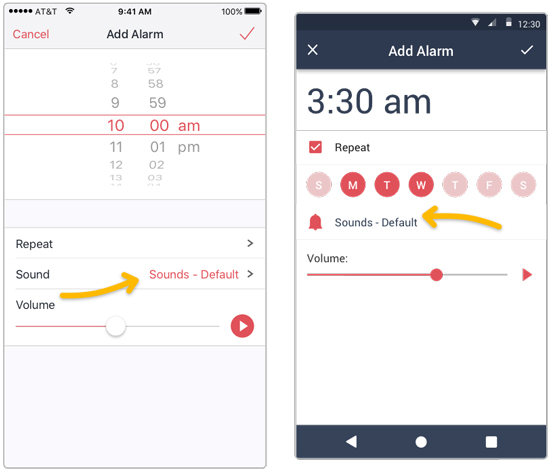 👍 Pros:
Easy to use interface
Sleep tracking feature
Integration with other smart home devices
👎 Cons:
Some features require a subscription
Some users have reported bugs and glitches
App may drain battery life if left running overnight
Part 2. How to Connect Spotify to Any Clock App
If your preferred alarm clock app does not support Spotify, don't worry! You can still use your Spotify playlists as your alarm by using a third-party tool like AudFree Spotify Music Converter. This software allows you to download and convert Spotify songs to MP3, FLAC, WAV, AAC, and others, then you can use Spotify music as alarm sounds on any clock app.
The tool preserves the original quality of the Spotify songs and supports batch conversion. It also comes with a built-in editor that allows you to customize the output settings according to your preferences. You can adjust the bitrate, sample rate, and other parameters to get the best possible Spotify audio output. With its user-friendly interface and advanced features, it is an ideal solution for anyone who wants to enjoy Spotify songs on their favorite clock app.
AudFree Spotify Music Converter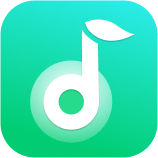 Download all Spotify music with 100% lossless quality for clock app
Convert Spotify to MP3, FLAC, WAV and other popular formats
Keep the original quality of Spotify alarms intact
Modify channel, sample rate, bit rate, etc.
How to Connect Spotify to Clock App without Limits
Step 1

Add Spotify Songs to AudFree SpoDable

Launch AudFree Spotify Music Converter and select the song or playlist you want to set as an alarm from the auto-loading Spotify app. Drag Spotify songs directly to the main interface of AudFree tool. Or simply paste the song link into the search box at the top and press the Plus icon.
Step 2

Select Output Settings for Spotify Music

Click on the Menu bar in the upper right corner and select Preferences > Convert. Then you can go to set the output format of Spotify music to MP3 for use on more alarm clock apps. Besides, you can also adjust the bitrate, audio channel and sample rate for better Spotify alarm quality.
Step 3

Download Spotify Songs Locally to Your Computer

Once all the settings are done, you can click on the Convert button to start downloading Spotify music to MP3 to be compatible with clock app. After completion, you can browse the downloaded Spotify song file for free use by clicking on the Converted icon. Then you can upload Spotify music to Android or iPhone to set as an alarm on any clock app.
Part 3. FAQs about Alarm Clock App for Spotify
Q1: Which Alarm Clock Supports Spotify?
A: We have mentioned 5 alarm clock apps that work with Spotify above and you can use them whether you are an Android or iPhone user.
Q2: How to Set Spotify Song as Alarm on iPhone/Android?
A: On one hand, you can make Spotify ringtones iPhone and Android directly on those Spotify alarm clock apps. On the other hand, you can also use AudFree Spotify Music Converter to download Spotify songs locally for unlimited use on any clock app.
Part 4. In Conclusion
Using a Spotify alarm clock app is a great way to start your day off on the right foot. Whether you're looking for a simple and easy-to-use app or one with more customization options, there's an app out there for you. And if your preferred alarm app doesn't support Spotify, with AudFree Spotify Music Converter, you can still use your favorite songs as your alarm sound. So why not give it a try and see how much of a difference it makes in your morning routine?