Like many other Spotify users, you can't help but notice that the shuffle feature on the popular music streaming site isn't exactly perfect. More often than not, you'll hear the same tracks over and over again, even if you're a Spotify Premium user with access to a huge library of songs to choose from. It's become such a problem that users are in desperate need of a solution for Spotify shuffle sucks problem.
So, what's the deal? Why does Spotify suck at shuffling? Don't worry, this post has the answers you're looking for. In this article, we will attempt to understand how shuffle on Spotify sucks, why it sucks, and the possible best solution to fix it in 2022.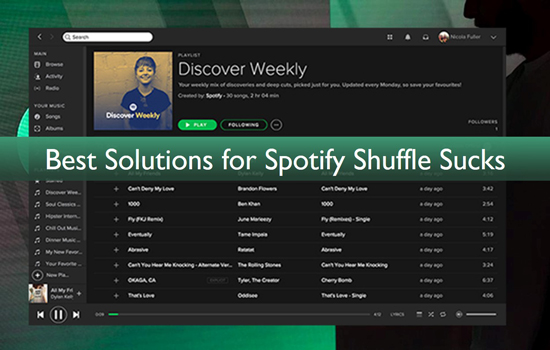 Part 1. How Spotify Shuffle Sucks?
Unlike many music streaming platforms, Spotify recently shared changes it made to its shuffle algorithm to "improve" the live music experience. Prior to the update, many Spotify users complained that the older algorithm was somewhat too random.
As a result, Spotify has adopted an AI-based algorithm that will learn your listening habits and better understand the type of music you like. The idea behind the new algorithm is that it will be able to provide a more personalized shuffle experience for each user.
However, what many users are finding is that the new algorithm is actually much worse than the old one. In many instances, Spotify ends up playing songs from particular artists or playing one multiple times. You'd think that the AI would be more random, but the playback feels more artificial, which is the primary reason why the new Spotify shuffle play sucks!
Part 2. How to Fix Spotify Shuffle Sucks Problem
If your Spotify music playback sounds annoyingly less random, courtesy of the Shuffle algorithm update, and you are looking for a fix, then you are in luck, there are a few things you can do to improve your experience. Check out the solutions to your Spotify's shuffle sucks problem below.
1. Log Out and Log in Again
The first and most obvious thing you can try is to log out of your Spotify account and then log back in. This will sometimes fix the problem, but it's not a permanent solution.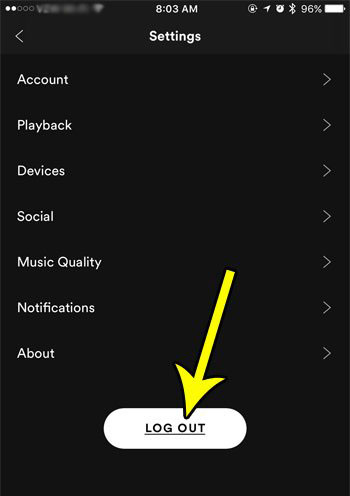 2. Sort Tracks by Title
If you want to take things a step further, then you can try sorting all of your Spotify tracks by title. To do this, go to your "Library" and then click on the "Tracks" tab. From here, click on the "Sort" button and select "By Title". Once you have done this, all of your tracks will be sorted alphabetically, making it much easier for you to shuffle them in the way you want.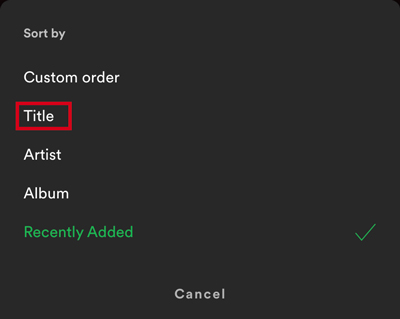 3. Clear Spotify Cache
If Spotify shuffle still sucks after you have logged out and logged back in, then the next thing you can try is to clear Spotify cache. To do this, go to the "Settings" tab and select "Advanced Settings". Scroll down to the "Cache" section and click on the "Clear Cache" button. Once this is done, restart Spotify and see if the problem has been fixed.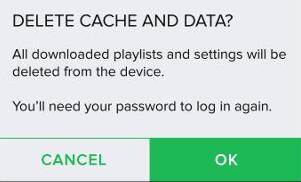 4. Update the Spotify App
If you are still having issues with Spotify shuffle, then it's possible that the problem lies with the Spotify app itself. Fortunately, updating the app is usually a very simple process. Just open up the App Store (if you are using iOS devices) or Google Play Store (if you are using Android devices), and then search for "Spotify". Once you have found the app, click on the "Update" button.
5. Use the Spotify Shuffler Site
Now, if the issue is becoming unbearable and you just cannot stand the new Spotify shuffle algorithm, there is one last thing you can try. There is a third-party tool called "Spotify Shuffler" that will allow you to shuffle your Spotify playlists in the way that you want. The site lets you randomly shuffle your Spotify playlists so you can get back to enjoying your music the way you used to.
Part 3. How to Fix Spotify Shuffle Sucks Permanently
What if none of the above solutions work to resolve your Spotify shuffle sucks issue, you will need to take more drastic measures. The good thing is that we have a permanent solution lined up for you. The method requires you to download Spotify music on the computer locally so that it's able to listen to your Spotify tracks without relying on the shuffle feature, which clearly is not working as intended.
In fact, if you want to achieve the above goal, first and foremost, you will need a professional powerful Spotify music converter named AudFree SpoDable. This program is designed to download and convert Spotify songs, albums, playlists to MP3 and other popular audio formats. It not only offers lossless Spotify music files, but also retains all the original ID3 tags and metadata after conversion. In other words, you will not have to worry about losing important information of Spotify during the process.
Main Features of AudFree Spotify Music Converter
How to Download Spotify Music with AudFree SpoDable
Step 1

Download and launch AudFree SpoDable

AudFree SpoDable is available for both Mac and Windows users. Therefore, find the official website, download and install the app on your computer. Once installed, click on the app icon to fire it up. Please, ensure that you only download the application from the official AudFree SpoDable site.
Step 2

Import Spotify playlists to AudFree SpoDable

It offers two flexible ways to upload Spotify songs for conversion. First, you can drag and drop the particular Spotify songs onto the AudFree SpoDable interface. Alternatively, you can copy and paste the song's URL onto AudFree SpoDable's search box and hit the "+" button to load the song for download.
Step 3

Reset Spotify output for playing without Spotify shuffle

Now, go to the main menu bar and select "Preferences"> "Convert", and an audio setting window will show on your screen. You can define your preferred output format from the available audio format options (MP3, FLAC, M4A, AAC, M4B, and WAV). Also, you can customize certain music parameters such as audio channel, bit rate, sample rate, etc. Be sure to hit the "OK" button to confirm the changes.
Step 4

Download Spotify offline to fix Spotify shuffle sucks

Click the "Convert" button to begin the download and conversion process. The converted songs will automatically be saved to your computer. Once the conversion is done, you can freely enjoy your Spotify songs randomly on any device without worrying about the annoying Spotify shuffle sucks issue.
Part 4. FAQs About Spotify Shuffle
Q1. How to Shuffle Play on Spotify?
If you are a Spotify Premium user, you can simply turn on the "Shuffle Play" button to shuffle all songs in your playlists. To do that, tap on the "Now Playing" at the bottom of the screen and then tap on the shuffle icon to turn on or turn off shuffle play on Spotify.
Q2. Why Does Spotify Shuffle Suck?
The main reason why Spotify shuffle sucks is that the algorithm Spotify uses to shuffle songs is far from perfect. In fact, it's been known to repeat tracks quite often, which can obviously be annoying.
Q3. Is Spotify Shuffle Play Actually Random?
With the new algorithm, Spotify attempted to make its shuffle play more random. However, it is still not as good as most users expect. Many users complain that the new algorithm is not working and Spotify shuffle still sucks.
Part 5. In Conclusion
Spotify shuffle may not be perfect, but it doesn't mean you cannot enjoy your music randomly. This article introduces effective solutions to solve the Spotify shuffle sucks issue. Some programs may work only temporarily, but with AudFree SpoDable, you can easily download and convert Spotify to MP3 so that you can shuffle play your favorite tracks on any device without worrying about the annoying Spotify shuffle sucks problem permanently. Not to mention, AudFree SpoDable also offers high-quality output audio files and fast conversion speeds of up to 5X. So why not give it a try?