Shuffling a playlist enables you to enjoy music in a different mood or experience, and is also a great way to explore new music. However, in the Spotify support community, questions like them may come up every now and then:
"How do I turn off Shuffle Play on my playlists? I want them to play in order. What do I do?"
"I'm running an Android phone with Spotify and the other day all my music playlists just started shuffling instead of playing in order as I have them on the desktop app. Please help."
So, is Shuffle Play the only way to listen to music on Spotify?
No. If you're a Premium user, you can listen to anything you want. Select any track, playlist, or album, and Spotify will automatically play the songs in the order they're listed. Meanwhile, you still have the option to shuffle. Obviously, repeating a song or listening to a playlist in order is one of the features for premium users only.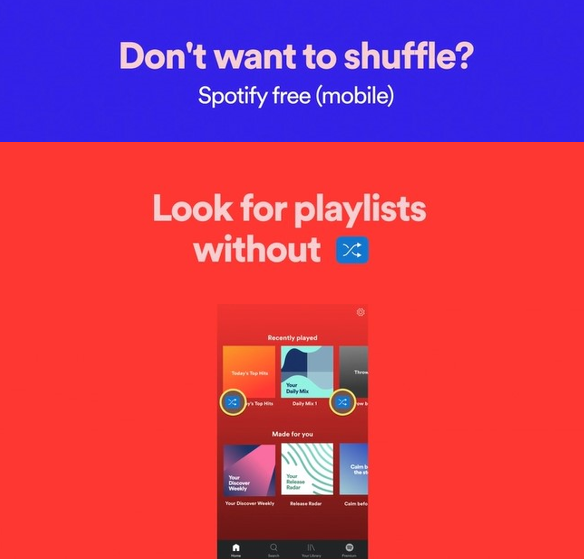 If you don't have Premium and you're using the free service, you are 'forced' to listen to most of the playlists in shuffle mode. Or, you'll have to choose a playlist that doesn't have a shuffle icon next to it if you are trying to avoid the Shuffle Play.
View also: Spotify Free vs Premium
Whether can we choose to shuffle our playlist might more or less affect our listening experience. If you encounter the same issue, then keep on reading to find out how to turn off shuffle on Spotify.
Part 1. How to Turn off Shuffle Play on Spotify on Desktop
Fortunately, for the desktop app or web player, shuffle mode or repeat mode are available and free. When shuffle mode is on, it is green. You can click it again to turn shuffling off, and then the button will be white. Songs will be played in sequential mode by then. Also, if you want to repeat tracks, you can click on this button

, or even put one song on repeat with this button with a tiny '1' on it

.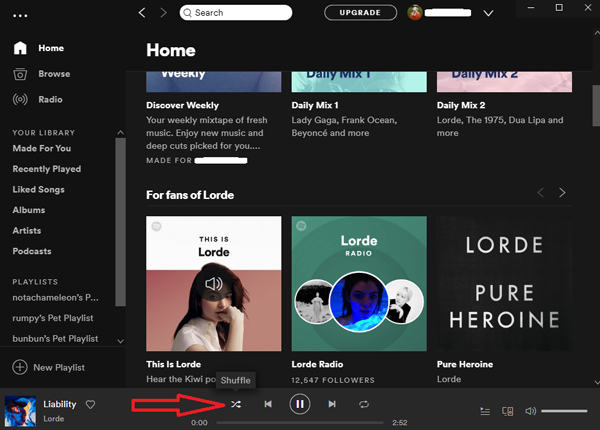 Part 2. How to Turn off Shuffle Play on Spotify on Mobile for Free
Things are not the same for mobile users, as it is mentioned earlier. There will be no shuffle or repeat button in the mobile app if you are a free user, and Shuffle Play is the only playback mode available for all the Spotify free users. The only way for you to play Spotify without shuffle is probably subscribing to Spotify Premium. If you already are a Premium, just tap on the shuffle button until white.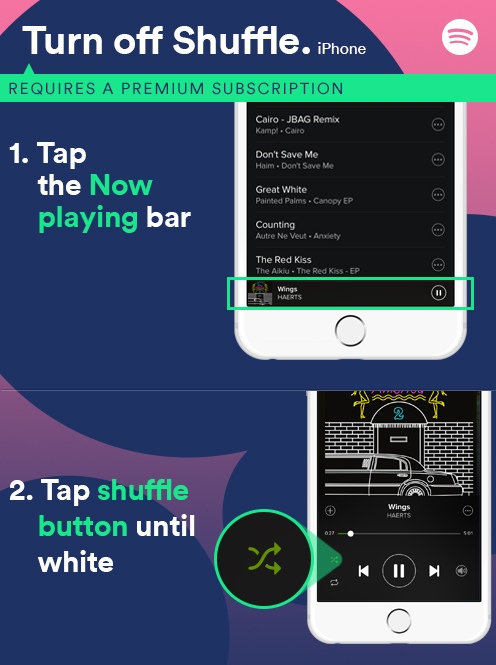 Don't wanna pay for the Premium but still get to enjoy Spotify music without shuffling? Lucky for you, we have found solutions to this problem now. No matter which way you choose, you can get Spotify Premium for free. In this case, you can turn off Shuffle Play on Spotify as you want.
Solution 1. Turning off Shuffle Play on iPhone Using TweakBox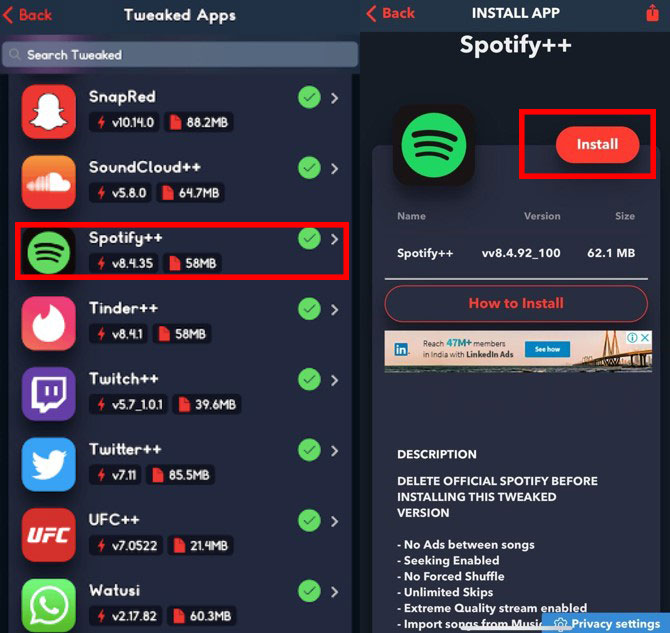 To begin with, download TweakBox app from its official website. Go to Settings when the installation completes, and trust TweakBox app or enable unknown sources option. Then you'll see Spotify ++ in the App section and get it installed. Or, you can simply type Spotify++ in the search box and get it there. Once the installation for the app is completed, go to Settings and trust Spotify++ app again. After that, you are good to go. Logging into Spotify again, you will now see the shuffle button which you can switch on or off.
Solution 2. Get Spotify without Shuffle Playing on Android via TutuApp
As for Android users, TutuApp is a good counterpart for TweakBox, as they are like a little app store which provide s mod apps such as a mod version of Spotify for users to enjoy music freely. And of course, they share some similar setup steps.
1. Download and install TutuApp APK's latest version on your Android devices from its official website.
2. Enter TutuApp's interface and put 'Spotify++ MOD' in the search box. Download and Install.
3. Open Spotify and login in. Now you should be able to listen to music without shuffle playing.
However, please be aware that these two apps are not officially verified by Spotify yet.
Part 3. Enjoy Spotify Music in Whatever Playback Modes You Want
If both solutions above are still unable to meet your expectation, I strongly recommend you to try downloading Spotify music and play them with other popular players such as VLC, Windows Media Player, iTunes, etc. They offer you various modes to play music and you can even enhance your listening experience with the built-in equalizer. All you need is a Spotify music converter to download all Spotify music to MP3 without Premium.
AudFree Spotify Music Converter is a powerful tool specially designed for user to download Spotify music with extremely high quality and then convert Spotify to MP3, and other common audio formats such as WAV, AAC , FLAC, etc. After downloading, not only can you enjoy music on your iOS/Android devices, you can also listen to Spotify music in the car, on your watch, and so many other possibilities. Now download the trial version for Windows/Mac which allows you to convert the first 1 minute of each track within 3 simple steps.
Summary: I don't know about you, but when I am feeling emotionally connected to one song, I can't help myself putting it on repeat, so that I can listen to it again and again or even sing along. But for Spotify users, this 'privilege' is only given to Premium subscribers on their iOS/Android devices. I hope, after reading this article, you have now found a way to turn off Shuffle Play on Spotify and enjoy music freely.