Adding audio or music to a text-heavy presentation can make it less boring or even spice it up. Unlike Microsoft PowerPoint, adding music is not yet fully available through Google Slides. Especially, for certain people who want to add Tidal music to Google Slides may find this issue even more troublesome.
Still, there are workarounds to get the effect anyway. Here, we are going to introduce two ways on how to add music to Google Slides from Tidal. But beware that each way has its pros and cons. Now let's see how to get it done step by step.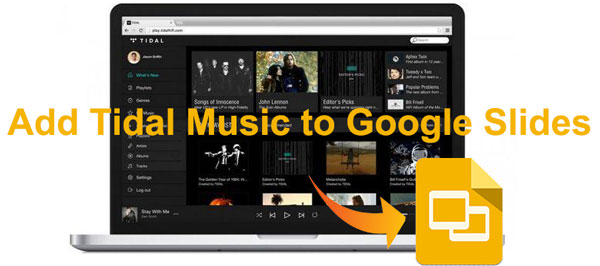 Part 1. Add Tidal Music to Google Slides by Inserting Links
As one of the giants in the streaming music industry, Tidal music now has 3 million users and offers over 60 million songs. Tidal has also made it easier for users to share music via Facebook, Twitter, or sharing links directly. This makes it possible to use Tidal music in Google Slides. Follow the steps below and you will able to add Tidal music to Google slides by inserting links.
Step 1. Open Tidal app or visit Tidal in a web browser, find the track you want, right-click on it, and select 'Share > Copy Track Link'.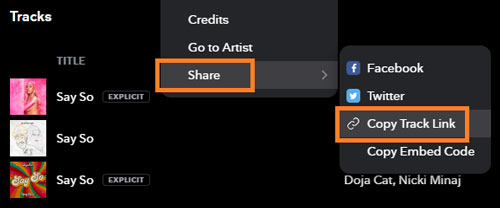 Step 2. Open Google Slides and locate the slide in which you want to insert Tidal music.
Step 3. You can choose to add the Tidal music link to either a text or an image. Select the text or image and right-click to choose 'Link'.
Step 4. Paste the Tidal music link to the link box and click the 'Apply' button.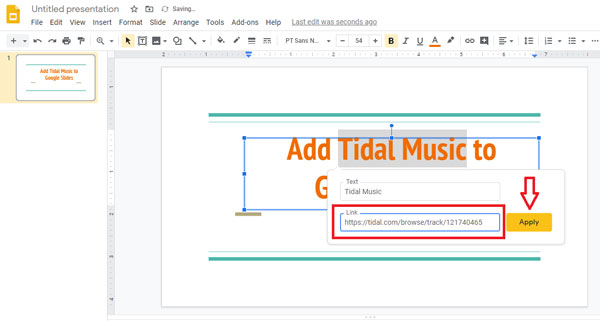 Now, during your Google Slides presentation, clicking on the object where you put the Tidal music in will load the Tidal music in a new separate browser tab. But remember to make sure it works before you give your presentation because it requires you to log in with your Tidal account to play music. Also, please make sure you have a good Internet connection so that you can play Tidal music smoothly.
Part 2. Embed Tidal Music in Google Slides with Best Tool
Imagine this, you are giving a Google Slides presentation and you want to play Tidal music, but there is a poor Internet connection or no connection at all and Tidal music just won't play. It would be such a defect to your presentation. To prevent this from happening, you can't just rely on the method introduced in Part 1.
Therefore, we share with you a better approach to use Tidal music in Google Slides via Google Drive so that you can keep everything inside your presentation instead of online. Firstly, you will need a tool called AudFree Tidal Music Converter, which enables you to download Tidal songs to the computer and convert them to MP3, FLAC, WAV, AAC, M4A, or M4B.
Additionally, it won't take you long to download Tidal music as this software is embedded with the latest technology to work at 5X speed. Meanwhile, it is able to preserve the original quality of Tidal music as well as all the ID3 tag information.
Download and Convert Tidal Music for Google Slides
Make sure you have downloaded and installed AudFree Tidal Music Converter on your computer. Also, it requires the Tidal app to complete this process.
Step 1

Add Tidal music to AudFree

Now, please launch AudFree Tidal Music Converter and the Tidal app will automatically open as well. Then find the song you need in the Tidal app, and right-click on it to 'Share' > 'Copy Track Link'. Paste it to the address bar of AudFree and click the '+' tab to load it into AudFree.
Step 2

Define Tidal output settings for Google Slides

Google Slides is compatible with many audio formats. Click the 'Preferences' > 'Convert' and choose the output format as MP3. You are also able to customize other audio parameters according to your need.
Step 3

Download Tidal music for Google Slides

When you finish customizing, please tap the 'Convert' button to start the downloading process. After conversion, you can locate the downloaded Tidal music by clicking the 'History' > 'Search' icon or the 'File' icon directly.
Use Tidal Music in Google Slides via Google Drive
Now you have the downloaded Tidal music in hand, you are so close to adding Tidal music to Google Slides.
Step 1. Visit Google Drive in your web browser and log in with your Google account.
Step 2. Go to 'New' > 'File upload' to choose the music folder where you store your downloaded Tidal music, and then upload Tidal music to Google Drive.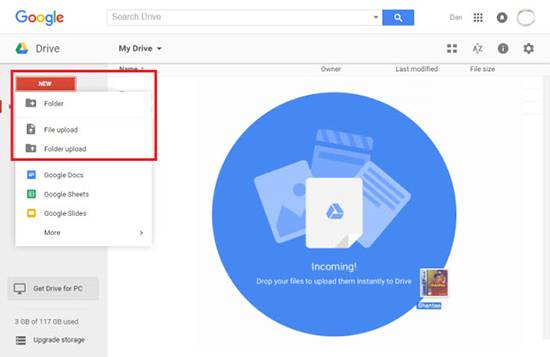 Step 3. Open your Google Slides presentation and navigate to the slide that you'd like to insert Tidal music in. Click 'Insert' > 'Audio', and you will see the uploaded Tidal music from My Drive. Choose a Tidal song to embed Tidal music in Google Slides presentation.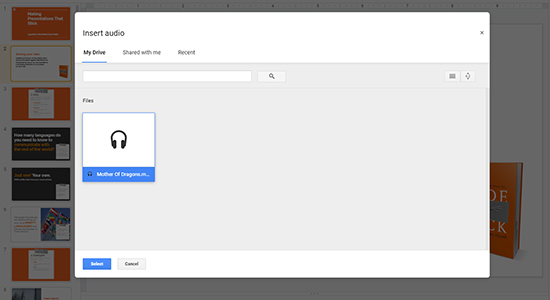 Part 3. Summary
After reading this article, I believe you have learned two ways to add Tidal Music to Google Slides. The first method sacrifices the smoothness of music playing and completely misses the point of spontaneity. With the help of AudFree Tidal Music Converter, the second method allows you to insert Tidal music with high quality into your Google Slides presentation. Which way suits you better? Let us know by leaving a comment below.