Q: "Recently, the memory of my computer is out of usage. Thus, I want to sync some downloaded Tidal music to my OneDrive, so that I can save more memory of my computer. But when I do that, I found that I couldn't get Tidal music to OneDrive. Any solution to fix it?"
OneDrive is a file hosting service, which allows users to store files and personal data, share and sync files. With storing files on OneDrive, users could have more memory of their devices. OneDrive provides 5 GB of storage space for users at free, and with 100 GB, 1 TB and 6 TB storage choices available either separately or with the Office 365 subscriptions.
As for uploading Tidal music files to OneDrive, you could refer to the post below to see why you couldn't get Tidal to OneDrive. And in this article, we will show you the method on how to upload Tidal music to OneDrive.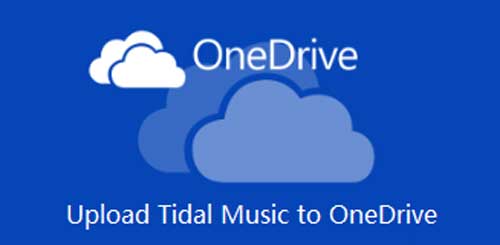 Part 1. Tidal Music on OneDrive via AudFree Tidal Music Converter
When it comes to Tidal music, users may find that you are not allow to play Tidal music on other devices. This is because the music on Tidal is protected by the digital copyright protection, so it is not available to manage or control Tidal music on other program, like OneDrive, etc. But, if you can remove the protection from Tidal music and change the audio format of Tidal music to plain formats, then you could easily use Tidal music on other devices.
In order to help you out, here we would like to share a tool with you to convert Tidal music. It is AudFree Tidal Music Converter, which is designed to convert Tidal to FLAC, AAC, MP3, W4A and other formats that OneDrive supported. Then you could store Tidal music on OneDrive without any restriction.
In addition, with this smart tool, you could get the converted Tidal audio files with original audio quality and ID3 tags retained. Then you are able to manage the Tidal music easier. After that, you can save the converted Tidal audios as local files to your computer and stream Tidal music to OneDrive.
Part 2. Convert Tidal Music to OneDrive - Detailed Steps
After learning the key features of AudFree Tidal Music Converter, you may be eager to know how this powerful tool works? Now let's see how to use AudFree Tidal Music Converter to convert the music files, and then upload Tidal music files to OneDrive. Just follow the simple steps below to finish the conversion process.
Before starting to convert the Tidal music by AudFree Tidal Music Converter, please check below to see what else you need.
1. A personal computer which runs Windows or Mac system.
2. Tidal app installed on your computer.
3. Downloaded and installed AudFree Tidal Music Converter from AudFree official website.
After that, now you could follow the guidance to convert Tidal for OneDrive.
Step 1

Add Tidal tracks to AudFree

Launch the AudFree Tidal Music Converter program on your computer. Then you will see the main screen of it and the Tidal app will be opened automatically at the same time. Next, please go to Tidal app to find the tracks you like to download and convert for storing on OneDrive. When you confirm the audios, then copy and paste the link of it to the search box on AudFree main interface. And then press on the '+' button to load the music tracks.
Step 2

Customize output parameters

Please hit on the Menu icon on the top right of the AudFree main window, then choose 'Preference' > 'Convert' option. In the new window, you can select the format you like for your Tidal music. Besides, the AudFree program also allows you to personalize the bit rate, sample rate and channel for a better listening experience of Tidal audio tracks. If you would like to archive the output tracks by Artist or Album, just make the change.
Step 3

Convert Tidal music for OneDrive

Now, you can directly click on the 'Convert' button, then the Tidal audio files will be converted at once. After the conversion, you can locate and check the converted Tidal audios at the output folder. Just hit on the 'Converted' button and it will navigate you to the target folder on your computer.
Step 4

Upload Tidal music to OneDrive

As you had converted Tidal music as local files on your computer, here you could learn how to stream Tidal music to OneDrive as below.

Step 1. Launch OneDrive on your computer and log into your account.

Step 2. Create a new file folder in OneDrive if you don't have one.

Step 3. Open the file folder where you keep the converted Tidal music files.

Step 4. Drag and drop the local Tidal music tracks to the new file folder you just created on OneDrive.

After that, you can successfully get Tidal music on OneDrive and then you can the Groove Music app to play your Tidal audios with ease.