Despite how rough the year 2021 was to everyone, especially artists, some still managed to record albums. People could download these albums and songs from convenient platforms such as Tidal.
A lot, however, is expected from the artists in 2022. Already, a few albums are doing pretty well on Tidal. You can quickly learn about how albums are performing on the platform. You can search for the best master quality album on Tidal, the best sounding albums on Tidal, or the best Dolby Atmos albums on Tidal. The following are some of the best albums on Tidal.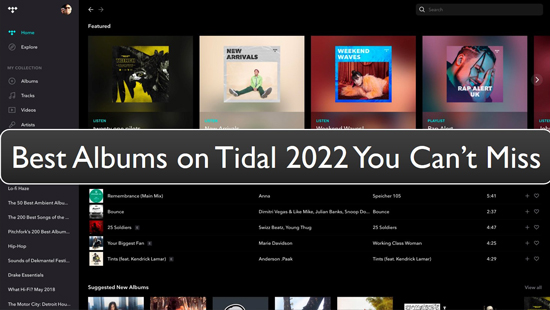 Part 1. Best Albums on Tidal - Top 20
The following is the list of top 20 best albums on Tidal. Read this list, and then you will know the names of many pleasure and sweet songs.
1. Heaux Tales by Jazmine Sullivan
This album was released by RCA records. And it is the debut EP by the singer Jazmine Sullivan. The songs are a mixture of hip hop and RnB.
2. 30 by Adele
This is Adele's fourth album. And it was released on November 19, 2021, by Columbia Records. This album has 12 songs that focus on Adele's divorce, fame, motherhood, heartache, hope, and acceptance.
3. CALL ME IF YOU GET LOST by Tyler, the Creator
This is a massive 16-track album that features several artists. It is a hip-hop album that is performing exceptionally well on Tidal charts.
4. Planet Her by Doja Cat
This is the third album by the American singer and rapper Doja Cat. Its release date is June 25, 2021. It is a 12-track album produced by Kemosabe and RCA records.
5. Happier Than Ever by Billie Eilish
This is the 2nd album for the artist. Darkroom and Interscope Records produced the album.
6. Star-crossed by Kacey Musgraves
This is the fifth album for the pop artist. The album has performed quite well since the day it was released. It is still doing very well in the charts.
7. If I Can't Have Love, I Want Power by Halsey.
The album comprises 12 massive songs. Capitol Records recorded the album. And it is a mixture of alternative rock and pop. This genre of music is pretty popular with the American youth.
8. Gold-Diggers Sound by Leon Bridges
This is his 3rd album. The album has attracted so much success since its release. Columbia Records produced the RnB album.
9. Mother by Cleo Sol
This album is made up of 12 great songs. Cleo Song once again showcased his fantastic songwriting and singing skills. His wonderful voice is evident in the songs in this album.
10. Dawn by Yebba
The album, a mixture of pop and RnB, is Yebba's debut album. The album is doing quite well for its status as the first album by an artist.
11. Still Over It by Summer Walker
This is the second album for Summer Walker. It is made up of 12 amazing RnB songs. Many people have fallen in love with the songs on this album.
12. Donda by Kanye West
Kanye West is known for his ability to create amazing albums such as this particular one. This amazing album was released through GOOD Music. It has recorded huge success over the time that has been out there for anyone to acquire it.
13. We're All Alone In This Together by Dave, Wizkid
There are 12 massive tracks in this album. The album is the 2nd one for Dave, an American rapper. Neighborhood Recordings did the release of the album.
14. Off the Yak by Young M.A
This is another great hip-hop album from Young M.A. It contains 11 tracks. The album has been a success considering its performance on major platforms.
15. King's Disease II by Nas, Blxst
Like most of the albums on this list, this particular album comprises 12 tracks. It is a great hip-hop album that any hip-hop lover should listen to.
16. Mood Valiant by Hiatus Kaiyote
The album has 12 songs, and it is a mixture of neo-soul and alternative RnB. It was recorded by a label called Brainfeeder.
17. And Then Life Was Beautiful by Nao
The artist had one thing in mind when writing the songs in this album. Nao used this album to encourage her audience not to settle for unhappiness. This is her 3rd album, and it is doing quite well.
18. 333 by Tinashe
This is Tinashe's fifth album and lasts for around 47 minutes. It is a mixture of RnB, alternative RnB, and pop. Tinashe released this album independently through her label.
19. ALPHA by Charlotte Day Wilson, SYD
This is Charlotte's first album which she recorded via her independent label. The album is doing quite well, considering it is her debut album.
20. Trying not to Think about it by JoJo
There are 12 great songs in this amazing album by JoJo. The songs are a mixture of RnB and Soul. The label that released the album is Warner.
Part 2. How to Download Best Albums on Tidal to Computer
Whether an individual is subscribed to Tidal HiFi or Tidal HiFi Plus plan for best HiFi albums on Tidal or best MQA albums on Tidal, they can't download Tidal music to their computer. The download alternative is only available for users using mobile devices.
Many people know that Tidal provides HiFi, MQA, and high-quality audio for users. Tidal is quite wonderful for audiophiles. However, your internet speed will determine the sound quality of the music. If you are striving for the best audiophile album on Tidal without disruption, you will have to look for high internet speed.
Fortunately, AudFree has produced a professional software named AudFree Tidal Music Converter that Tidal HiFi members can use to download music from Tidal to a computer. Even if you have a Tidal free trial account, it works fine.
It's the first professional music and album downloader and converter for Tidal. It is a program that allows you to download Tidal tracks to your Mac or Windows computer. AudFree Tidal Music Converter also functions as a Tidal music converter. Users can convert Tidal to MP3, FLAC, WAV, AAC, M4A, and M4B at a 5X faster. There's no need to be concerned about the quality because this utility can preserve 100% of the original audio quality in local Tidal files.
AudFree Tidal Music Converter
Detailed Guide to Download Best Albums on Tidal
First and foremost, download the AudFree Tidal Music Downloader on your computer. It features a built-in Tidal Web Player. This clever Tidal downloader can function in tandem with the Tidal Web Player well. Then we'll demonstrate how to download best albums on Tidal to a computer with AudFree Tidable.
Step 1

Set the Tidal output format and download parameters

For Mac users, go to the Apple menu and select 'AudFree Tidal Music Converter'. Please utilize the top-right menu bar if you are using Windows. Then, to open the settings window, tap the 'Preferences' > 'Advanced' button. Following that, you can modify the output format, bit rate, audio channel, sample rate, conversion speed, etc.
Step 2

Load the Tidal album that you wish to download

AudFree Tidal Music Downloader allows you to load Tidal albums automatically. Find the album and playlist you want to download, tap the item, and then the 'Add' button will be blue. When you click the 'Add' button, all songs will be immediately loaded into AudFree Tidal Music Converter.
Step 3

Download Tidal music 5X faster to your computer

You do not have to subscribe a Tidal account ahead of time. But you can also log in to your Tidal HiFi or HiFi Plus account, and then click the 'Convert' option. The download will begin in the conversion window if there is no notification. It will download music from Tidal to computer at a 5X quicker rate. You can access all Tidal music by clicking the 'history' or 'folder' icon.
Part 3. In Conclusion
What are you waiting for now? Here is the list of top best master quality albums on Tidal and a powerful Tidal album downloader, AudFree Tidal Music Converter. Download this powerful program to save Tidal album to your PC and listen to it offline. You may also sync the Tidal albums you've downloaded to other devices to play offline. Listen to best albums on Tidal in any way you like.