Working out should be a routine especially if you are watching on your weight. Exercising is therapy and right from the onset; numerous benefits are bound to follow. Among which includes improved health. Research has actually revealed that exercising is a powerful tool in lifting your mood, contributing to a night of better sleep, etc.
And that's not all, working out contributes to the maintaining of good energy levels, thereby changing your life, holistically.
But how are you supposed to carry on without motivation? It may not be easy for most people. But worries no more because Tidal music streaming service knows best how to hook you up. So, to solve this puzzle, try out the best workout playlist on Tidal. You get what you bargain for; from hip hop, country, rock, to timeless workout songs. Check out on the top 10 playlists in preparation for your next unfolding workout.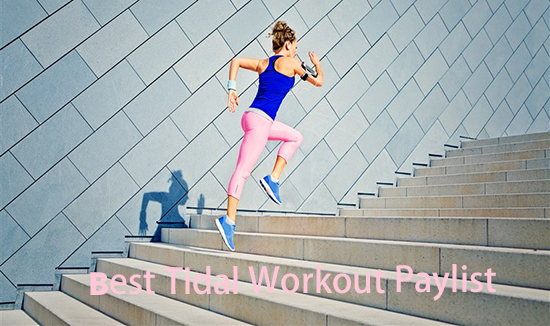 Top 1. Top Dance Running Playlist
Dancing is the in-thing body workout that continues to be discovered by most athletes. As you make those moves, you burn adequate calories in manageable portions. This playlist, which is a Workout Remix Factory, has an adequate mix of all time such as 'Play Hard', How Deep Is Your Love', 'Where Are U Now', and other running mix collections.
Top 2. Latin Dance Fitness Exercise
A small injection of Latino Ambient will help you sway off a bit from the normal dance style. This workout playlist on Tidal has hot rhythms that will automatically bring the needed power and motivation. Choose from between 'Hot summer Time' 'Ibiza Fiesta' and other Hot Dances for total fitness and workout.
Top 3. Gym workout Music Series
There will be a point in time when you'll begin to lose focus. That is the time to turn up the volume with the best gym workout playlist on Tidal. Enjoy tracks like 'Phantom's Past', 'Intergalactic Pacha', among others. Get a mix of both cool and breadth taking songs as well as high rhythmic pieces of music. The choice is all yours.
Top 4. Street Hip Hop Hits for Workout
When you need it somewhere in between slow and high bit, Hip Hop is the thing to settle for. It will suit both high-end performance and cardio workout. Among the tracks you'll enjoy are, 'Lemon', 'Nice for What',' Gucii Gang' among other tracks.
Top 5. Country Hits Workout
Country music has never lost its flavor but has been at a good pace over the years. And well, for a workout, it suits all through. Be it jogging, running, carrying out a fitness plan or cycling up the famous steep-hill, this playlist fits well. It included 'Blown Away', 'Wanted', 'Need You Now' among other workout songs.
Top 6. Pop Punk Workout
When the going gets tough, know that it's time for punk to go pop also. Pop Punk is another Tidal workout playlist that you should not miss on your list. It will bombard the right kind of energy to keep you going. Get hits from 'Hot 'N Cold', In My Head', 'Down' and other punk hits. This playlist can double up for various workouts like jogging, gym workout, and other fitness plans.
Top 7. Epic Workout
The last but not least on our list is Epic Workout. This best rap workout playlist on Tidal will keep you locked with its synchronized harmonies and best moving beats. It also doubles up as a running workout. Among its tracks to enjoy are 'Down with the Trumpets', 'Sonic' and 'Sweet Lovin', among many others.
Top 8. EDM Running Mix
The most popular workout is running. Most people believe that when you run, you burn a larger amount of calories as compared to other workout options. This running music playlist is packed with energetic tracks to keep you going at just the right pace. Get energetic track like 'Crazy Dance', 'Scars of the Heathens' that will keep you on toes throughout the process.
Top 9. Workout Music
If you decide on instant workout then this is the playlist to stick to. Listen to top tracks like 'The Warm Up' and 'Call Me Maybe" as you keep it live on the track. With this Tidal workout playlist also comes a plethora of sonic goodness. You can have a personalized remix that lets you enjoy your bits to the fullest.
Top 10. Extreme Music Workout
If you feel that you need to put up more energy, Extreme Music Workout will do you the magic. Tracks like 'Crossfit', 'Electro' and other hard music from this playlist should speedily propel the energy within. Include it in your next fitness class or other extreme cases.
Download Tidal Workout Playlist as MP3 for Better Playback
There is a better way to get your playlist in its original quality but a compressed format. Use our recommended tool – AudFree Tidal Music Converter to download and convert your best tidal workout playlists as MP3. It is only after this that you can transfer your files to other devices for playback.
Follow these steps to successfully convert your songs.
Step 1. Launch AudFree Tidal Converter. Launch the software and then go to the home screen to add your Tidal files. You can copy and paste the URL link or drag the files that you need to convert to the home screen.
Step 2. Set the required output format. In this step, you need to set the output format as MP3. You can also adjust the necessary parameters such as the bit rate, audio codec and the album subtitles among other settings.
Step 3. Download and convert Tidal files to MP3 format. Check that all the settings are successfully in place then hit the 'Convert' button. Your targeted Tidal workout playlist will be converted to MP3 files with zero quality loss. To locate your converted files, click on the 'history' and then the 'Search' icon. You can then save your converted songs directly to other mobile devices for playback.
Now, you can use this professional to download the top 10 best Tidal workout playlist for offline playback with ease.