Recording and creating videos has become more of a trend. Posting 15-30 minutes short video clips are regularly posted on various social platforms and are undoubtedly an interesting way of grabbing the attention of your viewers. With the rising popularity of video posting, users are always looking for the best video editors and music streaming apps to make their video content get hundreds of likes within seconds.
InShot is an amazing video editor that makes video editing more accomplished and without any complications. And if you are a Tidal subscriber, you have an even more substantial music library at your disposal. But users often have no idea about how to add music in InShot from Tidal.
To add Tidal music to the InShot video editing app you first need to convert the well-protected Tidal music into a format supported by the video editing app. Here we will be discussing some easy ways of transferring the awesome Tidal music to InShot.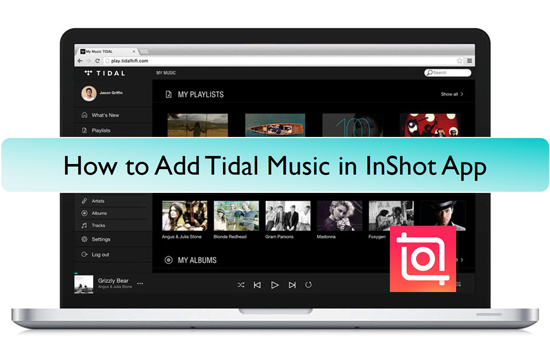 Part 1. Tidal & InShot Video Editor - Compatibility
InShot is an amazing video editor that allows you to add music and apply sound effects to your videos making them more interesting. It enables users to import music from the built-in music library or add your own music to InShot with just a few clicks.
But if you want to add Tidal music to your videos on InShot, you might not be able to do so. Tidal music is only accessible through the Tidal app. Even if you are a subscriber to Tidal you won't be able to directly access Tidal music. All of the Tidal content is encrypted with Ogg Vorbis format which limits you from downloading music content outside of the app. This format is not supported by InShot which makes Tidal incompatible with InShot.
InShot support a variety of format including MP3, M4A, WAV, and AAC. To get your favorite Tidal song to your InShot videos, you will first have to convert them into an InShot-supported format.
Part 2. Best Tool to Convert Tidal Music to InShot Videos
AudFree Tidal Music Converter is a unique and powerful third-party tool that lets you convert Tidal songs into an InShot supportive format. Whether you have a Tidal Premium or HiFi subscription plan, this software will effortlessly decrypt the Ogg Vorbis format and convert all music files into popular formats including MP3, FLAC, WAV, and AAC. All these audio file formats are supported by InShot which makes it a good option as a converter.
AudFree Tidal Music Converter is surprisingly loaded with features that keep the conversion process a simple and quick process. It is compatible with both Windows and Mac making it accessible to all. It offers a speedy conversion without destroying the original HiFi quality of Tidal songs. The downloaded songs can be transferred to a range of devices including gaming consoles, portable MP3 players, iPods, smartphones, smart speakers, and many more.
It even keeps your music library organized for you by saving the metadata of Tidal tracks during the conversion process. All in all, the converter is pretty advanced which ensures you get high-quality Tidal music anywhere you go.
How to Convert Tidal Songs by Using AudFree Music Converter
Download the software on your PC. Then launch the app and register an account using your email and code. Then follow these three simple steps to start the conversion.
Step 1

Customize Tidal output settings for InShot

Go to the menu icon at the top of the converter and choose Preferences. In the next pop-up menu, select the "Advanced" option. First, you need to set the output format for your audio files. You are allow to convert Tidal to WAV, Lossless, MP3, FLAC, AAC, M4A, and M4B. MP3 is set by default. You can further customize the channel rate, codec, sample rate, bit rate, and speed of your conversion.
Step 2

Upload Tidal songs into AudKit for InShot

After finalizing all the output formats click "OK". Now you have to select all tracks and playlists you want to convert from Tidal. Click on the blue "+" add music icon at the bottom of the app to import all the songs from the built-in Tidal app. You can import as many songs as you like as the software completely supports batch conversion.
Step 3

Start the conversion process for InShot

Finally, simply click on the "Convert" option and the converter will start downloading and converting songs to your computer. After the conversion is done, you can click on the "Converted" option to locate all the converted songs and listen to Tidal offline on desktop.
Part 3. How to Add Tidal Music to InShot Video Editing App
How to add Tidal music to the InShot app? After you have all the Tidal tracks on your device, transfer them to your smartphone. Now, you can easily add them to edit your videos on InShot.
How to Add Tidal Music to InShot Video on iPhone
Step 1. Download the InShot video editing app on your iPhone.
Step 2. Open InShot and select the Video option. Import a video that you want to edit.
Step 3. A video editing menu will appear on the screen. Here, you can find a lot of options for editing your video from various angles.
Step 4. Select the Music icon. It will take you to another window where you have to select the Featured option.
Step 5. Next, click on "Imported Music", then go to "Files" and then use the downloaded tidal music in InShot.
Step 6. Adjust the timing of the song on your editing screen according to your video.

How to Import Music to InShot from Tidal on Android
Step 1. Install and open InShot on your Android phone.
Step 2. Choose the Video tile from the main interface.
Step 3. From the list of editing options select the Music icon.
Step 4. Then, choose My Music in the next window and browse through the Tidal songs you just downloaded using the AudFree Tidal Music Converter.
Step 5. Adjust the duration of the track according to your video and you are good to go.

Part 4. How to Add Tidal Music to TikTok & Instagram with InShot
To create or edit TikTok or Instagram videos follow the simple steps given below.
Add Tidal Music to TikTok Video via InShot
Step 1. Open InShot on your smartphone.
Step 2. Click on the Video icon. You can either upload a TikTok video from the gallery or you can record a video to upload on TikTok.
Step 3. Click on the Canva option to trim and edit the video.
Step 4. Tap on the Music icon to import the downloaded Tidal songs from your phone memory.
Step 5. Click on Save and then Share on TikTok to upload the video on the platform.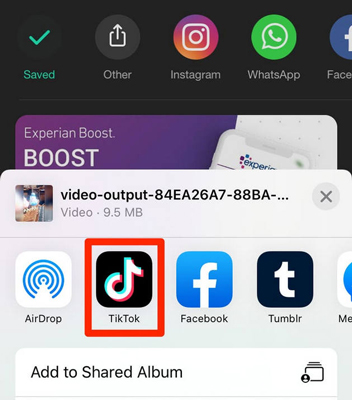 Add Tidal Music to Instagram Story via InShot
Step 1. In the InShot app select the Video tile.
Step 2. Click on Create to record a video for your Instagram account.
Step 3. Select the Instagram ratio, edit, trim, and add Tidal music from the local file folder.
Step 4. Press "Save" and then Share To Instagram.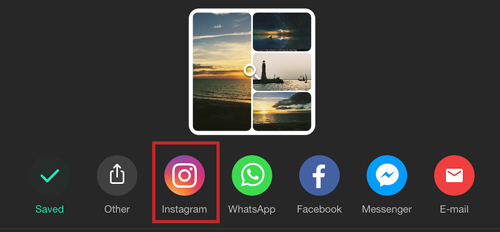 Part 5. Conclusion
If you have no idea about how to add Tidal music in InShot using even without a premium account, the above discussion will help you out. With AudFree getting Tidal for your social platform account is now just a few steps away.