"Who will win the war on streaming music services - Tidal, Spotify, Apple or Google?" No one can give a definite answer, but I am sure that Tidal is a bit ahead of the others when it comes to high fidelity FLAC quality. While you have to admit that Tidal has an obvious 'flaw' in that downloaded Tidal Music is only playable within the Tidal app as it's saved as a cached file in encoded FLAC format.
In this case, if you want to play Tidal Music on a wide range of devices, perhaps you should consider converting Tidal FLAC to WAV. Therefore, in this article, our aim is to present the best ways to convert Tidal to WAV for Windows, Mac, free and online for your reference.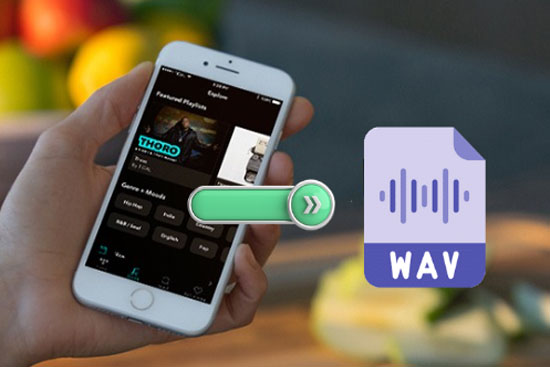 Part 1. How to Convert Tidal to WAV - Best Tidal FLAC to WAV Converter
In reality, changing audio formats from one to another may face the risk of losing a part of sound quality, especially for high quality Tidal Music. Since any loss of audio quality will make the track sounds totally different, in order to convert Tidal song to WAV without any quality loss, we need a powerful assistant to avoid the risk as much as possible.
Here, AudFree Tidal to WAV Music Converter is the best choice for you as this clever tool is adept at decoding Tidal songs and playlists without touching the original quality. What's more, it is designed to convert and download Tidal tracks to multiple common formats like WAV, MP3, FLAC, AAC, M4A, M4B, etc. and save them in your local folder on the computer.
As you can see, the converted Tidal WAV music is 100% lossless quality with complete metadata such as title, artist, album and so forth. Meanwhile, as a high-tech product, this smart software runs at a 5X faster speed and supports batch conversion during the download process, for example, a Tidal playlist with 100 audio files can be converted successfully at one time. With the support of this best FLAC to WAV converter, you can convert FLAC to WAV from the Tidal app without any hassle.
How to Convert Tidal Music to WAV for Windows/Mac
Step 1

Add Tidal Songs and Playlists to AudFree Tidable

Before starting, users must be sure to have AudFree Tidal Music Converter and Tidal app installed on your desktop. Then launch AudFree Tidable and pick any Tidal songs or playlists you need to convert. Simply copy the link of track/playlist and paste it into the search box on the main page, after that, hit the '+' icon and wait till the selected Tidal files are input to AudFree Tidable.
Step 2

Edit Tidal Output Format to WAV

Just click on the "Menu" button on the home page, then press on the "Preferences" > "Convert" portion. With a new settings window popping up, you are allowed to customize the Tidal Music output quality to WAV. If you want to keep the raw Tidal songs quality, you ought to change the bit rate to 32 bit for Master quality, 16 bit for HiFi quality and the sample rate to 48000Hz.
Step 3

Convert and Store Tidal Tracks into WAV Files

Now, simply press on the big "Convert" bar in the bottom right corner of the home page. The program will work at 5X faster speed (in a great network connection) to decrypt and re-encrypt Tidal tracks to WAV. When the conversion goes over, a red spot with numbers will appear on the "Converted" icon. Please click it to locate the local folder where all downloaded Tidal tracks are saved.
Part 2. How to Record and Convert Tidal FLAC to WAV
Have you ever heard of audio capture? Here we will introduce a way to rip Tidal Music to make Tidal WAV possible, and in the process you will need the assistance of AudFree Audio Capture. Actually, its main working mechanism is to record any playing sound, in other words, it's able to capture and download songs from all the popular music streaming services including Tidal, Spotify, Apple and more.
With this powerful Tidal capture tool, you can freely rip and convert Tidal Music to WAV, MP3, FLAC, and other audio formats. As a result, you can listen to Tidal Music offline whenever and wherever you like without Tidal HiFi. In addition, using advanced audio recording technology, it can preserve the original ID3 tags of Tidal files while downloading Tidal songs to your computer.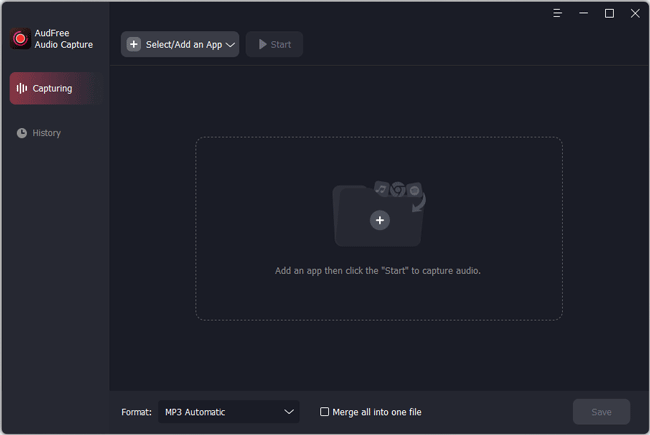 How to Rip and Convert Tidal Songs to WAV
Step 1. Launch this Tidal to WAV recorder on your computer, then the main screen will display a number of running apps. Select the Tidal app from the list and if it is not there, click on the "+" button to load it.
Step 2. Please click on the "Format" icon in the bottom right corner to open the settings window. Here you have the freedom to choose WAV as the target output format for Tidal Music. Also, you can adjust other output parameters such as codec, sample rate, etc.
Step 3. Tap the "OK" button to save your settings. Touch the Tidal app icon to play your favourite Tidal Music, and afterwards this intelligent AudFree Audio Capture will automatically start the recording process.
Step 4. Touch "Stop" to end the recording. If desired, click the "Edit" button to edit the metadata information and ID3 tags of your Tidal songs. Then simply click on the "Save" button to get the Tidal WAV file on your local computer.
Part 3. How to Convert Tidal to WAV Online - Apowersoft
As its name suggests, Apowersoft Free Online Audio Recorder is an online tool for Windows and Mac computers that makes it easy to download and convert Tidal to WAV, AAC, FLAC, M4A, etc. On this condition, you can enjoy Tidal WAV songs on your device without any restrictions.
In fact, in addition to recording Tidal Music, it has the ability to rip any sound on your computer, including system sounds and microphones. What's surprising is that this clever Tidal to WAV online converter also comes with some editing features such as keeping or customizing the ID3 tags of Tidal Music, including title, artist, album, genre and year of release.
How to Convert Tidal to WAV Online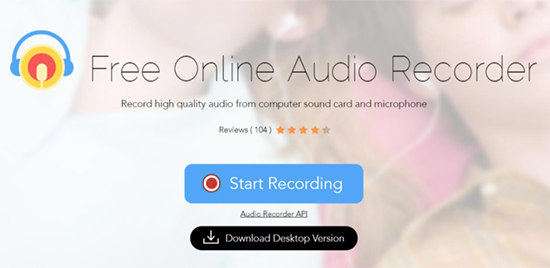 Step 1. Navigate to the official webpage of Apowersoft Free Online Recorder on your computer and press "Start Recording" to set up the program.
Step 2. Under Recording Settings, tap "Audio Input" to select Tidal as the sound source. Then tap on "Tools" > "Options" section to set the recording format to WAV, remember to click "OK" to save the changes.
Step 3. Touch the red Record button to start recording. Then go to the Tidal software and play the Tidal song. While recording, you can tap the "Start", "Pause" and "Stop" buttons to control the process.
Step 4. When you have finished recording, find the converted Tidal song by clicking on the 'Show in folder' option.
Part 4. How to Convert Tidal FLAC to WAV for Free - Audacity
Audacity is a renowned, open source audio editor and recorder dedicated to recording, editing and mixing audio. It is worth noting that it is completely free and that its powerful features are comparable to any commercial audio software. If you want to convert Tidal FLAC to WAV for free, then look no further than Audacity.
With the aid of this powerful Tidal converter, you can capture and download any music from the Tidal app to popular formats such as WAV, MP3, AAC, etc. It is not only suitable for Windows and Mac, but also compatible with GNU, Linux and other operating systems. In consequence, you can easily and freely get Tidal Music in WAV format on your computer for unlimited enjoyment.
How to Convert Tidal FLAC to WAV for Free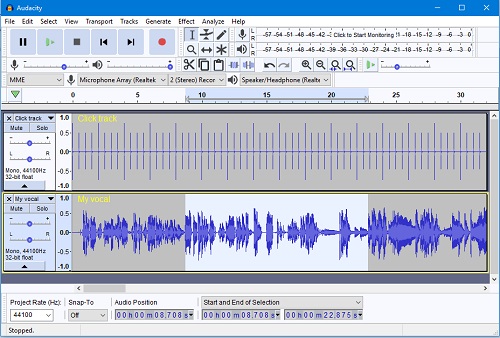 Step 1. nstall and open Audacity on your computer, then tap the "Edit" button on the toolbar. Select the "Audio Host" > "Host" option on the Preferences page.
Step 2. Tap the Reference>Recording button and turn off Software Playthrough. Next, touch the Options button and select the audio output format as WAV.
Step 3. Click the Record button in the Audacity Transfer toolbar and you can start playing any music you like on your Tidal software.
Step 4. When the recording is complete, click the Save button and Audacity will start ripping and converting Tidal to WAV in real time. After that, the Tidal WAV downloads will be saved on your computer locally.
Part 5. FAQs of Tidal WAV
Q: What Is the WAV Format?
A: WAV is short for Waveform Audio File Format and is one of the most lossless audio file formats for storing audio bitstream on PC. It is actually an uncompressed format jointly developed by Microsoft and IBM, which in turn has become the format of choice for users seeking high quality sound.
Q: Why Convert Tidal to WAV?
A: As you may know, Tidal Music is restricted to play on Tidal licensed devices, which means you can't transfer Tidal Music to other preferred devices, music players for playback. Whereas WAV is compatible with common players and hardware, converting Tidal to WAV is a more suitable way to enjoy Tidal Music without limits.
Q: Which Is Better WAV or FLAC?
A: First and foremost, they're both lossless and no sound quality difference. WAV file is the raw audio file, which is uncompressed, widely-supported in players and devices, but there is no metadata. Namely, you can't get lyrics, track number, album cover and so on in WAV file. FLAC file, on the other hand, is compressed and smaller in size, but they are not compatible with many players and hardware. However, it is embedded into metadata such as ID3 tags.
Therefore, if you want to play music on advanced sound equipment, it is better to play WAV music file. If you are going to import music to mobile devices or save it in the cloud, it is suggested to use the FLAC format.
Part 6. In Conclusion
Here are effective solutions for converting Tidal to WAV for Windows, Mac, free and online. If you can't make a choice, you might as well try the best AudFree Tidal to WAV converter to download Tidal FLAC to WAV with ease. Also, if you find other possible methods, please don't hesitate to share with us in the comments down below.