Q: Where is the Tidal Offline Mode in the Tidal desktop app for Windows and Mac computers? I switched to Tidal from Spotify because of its MQA quality. But I couldn't find the desktop Offline Mode, even the 'Download' option. I prefer to listen to music offline, especially for high-quality songs. Is there something I'm missing?
Music playback of MQA quality needs more stable networking than the ones of normal quality. The Tidal app provides an Offline Mode for users to get Tidal offline on mobile devices. But for the listeners using a desktop app, it's a pity. There is no built-in function to use Tidal offline PC and Mac.
But today, I would like to share the only practical way to get a Tidal desktop offline on Windows and Mac. If you are interested in this topic for a long time, please scroll down to read the solution below.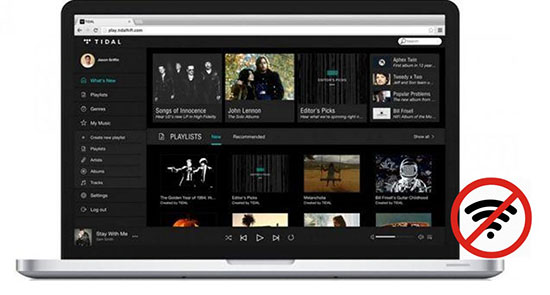 Part 1. Get Tidal Offline PC and Mac - Perfect Tool Required
Tidal Offline Mode on the desktop is supposed to be the most desired feature in many Tidal subscribers' minds. In recent years, more and more 'Tidal offline' questions have appeared in Tidal-related forums. For example, 'can you listen to Tidal offline on PC and Mac? Why doesn't Tidal Offline Mode work on desktop? But years later, the answer was still disappointing.
Fortunately, this situation shifts because of the release of AudFree Tidal Music Converter. It is devoted to download Tidal music offline on computers running Windows and Mac operating systems. Put in another way, it can help you get Tidal offline on PC and Mac.
As a market-leading product, it can download multiple Tidal songs offline at the same time with high speed and stability. It can also convert Tidal tracks, playlists, podcasts, albums, and radios to offline MP3, FLAC, WAV, etc, on the desktop. Besides, there is no Tidal offline download limit.
Besides, you can get Tidal music downloads offline with lossless quality and complete ID3 tags. With the help of this intelligent tool, you can play Tidal songs and playlists offline on the subway, plane, or in any area with poor network connection, diverting you from boredom with ease.
AudFree Tidal Music Converter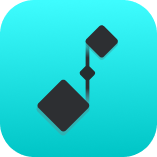 Losslessly download songs on Tidal desktop app offline
Convert Tidal to MP3, FLAC, WAV, etc. for offline listening
Preserve 100% MQA quality to play Tidal music downloads offline
Run at 5X faster speed, customize offline Tidal output parameters
Part 2. How to Listen to Tidal Desktop Offline on Windows and Mac
This professional tool is available for Windows computers and macBooks. You can use it to download and listen to offline Tidal files on Windows and macOS computers. Now let's see how AudFree Tidal Music Converter breaks the Tidal offline limit in simple steps. You can use the free trial of this smart tool to test its performance before buying.
How to Download and Get Tidal Offline on PC and Mac Desktop
Step 1

Modify Tidal output parameters on Windows/Mac computer

If you are a Mac user, please find the 'AudFree Tidal Music Converter' option from the menu bar in the upper left corner on Mac's desktop. If you are a Windows user, please hit on the first icon "menu" on the top right corner of the main page of AudFree Tidable. Then hit the "Preferences" > "Convert". A new setting window will show up to customize the output parameters of offline Tidal content.
You can customize the Tidal output format, sample rate, bit depth, channel, and more. To maintain the original high quality, you are suggested to change "Format" to Lossless FLAC or WAV, 'Sample Rate' to 48000 Hz, 'Bit Depth' to 16 bit or 24 bit.
Step 2

Add Tidal songs from Tidal desktop app

Please make sure you have already downloaded and installed the Tidal desktop app, AudFree Tidable needs to work with it together. It provides an easy way to add Tidal music from Tidal desktop app for PC and Mac.
Please find the Tidal song, albums, or playlists that you'd like to use offline in the opening Tidal app. Next, tap the item, click the 'Share' > 'Copy Playlist Link' option. Paste the Tidal music link to the blank address box of AudFree Tidable. After that, tap on the '+' button to load all Tidal songs automatically.
Step 3

Download Tidal offline on desktop

Simply click on the obvious "Convert" button in the bottom right corner of the main page. In an ideal network connection, the program will work at a 5X faster speed to download music from Tidal offline. Tidal files can be downloaded to the target output formats with other settings that you set before.
Step 4

Locate offline Tidal music downloads on desktop

The conversion will last depending on the number of songs and then networking. When the conversion stops, a red spot displaying the numbers of songs will be showed on the 'history' icon. Please press it to go to the local folder where all converted offline Tidal contents are saved in. You are able to listen to Tidal desktop offline on Mac and PC without any hassle. Moreover, you can transfer downloaded Tidal tracks to other devices that don't have a network connection for offline listening.
Part 3. How to Get Tidal Offline Mode on Mobile
As we said before, there is a Tidal Offline Mode option for mobile users. It's the privilege of Tidal HiFi and HiFi Plus subscribers. If you are using an iOS or Android device with a Tidal HiFi or HiFi Plus plan, you can follow the below steps to get Tidal offline listening.
Step 1. It is supported to save Tidal audio files directly on your Android device rather than streaming them online. Please open the Tidal app for Android on your phone.
Step 2. Find Tidal playlists and albums that you want to listen to offline. Click the Download button to download Tidal songs offline.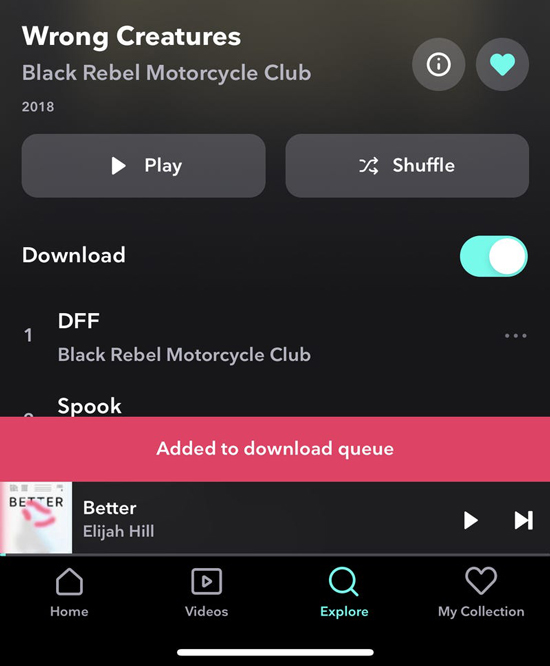 Step 3. And then, you can find 'Offline Mode' section under 'Setting' to turn 'Offline' on to use Tidal content offline on Android.
Step 1. Access "My Collection" on the lower right corner of Tidal.
Step 2. Choose playlists or albums. Click the "…" on the right of the title. Slide down and select "Download" to get Tidal offline downloads.
Step 3. Hit on the "Settings" icon on the top right corner of the screen. Find "Offline Mode" and enable it. Now, you can play all Tidal downloads offline.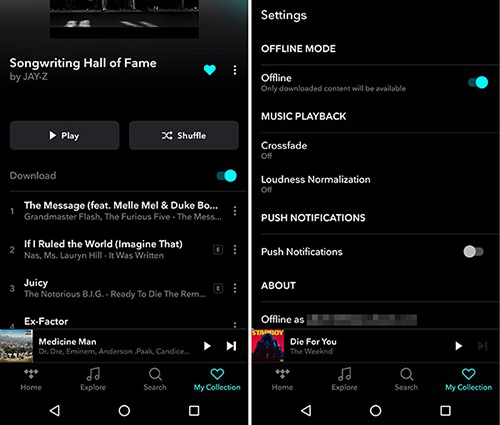 Part 4. FAQs about Tidal Offline Mac and PC
Q: Does Tidal have a desktop app?
Yes. Tidal currently is compatible with macOS and Windows computers. You can choose and install the right version of Tidal desktop app to your computer according to your computer operating system.
Q: Where does Tidal store offline music on Android?
Please enter into "My Collection" section and click the 'Downloaded' button to find and access Tidal offline music.
Q: How to download Tidal offline on desktop?
There is no official way to make it possible. If you'd like to listen to Tidal desktop offline on Mac and PC, please draw support from AudFree Tidal Music Converter. No matter you are using a Tidal Free, Tidal HiFi, or HiFi Plus subscription, it can help you use and play Tidal offline on PC and Mac.
Q: How to get Offline Mode on Tidal for free?
You can use AudFree Tidal Music Converter to enjoy Tidal music offline on desktop with your free Tidal account in Part 1. And then you can also sync them to your mobile devices for offline listening for free. By the way, you don't need to use the Tidal app anymore, but use any media player to explore Tidal music world offline.
Part 5. In Conclusion
That's all about Tidal Offline Mode and the best solutions of downloading and listening to Tidal desktop offline on PC and Mac. No matter which Tidal account you are using, you can find a way to achieve this goal. Now, you can start your Tidal offline music trip without any hassle.