Can I add Tidal Music to Adobe Premiere Pro? The answer may disappoint you. Although Adobe Premiere Pro is a very commonly used video editor, it doesn't integrate with any streaming music service to access the online or offline streaming music resource directly. On the contrary, it only supports to upload the downloaded music which is stored in your local folder without protection.
But don't be upset. Today, I am going to help you solve this problem with a useful workaround, which enables you to import Tidal Music to Adobe Premiere Pro easily by using a helpful third-party tool.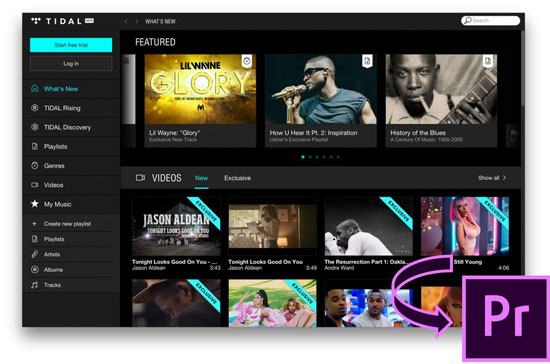 Part 1. Import Tidal Music to Premiere Pro: Why You Need AudFree
From the very beginning, it is important to figure out why you can't add Tidal music to Adobe Premiere even you have downloaded those tracks for offline playing in the Tidal app. This is caused by the DRM in Tidal tracks, a music protector to encrypt Tidal music to prevent downloaders to transfer Tidal music to other platforms or devices. That is to say, the downloaded Tidal songs in the computer are not truly persevered in the local folder and they usually exist as cache data or encoded audio data.
In order to transfer those Tidal tracks to Adobe Premiere Pro, we need to break the DRM limitation from Tidal songs and then transfer them to common formats like MP3. That is why we need AudFree Tidal Music Converter to help us converting the DRM-ed Tidal streams to non-DRM formats such as MP3, FLAC, WAV, M4A, M4B AAC, etc. with keeping 100% original quality and 100% raw metadata, for examples, title, artist, album, and so on.
In addition, taking the most advanced technology, this intelligent tool can work at 5X super-fast converting speed, transferring at least 100 tracks to local DRM-free audio files at one time. With the assist of this smart, light and concise software, it is pretty easy and convenient for you to convert Tidal music as a local audio file and then add it to Adobe Premiere Pro in simple ways.
Part 2. Best Way to Add Tidal Songs to Premiere Pro
Before I start to show you the details, there are 3 basic preparations that you need to follow.
Preparation 1. Please check if your Tidal account is still valid, for it is the very basic requirement. If you have never used Tidal before, please go to register a new account and get the free trial. If your free trial is close to being expired, you can try to extend Tidal free trial or purchase the official subscription. If your subscription is expired, please renew it as soon as possible.
Preparation 2. Please download the Tidal app on your computer. If you have a pre-installed Tidal app from Window Store, please completely uninstall it and the related components by using a powerful uninstaller. Then re-install the official version from Tidal's website.
Preparation 3. Please install AudFree Tidal Music Converter on your desktop. In the free trial version, you can get 1 min conversion for each song. If you want to convert the whole track or playlist, please purchase and register for the full version.
Now, you will see how to import Tidal streams to Premiere Pro in 4 simple steps.
Step 1

Copy and paste music from Tidal to AudFree

Open AudFree Tidal Music Converter and the Tidal app will pop up with it. Please find the URL of the track/playlist/album by clicking the "…" icon next to the title. Then copy and paste it to the search column of AudFree. After that, press the '+' icon to load it into AudFree.
Step 2

Change Tidal output settings for Premiere Pro

On the Windows computer, just find and hit the menu bar on the top edge of AudFree. Then click to the "Preferences" > "Convert" to open a setting window. On the Mac computer, please tap on the "AudFree Tidal Music Converter" on the system's menu of Mac. Then, it is available for you to redefine the output music settings such as format, sample rate, bit depth, channel, and so forth.
Step 3

Convert Tidal tracks to local files for Premiere Pro

Up to now, you have set up for conversion. Then just press on the "Convert" button on the lower right corner of AudFree. In a perfect network connection, the software will work at a 5X faster speed to remove DRM from Tidal tracks, convert and download them to local audio files that stored as the previous settings. When the conversion goes end, a red spot with numbers will appear on the "Converted" bar. Please click it to find the local music folder where all local Tidal tracks are listed.

Step 4

Select Tidal Local Music for Adobe Premiere

Now you can put Tidal music to video in Premiere Pro. Just open Premiere, simply locate the local music file by tapping the "File", then directly choose and load it to the Project window.