Tidal is one of the top streaming services available on the internet that allows the user to stream the latest songs. Tidal has a library of over 60 million songs that you can choose from. Tidal is a subscription-based service that comes with a bunch of features, and it also lets the users get a 30-day free trial to try it out before paying for the Premium or HiFi subscription.
Even though Tidal music allows you to download music after you pay for the service, but that does not mean you own the rights to the songs, and when the membership expires, you lose the songs. There is also no way to play Tidal on Peloton directly, but in this article, we will discuss how to add Tidal music to Peloton through an alternate way.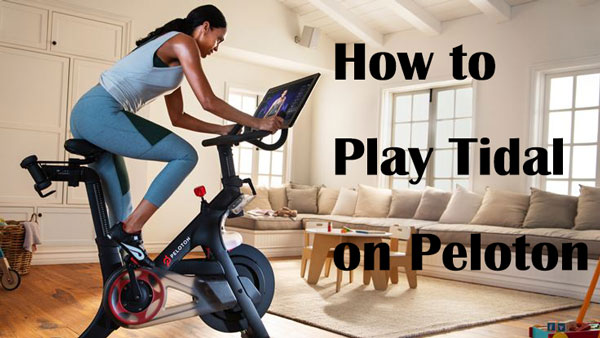 Part 1. Why You Can't Play Tidal on Peloton Directly
As Tidal is a very popular streaming service, that still does not mean that it is available on every device. As you know that, you can download music files from Tidal on your mobile devices for offline listening, but it goes away when the subscription ends, and there is also no way to import those music files from Tidal to Peloton because they exist in cache form. Therefore, there is currently no way to play Tidal music on Peloton directly.
Now the questions arise about how to play music on Peloton from Tidal? The downloaded music files on Tidal is encoded. If you convert the file into a common audio format that Peloton supports, then you can play Tidal Music on Peloton. After the conversion, you can import those audio files to Peloton for listening to them offline.
Part 3. How to Play Music on Peloton from Tidal - Detailed Steps
Please download AudFree Tidal Music Converter on your cmoputer first as well as the Tidal desktop app. Once the AudFree Tidal Music Converter is downloaded on your PC, you can follow these simple steps given below to download and get Tidal music on Peloton.
Step 1

Add Tidal music into AudFree

Once you have downloaded and installed AudFree Tidal Music Converter, launch the software, and it will launch the Tidal app automatically. Find the desired track, playlist, or album you want to download in the Tidal app. Right-click on the desired files to copy its link and paste it into the input field in the AudFree Tidal Music Converter. Now, press on '+' to import Tidal music into the AudFree.
Step 2

Set Tidal output format for Peloton

From the main menu, you can choose "Preference">> "Convert" to open the settings window on AudFree Tidal Music Converter. Now select from one of the Peloton supported audio formats. We suggest you select MP3 because it is one of the most common audio formats. You can also customize other parameters, including channel, bit rate, or sample rate using in-app settings.
Step 3

Download Tidal music for Peloton

Simply click on the "Convert" button, the downloading will start. In a few minutes, you will get the downloaded and converted files available, ready to use in the local folder that you can import into Peloton.
Step 4

Import Tidal Music into Peloton

Now there are two methods that you can use to import Tidal music to Peloton. You can adopt any one of the methods to your ease to make a Peloton music playlist.

YouTube Music

Step 1. Visit music.youtube.com in a web browser and sign in with your Google account to set up your YouTube Music library.

Step 2. Upload your Tidal music by dragging and dropping it to any page on YouTube Music. Or you can click on your profile picture and select 'Upload music'.

Step 3. Now that you've set up your YouTube music library with your Tidal music stored. Find the WebView Browser on Peloton and open the Google Play website on Peloton to play Tidal music on Peloton.

Google Drive

Step 1. Go to Google Drive on any of the browsers and log into your Google Account.

Step 2. Now click on "Create" > "Folder" button. Create a new folder for the new Tidal playlist to add music files to it.

Step 3. Tap on the "Upload" and the "Files" option. Find the "Converted" folder and add the Tidal music playlists in it.

Step 4. Open the WebView on Peloton and lookup for Google Drive> sign into your Google Drive account to add that Tidal playlist on Peloton.
In Conclusion: So, in this article, we learned about AudFree Tidal Music Converter and how to play Tidal on Peloton. AudFree Tidal Music Converter is the only dedicated Tidal downloader that comes with so many features and maintains the overall quality of the music files. It retains 100% quality and can record at 5X speed. It also allows you to change the format to convert the audio file into Peloton compatible format.