Tidal is one of the biggest hi-res streaming music services all over the world. It offers more than 60 million high-quality streams to its subscribers. To subscribe to it, you need to pay $9.99 USD for Premium per month and up to $19.99 USD for HiFi per month. But not all users are willing to pay this sum of money.
Tidal offers a period of free trial to the new users, like most music platforms in the market. But the duration of trial switches occasionally. Sometimes it is set as 60 days and sometimes it is Tidal free trial 3 months, and it even lasts to 6 months in history. Up to now, you can experience 30 days free HiFi music service from Tidal.
So how to start your wonderful music trip with Tidal? In this article, we will introduce how to get a normal 30-days Tidal HiFi free trial. More importantly, we will reveal the secret of enjoying a Tidal free trial 6 months to you.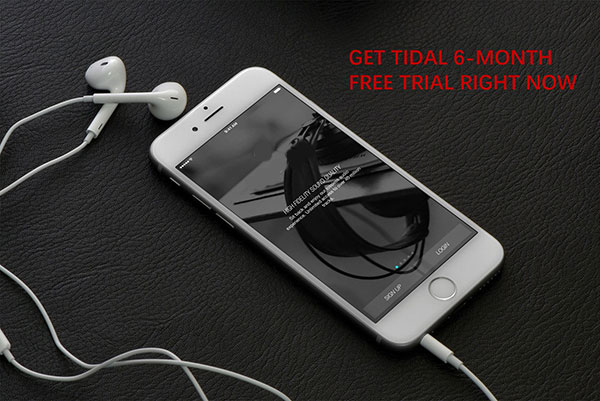 Part 1. Get Tidal 30-days Free Trial - Regular Method
It is very simple to start free Tidal trial for 30 days. There is a succinct introduction to the official website. If you still can't make clear how to operate it, please follow the steps below: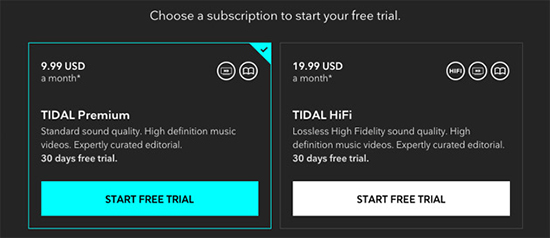 Step 1. Open the Tidal official website.
Step 2. Click on the big "Start Free Trial" on the main page.
Step 3. Sign up a new account or log in the one you registered before.
Step 4. Select subscription plan, "Premium" or "HiFi&quot". Choose "Standard" or the specific types of "Family", "Student" or "Military".
Step 5. Complete the info of your credit card or link with your PayPal.
Step 6. Now you are the new user of Tidal and start to enjoy music with the free trial.
Part 2. How to Extend Tidal Free Trial to 6 months
It is no doubt that you are a lucky dog if you have experienced the Tidal free trial 6 months 2019 before. But you don't need to sigh for yourself if you missed that benefit in the past. We have found an unimaginable method to make this dream come true again.
It is to take advantage of a useful and powerful third-party Tidal music conversion tool. It can download Tidal music as local files without protection. In this way, you can download Tidal songs onto a computer. Or you can transfer them to other players or devices for offline playback without the Tidal app. Viewed from another perspective, you are able to extend the Tidal trial to not only 6 months but forever through this method.
To achieve this goal safely and effectively, here, we highly recommend you AudFree Tidal Music Converter for Windows (or AudFree Tidal Music Converter for Mac) to you. It's the world's foremost expert in the Tidal music conversion field. It can bypass any limitation from Tidal tracks. And it can convert them into common formats such as MP3, WAV, FLAC, M4A and so forth.
With the most advanced technology, this smart tool can run at a 5X faster speed. It downloads Tidal songs with zero quality loss. After conversion, the whole metadata such as artists, albums, etc. will be 100% kept. Or you can edit them as you like.
How to Get Tidal Music Free Trial Forever
Hit the download link above to install it on your computer. And then we can download music from Tidal. There is a 1-minute free conversion for each Tidal songs.
Step 1

Load music from Tidal and stream to AudFree

Launch AudFree Tidal Music Converter and the Tidal app will open automatically. To export Tidal songs, please select the streams or playlist you are going to download on the Tidal app. Next, copy the link of the song or playlist and paste it on the main page of AudFree. Remember to paste it on the search bar. After that, hit on the '+' button and wait. A few seconds later, those tracks will be imported in AudFree.
Step 2

Modify Tidal output format and set other parameters

You can switch the output format according to your needs. It requires you to click the "AudFree Tidal Music Converter" option on the menu bar when you use the Mac computer. When you are the user of the Windows computer, please choose the "menu" button on the AudFree page. And then click to "Preferences" > "Convert" option. When a new setting window pops up, it is workable for you to change the output format as anyone in the options. Also, you are free to reset Tidal music quality by altering the bit rate, audio codec, sample rate, etc.
Step 3

Download and get Tidal music free trial for 6 months

Now you've come to the final step, please click on the huge "Convert" bar at the lower right corner. Then the program will work at a 5X faster speed to download Tidal tracks. Besides, it can convert them into the common format which you have set before. The conversion period will last relying on the number of songs that you have loaded in the first step. When the conversion finishes, please remember to go to your target local folder. You can check if all Tidal songs are downloaded in there. Now you are available to enjoy Tidal free trial music service for more than 6 months or even forever.
Part 3. How to Get Tidal Free Trial 6 Months with Sprint
Tidal often cooperates with other companies to launch some giveaway activities. It aims to attract users to use their platforms. Sprint Corporation is one of them. Sprint offers two plans with Tidal free trial plans. An Unlimited Plus plan, which allows getting a 6-month Tidal Premium free trial. An Unlimited Premium plan to get a Tidal HiFi 6 months free trial.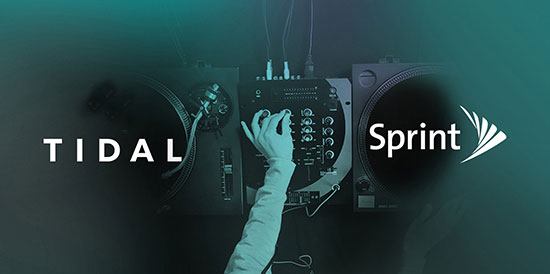 If you are using or planning to use Sprint, don't miss the above steps to get 6-month Tidal free trial here. Let's get Tidal free trial without credit card.
Step 1. Subscribe to your Sprint Unlimited Plus or Premium plan.
Step 2. Please navigate to the official website if you are using a paid one. And then cancel the Tidal subscription.
Step 3. Once you log out of the Tidal account, you can accept the Sprint subscription to start Tidal free trial 6 months.
When using the Tidal 6-month free trial, you can also keep them forever with the help of the AudFree tool.