Tidal is one of the biggest HiFi streaming music services all over the world. It offers more than 80 million high-quality streams and 350,000 music videos to its users. Now, Tidal also offers a free plan for users to listen to songs online with limited interruptions. But the music quality is limited to 160 kbps. Only subscribers can get HiFi, MQA, Dobly Atmos, Sony Reality Audio sound quality. To subscribe to Tidal for better listening experinece, you need to pay $9.99 USD for Tidal HiFi per month and up to $19.99 USD for HiFi Plus per month. But not any users are willing to pay this sum of money.
Fortunately, Tidal offers a period of free trial of Tidal HiFi and HiFi Plus to the new users, like most music platforms in the market. But the duration of trial switches occasionally. Sometimes it is set as 60 day free trial and sometimes it is Tidal free trial 3 months, and it even lasts to 6 months in history. Up to now, you can experience 30 days free HiFi music service from Tidal.
So how to start your wonderful music trip with Tidal? In this article, we will introduce how to get a normal 30-day Tidal HiFi free trial. More importantly, we will reveal the secret of enjoying a Tidal free trial 6 months to you.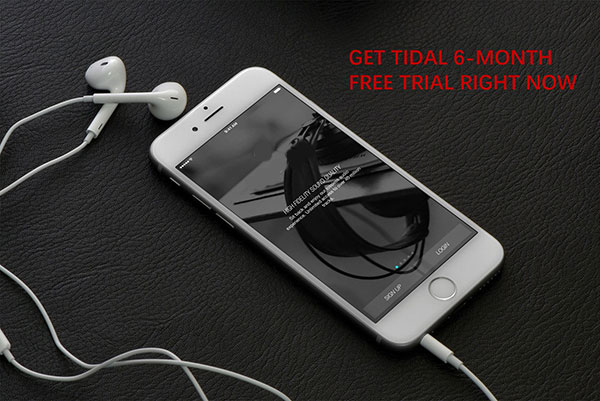 Part 1. Get Tidal 30-day Free Trial - Regular Method
A few months ago, Tidal provides users with a 3 month free trial of Tidal HiFi and Tidal HiFi Plus for just $1 or $2 to promote its brand new pricing strategy. Nowadays, it turns up to a regular Tidal free trial - Tidal 1 month free. Anyway, it is very simple to start free Tidal trial for 30 days. There is a succinct introduction to the official website. If you still can't make clear how to operate it, please follow the steps below to activate free trial on Tidal:
Step 1. Open the Tidal official website.
Step 2. Click on the big "Get Started" on the main page or the 'Start Free Trial' at the top-right center. Or you can open the Tidal price page to hit on the 'Start Free Trial' of the HiFi or HiFi Plus option.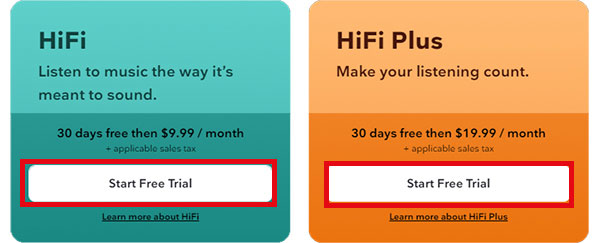 Step 3. Sign up a new account or log in the one you registered before with your email address, Facebook, Twitter, or Apple.
Step 4. Select subscription plan, "HiFi" or "HiFi Plus". Choose "Standard" or the specific types of "Family", "Student" , First Responder' or "Military". Besides, there is a option of 'Extend Your Tidal' under the package selection. It allows you to extend your Tidal free trial to 60 days for only $3.
Step 5. Complete the info of your credit card or link with your PayPal.
Step 6. Now you are the new user of Tidal and start to enjoy music with the free trial.
Part 2. How to Extend Tidal Free Trial to 6 months
It is no doubt that you are a lucky dog if you have experienced the Tidal free trial 6 months before. But you don't need to sigh for yourself if you missed that benefit in the past. We have found an unimaginable method to make this dream come true again.
It is to take advantage of a useful and powerful third-party Tidal music conversion tool. It can download Tidal music as local files without protection. In this way, you can download songs from Tidal onto computer. Or you can transfer them to other players or devices for offline playback without the Tidal app. Viewed from another perspective, you are able to extend the Tidal trial to not only 6 months but also forever through this method.
To achieve this goal safely and effectively, here, we highly recommend you AudFree Tidal Music Converter for Windows and Mac to you. It's the world's foremost expert in the Tidal music conversion field. It can bypass any limitation from Tidal tracks. And it can convert them into common formats such as MP3, WAV, FLAC, M4A and so forth.
With the most advanced technology, this smart tool can run at a 5X faster speed. It downloads Tidal songs with zero quality loss. After conversion, the whole metadata such as artists, albums, etc. will be 100% kept so that you can manage Tidal music library better.
How to Get Tidal Music Free Trial Forever
Hit the download link above to install it on your computer. And then we can download music from Tidal. There is a 1-minute free conversion for each Tidal songs. But you can unlock this limitation by purchasing the Pro version.
Step 1

Modify Tidal output format and set other parameters

Launch AudFree Tidal Music Converter and you will see there is a built-in Tidal Web Player in this software. Please log in to your Tidal free trial account. Now, you can start to switch the output format of Tidal music according to your needs.
It requires you to click the "AudFree Tidal Music Converter" option on the menu bar when you use the Mac computer. When you are the user of the Windows computer, please choose the "menu" button on the AudFree page. And then click to "Preferences" > "Advanced" option. When a new setting window pops up, it is workable for you to change the Tidal music output format as anything in the options. Also, you are free to reset Tidal music quality by altering the bit rate, audio codec, sample rate, etc.
Step 2

Load music from Tidal and stream to AudFree Tidable

To export Tidal songs, please search and tap the streams or playlist you are going to download on the Tidal Web Player. Next, when the '+' button is blue and dynamic, please hit on the '+' button and wait for the loading process. A few seconds later, those tracks will be imported in AudFree Tidal Music Converter.
Step 3

Download and get Tidal 6 months free trial

Now you've come to the final step, please click on the huge "Convert" bar at the lower right corner. Then the program will work at a 5X faster speed to download Tidal tracks. Besides, it can convert them into the common format which you have set before. The conversion period will last relying on the number of songs that you have loaded in the first step. When the conversion finishes, please remember to go to your target local folder. You can check if all Tidal songs are downloaded in there. Now you are available to enjoy Tidal music free trial service for more than 6 months or even forever.
Part 3. How to Get Tidal Free Trial 6 Months with Sprint
Tidal often cooperates with other companies to launch some giveaway activities. It aims to attract users to use their platforms. Sprint Corporation is one of them. Sprint offers two plans with Tidal free trial, including an Unlimited Plus plan, which allows getting a 6-month free Tidal HiFi trial, and an Unlimited Premium plan to get a Tidal HiFi Plus 6 months free trial.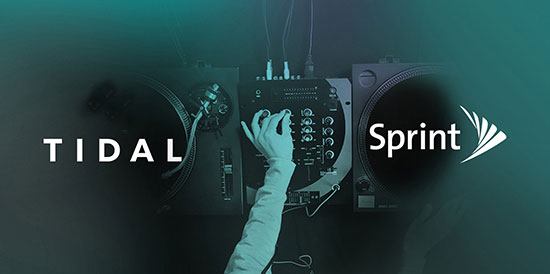 If you are using or planning to use Sprint, don't miss the above steps to get 6-month Tidal free trial here. Let's get Tidal free trial with Sprint without credit card.
Get Tidal 6 Months Free Trial with Sprint
Step 1. Subscribe to your Sprint Unlimited Plus or Premium plan.
Step 2. Please navigate to the official website if you are using a paid one. And then cancel the Tidal subscription.
Step 3. Once you log out of the Tidal account, you can accept the Sprint subscription to start Tidal 180-day free trial.
When using the Tidal 6-month free trial, you can also keep them forever with the help of the AudFree tool.
Part 4. How to Get Tidal Free Trial 3 Months with Mercedes me
Cross-field cooperation is one of the common win-win promotion methods. So do Tidal and Mercedes-Benz as you are able to experience a Tidal HiFi Plus 3-month free trial with your Mercedes me account. There is no doubt that it's a musical feast to enjoy the Tidal sounds of luxury on Mercedes-Bendz.
Even if you are driving an older Mercedes-Benz without connected functionality, the Mercedes me Adapter can also make it available with ease. Now, let's see the detailed tutorial below.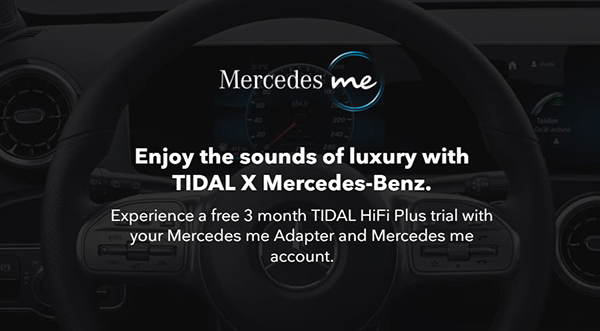 Step 1. Navigate to the Mercedes me portal, and then you need to sign up a new Tidal HiFi Plus account.
Step 2. Sign in your Mercedes me account and select the car icon to select the online music option.
Step 3. Find Tidal and activate your Tidal account via authorizing your username and password.
Step 4. Confirm it by clicking on the 'Sign Up' button. Now, you can download the Tidal desktop or mobile app and log in to your Tidal account.
Step 5. Play your favorite Tidal playlists and start to listen to unparalleled songs in your Mercedes Bens car.
Part 5. FAQs about Tidal Free Trial
Q1: How Long Is the Tidal Free Trial
The duration of the Tidal free trial is always dynamically changed. But in general, it could be a 30-day to 180-day period. Besides, based on different partners with Tidal, the free trial period could be different. You can confirm it by visiting the official Tidal website.
Q2: Do Tidal Charge for Free Tidal?
The answer would absolutely be no! Although when you sign up for a Tidal HiFi or Tidal HiFi Plus free trial account, you need to fill in your payment info, it won't charge anything officially. It's worth mentioning that you should cancel the Tidal free trial subscription before it expired.
Q3: How to Cancel Tidal Free Trial?
Can you cancel Tidal during free trial? The answer is yes! But how to do that? As a matter of fact, we have introduced a complete guide on this topic before. If you want to know it, you can refer to this page: How to Cancel Tidal Subscription.
Q4: Is There Another Way to Get Tidal Free Trial?
Apart from the above ways, if you are a T-Mobile user, you are also able to enjoy a 90-day free trial of Tidal music. Besides, there are no charges for data use while playing Tidal music online.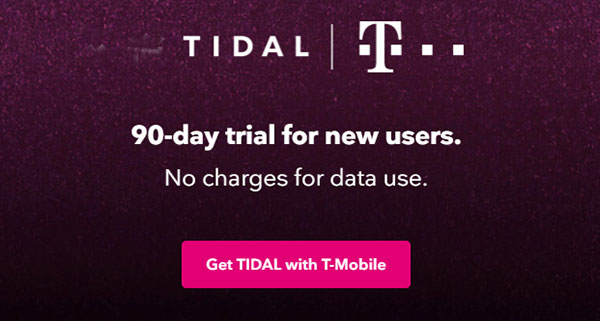 Part 6. In Conclusion
Here are 4 ways to get a Tidal free trial, including one official way for a Tidal 30 day free trial, one method for Tidal free trial 6 months with Sprint, one way for Tidal free trial 3 months with Mercedes me, and a powerful method to prolong Tidal free trial to 6 months or even forever.
Without a doubt, using the AudFree Tidal Music Converter could be your best choice to enjoy Tidal music offline. Because it enables you to keep Tidal music forever and play them anywhere anytime. Do you have another way to get a Tidal free trial? If yes, just leave it in the comment area to make this article more helpful.