Tidal is one of the world's best-known music services, offering over 100 million songs and 650,000 expert videos in lossless high-fidelity quality. Spotify, with over 100 million songs, has attracted more than 551 million active users and 220 million premium subscribers worldwide thanks to its extensive music library.
These two music streaming services can certainly compensate for each other's weaknesses after comparing Tidal vs Spotify. By using both Tidal and Spotify, it is a great joy to immerse yourself in a world full of beautiful sounds. As it's not convenient to switch between apps each time, it is a viable way to transfer playlist from Tidal to Spotify, which can save time and effort. Then in this article, we describe how to move Tidal playlists to Spotify via the top 5 Tidal to Spotify converters.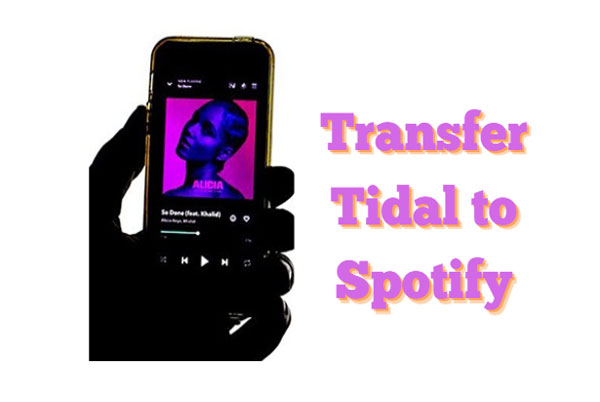 Method 1. How to Convert Tidal Playlist to Spotify Free via AudFree Tidable
The optimal way to move playlists to Spotify from Tidal is to convert or download Tidal music to Spotify-compatible format files. And then upload them to the Spotify library. This way entitles you to original Tidal audio quality and metadata info after transfer. To make it, you may need to draw support from a reliable third-party Tidal music converter or downloader.
Best Tidal to Spotify Converter
AudFree Tidal to Spotify Converter is a high-end yet easy-to-handle music converter and streamer for Tidal. Developed with legitimate decryption techniques, it can help all Tidal users remove restrictions from Tidal music without premium. Thereby Tidal content can be used offline on Spotify or other music services and portable devices without premium.
Cooperating with it, you can download all kinds of Tidal content at 5X quicker speed with 100% preservation of lossless quality and ID3 tags. Coupled with advanced conversion technical support, it converts songs to multiple output formats such as MP3, WAV, M4A, and more plain formats that are supported by Spotify and other players. You are also allowed to customize the output parameters for the optimal listening experience of Tidal music on Spotify.
AudFree Tidal Music Converter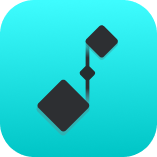 Losslessly convert Tidal playlists to local files for free
Preserve 100% High-Fidelity quality and ID3 tags
Download and convert Tidal to FLAC, MP3, WAV, etc.
Work at 5X faster speed, adjust music quality and parameters
How to Convert Tidal Playlist to Spotify for PC/Mac in Batches
The following step-by-step guide will teach how to locally convert Tidal playlists to MP3 or other unprotected files with AudFree Tidal Music Converter and import Tidal playlists to Spotify.
Step 1

Import Tidal Playlist to AudFree Tidable

Open AudFree Tidal Music Converter after the completion of installation. At the same time, the Tidal app will be launched automatically. You can drag and drop the Tidal playlist onto the main screen of the Tidal to Spotify converter. Or copy and paste the URL of the Tidal track or playlist into the search box and press the "+" icon on the top to load Tidal music.
Step 2

Adjust Tidal Output Settings for Spotify

From the top column of the main screen, locate a Menu tab that looks like three horizontal lines. From the draw-down list, click on "Preferences" > "Convert". Here, you can customize the output format and audio quality of your Tidal tracks. Just adjust the bit rate, audio channels, sample rate, etc. for smooth transfer to Spotify. As Spotify supports the following file formats, like MP3, AAC, FLAC, WAV, etc., you can choose MP3 as the output format for Tidal music.
Step 3

Download Tidal Playlist to Spotify

Now press the "Convert" button in the bottom right corner of the main page. This sought-after Tidal downloader will start downloading your added Tidal songs as local files at 5X faster speed. Once complete, touch on the bottom "Converted" tab dotted with a red spot of the tracks' number and find the target Tidal music folder from your hard drive.
Step 4

Transfer Playlist from Tidal to Spotify

1) Run the Spotify app. Tap to the top-left three dots and choose the "Edit" > "Settings" option. Then select "Preferences" and find the Local Files section.

2) Find and click on the "Add a Source" button, and go to the converted folder to transfer your downloaded Tidal playlist to Spotify.
Method 2. How to Transfer Playlist from Tidal to Spotify via Soundiiz
Obviously, no one would be so patient to import songs from Tidal to Spotify one by one. Fortunately, Tidal has partnered with Soundiiz. It is a comprehensive music transferring service that can add your playlists from one music platform to another. With its help, you can freely migrate from Tidal to Spotify without additional software installed.
🔍Note: Tidal tracks in high-fidelity quality cannot really be transferred to Spotify with Soundiiz. In fact, you can only sync the name of streams in your playlist, not the quality. If you don't mind this, please follow these steps to get the thing done.
How to Transfer Tidal Playlist to Spotify with Soundiiz
Step 1. Open the Soundiiz website and connect to your account. It allows you to log in with your Google, Facebook, Twitter, or Apple account.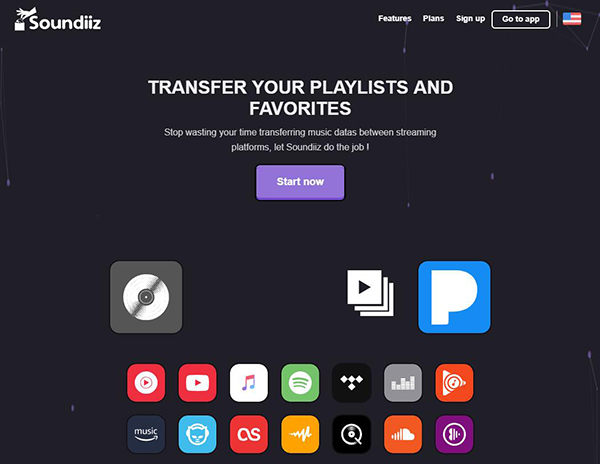 Step 2. From the left panel, tap on Tidal to connect it as the Source Service. Here, you will need to authorize this site with your Tidal account.
Step 3. Proceed to click on the "Playlists" bar from the left toolbar and choose the Tidal playlist you want to transfer to Spotify. Then hit on the "Convert" icon on the top toolbar.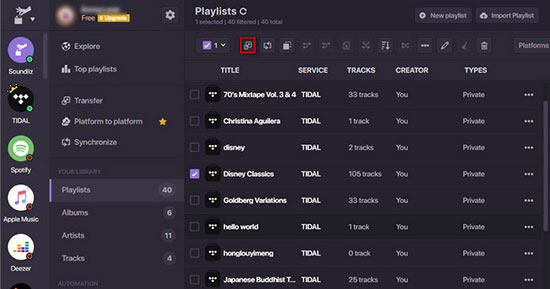 Step 4. Set Spotify as the target streaming platform and connect your Spotify account to this site. Then it will begin to sync the Tidal playlist you have chosen to Spotify.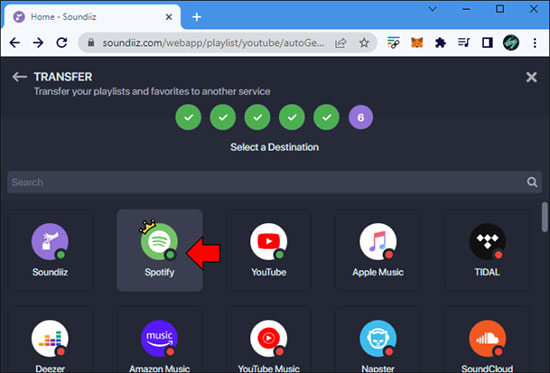 Tip: It is the privilege for Premium users to follow the steps above. Free users can only transfer playlists from Tidal to Spotify one by one on Soundiiz. If you want to switch more than one playlist, please purchase the premium plan first.
Method 3. How to Export Tidal Playlist to Spotify via TuneMyMusic
TuneMyMusic is another web-based playlist-transferring tool. It works with different music services such as Spotify, Tidal, Apple Music, YouTube, etc. It works similarly to Soundiiz and helps you to sync Tidal to Spotify playlist online without extra installment. It only takes a few steps to reach your goal.
How to Export Tidal Playlist to Spotify via TuneMyMusic
Step 1. Navigate to the TuneMyMusic website and you do not need to create a new account.
Step 2. Select Tidal as the source music platform and log into your Tidal account. Afterward, select your target playlist/track/artist/album in your Tidal library.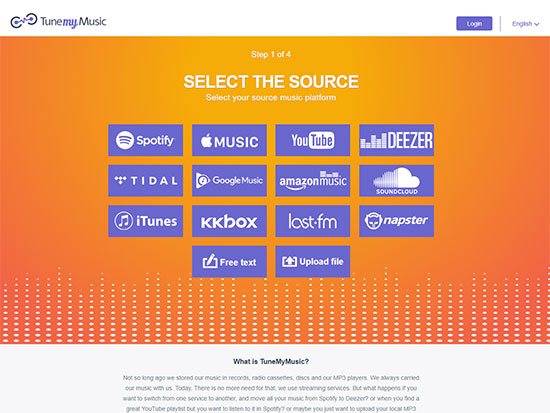 Step 3. Continue to click on Spotify as your target platform and authorize your Spotify account to this website. After that simply click on the "start transfer" button to kick off the Tidal and Spotify playlists sync.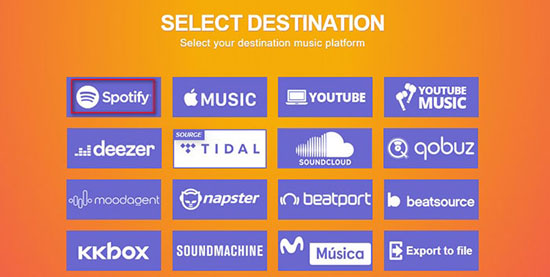 Method 4. How to Transfer Tidal Playlist to Spotify Free via FreeYourMusic
FreeYourMusic is a versatile app available for iOS, Android, Windows, macOS, and Linux. It's in a good position when you have plans to export Tidal playlists to Spotify. Besides, It's as powerful as Soundiiz and TuneMyMusic, and you can easily transfer 100 songs from a playlist through its free plan. FreeYourMusic is very simple and easy to use. All you need to do is select the source platform, playlist, and destination and it will do the rest of the transfer automatically.
How to Import Tidal to Spotify Free using FreeYourMusic
Step 1. Click here to install the FreeYourMusic app. Then, select Tidal as the source service and enter your Tidal credentials.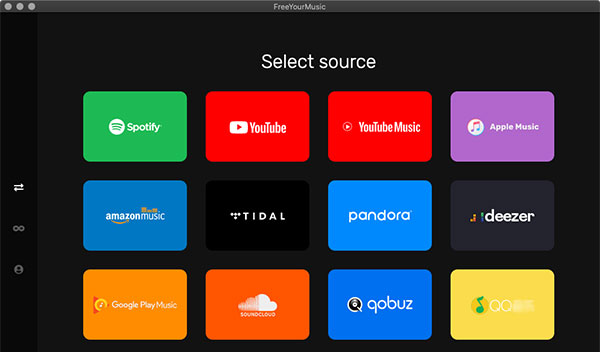 Step 2. Click on Spotify as the target service and enter your Spotify username and password to access your Spotify account.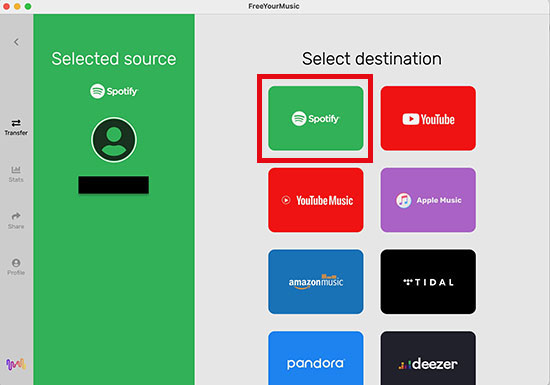 Step 3. Choose any Tidal playlists that you would like to add to Spotify. Touch on "Next" and the software will start transferring your selected Tidal playlist to Spotify. The conversion time depends on the number of songs in your playlist.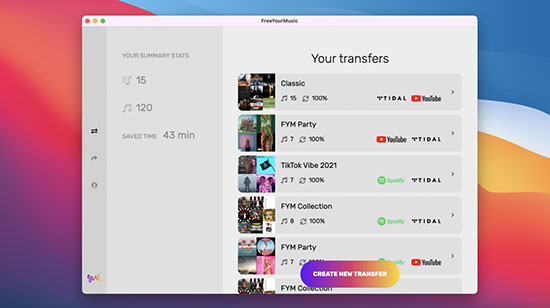 Method 5. How to Move Playlist from Tidal to Spotify via MusConv
With support for over 50 music services, MusConv is a well-received music migration app. It provides an easy solution for streaming your tracks and playlists between Tidal, Spotify, Amazon Music, Apple Music, and more. To convert playlists from Tidal to Spotify, it comes in handy as well.
How to Move Playlist from Tidal to Spotify with MusConv
Step 1. Install the MusConv application on your computer from its website and launch it. On the main screen, click the "Login" button to jump to the main screen.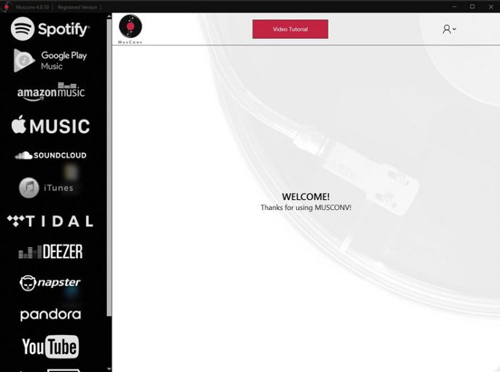 Step 2. From the list of music services on the left, select "Tidal" and allow the platform access to your Tidal music library. Check the Tidal playlists you want to move to Spotify.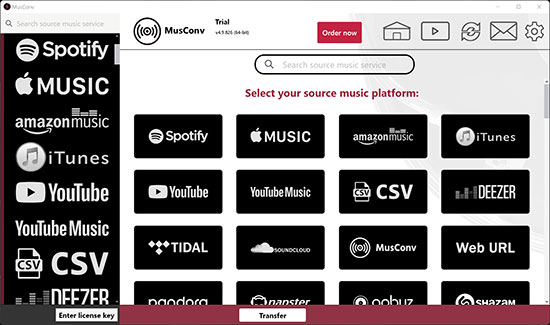 Step 3. Touch the "Transfer" button at the bottom. Then pick "Spotify" as the target platform and connect to your Spotify account. Soon, MusConv will start the Tidal to Spotify transfer.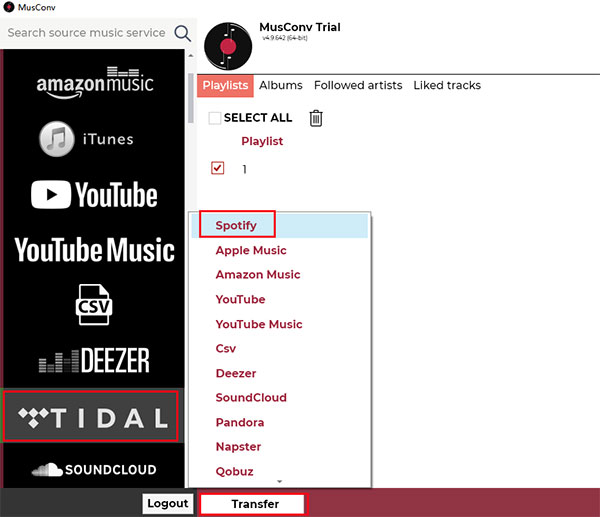 Part 6. Comparison of Tidal to Spotify Converter
We have mentioned above the top 5 tools to transfer Tidal songs to Spotify. For your convenience, please refer to the comparison table below to get a full understanding of the differences among those Tidal to Spotify playlist converters.
AudFree Tidal to Spotify Converter
Soundiiz
TuneMyMusic
FreeYourMusic
MusConv
Compatible OS
Mac, Windows
Online
Online
iOS, Android, Windows, macOS, Linux
Windows, Mac and Linux
How It Works
Download and convert Tidal as unprotected files to Spotify without audio quality loss
Transfer Tidal playlist to Spotify
Export Tidal playlist to Spotify
Import Tidal songs to Spotify
Move Tidal playlist to Spotify
Supported Input Resource
Tidal songs, playlists, albums, artists, podcasts, audiobooks
Playlists from Spotify, Apple Music, Amazon Music, Deezer, YouTube Music, Tidal, etc.
Playlists from Spotify, Tidal, Apple Music, YouTube, Amazon Music, Pandora, etc.
Playlists from Spotify, Tidal, Amazon Music, Youtube, Pandora, Apple Music, etc.
Playlists from Spotify, Tidal, Amazon Music and more than 50 other music services
Price
Free Version: $0
Advance Version: $14.95/Month
$9.50/Month
$2/Month
Free
$6.99/month
Retain HiFi/MQA Quality
✔️
✖️
✖️
✖️
✖️
Conversion Speed
5X
1X
1X
1X
1X
Recommends
4.5 Points of 5
2.5 Points of 5
3 Points of 5
4 Points of 5
3.5 Points of 5
Overall, AudFree Tidal Music Downloader is different from other methods. It losslessly downloads music from Tidal locally. So that you can transfer Tidal playlist to Spotify for offline listening with untouched music quality. It also allows you to move the converted Tidal content to any device or player at any time without limitations. The other 4 methods only move playlists from Tidal to Spotify in a direct manner. Yet, they do not support syncing of the original Tidal music quality and other Tidal content such as podcasts, audiobooks, etc. In summary, AudFree Tidable is the optimal solution.