Tidal, one of the most famous streaming music services all over the world, provides more than 60 million streams and 250,000 videos with lossless High-Fidelity quality. Spotify, on the other side, as its powerful and free music library, attracts over 70 million users throughout the world.
These two music streaming services can compensate for each other's weaknesses. Thus, many music lovers find it is a great joy for them to immerse themselves in the world full of beautiful sounds via using Tidal and Spotify together. However, it is not a convenience to switch app every time. Therefore, transferring Tidal to Spotify is on huge demand. In this article, we present 5 doable methods on how to transfer playlist from Tidal to Spotify.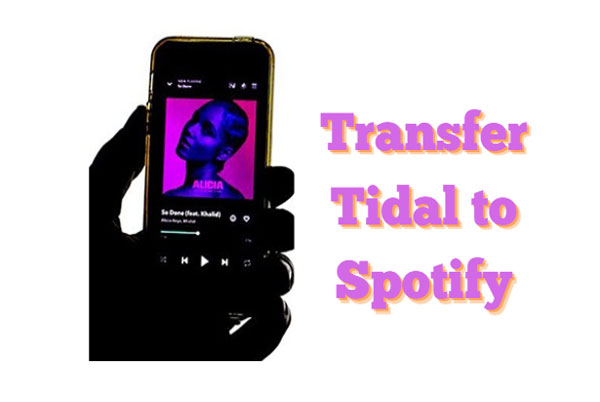 Part 1. How to Convert Tidal Playlist to Spotify Using AudFree
AudFree Tidal Music Converter is a high-end yet easy-to-handle music converter and streamer for Tidal. Developed with legitimate decryption techniques, it helps Tidal subscribers to remove restrctions from Tidal tracks and playlists, thereby making it happen that Tidal content can be used offline on Spotify or other music services and portable devices without premium.
Cooperating with it, you get the ability to download Tidal music with 100% lossless quality preserved, and flexibly convert songs to multiple output formats such as MP3, FLAC, M4A, AAC, etc. at 5X quicker speed. Depending on what you demand, you are also allowed to customize the output parameters for the optimal listening experience of Tidal music on Spotify.
The following step-by-step guide will teach how to locally save playlists from Tidal with AudFree Tidal Music Downloader and transfer converted Tidal playlist to Spotify.
Step 1

Import Tidal playlist to Audfree

Open AudFree Tidal Music Converter for Mac or Windows after the completion of installation, and Tidal app will be launched automatically at the same time. You can drag and drop Tidal playlist, or copy and paste the URL of Tidal track to AudFree searching box to load up Tidal music.
Step 2

Adjust output settings for Spotify

From the top column of AudFree's main interface, locate a menu icon and click the "Preferences" > "Convert" option. Here, you are allowed to customize output format and output audio quality by adjusting the bit rate, audio channel, sample rate, etc.
Step 3

Convert Tidal playlist for Spotify

Now, it's your time to the "Convert" button at the right-bottom corner of the main page. AudFree software will begin to download and save your imported Tidal songs as local files. Once finished, navigate to the "Converted" window to locate the desitination folder from your hard drive.
Step 4

Transfer Tidal playlist to Spotify

1. Run the Spotify app and log in to your Spotify account;

2. From "Menu" oprtion, choose "Settings" > activate "Show Local Files";

3. Find and click "Add a Source" to transfer the downloaded Tidal playlist to Spotify;

4. From the left menu bar, access "Local Files" to listen to Tidal music in Spotify.
Part 2. How to Transfer Tidal Playlist to Spotify via Soundiiz
It obvious that no one would be so patient that manually import playlists from Tidal to Spotify one by one. Fortunately, Tidal has cooperated with Soundiiz, an all-rounded music playlist transferring service, which is available to add your playlist from one music streaming platform to another. With the help of it, you can freely move the Tidal playlist to Spotify without installation of an extra software.
Note: The High-Fidelity quality's tracks from Tidal can't be really transferred to Spotify with Soundiiz, for the reason that you only sync the name of streams in your playlist but not the quality. If you don't mind this, follow these steps to get the thing done.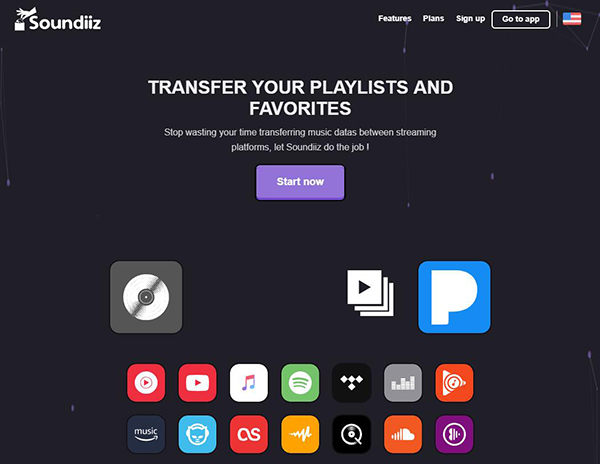 Step 1. Open the Soundiiz website and log in your account. If it is the initial use for you, please register a new account. It allows you to use your email address or social account for registration;
Step 2. You will see a vertical column of different icons of streaming music on the left side. Then hit on the "Platform to Platform" button to skip to a new window;

Step 3. Choose "Tidal" as the source streaming platform. Here, you need to authorize this site with your Tidal account;
Step 4. Now select whatever category you like to transfer such as playlists, tracks, artists or album. Clicking the related option in your library. For now, we are going to add Tidal playlist to Spotify so choose the "Playlist" bar;
Step 5. Set the "Spotify" as the destination streaming platform. Repeat the operation like Step 3, to connect your Spotify account to this site. Then it will begin to sync the Tidal playlist you have chosen to Spotify.
However, it is the privilege for Premium users to follow the steps above. Free users can only transfer playlists from Tidal to Spotify one by one on Soundiiz. If you would like to switch more than one playlist, please purchase the premium plan at first.
Part 3. How to Export Tidal Playlist to Spotify by TuneMyMusic
TuneMyMusic is another web-based playlist transferring tool for different music streaming platforms. It works like Soundiiz, helping you to sync your Tidal playlist to Spotify online without extra installment. Only with a few steps can reach your goal.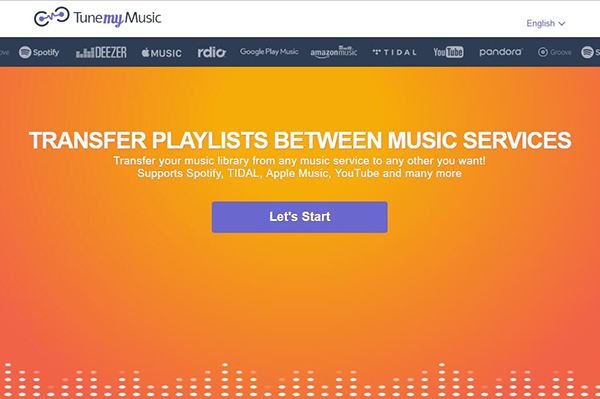 Step 1. Navigate to TuneMyMusic website. You don't need to create a new account;
Step 2. Choose "Tidal" as the source music platform. Then a new window will pop up and ask you to log in your Tidal account;
Step 3. Select your target playlist/tracks/artists/album in your Tidal library;
Step 4. Click "Spotify" as your destination platform. Here, you are required to authorize your Spotify account to this site;
Step 5. Start to move your Tidal playlist to Spotify by simply clicking on "Start Moving My Music".
Part 4. How to Import Tidal Playlist to Spotify through FreeYourMusic
FreeYourMusic, formerly known as Stamp, also gives a helping hand when you have a plan to transfer Tidal playlist to Spotify. It's a streaming tool as powerful as Soundiiz and TuneMyMusic, which is in a position to migrate playlist from one music streaming service to another with ease. Though, FreeYourMusic has not yet started its own online service. So, you need to download FreeYourMusic app in your computer before operating.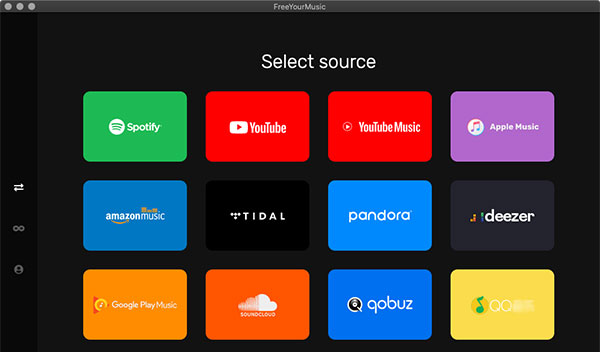 Step 1. Download, install, and run FreeYourMusic app. Then, select Tidal as source service and log in your Tidal account;
Step 2. Hit "Spotify" as the destination service and enter your Spotify username and password to access Spotify account;
Step 3. Choose whatever the playlist that you want to add to Spotify;
Step 4. Tap on "Next" and the software will start to transfer your selected Tidal playlist to Spotify. Conversion time depends on how many songs in your playlist.
Part 5. How to Move Playlist from Tidal to Spotify with MusConv
Supporting more than 50 music services, MusConv is a well-received music migration app, providing an easy solution to stream your tracks and playlists between Tidal, Spotify, Amazon Music, Apple Music, etc. To copy Tidal playlist to Spotify, it can come in handy as well. With just a few clicks, you are done.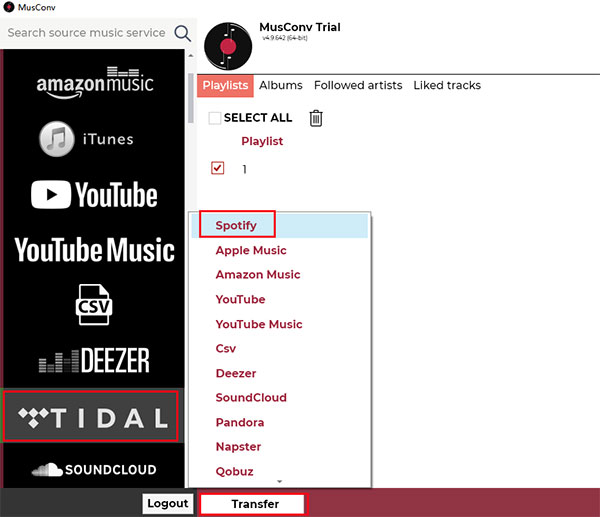 Step 1. Get the MusConv app installed on your computer and then launch it;
Step 2. On the home screen, click "Log In" to skip to the main interface;
Step 3. From a list of music services on the left, select "Tidal" and sign in your Tidal account;
Step 4. Tick the Tidal playlist that you will transfer to Spotify. Next, touch the "Transfer" button at the bottom;
Step 5. Choose "Spotify" as the target platform and log in to your Spotify account. Soon, MusConv will start transferring.
Part 6. Bottom Line
All the methods suggested above will work perfectly to transfer Tidal playlist to Spotify. The top one - AudFree Tidal Downloader differs from the others. It does your trick by losslessly downloading music from Tidal to local, so that you can transfer local Tidal playlist to Spotify for offline listening with untouched music quality. The other 4 ways are designed to move playlist from Tidal to Spotify in a direct manner, but which just support the conversion of playlists, not inclduing the sync of the original Tidal music quality.