As one of main streaming music server in the market, Tidal always focus on providing high-quality music to its subscriber. Up to now, there are 4 types of streaming quality for choice: Normal, High, HiFi and Masters. As the Representative of MQA quality, Tidal Masters provides the ultra-high music quality to those who desire for the unparalleled auditory experience.
However, listening to higher-quality songs requires a better network for a nice listening experience. When it comes to listening to MQA on Tidal, the best way could be to get Tidal MQA download offline.
Therefore, on this page, we will teach you how to download Tidal MQA files with the best Tidal MQA downloader and recorder. If you are looking for a way to download Tidal MQA list and play them offline anywhere, please read and get the best solutions.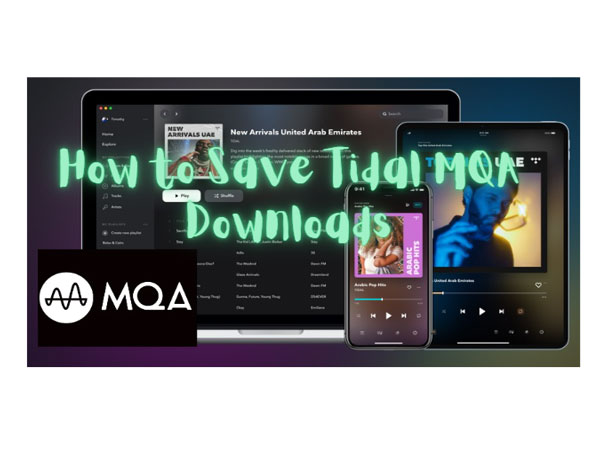 Part 1. Get Tidal MQA Download Locally via Best Tidal MQA Downloader
Just like most of the streaming music service companies in the market, Tidal also adopts the protection technology to protect the music copyright. This factor is beneficial to the artists and music publishers. But for the vast world audience, it is not a benefit. We pay for the subscription every month but we are not allowed to download Tidal MQA onto computer. Is that fair to us? I am still wondering.
Fortunately, there is a powerful and useful tool for us to change this unfair situation. With the help of AudFree Tidal MQA Downloader, we can download MQA from Tidal streaming into different types of formats such as MP3, WAV, FLAC, WAV, AAC, M4A, and M4B. Using the most innovative technology, this intelligent software can preserve 100% lossless music quality with all ID3 tags like playlists, artists, albums, and so on.
The process of operation is incredibly simple and short because of the precise interface and 5X faster speed. It is time to download Tidal MQA albums for ultimate auditory experience by using this best Tidal MQA downloader.
How to Get Tidal MQA Music Download
Both Windows and Mac versions of AudFree Tidal Music Downloader are available for downloads. So please select and install the right one for a free trial. In the free mode, there is a 1-minute conversion limit for each of Tidal MQA music file. But don't worry, you can purchase the full mode at any time once your demands increase. Just click the "menu" icon on the upper right corner. Now let's see how to use this smart tool to download Tidal MQA files from the beginning to the end.
Step 1

Add MQA music from Tidal and import to AudFree Tidable

Install AudFree Tidal Music Downloader on your computer. Open it then the Tidal app will be turned on automatically meanwhile. To load Tidal MQA songs, please select the streams or playlist you on Tidal's page. Next, copy the link of the Tidal MQA tracks or playlist and please paste it to the search box on the main page of AudFree Tidable. After that, Simply tap on the "+" button, and wait for few moments until those songs are added in AudFree Tidable.
Step 2

Reset Tidal MQA output format and customize other parameters

You can define the Tidal MQA output format based on your requests. On the Mac computer, you have to hit the "AudFree Tidal Music Downloader" icon on the menu bar. On the Windows computer, you need to click the "menu" button on the AudFree Tidable window, and then choose "Preferences" > "Convert" bar. There is a setting window for you to customize the output format of Tidal MQA downloads as any common one. Besides, If you want to save the MQA quality, you are suggested to set the bit depth to 24 bit, sample rate to 48000 Hz, etc.
Step 3

Download and store Tidal MQA music into computer

When every step above is done, just simply tap on the conspicuous "Convert" button at the lower right corner in the main interface. Then the program will run at a 5X faster speed to get MQA music download from Tidal and keep them into the format which you have set before. The conversion time will not be long, depending on how many songs or playlists you have imported. After conversion, please remember to locate your target folder on the computer and see if all Tidal MQA music is on the list.
Part 2. How to Download Tidal MQA Files on Mobile
It's well-known that Tidal HiFi Plus subscribers are available to play MQA on Tidal offline via the Offline Mode. If you have already upgraded to this high-end plan of Tidal, you can follow the below steps to download MQA from Tidal files on Android phones and iPhones.
Note: Even if you are using a Tidal HiFi Plus account, you still can't download Tidal Master MQA files on your computer. Because there is no 'Download' option on your Tidal desktop app. If you want to do this, you can draw support from the excellent tool in Part 1. But you can directly listen to MQA on Tidal online on computer.
How to Download MQA from Tidal
Step 1. Install and open Tidal app for Android or iOS on your mobile devices.
Step 2. There is a search bar for users to find favorite music and playlists that you'd like to download.
Step 3. If the music supports MQA quality, there will be a Master icon for each song. Now, please tap the item and turn the 'Download' on.
Step 4. When the process is done, you can find all Tidal MQA downloads under 'My Collection' > 'Downloaded' section.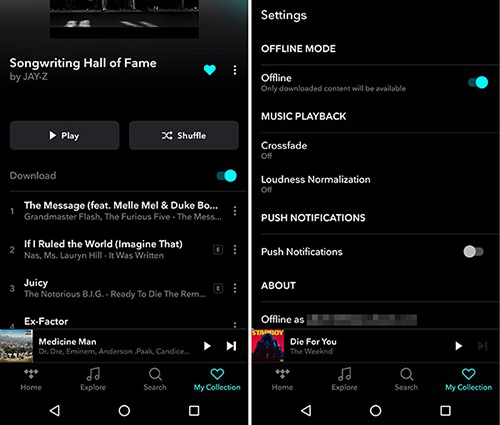 Part 3. FQAs about Tidal MQA & Tidal MQA Download
Q1: What is MQA?
MQA is a method of digitally saving recorded music. The feature of this method is that files are small and convenient to download or stream, which doesn't need to sacrifice the sonic like traditional compressed files.
Q2: What is Tidal MQA?
With the cooperation between Tidal and Master Quality Authenticated, Tidal starts to provide master recordings from the master source directly to Tidal HiFi Plus subscribers in MQA quality.
Q3: What is the difference between Tidal MQA and HiFi?
Tidal MQA claims that its streams are a similar bandwidth to those required for CD-quality tracks. According to the illustration on the Tidal website, MQA audio is an authenticated and unbroken sound typically stored in 9216 kbps or 192 kHz / 24 bit (the highest-possible resolution).
HiFi music is an excellent sound, which resolution is 1411 kbps or 44.1 kHz /16 bit. Therefore, as we can see, music quality delivered by MQA is better than what HiFi offers.
Q4: How to listen to Tidal MQA?
To play Tidal MQA files, please use the latest Tidal desktop client app or mobile app. Nowadays, you can also listen to Tidal MQA on Tidal Web Player via mos most popular web browsers. (Safari and Microsoft Edge are not included.) Besides, please subscribe to Tidal HiFi Plus subscription.
Q5: Is it better to play Tidal MQA via DAC?
Yes. If you connect your device to an MQA-enabled DAC, you will get certified lights and the better audio quality and listening experience.
Q6: How to play Tidal MQA anywhere?
The Tidal music downloaded music from the Tidal mobile app is cache files. It's limited to playing on its app only. The best way to play Tidal MQA download anywhere, you can get help from AudFree Tidable Music Downloader, which can not only download music from Tidal locally but also convert them to FLAC, WAV, and other common audio formats.
Part 4. In Conclusion
You can find MQA on Tidal via tapping the 'Navigation Drawer' > 'Masters' option. And then, you can choose the suitable way to get Tidal MQA download. If you prefer to use the Tidal mobile app to listen to Tidal MQA and have a Tidal HiFi Plus account, you can directly download Tidal MQA on your Android phone and iPhone. If you'd like to play MQA on Tidal on a computer or other devices, you can't miss the AudFree Tidal MQA downloader to make it possible. Now, you can enjoy the listening feast with Tidal MQA.