It is supposed to be the same thought of many people when listening to a specific melody: This song is in line with my aesthetic view and it will be wonderful if I could set it as my phone ringtone. It is theoretically simple to make ringtones for iPhone or Android mobile devices. However, quite a few people are known to have trouble in using Tidal music as iPhone ringtone.
Why? Can't Tidal music be used as a ringtone for iPhone? Honestly, this plan is not easy to implement due to Tidal copyright limits. But it is not beyond a measure of impossibility. Today, on this page, I would like to share 2 useful methods to help you make Tidal ringtones for iPhone. Read on for more details.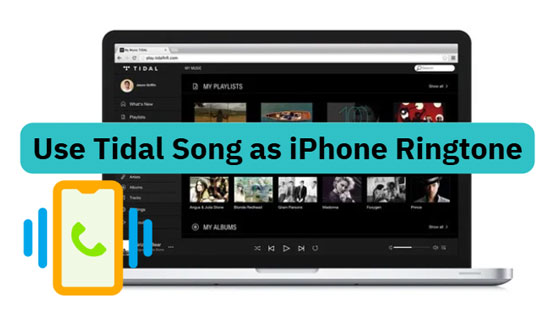 Part 1. Tidal Music to Ringtone Converter - AudFree Tidal Music Converter
Before you get this effective method, you need to realize a fact which you may not notice before. That is every Tidal track is copyright-protected and you can't preserve these streams on the local computer even you already have a premium subscription. In other words, you need a powerful Tidal music converting software like AudFree Tidal Music Converter to unlock the copyright protection from Tidal songs.
Literally, AudFree Tidal Converter has set the industry benchmark, being far beyond the same types of products in the market. The reason is very simple but persuasive. This progressive software is proficient in removing digital copyright constraints from Tidal tracks in a safe and legal manner.
With it, you can download Tidal MQA music or HiFi music into local M4A, MP3, FLAC, and other common-used audio files without losing any original quality. Metadata info such as title, artist, album, etc. will be fully kept in Tidal tracks after conversion.
To your surprise, AudFree Tidal Music Converter takes an exquisite technology to provide every user with a 5X faster-converting speed and a large capacity of adding 100 songs at a time. With the assist of this advanced program, you are supported to save any Tidal songs as local music files for iPhone ringtone making.
How to Create ringtones from Tidal for iPhone
Before to explain the detailed steps, please download AudFree Tidal Music Converter by use of the above download button. You can get one-minute conversion for 1 song in the trial version. To unlock the complete version, please register.
Now, let's see how to convert music to iPhone ringtone from Tidal with AudFree Tidal Converter..
Step 1

Copy music from Tidal to AudFree

Turn on AudFree Tidal Music Converter and the Tidal app will be auto-opened at the same time. Then, find Tidal track that you plan to use for iPhone ringtone, and click the "..." icon next to the track > "Share" > "Copy Track Link" to copy URL of the Tidal track for pasting onto the search box of AudFree main screen. Subsequently, touch the "+" icon to add your Tidal song to AudFree in a flash.
Step 2

Set output format for iPhone ringtone

On the Windows machine, please find the menu bar from the upper sidebar of AudFree. Then press on the "Preferences" > "Convert" to visit a setting window. On the Mac machine, please hit on the "AudFree Tidal Music Converter" from Mac's menu list on the top left corner. Next, you are supported to switch the output music options such as format, sample rate, bit rate, channel, and so on. It is better for you to select M4A as Tidal output format for better compatibility with your iPhone.
Step 3

Locally save Tidal tracks as iPhone ringtone

Finally, just go to the "Convert" bar on the bottom right corner of AudFree. Soon, AudFree Tidal Converter will run at a 5X faster speed to decode Tidal songs to local music files. When the conversion is done, a red spot with number will pop up on the "Converted" icon. Please click it to access the target music folder where all of the local streams from Tidal are listed.
Part 2. How to Use Tidal Tracks as iPhone Ringtone
Having saved songs from Tidal to local computer, you now can start creating Tidal songs as your iPhone ringtone without limitations. Below presents how to get the thing done with iTunes.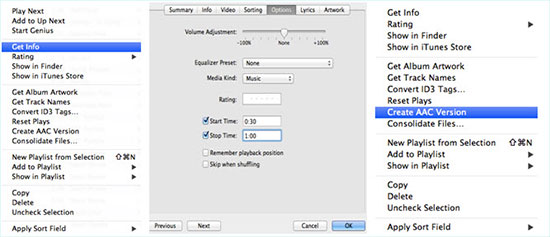 Step 1. Open iTunes on your desktop and upload the local Tidal audio files to the iTunes library;
Step 2. Select the song that you would like to create a ringtone and right-click to choose "Get Info" > "Option";
Step 3. A new window for editing will open, you can set the Start Time and Stop Time of the ringtone, which should be less than 40 seconds;
Step 4. Right-click the selected song again and hit the "Convert" > "Create AAC Version". It will create a new segment of this Tidal track;
Step 5. Right hit to the new clip and choose "Show in Windows Explorer or Finder";
Step 6. Delete this new version from the iTunes library. But don't throw it to the recycle bin;
Step 7. Drag and drop the new Tidal ringtone to a new folder on the computer. Then you need to change the file extension from M4A to M4R;
Step 8. Double click this M4R ringtone, and it will be added into iTunes' ringtone library automatically;
Step 9. Sync your iTunes library on the iPhone, then in your iTunes' ringtone library, you can use Tidal music as iPhone ringtone with ease.
Part 3. How to Make Tidal Song as Ringtone on iPhone via GarageBand
In addition to the cooperation of AudFree Tidal Music Converter and iTunes, there is an alternative that also helps you to custom Tidal track for ringtone on iPhone. That's to make use of GarageBand - a full-featured music creation studio on iOS and Mac. It includes a collection of instruments, with which you can create ringtone from Tidal for iPhone in a desirable way. Here is how to do.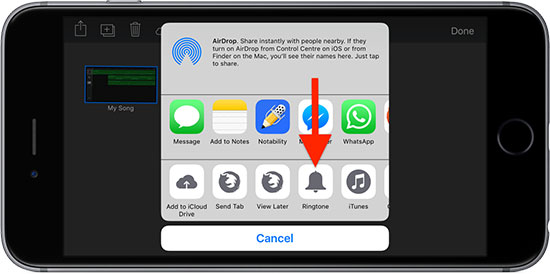 Step 1. Firstly, download and install GarageBand app on your iPhone;
Step 2. After launching it, please find "Audio Recorder" option;
Step 3. Next, open Tidal and play the song that you want to set as ringtone;
Step 4. Go back to GarageBand and tap to let it record the playing Tidal music;
Step 5. Once recorded, press on an icon shaped by brick wall to access the editing screen;
Step 6. In the editing screen, you can split or cut the Tidal music recording based on your demand;
Step 7. Whereafter, select "My Songs" option by clicking a down-arrow icon at the top left corner;
Step 8. Hold the Tidal track and choose "Share" > "Ringtone" > "Continue" > "Export" > "Use sound as..." to directly set the Tidal track as your iPhone ringtone;
Step 9. If you tap "OK" instead of "Use sound as...", the custom Tidal track will be exported to iPhone;
Step 10. In this case, you should open "Settings" on iPhone and then to "Sounds & Haptics" > "Ringtone". The Tidal track exported from GarageBand will be presented on the top of ringtone list. Simply choose it to use it as ringtone on iPhone.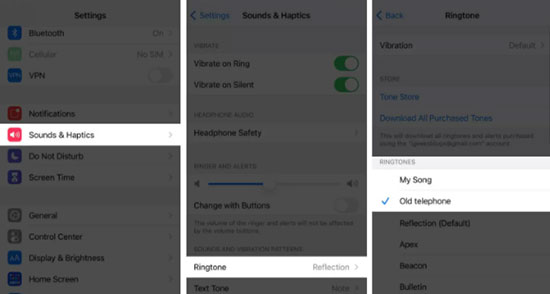 Part 4. Bottom Line
Either of the above two methods can do you a favor to use Tidal music as ringtone on iPhone. AudFree Tidal Music Converter and iTunes are a perfect combination, which helps to download and create Tidal ringtone for iPhone with ease. Of course, GerageBand is also great. It provides you with a direct option to make Tidal tracks as ringtone on iPhone. According to your own personally needs, choose one to be at your service.