Tired of the pre-set ringtones on your phone and want to go back to the good old days of custom ringtones? Amazon Music is undoubtedly the perfect choice for finding songs or ringtones to download. That's because it's an incredible music streaming platform that offers the latest hit songs.
Here, in this article, we will cover the best ways to set Amazon Music ringtones on Android/iPhone. Now scroll down this page to start the informative trip on using Amazon Music as ringtones on your device.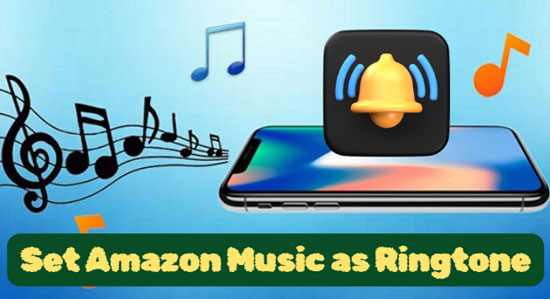 Part 1. Why Choose Amazon Music for Ringtones
Amazon Music is a great choice for those looking for a wide variety of ringtones. With over 70 million songs to choose from, you are sure to find the perfect ringtone to suit your style and preferences. Amazon Music also offers HD and Ultra HD quality music and exclusive content, such as original songs and playlists curated by experts in the music industry, which you won't find anywhere else.
Does Amazon Music have ringtones? Or can we set Amazon Music as ringtone directly? The answer will disappoint you. All songs on Amazon Music are protected by digital rights management. In this case, you can only access the songs within the Amazon Music app and cannot use them for other purposes, let alone make a ringtone from Amazon Music.
Also, even if you download Amazon Prime or Unlimited Music, you may find that your phone cannot locate these music files because they are cached files. iPhone supports M4A, M4R and AAC ringtone formats, while Android phones support MP3, M4A, WAV and OGG files as ringtone. Therefore, you will need to download and convert Amazon Music to local file that is compatible with mobile phone ringtones.
Part 2. Make Amazon Music Ringtones - Preparation
As mentioned above, you will need to remove the restrictions of Amazon Music first. To perform this process, you must look for a unique tool, namely AudFree Amazon Music Downloader. It can download and convert Amazon Music to MP3, FLAC, AAC, WAV, etc. at 5X faster speed. In addition, it has the ability to download Amazon Music Prime and Unlimited music to your computer locally without subscription.
Further, you can transfer the converted Amazon Music to your mobile phone via USB or WiFi to set the ringtone. Besides, this tool will automatically retain the original sound quality and all ID3 tags of your Amazon songs. You can also customize the output parameters to enhance the Amazon Music ringtones quality, such as 320kbps bit rate, 48,000HZ sample rate.
AudFree Amazon Music Converter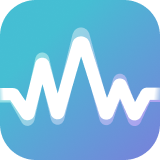 Save Amazon Music tracks locally without subscription
Convert Amazon Music to MP3, FLAC, AAC, WAV, etc. for making ringtones
Customize Amazon Music output parameters such as channels, sample rate, etc.
Make Amazon Music ringtones with original sound quality
How to Convert Amazon Music to Phone-Compatible Files
Step 1

Adjust Amazon Music Output Settings for Ringtone

Press the "Preferences" icon from the drop-down list of "Menu" option, and then choose "Convert" to modify the conversion attributes like output format, bit rate, sample rate, channel and output storage path as per your requirements. You can set Amazon Music output format like MP3 (for Android) or M4A (for iPhone) to overcome compatibility issues when you try to set ringtone from Amazon Music on your smartphones.
Step 2

Add Amazon Music to AudFree Amable

Search for your favorite playlist or album from the Amazon Music library. Next, copy the target Amazon track link and paste it into the top search bar of AudFree Amable. Then press the "+" icon and all Amazon Music tracks will be loaded.
Step 3

Convert Amazon Music for Phone Ringtone

Finally, touch the "Convert" button to enable the conversion process. When finished, click on the "Converted" icon with a red number to find the downloaded Amazon Music file directly. Afterwards, you can listen to Amazon Music offline and use Amazon Music for ringtones.
Step 4

Trim Amazon Music Song to Ringtone Length

Before setting up Amazon Music as a ringtone, you need to decide which part of the song you want to use as your ringtone, i.e. trim the ringtone length of the song. Most ringtones are between 15 and 30 seconds long, so you need to choose a part of the song within that range and use audio editing software for this trimming process.
Part 3. How to Set Ringtone on Android from Amazon Music
Now that Amazon Music is well converted to a ringtone format supported by your phone and nicely trimmed, it's time to set your favorite one from the local Amazon Music tracks as a phone ringtone. Follow the steps below to set Amazon Music as ringtone on Android.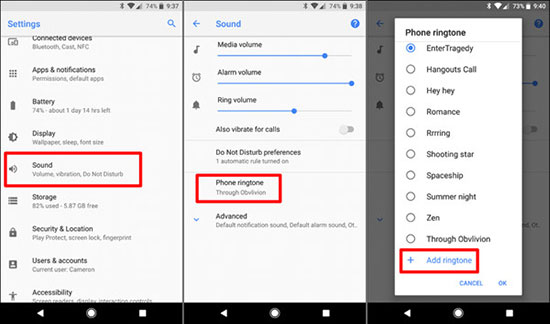 Step 1. Connect your phone to computer with a USB cable and transfer the downloaded Amazon Music tracks to Android phone from your computer.
Step 2. Open "Settings" on your phone and go to the "Sound" option.
Step 3. Tap "Phone Ringtone" and "Add Ringtone" to browse Amazon Music songs.
Step 4. Then you can make a song from Amazon Music your ringtone.
Part 4. How to Use Amazon Music as Ringtone on iPhone
As for using Amazon Music as ringtone on iPhone, there are two ways for your reference below. One is through iTunes, the other is to utilize GarageBand Amazon Music ringtone maker, let's see the details.
Way 1. How to Create a Ringtone from Amazon Music via iTunes
Step 1. You need to upload Amazon music to iTunes first.
Step 2. Right-click on the Amazon Music track you wish to set as a ringtone and select "Song Info".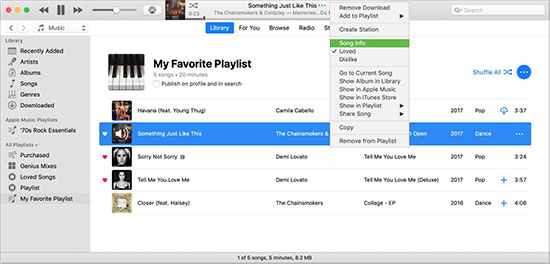 Step 3. In the pop-up window, select "Options > Start > Stop" to set the ringtone duration for Amazon Music (no more than 30 seconds).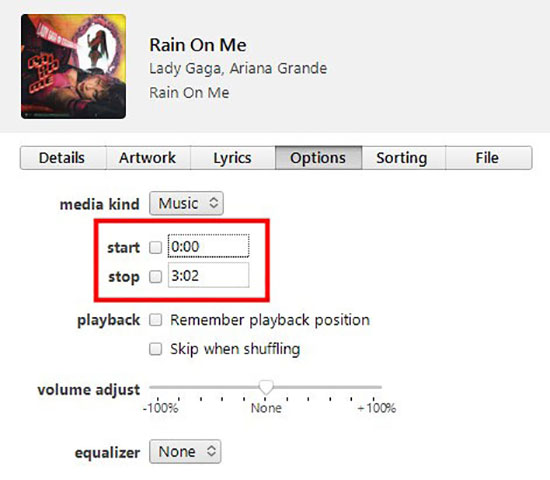 Step 4. Navigate to "File > Convert > Convert AAC Version" to automatically create a 30 second Amazon Music track.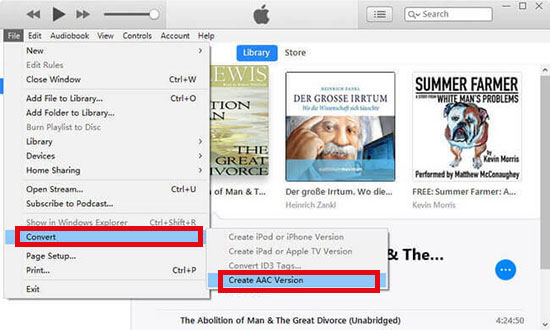 Step 5. Drag and drop the created Amazon Music ringtone file onto your desktop, click on it and rename the ".m4a" file extension to ".m4r".
Step 6. Connect your iPhone to your computer using USB. When iTunes detects your iPhone, go to the "On my device" and "Ringtones" sections to sync the Amazon Music ringtones you created to your iPhone.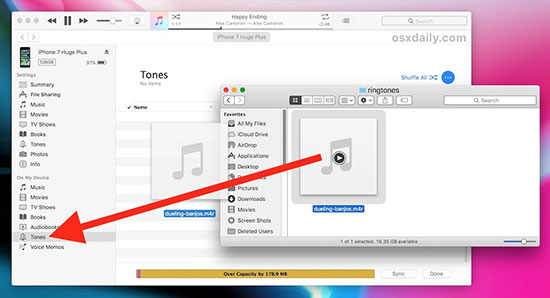 Step 7. Launch "Settings > Sound & Haptics > Ringtone" on your iPhone to set ringtone from Amazon Music.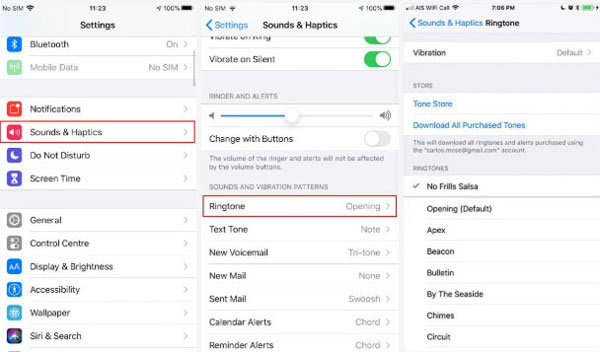 Way 2. How to Get Ringtones from Amazon Music via GarageBand
It can be a bit complicated to set Amazon Music as ringtone with iTunes. Here's another option to create a custom ringtone on iPhone directly using the Garageband app.
Step 1. Transfer Amazon Music to iPhone from your computer via USB cable directly.
Step 2. Open the GarageBand app on your iPhone and select the "Tracks" tab.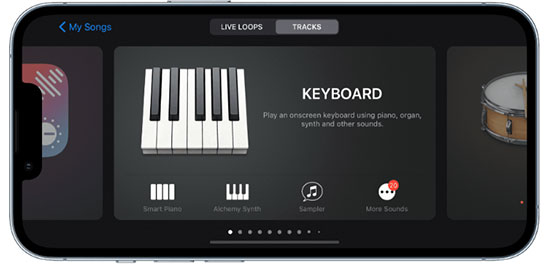 Step 3. Select any available instruments and tap the "Project" icon. Afterwards, tap the "Loop" icon in the top right corner.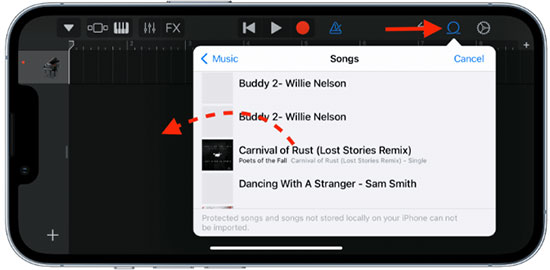 Step 4. Switch to the "Files" section and tap on "Browse Items from the Files" to find your saved Amazon Music.
Step 5. Long click on the Amazon song to add it to the GarageBand project. Drag the ends of the tracks to trim the audio record to your liking.
Step 6. Once you have adjusted the Amazon song, click the "down arrow" in the top left corner to select "My Songs".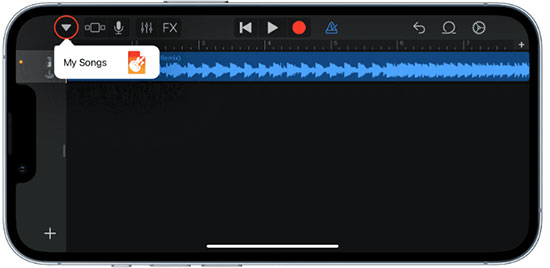 Step 7. Select the "Share > Ringtone" option. Touch "Export" and "Use sound as ......" to get Amazon Music your default ringtone.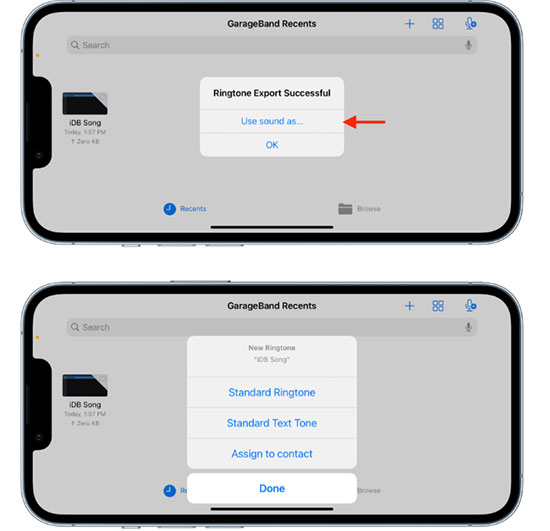 Part 5. How to Set Amazon Music Ringtone for a Specific Contact
Have you tried setting custom ringtones for specific contacts? This feature helps us to identify who is calling without even looking at the phone. Whether it is a family member, friend, or colleague, using a unique ringtone for each contact can make our lives a lot easier. In this response, we will guide you through the process of making a custom Amazon Music ringtone for a specific contact on your mobile phone.
Step 1. Make sure you have transferred the clipped Amazon Music to your Android or iPhone in advance.
Step 2. Open the "Contacts" app on your phone and then find and select the contact you want to set a custom ringtone for.
Step 3. Tap "Edit" in the top right corner of the screen, scroll down and tap "Set ringtone".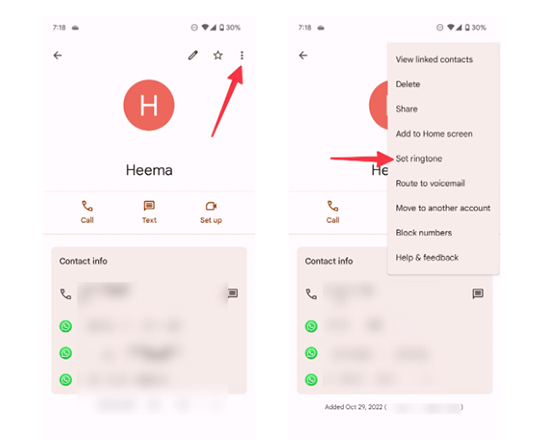 Step 4. Select "My Sounds > + " from the list of options.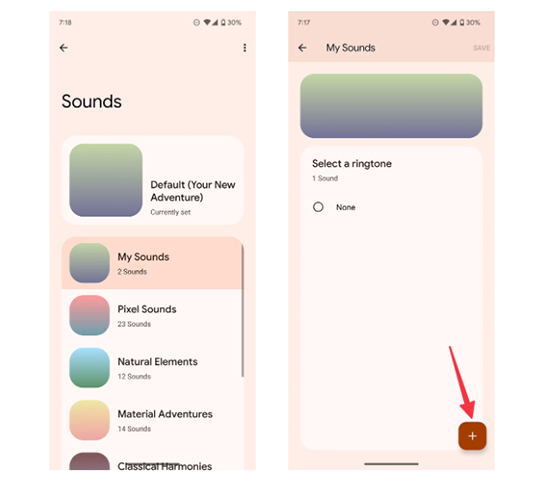 Step 5. Choose the Amazon Music song you want to use as the ringtone from your phone library.
Step 6. Tap "Save" in the top right corner of the screen and save the changes to the contact.
Part 6. Tips for Selecting the Perfect Ringtone Candidate on Amazon Music
With so many Amazon Music songs available, selecting the perfect ringtone candidate can be a daunting task. However, by considering a few key factors, you can ensure that you choose a ringtone that not only sounds great but also reflects your individuality. In this part, we will provide you with some useful tips to help you find the perfect Amazon Music ringtone for your phone.
🔔 1. Choose the Amazon Music that you like: The most important thing is to choose an Amazon Music song that you enjoy listening to. You'll be hearing it multiple times a day, so make sure it's something you won't get tired of quickly.
🔔 2. Consider the volume: Make sure the Amazon ringtone is loud enough for you to hear in different environments, but not so loud that it's disruptive to others.
🔔 3. Keep it simple: A simple ringtone is often the most effective. Avoid overly complex ringtones that may be distracting or confusing.
🔔 4. Match the tone to the occasion: Consider selecting different ringtones on Amazon Music for different occasions. For example, you may want a more upbeat ringtone for personal calls and a more professional tone for work calls.
🔔 5. Test it out: Before committing to a ringtone, listen to it multiple times to ensure that you still enjoy it and that it's practical for your needs.
Part 7. In Conclusion
Thus, this article has given you a glimpse of how to set ringtones from Amazon Music for Android and iPhone. By simply making good use of AudFree Amazon Music Converter, you can download the songs from Amazon Music to your local drive successfully. In turn, it is possible to make Amazon Music ringtones without any hassle. Try to get rid of those ordinary ringtones and use unique ringtones instead.