Many people like to listen to music while driving, especially long-distance driving. Streaming music platform Tidal is the first choice for people to listen to music. So, can Tidal be used in the car?
Yes. There are some car models that are compatible with Tidal, such as Tesla, etc. For cars like this, you can find the Tidal app directly on your touchscreen. However, most cars still do not support Tidal. So you can try some other methods.
You can stream Tidal music from your phone to your car that's compatible with Android Auto or Apple CarPlay. Alternatively, you can connect your phone via Bluetooth or an aux connection and stream Tidal music online. Other than that, the best way is to use a USB drive to listen to Tidal music offline in the car, no need for a phone. Read on and learn how to play Tidal in car in these five ways.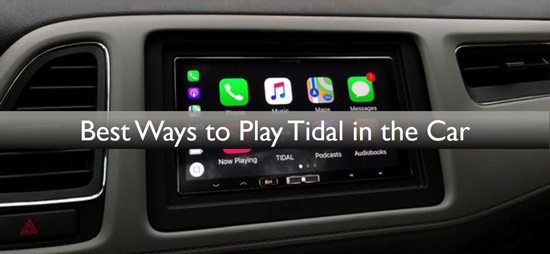 Way 1. How to Download Tidal Music to USB Drive for Playing in a Car
First, we'll cover the best way to get your Tidal car working. No phone or internet connection required, all you need is AudFree Tidal Music Converter and a USB drive. This method is available to all Tidal users, both free and paid. Once your car supports the USB drive, you can enjoy Tidal music offline without any restrictions.
AudFree Tidal Converter allows you to download music from Tidal to local audio files even without Tidal HiFi/HiFi Plus. Once downloaded, you can use them on any other device, even if they don't support Tidal. So you can easily transfer Tidal downloads to your car via a USB drive. During the process, 100% lossless audio quality and all ID3 tags will be preserved.
How to Play Tidal in Car Offline via a USB Drive
Step 1. Click on the "Download" button above to download the AudFree Tidal Converter software. When you start the software, it will open Tidal automatically. You can browse for the songs you want to play in your car. Once found, simply drag and drop them to this software's main interface. Or click the "three-dot" icon next to the song and press "Share" to copy the link. You can then paste it into the AudFree "search box" and press the "+" sign.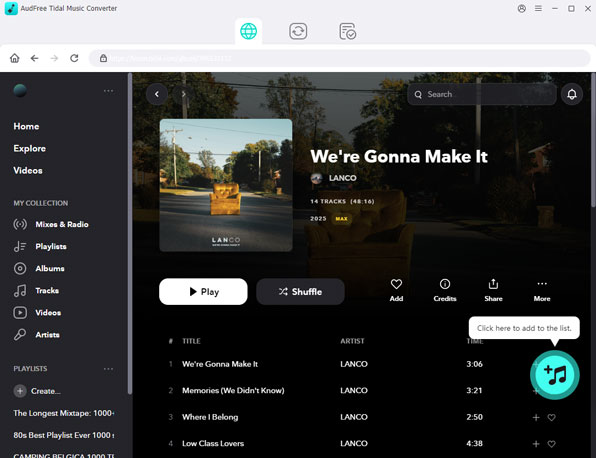 Step 2. From the top "menu" bar, choose the "Preferences" option. It will open a small settings window. In the window, select the "Convert" tab to set the output parameters. You can change the file format, sampling size, bit rate, and channel. The default MP3 output format is compatible with any car model so you don't need to reset it.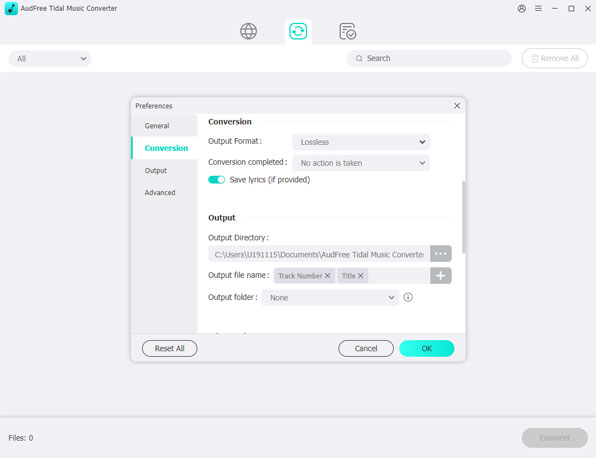 Step 3. After completing of settings, click the "Convert" button. The AudFree Tidal Music Converter will download songs and begin conversion based on the parameters set in the preferences window. Once converted, click on the "history" tab to look for the local Tidal audio files.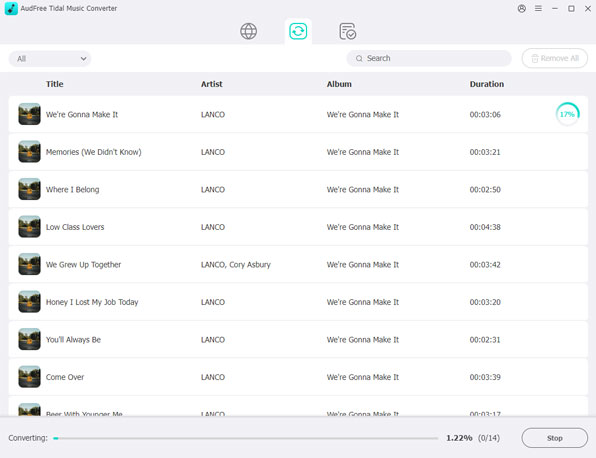 Step 4. Now insert a USB drive into your computer. Then copy and paste the well-converted Tidal files to your USB folder. Disconnect the USB and plug it into your car. Wait for your car to recognize it. Then you can listen to Tidal music offline in your car without carrying a phone.

Way 2. How to Enable Tidal Car Mode via Android Auto
Android Auto is the solution that brings the smartphone's power to your car's infotainment. A simplified interface, larger touch targets, and voice actions are its specialty. Upon connecting with an Android phone, you can use Android Auto to play Tidal through the car infotainment display.
Make sure your car is compatible with Android Auto. Then follow the steps below on how you can play Tidal music from phone to car via Android Auto.
Step 1. Open the Tidal application on your Android phone.
Step 2. Use a USB Cable or Bluetooth to connect your phone to the car's infotainment system.
Step 3. You can choose Tidal on the stereo display and start listening to your favorite music.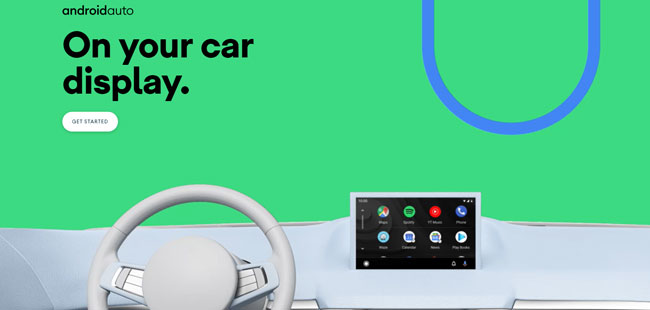 Way 3. How to Get Tidal in Car via Apple CarPlay
Apple's CarPlay allows you to use iOS devices on your car. It turns the car's radio or head unit into a display. You can perform all the actions that you do on your iPhone using the car's unit. But note that you will need an active Tidal HiFi or HiFi Plus subscription.
Step 1. Use a USB cable to establish communication between the phone and the car's infotainment system.
Step 2. Head to the "Settings" app on your iPhone and choose "General" > "CarPlay". In the list of "Available Cars", select your car.
Step 3. Open the Tidal application on your iPhone. And it will also show on your car screen. You can start listening to Tidal music freely. You can also use Siri to play the songs from Tidal via CarPlay.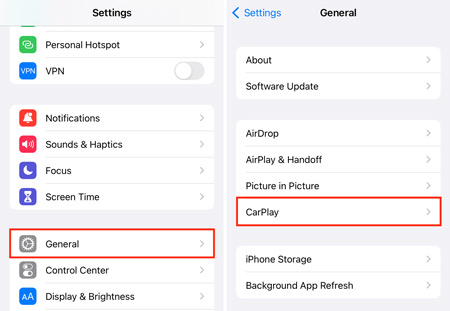 Way 4. How to Stream Tidal to Car through Bluetooth
Can I play Tidal on car from my phone? The answer is yes. If you own a recent vehicle with a recent media center and Bluetooth enabled, you can connect to your phone and play Tidal. Before proceeding, you must pair your phone with your car's Bluetooth so they can establish communication.
Once paired, you can open Tidal on your smartphone and get car Tidal to play. You can choose from a wide variety of playlists or pick up where you left off and enjoy your drive.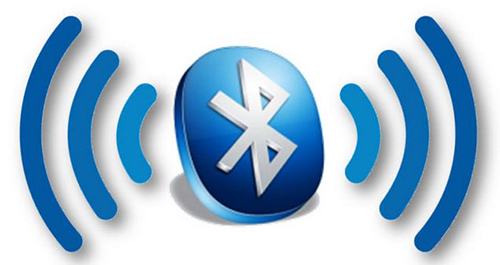 Way 5. How to Play Tidal in the Car via Aux-In Cable
Your car may not support Bluetooth. In this case, an auxiliary input cable can be used. You can easily buy cables from the market. You connect one end of the cable to your phone and the other end to your car's entertainment system. This is a straightforward method of connecting your Tidal device to your vehicle.
Once the connection is established, power on the entertainment device. Also, open the Tidal app on your smartphone. You can now play and listen to your favorite music while driving to your destination.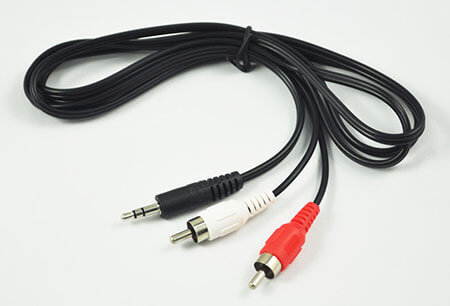 In Conclusion
Today we show you five ways to listen to Tidal in car. You can choose the way that suits you according to your car.
If your car is compatible with Android Auto or Apple CarPlay, it's easiest to use them to stream Tidal from your phone. But please note that you need an active Tidal HiFi/HiFi Plus subscription.
Other methods like Bluetooth and Aux-In cables require a stable Wi-Fi connection.
However, if you use AudFree Tidal Music Converter, you don't need a Tidal premium account or an internet connection. You can easily listen to Tidal music offline in your car without being disturbed by your phone. This is the most direct and safest way.