Q: I'm using Tidal to explore my musical entertainment. It brings a brand-new listening experience providing HiFi and MQA music quality. It could be a nice day waking up from pleasure Tidal songs. But I can't figure out how to set a Tidal alarm clock for my devices. Is there a complete tutorial for this purpose?
One of the best ways to wake up quickly is to use a favorite playlist as your alarm. It will bring you a good mood all day long. So how to set Tidal songs as your mobile phone alarm sound? This article will give your answers. There are two workarounds to set a song as an alarm from Tidal.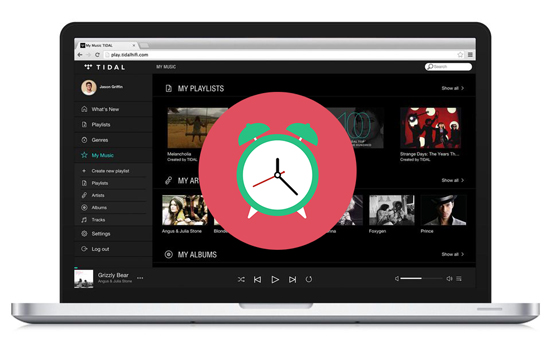 Part 1. How to Set a Tidal Alarm Clock via Kello Alarm App
Kello is a professional alarm clockmaker, which is fully compatible with Tidal songs. It's able to create an alarm clock using lots of popular streaming music services. It includes not only Tidal but also Spotify, Deezer, Webradio, SoundCloud, and so forth. How a wonderful day to wake up from a song on your loved streaming service.
To set the Tidal alarm clock, please set up the song alarm app on your mobile devices. Please don't forget to connect it under the WiFi network. Now, let's check out how it works.
How to Create an Alarm Clock in Kello
Step 1. Download the Kello app on your device and open it to navigate to the 'Alarms' option.
Step 2. Please select the '+' button to set up your first alarm.
Step 3. You can customize your recurrence and volume settings for the high Tidal volume alarm or low Tidal volume alarm.
Step 4. Hit on the 'Sound' button.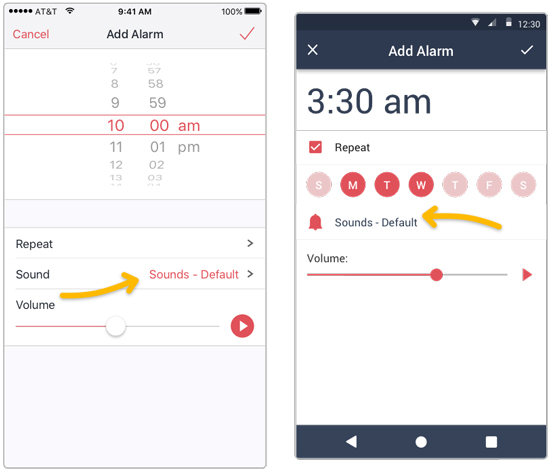 How to Set a Song as Your Alarm from Tidal in Kello
Step 1. Press the 'Tidal' icon to launch it and log in to your account details. Please make sure your Tidal subscription didn't expire.
Step 2. Choose the Tidal playlist that you'd like to set as an alarm clock. If your playlists don't show up, please add them as favorites in advance.
Step 3. You can click the 'Play' button to preview the Tidal alarm in the 'Create Alarm' screen. When it's ok, please validate the alarm.
Step 4. That's all to set alarm with music from Tidal. You will wake up with the Tidal music at the alarm time you set before.
Part 2. How to Make a Tidal Song as a Alarm for iPhone and Androi
The above way needs you to subscribe to Tidal Premium or Tidal HiFi plan. If you don't have one, what should you do to make a song your alarm on iPhone and Android devices?
AudFree Tidal Music Converter is a positive answer. It also needs a Tidal paid account when using this tool. But you can get Tidal for free and then convert Tidal music for use as an alarm clock. After conversion, there is no need for the Tidal subscription anymore.
What's the working principle to use AudFree Tidal Music Converter to make an alarm clock? It can download and convert Tidal music to MP3, and other plain audio formats with zero quality loss.
In this case, Tidal lovers can use iTunes to set a Tidal song as an alarm for iPhone. Or you can directly set Tidal music as an Android alarm clock with no problems.
Let's see how to use AudFree Tidal Music Converter to convert Tidal playlists to common audio files for the first time. And then, Tidal songs will be used as phone alarm sounds without limits.
Step 1

Add music from Tidal to AudFree

Open AudFree Tidal Music Converter on your computer. You can discover the Tidal songs that you want to set as an alarm. After that, you can click the 3-dot icon to choose the 'Share' > 'Copy Tidal Link' to copy Tidal songs. Paste the Tidal link to the search box of AudFree's. Now, please tap on the '+' button to load them automatically.
Step 2

Modify Tidal output settings for an alarm

You can define the Tidal format and other parameters for the alarm clock in the setting window. Please open the window by clicking the 'Preferences' > 'Convert' option. You can adjust the audio output format like MP3, FLAC, WAV, AAC, or others and customize sample rate, depth bit, etc.
Step 3

Convert Tidal songs for use as alarm clock

The last step to get music on Tidal for an alarm is to click the 'Convert' button. It is at the bottom-right corner of the main interface. It works at a 5X faster conversion speed. But the real conversion time depends on how many Tidal songs you have imported before.
Part 3. How to Set Tidal Songs as a Alarm on iPhone / Android
Now, you can locate offline Tidal files on your computer. The following are the detailed steps on how to set Tidal songs as the phone alarm clock.
For iPhone Users: Please use Tidal songs as iPhone ringtone via iTunes so that you can use them as your alarm sound. Secondly, you can click the 'Clock' > 'Edit' > 'Sound' to choose your favorite Tidal music as your new iPhone alarm.
For Android Users: It could be easier than the iPhone's. Please transfer converted Tidal songs to your Android device. You can do that via USB cable or the WiFi network and then you can begin to make Tidal songs as your Android alarm clock.
Now, you can wake up every morning with your favorite Tidal music and playlists.