Q: Squeezebox, being a versatile music player, can access many streaming music services such as Tidal, Deezer, Pandora, etc. But when I try to play my favorite Amazon Music on Squeezebox, I find it very difficult to do so. What's going on here? I wonder if there is a way to play Amazon Music on Squeezebox? If so, any suggestions?
In reality, it's true that Amazon Music is not supported on Squeezebox at the moment, but don't worry, it's not a big problem. This article will introduce you an effective and practical way to solve your immediate dilemma so that you can enjoy Amazon Music on Squeezebox without any hassle.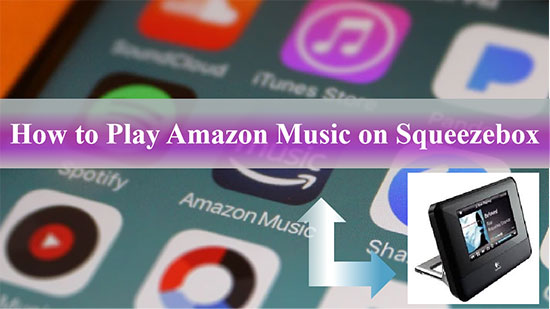 Part 1. Why You Can't Stream Amazon Music to Squeezebox
As you may know, Squeezebox, as a series of network music players, was originally used to play MP3 music files from media servers. With the continuous update and development of the version, you can play music anywhere you want through Squeezebox. Meanwhile, along with the boom in streaming music, Squeezebox has quickly partnered with a range of music streaming platforms, including Pandora, Rhapsody, Napster, Tidal, and more.
Unfortunately, there is no news about Squeezebox working with Amazon Music, and Squeezebox does not have any Amazon Music API or Squeezebox Server (LMS) plugins. What's more, as with most streaming music services, Amazon Music is protected by digital rights management and can only be played on specific devices licensed by Amazon. In other words, you have no way to stream Amazon Music directly to Squeezebox or any other music players, unless you try the mighty solution we'll show you in the next part. Keep reading.
Part 2. How to Download and Convert Amazon Music for Squeezebox
As mentioned above, streaming Amazon Prime Music on Squeezebox does not seem to be feasible due to Amazon Music's restrictions.Things would be much easier if you could download and convert Amazon Music to Squeezebox compatible formats. Here, AudFree Amazon Music Converter can offer a helping hand. This extraordinary Amazon Music downloader and converter is specially designed to losslessly convert Amazon Music to MP3, FLAC, WAV and other Squeezebo-supported formats.
In addition, combined with advanced and latest encoding technology, AudFree Amable comes with a built-in ID3 tag editor that preserves 100% original ID3 tags of Amazon Music during the conversion process, including title, album, artist, year and other information. What's more surprising is its custom output parameters feature, such as manually adjusting the output format and audio parameters. In turn, you have the ability to listen to Amazon Music offline on Squeezebox and any player in the way you want.
AudFree Amazon Music Converter
How to Download and Convert Amazon Music for Squeezebox
Step 1

Install and Run AudFree Amable

Install AudFree Amable and Amazon Music app on your Windows or Mac computer. After that, run AudFree Amable and the Amazon Music application will also open automatically. Click on the 'three lines' icon in the upper right corner of AudFree Amable, select the 'Register' option and fill in your license email and registration code in the registration window that pops up.
Step 2

Adjust Amazon Music Output Format for Squeezebox

Please click the "three lines" icon on the top right again and select the "Preferences" > "Convert" section. Here you can start defining the output format as MP3, FLAC, WAV and other common formats. If necessary, it is possible to customize other audio parameters for music downloading. As a tip, AudFree Amable can also archive output Amazon Music by artist or album.
Step 3

Add Amazon Music to AudFree Amable

Please select any Amazon Music and playlist of your preference. Then, drag and drop them directly onto the main screen of AudFree Amable for loading. Or copy and paste the Amazon Music link into AudFree Amable's search box and click the '+' button next to it to complete the import.
Step 4

Download and Convert Amazon Music for Squeezebox

Just press the Convert button to enter the Convert List window, and AudFree Amable will download and convert Amazon Music to your computer locally according to your previous settings. After the conversion is done, you can click the Converted button with red numbers to view the converted Prime Music list. From now on, you can transfer and listen to Amazon Music offline on all your devices without a subscription.
Part 3. How to Play Amazon Music on Squeezebox
Now that you have followed the above steps to get the converted Amazon Music files, it's time to stream Amazon Prime Music to Squeezebox. In general, you can simply transfer Amazon Music to an SD card or USB drive and then insert them into Squeezebox for music playback. Relatively speaking, another direct solution is to import Amazon Music from your computer to Squeezebox, so let's take a look at the specific guide below.
How to Listen to Amazon Music on Squeezebox Freely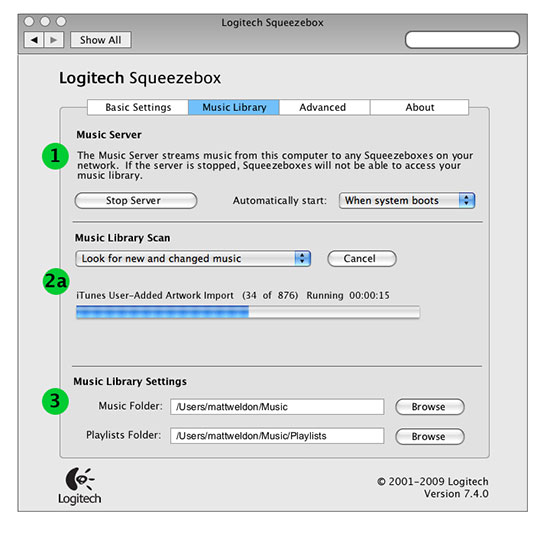 Step 1. The first and most basic task is to download and install Squeezebox Server on your computer. Once the installation is complete, it will scan your computer's local folders and create an Amazon Music Index to confirm that Squeezebox Touch can access your local music library.
Step 2. Open Squeezebox Server and login to your account, click on the Open Control Panel > Library option and rename your music folder.
Step 3. Select My Music > Switch Library option and select your computer name. Then click My Music button on Squeezebox, and all local Amazon Music songs are present in the music library. Afterwards, it's capable of playing Amazon Prime Music on Squeezebox offline without limitation.
Part 4. In Conclusion
After reading the above, you will find that playing Amazon Music on Squeezebox is not as difficult as you think. All you need is a portable helper like AudFree Amazon Music Converter, and then you can stream Amazon Music on Squeezebox without any problem. Don't hesitate to take action and enjoy Amazon Music to your heart's content. Or you can share your thoughts below if you got any better solution to play Amazon Music to Squeezebox.