The onset of the latest digital technology has impacted our everyday lives never before. It has become evident on all fronts of our lives. As a music listener, too, we are sure you would have felt the radical changes with the domination of the online channels. There was a time when people listened to music over CDs, and the trend made way for online music when songs were being downloaded from the Internet.
But now, these are times of live-streaming apps. Speaking of live-streaming apps, Spotify is very well-known, and it is what comes to mind immediately when we think of live streaming music. But along with Spotify, Amazon Music also has become extremely popular, and it has surpassed 55 million users. And being an Amazon user, you might be wondering how to convert Amazon Music to WAV.
If so, you are at the right place. We will discuss in detail how can you get WAV files on Amazon Music and lots more.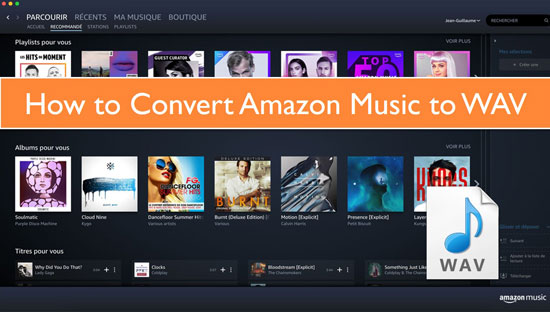 Part 1. Why Need to Convert Amazon Music to WAV
There is no denying that music streaming platforms like Amazon Music and others offer unlimited benefits to music listeners. You can listen to your type of music any where as long you have an Internet connection.
However, there may be times when you may not have access to an Internet connection while traveling or so on. It's better to store your favorite music on your devices in the desired formats during such times. These could be many like the MP3, WAV, AAC, and others.
For ensuring that the quality of the music gets enhanced, storing in the WAV format is preferred. WAV format is one of the oldest formats which has been widely used and continues to be used even during the current times. And it is not without reason that the WAV format is so much sought after.
It supports different types of lossless PCM Codecs, and the result is that a replica of the original music file is created. We are sure that if you are a great music lover, you would always want high-quality audio is maintained at all times without any compromise. And this is precisely what you can have with the WAV format.
If you are a regular Amazon Music listener and want to convert the music you want to listen to in the WAV format, you know that you have several options. Downloading and storing music on devices is an essential requirement.
Part 2. Best Amazon Music to WAV Converter You Can't Miss
If you are on the lookout for the best Amazon Music to WAV converter, you must note that AudFree Amazon Music Converter is the best option you have. This one-stop comprehensive music conversion platform enables users to download all their favorite music on Amazon Music. At the same time, convert Amazon Music to MP3, WAV, FLAC, and other formats. Then store the converted songs on their desired device, such as MP3 players, smart TVs, smart speakers, and more.
The best part is that you have many output options to reset the sound quality, including bitrate, sample rate, channel, archive way, and so on. And this helps you keep the original metadata without damaging the quality of the Amazon music. In terms of the conversion speed, you can batch import songs along with downloading Amazon music at 5X faster speed.
AudFree Amazon Music Converter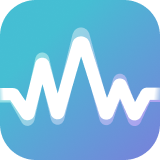 Convert Amazon Music to AAC, WAV, MP3,FLAC, etc.
Download Amazon Unlimited and Premium Music with original quality
Retain Amazon Music ID3 tags for future use
Download batch of music at the same time at a speed of 5X times
Part 3. How to Convert Amazon Music to WAV
4 Steps below involve how to use AudFree Amazon Music Converter to convert Amazon Music to WAV files.
Step 1

Download and log into Amazon Music Converter

Download and register for a new account for AudFree Amable. You can choose the monthly subscription plan or buy the lifetime license from AudFree's official store.
Step 2

Modify the output format to WAV

Open menu > Preferences to customize the output format to WAV along with the other desired settings. These include selecting the output format, stereo, sample rate, bit rate, and so on.
Step 3

Import Amazon Music files to AudFree Amable Converter

In the built-in Amazon Music interface, open the playlist that you'd like to convert to WAV files. Hit the "Add Music" tab and select the songs. You then have to choose the "Convert" option to start conversion.
Step 4

Convert and check the Amazon WAV files on local

The output file will be created in the desired WAV format. Once all selection is finished converting, they will be saved at the desired location on the local device. When saved, you can access the same with the appropriate player to play and listen to it.
Part 4. FAQs about Amazon Music and WAV
When it comes to converting Amazon Music files to WAV files, you will agree that various questions might come up in your mind. Let us see what the Frequently Asked Questions (FAQs) are.
1. What Is the WAV Format?
WAV files are container formats for storing digital audio recordings without any compression. They are an older standard created to store CDs with different sampling rates and bitrates, but they can now be used on CD-less platforms as well! WAVs use lossy compression, which reduces file sizes while maintaining quality - much like MP3 does in some ways but not others.
WAVE is just one type of "wave" or information storage medium developed at Microsoft by its Resource Interchange File Format (RIFF) specification. It doesn't apply any optimization during playback, unlike newer types such as AAC or MP4.
2. What Devices Can Support WAV Files?
SanDisk Sansa is a popular brand of music player. It can play WAV files, which are more commonly used than MP3s because they sound better and don't take up as much storage space on your device. The other two brands that support this format include Apple iPod or Microsoft Zune - it all depends on what you want!
3. Can Amazon Music Play WAV Files?
For Amazon Music to play WAV files, specific software must be used. And it is here that AudFree Amazon Music Converter can come in handy. So, it is an application that can help you in various ways downloading Amazon Music files, converting the same to WAV, so that the same can be used later on and listened to even in the offline mode.
Part 5. In Conclusion
We can say that this is the age of streaming music platforms. In this segment, Amazon Music is very popular with a vast user base. But how to download WAV files from Amazon Music? It is easy and one of the simplest ways to convert Amazon Music songs with AudFree Amazon Music Converter. This excellent application helps to save Amazon music in WAV format to the computer in simple and easy steps.
Thus, if you are a music lover and use Amazon Music frequently, AudFree Amazon Music Converter is a good choice to improve the experience of getting WAV files on Amazon Music.