Shazam serves as a mobile app that can identify music, movies, TV shows, and advertisements by listening to a few seconds of audio. This platform has also an extension of Chrome. With audio fingerprinting technology, it can match the audio sample with its database of content. And fortunately, it ties up with Apple Music, which contributes to recognizing and playing the audio on Apple Music. With the integration of Shazam and Apple Music, you can also get a 3-month free trial of Amazon Music Premium without no charge.
However, other music services such as Amazon Music don't integrate with Shazam. Therefore, we will discuss the feasible method on how to connect Shazam to Amazon Music and how to keep Amazon Music playlists identified from Shazam locally forever. Come with us and find the solution!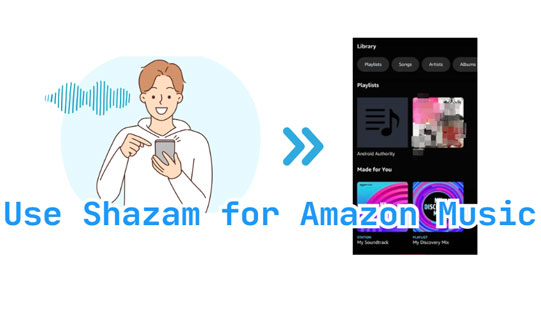 Part 1. FAQs about Shazam Amazon Music Integration
Before referring to the specific steps of linking Shazam to Amazon Music, let's have a look at some frequently asked questions about the Amazon Music Shazam connection. Thus, we can make further knowledge of it, which facilitates smooth operation later.
Q1: Does Shazam work with Amazon Music?
In general, there is no native integration between Amazon Music and Shazam currently. That means we cannot log into our Amazon Music account on the Shazam app to match the tagged tracks from the Amazon Music library. At the same time, there is no such Amazon Music free trial or promotion on Shazam as the Apple Music 3-month free trial.
However, as we stated above, there is a Shazam Extension on Chrome, which enables you to recognize all unfamiliar audio playing on Google. In this way, you can get the song's name and artist by using Shazam and then listen to the complete songs on your Amazon Music app.
Q2: What music apps work with Shazam except for Amazon Music?
This music recognition tool officially tied up with a variety of music services embracing Apple Music, Spotify Shazam integration, YouTube Music, and Deezer. Once logged into your account of those music apps on the Shazam app, this software will search and match the identified song within the music library of those streaming services directly.
Q3: Is there any app like Shazam that works directly with Amazon Music?
Musixmatch is a similar app connected with Amazon Music that allows you to search for lyrics of audio and IDs the song's name with the lyrics. Different from Shazam, it only supports recognizing songs via lyrics instead of listening to the audio.
Apart from that, Amazon Music has rolled out a feature called Song ID. If you have any Amazon Echo devices or other Alexa devices, it is feasible to identify audio playing around you by asking Alexa: "Alexa, name this song".
Part 2. How to Connect Shazam to Amazon Music Online via Shazam Extension
Now, you come to the detailed steps to link Shazam to Amazon Music to recognize audio and play it on Amazon Music by using the Shazam Extension on Google. Here, we have listed the how-to guide to make it:
How to Get Shazam Browse Extension
Step 1. On Chrome, search for 'Shazam' and open the official link of Shazam from the search results.
Step 2. Click on the 'Chrome Extension' button from the Shazam web page. Then you will be taken to the online Chrome Web Store.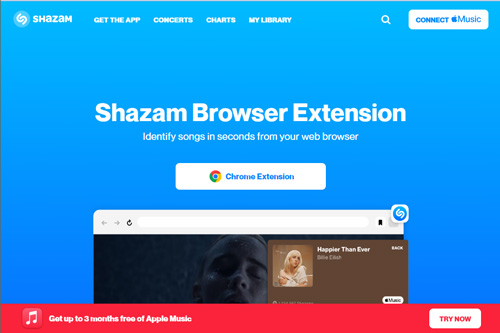 Step 3. Hit the 'Add to Extension' button near the Shazam and confirm to add Shazam Extension to Chrome by tapping on the 'Add extension' tab from the pop-up window. Please don't forget to pin the extension on the toolbar of Google's window.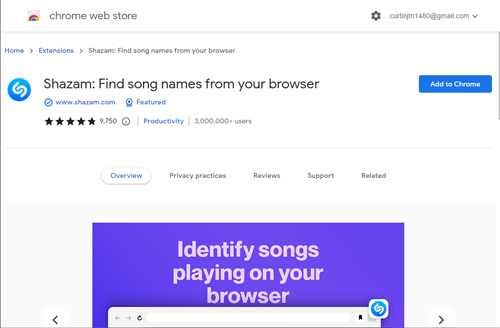 Now, you can use Shazam to identify playing sounds. Please read on to look into the specific steps.
How to Use Shazam Extension and Play Identified Songs on Amazon Music
Step 1. Play the audio you hope to know the name or find the original resource on your browse.
Step 2. Tap on the pined Shazam Extension tab from Chrome's top toolbar to open it on the same web page as the playing audio. This recognition tool will automatically identify the currently playing audio.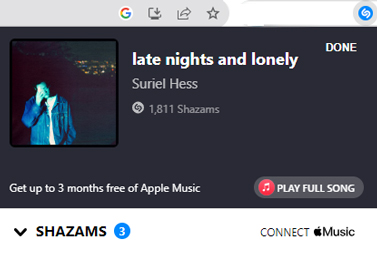 Step 3. After Shazam shows the name and artist of the songs, please go back to the Amazon Music app and search for the complete song's resource on it. Then you can enjoy the Shazam-recognized songs on Amazon Music.
Part 3. Extension: Download and Keep Shazam Amazon Music Playlist Forever
It is known that you cannot really download Amazon Music songs even with an Amazon Music Prime or Unlimited account. In reality, the tracks you download from Amazon Music are stored in temporary cache files in the music library. If you cancel your Amazon Music subscription, the downloaded audio files will be removed from the music collection library till you renew the subscription again, which is costly.
Fortunately, we find an all-in-one gadget that allows you to download and preserve the Shazam-identified Amazon Music playlists as local files forever. That is AudFree Amazon Music Converter, a multi-purpose music downloader designed for both Amazon Music free and premium users.
It works to download all encrypted content from Amazon Music as permanent and unprotected local files with 100% original sound quality and full ID3 tags retained. Besides, it is designed with top-notch conversion technology, working to convert Amazon Music tracks to MP3/FLAC/AAC/WAV/M4A/M4B format files. This way, you can play the converted Amazon Music content on all devices and players anytime you want without Amazon Music subscriptions.
How to Download Amazon Music Shazam Playlists Locally
AudFree Amazon Music Converter is available for both Windows and Mac. You can install this Amazon Music downloader on your computer by hitting the above 'Download' button and then following the user guide to download music identified by Shazam.
Step 1

Define Output Formats and Parameters for Shazam Amazon Music Playlists

To play Amazon Music anywhere without restrictions, you need to set the output format as a commonly-used one. To do that, please touch on the upper-tight toolbar on AudFree Amazon Music Converter. Then click on the 'Preferences' > 'Convert' options where you can customize export formats for Amazon Music playlists or tracks identified by Shazam. And you are allowed to personalize the bit rate, sample rate, and other parameters for keeping lossless audio quality for exported Amazon Music tracks.
Step 2

Add Amazon Music Shazam Playlists to AudFree Amable

Once set output formats, please go back to the Amazon Music app to drag and drop the Shazam-identified playlists or track directly to the main window of AudFree Amazon Music Converter. Alternatively, you can copy the URL links of those content, paste them to the converter's search box, and then hit the '+' tab to add files.
Step 3

Convert Amazon Music Playlists Locally and Losslessly

Simply click the bottom-right 'Convert' icon to kick off the process. The powerful converter will download Amazon Music to MP3 or other format files you set beforehand and save them to the local drive on your computer. Hit the 'Converted' tab with a red spot of the number of songs at the bottom, you can find the Amazon Music conversions. Afterward, you can play those files on multiple devices wherever you want.
Part 4. Conclusion
We have introduced a working way to connect Shazam to Amazon Music to find the song's name and also a sought-after tool: AudFree Amazon Music Converter to download those songs. With this tool, you can download any content you want from Amazon Music and play them on any device without premium. So, please give priority to this all-around music gadget to enjoy music offline.