The popular music app Shazam by Apple has solved a huge problem for music lovers. Liked a song in a café, but was shy to ask someone which song is this. Well, tap on the Shazam app and it will give you the details of the song, artists, albums, and much more even if the tune was 20 seconds short.
This music hunt becomes, even more, easier when you can enjoy Shazam on the Spotify app. Connect them both and enjoy full tracks without any delay.
When you connect both the apps you get to enjoy interesting features in the Shazam app. Within your Shazam app, sign in to your Spotify account and the app will search for the tagged song in the Spotify account directly. This will put an end to the need of searching for the song on YouTube or Spotify separately.
This feature allows you to enjoy the complete song rather than short previews and enhance the music experience even more. Although you will need a Spotify premium account to access the entire playlists at Spotify but don't worry we have the solution for that as well, discussed below.
Today's tutorial will guide you to connect Shazam to Spotify account and detailed instructions to handle any troubleshooting problems for Shazam to Spotify.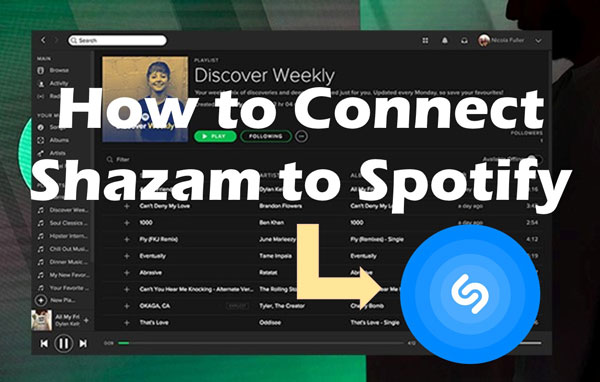 Part 1. How to Connect Shazam to Spotify?
Shazam is a revolutionary app that pairs smoothly with popular streaming apps like Spotify. For establishing a Spotify Shazam connection you will need to sign up at both platforms. Recognize the song on your Shazam app through its main interface and then follow the below steps to learn how to link Shazam to Spotify.
1. If you are using an iOS device, swipe up the tab from the bottom of the screen, while on Android, swipe left to get the Library Tab.
2. Tap the gear icon to get the Settings option. Under the Streaming option, you will come across a Spotify session. Select the connect button beside Spotify.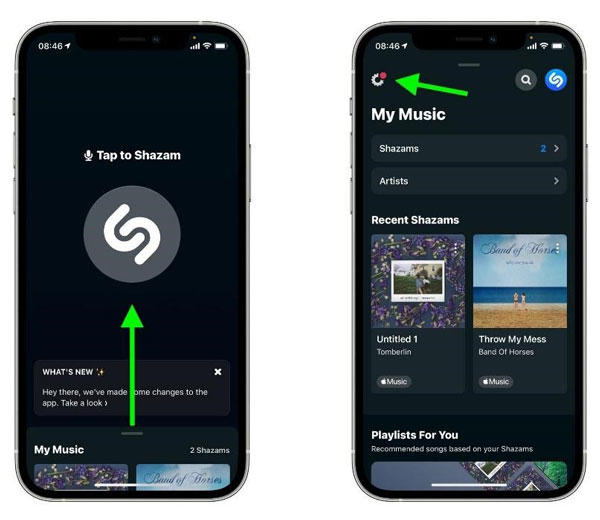 3. You will ask for authentication. Allow Shazam to open Spotify by tapping on the Agree button. This is the permission for Shazam to view your Spotify account data and activity, you can review the details for better understanding.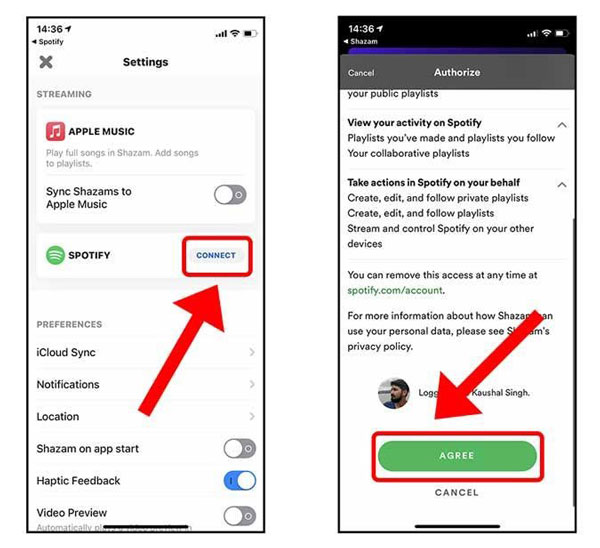 4. Once the authorization process completes, you can switch on to Sync the Shazam to your Spotify account. Whatever song you will tag on Shazam can easily be played through Spotify without separate searches.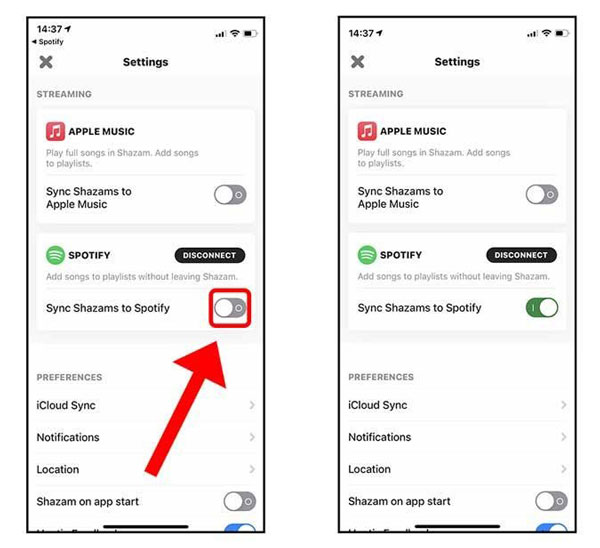 These settings can be switched off whenever you want by accessing the settings option guided earlier.
Part 2. Spotify Shazam Playlist Not Updating - How to Fix
Both Shazam and Spotify are huge music platforms with millions of users to entertain. Syncing songs from Shazam to Spotify is a smooth seamless experience. Finding a nice song through Shazam and then getting it added to your Spotify playlist to enjoy it whenever you want is an underrated blessing. But this feature sometimes causes hindrance when the Spotify playlist doesn't update timely.
When your Shazam is not syncing with Spotify, the problem can be caused by any of the platforms. There are two methods to handle this issue.
Tag along to learn more.
Strategy 1: Use Auto-add Shazam to Spotify Feature
This is a simple, quicker method to sync Shazam to a Spotify playlist. Use Auto-add Shazam to Spotify feature to automatically sync the songs without any manual work. When the Spotify Shazam playlist is not updating follow the below strategies:
1. In the Shazam app, open Library.
2. Go to the gear icon of Settings and switch on the Auto-add Shazams to Spotify option.
This will help you to automatically sync all songs as soon as you tag them on Shazam.
Strategy 2: Reset the Shazam to Spotify Link
After switching on the Auto-add option, if the problem continues then reset the Shazam to Spotify link and create a connection again. The process will be:
1. Go to Your Library on your Spotify app on the device.
2. Find My Shazam Tracks and delete the playlist using the menu button.
3. Select the Delete Playlist option.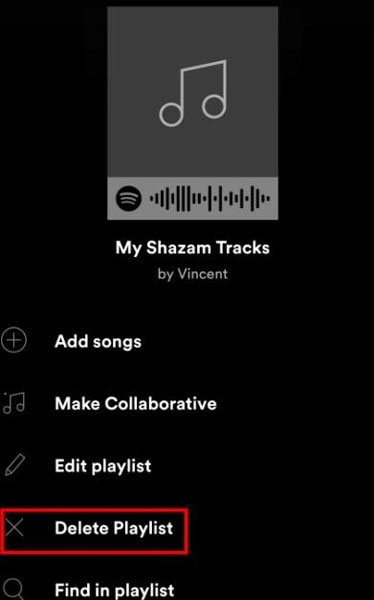 4. Tap on the delete button to confirm the process.
5. Now open the Shazam app on your device. Disconnect Spotify from Shazam and relink them both using the above-explained method.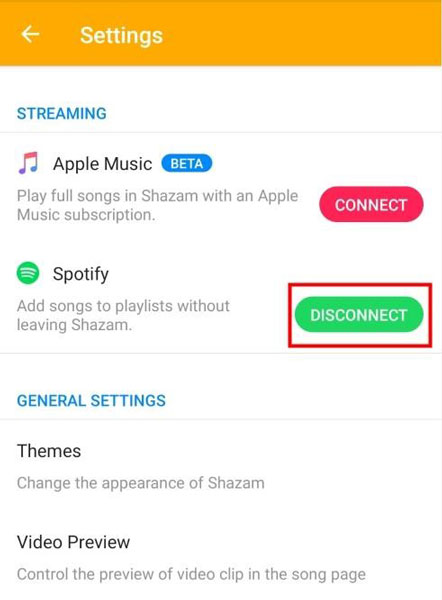 6. Turn on Auto-add Shazam to Spotify and all your playback songs will appear in your Spotify playlists. It will automatically sync news songs as well.
Part 3. How to Download Shazam Spotify Playlist without Premium?
To download the Shazam Spotify playlist for offline listening, having a Spotify premium account is a must. Or all your workout sessions or long drives will be ruined with constant ads and random songs.
AudFree SpoDable Music Converter lets you download Spotify songs without a premium account. This useful tool not only downloads hundreds of songs but can also convert them into your desired formats with ease.
Steps to Use AudFree SpoDable Music Converter
Step 1

Install and launch AudFree SpoDable Music Converter

Download the suitable version for your PC. Double click the shortcut icon to launch the software on your desktop.
Step 2

Import Spotify songs to AudFree software

To import the songs, playlists, and albums copy the URL of tracks by the right click on each item. Paste the link in the search box and press + sign. Or directly drag and drop the songs on the AudFree conversion window.
Step 3

Define Spotify parameters for Shazam

Click on the menu bar and go to the Preference option. Choose the desired audio format in the pop window. You can also customize other parameters like bit rate, sample rate, audio channel, etc.
Step 4

Download and convert Spotify for Shazam

Finally, click on the Convert button to start the process. All the tracks will be automatically added to the audio files. Now, enjoy the music of your choice whenever you want without any restrictions.
Part 4. Conclusion
Shazam on Spotify has provided great relief and an easy listening experience to the users. You can take huge advantage of the incredible features of AudFree SpoDable Music Converter to access the impressive library of the Spotify streaming platform.
Use Shazam with Spotify and AudFree for a greater memorable time. If any problem persists while updating the Spotify playlist, follow our quick guide of how to connect Spotify to Shazam to enjoy your favorite songs non-stop.