The popular music app Shazam by Apple Music has solved a huge problem for music lovers. And now it also comes with Spotify. Liked a song in a café, but was too shy to ask someone which song it this. Well, within your Shazam app, sign in to your Spotify account and the Shazam app will search for the tagged song's details in the Spotify account directly, including the titles, artists, albums, and much more even if the tune was 20 seconds short.
If you are new to this wonderful gadget, don't fret. Today's tutorial will guide you to connect Shazam to Spotify and detailed instructions to handle any Shazam Spotify not working issue.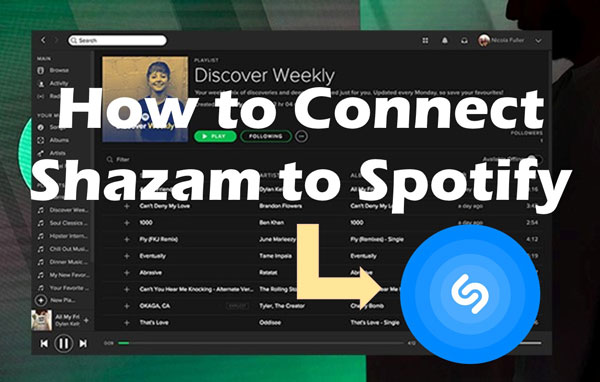 Part 1. How to Connect Shazam to Spotify Android/iPhone
Shazam is a revolutionary app that pairs smoothly with popular streaming apps like Spotify. Once the Shazam and Spotify are connected, you can sync the recognized tracks from Shazam to Spotify and enjoy the complete song rather than short previews, which enhances the music experience even more.
Shazam provides an app for both Android and iPhone users. Just go to Shazam.com and scan the QR code it offers to install the Shazam app on your mobile phone for free. Then refer to the following how-to guide to recognize songs and link Shazam to Spotify.
Note: It requires you to have an active Spotify Premium account.
Step 1. From the home screen of Shazam, simply hit the 'Tap to Shazam' button. Then Shazam's audio recognition technology can help you to identify the playing song clips.
Step 2. On iOS, please swipe up the tab from the bottom of the screen, while on Android, please swipe left to get the 'Library' tab.
Step 3. Tap the top-left gear icon to open the Settings window.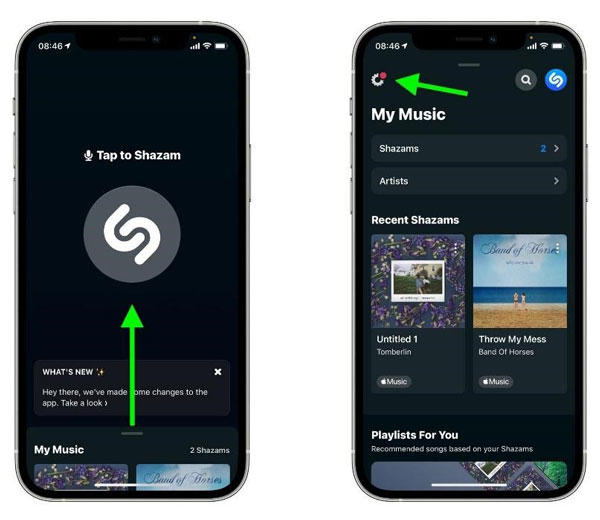 Step 4. Under the 'Streaming' option, you will see the 'Spotify' option. Hit the 'CONNECT' button beside it.
Step 5. You will ask for authentication. Tap on the 'Agree' button to allow Shazam to access your Spotify account data and activity. Later, you can sync Shazam to Spotify.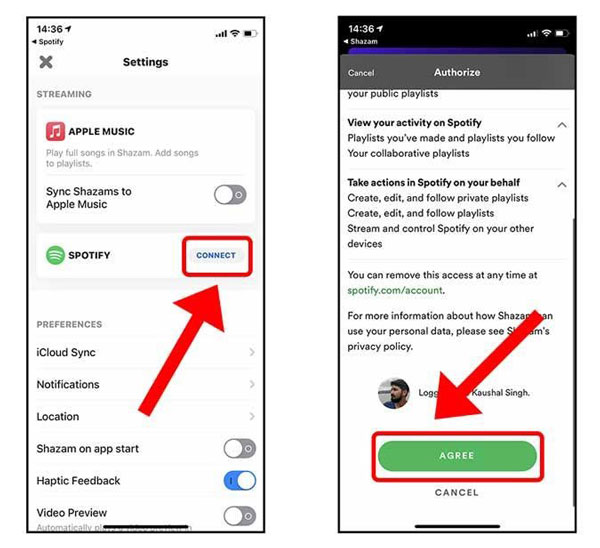 Note: If you hope to disconnect Spotify from Shazam and link to other music streaming services, just tap on the 'DISCONNECT' button next to the 'SPOTIFY' option. Alternatively, select 'Apps' from the left panel of Shazam and choose 'REMOVE ACCESS' next to the 'Spotistats for Spotify'.
Part 2. How to Sync Shazam to Spotify
Once authorized and connected, you can start syncing the tracks or playlists recognized from Shazam to Spotify. Here is the detailed tutorial on how to import Shazam playlists to Spotify:
How to Add All Shazam Songs to Spotify
Step 1. Go to the Settings window of Shazam.
Step 2. Under the 'SPOTIFY' option, toggle on the 'Sync Shazams to Spotify' button. Later, whatever song you tagged on Shazam will easily be played through the Spotify app without separate searches.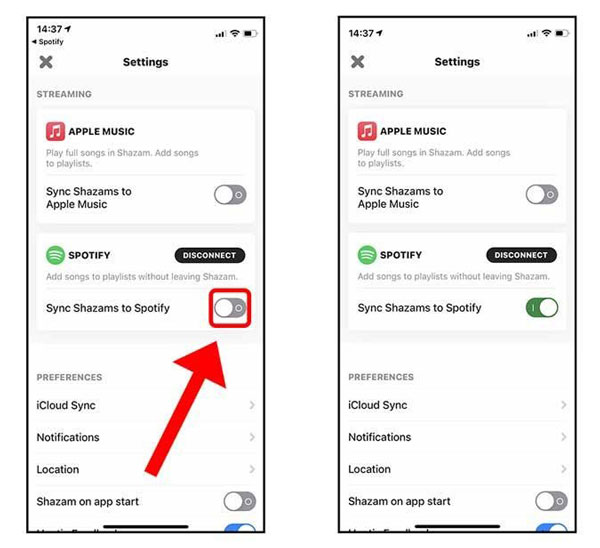 How to Find My Shazam Tracks on Spotify
After transferring Shazam songs to Spotify playlists, you can view and play the full version of Shazam tracks on Spotify directly according to the below steps:
Step 1. On the Spotify mobile app, tap on the bottom 'My Library' tab.
Step 2. Choose the 'Playlist' green bubble to screen out your Spotify playlists.
Step 3. Scroll down and you will find a playlist named 'My Shazam Tracks', from which you can find all identified songs from Shazam and listen to the full tracks.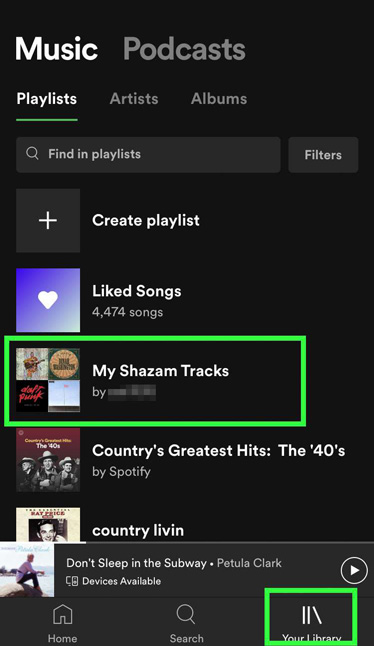 Part 3. Fix: Shazam Not Syncing with Spotify
Both Shazam and Spotify are huge music platforms with millions of users to entertain. Syncing songs from Shazam to Spotify is a smooth seamless experience. But this feature sometimes causes hindrance when the Shazam Spotify now working issues appear. For example, the Shazam playlist not showing on Spotify, Shazam not adding songs to Spotify, Spotify Shazam playlist not updating, etc.
When it comes to the reasons behind such problems, any of the two platforms should be blamed for that. There are several working methods to cope with this issue.
Strategy 1: Use Auto-add Shazam to Spotify Feature
This is a simple, quicker method to sync Shazam to a Spotify playlist. Use the Auto-add Shazam to Spotify feature to automatically sync the songs without any manual work. When the Spotify Shazam playlist is not updating follow the below strategies:
Step 1. On the Shazam app, open 'Library'.
Step 2. Go to the cog icon of Settings and switch on the 'Auto-add Shazams to Spotify' option. This will help you to automatically sync and update all songs to Spotify as soon as you tag them on Shazam.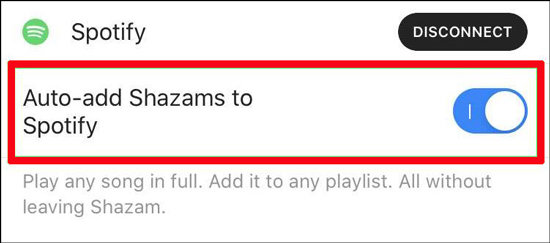 Strategy 2: Reset the Shazam to Spotify Link
After switching on the Auto-add option, if the problem continues then reset the Shazam to Spotify link and create a connection again. The process will be:
Step 1. Go to 'Your Library' on your Spotify app on the device.
Step 2. Find 'My Shazam Tracks' and delete the playlist using the menu button.
Step 3. Select the 'Delete Playlist' option and tap on the delete button to confirm the process.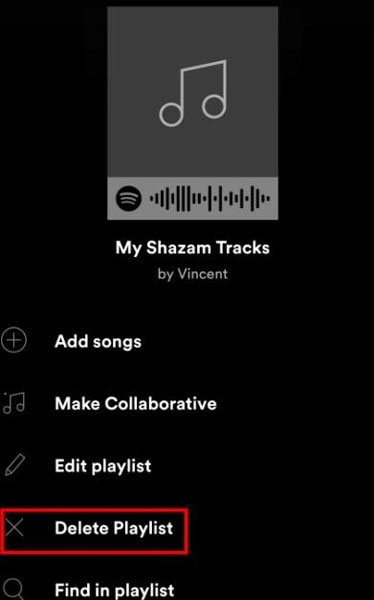 Step 4. Now open the Shazam app on your device. Touch on the green 'DISCONNECT' button to unlink Spotify from Shazam. Then relink them again.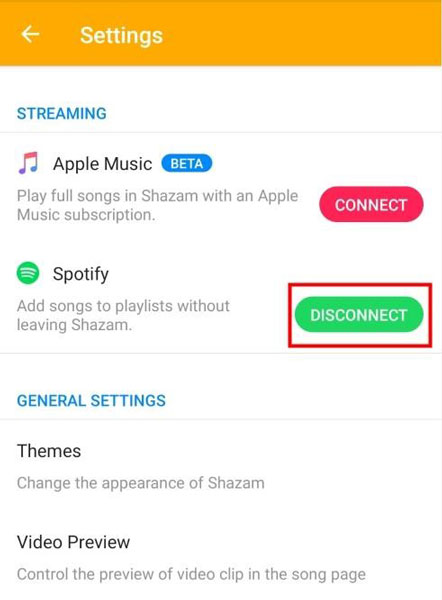 Step 5. Turn on 'Auto-add Shazam to Spotify' and all your playback songs will appear in your Spotify playlists. It will automatically sync and update news songs as well.
See Also: How to Recover Deleted Spotify Playlists
Strategy 3: Change Your Spotify Address
Only in the Spotify-compatible countries or regions, the 'Connect' option for Spotify will show on Shazam. Thus, just go to Spotify.com/account/ to change your Spotify address to an available one.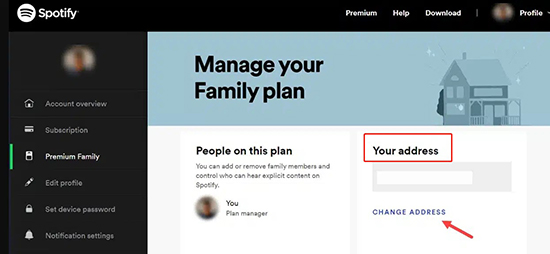 Strategy 4: Update Both Spotify and Shazam
To avoid and fix unknown bugs, please check whether you have updated both Spotify and Shazam apps to the latest version. However, there is a notice that should be mentioned: the past and previous Shazams won't be synced to Spotify anymore after updating the Shazam version.
Part 4. How to Get Shazam to Spotify Playlists for Free
In general, to download the Shazam Spotify playlist for offline listening, a Spotify premium account is requisite. Otherwise, all your downloaded Shazam tracks will disappear from your library after canceling the subscription. But don't worry. We have a solution for that as well.
AudFree Spotify Music Converter is such a professional tool that empowers you to download Spotify Shazam songs without a premium account. This great software specializes in converting as many Spotify tracks as possible to local files in various formats, such as MP3, FLAC, AAC, etc.
Plus, its innovative conversion technology helps you keep the lossless streaming quality and original ID3 tags. At the same time, it endows you with the ability to reset the output formats and parameters such as bit rate, sample rate, and more to get higher sound quality. Afterward, you can listen to those converted Shazam Spotify tracks on multiple devices for free.
AudFree SpoDable Music Converter
How to Download Spotify Shazam Tracks without Premium
You can click on the above download tab to install the AudFree Spotify Music Converter on your PC or Mac computer. Then look into the following user guide to download Spotify Shazam Tracks without Premium for offline listening forever on all devices.
Step 1

Import Spotify Shazam Playlists to AudFree software

On Spotify, copy the URL of tracks by the right click on each item. Paste the link in the search box of AudFree SpoDable and press the top-right '+' tab. Or, directly drag and drop the Shazam tracks or songs to the AudFree conversion's window.
Step 3

Define Spotify Output Settings for Shazam

Click on the upper-right Menu bar like three horizontl lines and go to the Preference > Convert option. There, you can opt to convert Spotify to MP3, AAC, or other common local files. You can also customize other parameters like bit rate, sample rate, audio channel, etc.
Step 4

Convert Spotify Shazam Playlists for Offline Playback

Finally, click on the bottom-right 'Convert' button to kick off the process. All the tracks will be automatically exported to the local drive you set before on a computer at a 5X speed. Now, enjoy the music on any device whenever you want without any restrictions. Those converted songs are yours even if you cancel Spotify Premium.
Part 5. More FAQs about Shazam Spotify Integration
Q1: Does Shazam work with Spotify?
A: Yes. Shazam enables you to identify playing songs by Shazam and then easily add them to your Spotify playlists. Alternatively, you can listen to those Shazam tracks or playlists directly on Spotify.
Q2: Where is my Shazam playlist on Spotify?
A: Simply switch to the 'Your Library' pane from the bottom and choose the top 'Playlist' option. Scroll down to the 'My Shazam Playlists' section, and then you can see all your Shazam to Spotify tracks.
Q3: Is there a Shazam alternative for Spotify?
A: Some third-party apps including SoundHound, Musixmatch, and Genius work with Spotify. These apps offer similar features to Shazam, including song identification and lyrics display.
Part 6. Conclusion
Shazam on Spotify has provided great relief and an easy listening experience to the users. You can take huge advantage of the incredible features of the AudFree Spotify Music Converter to access and download the Spotify Shazam tracks to local files for free.
If any problem persists while updating the Spotify playlist, follow our quick guide on how to connect Spotify to Shazam to enjoy your favorite songs non-stop. Or, please leave your words in the below comment area.