Q: Is Amazon Music available on Onkyo Receiver? I want to connect my preferred Amazon Music to Onkyo Receiver at home to have music surround the entire house, but I haven't found the right way to do it. Any suggestions?
To tell you the truth, Onkyo receivers have access to many streaming music platforms to play music, and Amazon Music is no exception. If you are also confused about the above issue, then you can't miss this article. This post will show you the official and offline methods to play Amazon Music on Onkyo Receiver so that you can enjoy your entertainment at ease.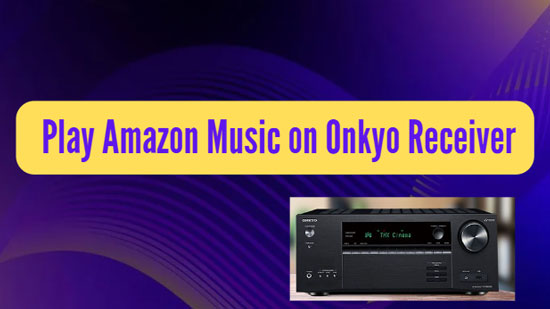 Part 1. Onkyo Receiver Amazon Music - What You Need to Know
First of all, some people may not know what exactly an Onkyo Receiver is, so let's start with a brief introduction to give you a better understanding of its purpose. Onkyo is a Japanese company that specializes in home theater and audio equipment manufacturing, with products ranging from speakers and receivers to portable devices. Onkyo Receivers are known as the best AV home theater receivers, which can also be used as a smart home audio system.
In general, you can play music on Onkyo Receiver via Bluetooth, AirPlay, USB, built-in radio tuners and apps. Today, major popular music streaming such as Amazon Music, Apple Music, Tidal, YouTube and more are available on Onkyo Receiver. Take Amazon Music for example, you need to have an Amazon Prime or Amazon Music Unlimited account to get Amazon Music on Onkyo Receiver.
Part 2. How to Stream Amazon Music on Onkyo Receiver Directly
As mentioned above, to control Amazon Music playback on Onkyo Receiver, becoming an Amazon Prime or Amazon Unlimited member is necessary, then you can follow the steps below.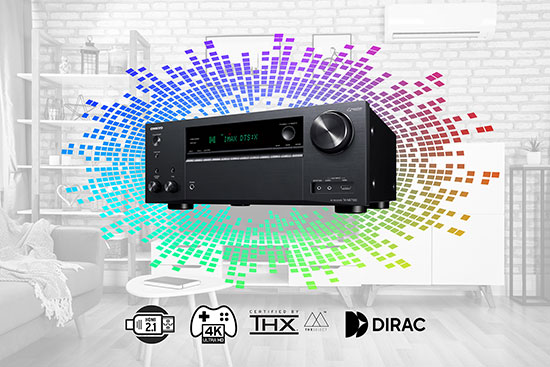 Step 1. Connect the Onkyo Receiver and your mobile device to the same network and download the Onkyo Controller on your mobile device.
Step 2. Launch Onkyo Controller, click "NET" or "NETWORK" at the top of the screen, and after switching to the network screen, click the "Amazon Music" icon to display the Amazon Music login screen to log in to your Amazon account.
Step 3. Select your favorite Amazon Music from the Amazon Music menu screen and play it on your Onkyo Receiver.
Step 4. If you want to play Amazon Music with the remote control, operate the input selector on the remote control to display the network menu and select "Amazon Music" from the menu, then you can connect Amazon Music to Onkyo Receiver without hassle.
Part 3. How to Play Amazon Music on Onkyo Receiver Offline
Only if you have a good network connection, you can stream Amazon Music to Onkyo Receiver smoothly via the above solution. But what if you have poor network conditions or you are in a remote location? Have you thought about downloading Amazon Music to your computer locally and importing it to Onkyo Receiver for offline use?
Although there is no official way to get local Amazon Music offline directly, thanks to the AudFree Amazon Music Downloader, downloading local Amazon Music is now a reality. As its name suggests, it is an extraordinary Amazon Music downloader that specializes in downloading and converting Amazon Music to MP3, FLAC, WAV, etc. for offline listening at anytime and anywhere.
With the aid of this professional converter, it is possible to listen to Amazon Music on Onkyo Receiver offline without any restrictions. What's more, whether you are a Amazon free user or an Amazon subscriber, you are free to use this powerful tool as much as you want. There's no need to worry about the quality of converted Amazon Music, as it maintains the lossless quality and 100% original ID3 tags of Amazon Music.
How to Play Amazon Music on Onkyo Receiver Offline
Step 1

Adjust Amazon Music Output Format for Onkyo Receiver

Make sure the AudFree Amable and Amazon Music app are installed on your computer. Launch AudFree Amazon Music Download and click on the "three lines" icon in the upper right corner to select the Preferences > Convert button. In this setting window, you are allowed to adjust Amazon Music output format and parameters according to your needs.
Step 2

Import Amazon Music to AudFree Amable

Please select any Amazon Music, playlist or album of your preference in Amazon Music software. After that, click the "Share" > "Copy Link" button and paste the link into the search box of AudFree Amable. Then remember to click the "+" button to complete the import.
Step 3

Download Amazon Music for Onkyo Receiver

Simply press the "Convert" button and AudFree Amable will begin converting and downloading Amazon Music to your computer. After conversion, click the "Converted" button with the red number to see a list of all converted music. Or click the "Search" icon to navigate to the target folder on your computer.
Step 4

Play Amazon Music on Onkyo Receiver Offline

Transfer Amazon Music from your computer to a USB and plug it into the Onkyo Receiver, and you'll successfully get all your Amazon Music for offline playback. Or transfer Amazon Music to your phone and then listen to Amazon Music offline on Onkyo Receiver via Bluetooth, though this process may sacrifice a bit of sound quality.
Part 4. In Conclusion
Whether it's the official way or the offline solution, you'll be able to play Amazon Music on Onkyo Receiver without difficulty. In the long run, you'd better make use of AudFree Amazon Music to enjoy Amazon Music on Onkyo Receiver whenever and wherever possible. So why still hesitate? Act now!