Apple Music is a great way to wind down at night. Switching tracks while squinting at a screen in low light isn't the most pleasant experience as your eyes may bleed by using this app's blinding white background! It's a relief that the software works flawlessly in Apple Music dark mode iOS 12 and Android devices. Apple deserves a lot of credit for this. Learn how to use Apple Music darkly by closely examining the process.
With Apple Music dark mode iOS 12, Apple Music dark mode matches the overall color pattern of the operating system. To turn off the music app's lights, you'll need to activate dark mode on your iPhone or iPad, not just the music app. Instead, it would help if you swiped up from the bottom of the screen on iPhone with Touch ID. Without further ado. Let's go through the following steps to learn how to use Apple Music dark mode.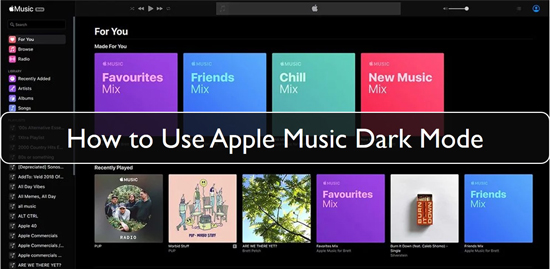 Part 1. How to Make Apple Music Dark Mode Available for Mobile
In addition to making the journey more enjoyable, your music could also be distracting to other passengers. Apple Music web player dark mode, available on iPhones and Android devices, offers a quick and straightforward answer. You'll need to verify your phone's specifications to see if it has this Apple Music dark mode or is labeled as such.
How to Enable Apple Music Dark Mode on Android Devices
The white background of nearly all web pages and applications appear to flicker after we stare at our phone screens for hours, and we suspect that many users will be familiar with the idea that Apple Music dark mode can aid them. And the result will remain the same regardless of how low you set the brightness.
Let's see how to play Apple Music on Android devices in the dark mode.
Step 1. Open the Apple Music application on Android.
Step 2. Click on the three dots in the upper-right corner.
Step 3. Click on Settings.
Step 4. Choose the Theme.
Step 5. On your Android device, tap the Apple Music app dark mode from the popup menu.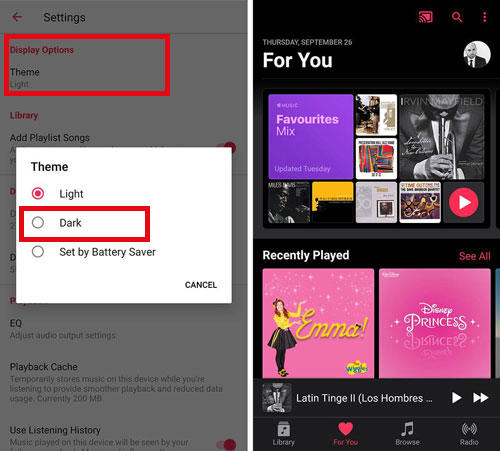 How to Enable Apple Music Dark Mode on iOS Devices
Step 1. Go to Settings on your iPhone.
Step 2. Tap Display & Brightness in the navigation bar.
Step 3. Select Dark by tapping the circle.
Step 4. When you're done using Settings, open the Apple Music app and relax your eyes.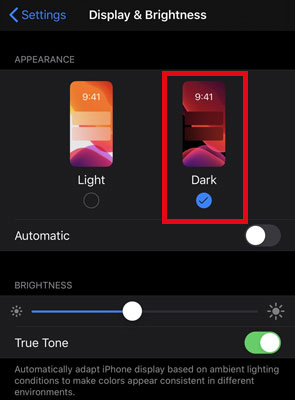 Part 2. How to Get Dark Mode on Apple Music for PC/Mac
Working on how to get dark mode on Apple Music pc is more accessible because your content is more prominent, and the controls and windows are darker.
How to Use Apple Music Dark Mode on Windows
To turn on the Apple Music dark mode, yous should go to the Windows settings and set the system in dark theme.
Set your screen to a dark gray or black, with white text and objects as a contrast. On your PC, you can use it for specific applications or the entire operating system.
Step 1. Go to "Setting" on your Windows computer.
Step 2. In the next window, select "Personalization". A paintbrush will be seen on the computer screen due to this feature.
Step 3. Select "Colors > Choose your App mode > Dark" in the third step.
Step 4. Choose an accent color in the "Color" window at the very top.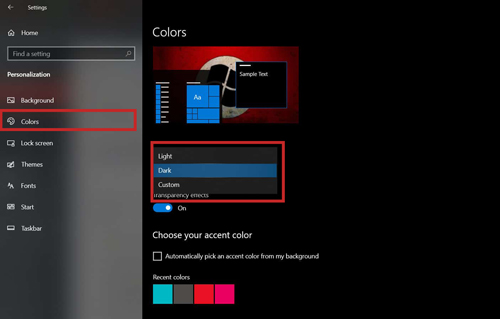 How to Use Apple Music Dark Mode on Mac
It's a bold new style that's easy on the eyes and helps you concentrate on your task. The default apps on your Mac will also work in dark mode, which has a dark color scheme applied to the entire system. Third-party applications can also use it.
Activate the Dark Mode
Select one of the Appearance choices at the top of the window from the Apple menu > System Preferences >General:
Light: Make use of a light-colored visual style.
Dark: Give the appearance of being dark.
Auto: Automatically use the light appearance during the day and the dark at night.

When and how some programs and functions work with dark mode, there are specific Apple Music dark mode settings or behavior in several apps and functions.
Mail: Open Mail and choose Mail > Preferences, then click the Viewing tab and uncheck "Use dark backgrounds for messages" to use a lighter background when dark mode is on.
Maps: Open Maps and select Maps > Preferences, then choose "Always use light map appearance". This option may be found by clicking View in the Maps menu bar, then unchecking Use dark map.
The procedure is a little different for Android customers of Apple Music. In the Apple Music app on Android, open the menu by tapping three dots in the upper right corner, then tap 'Settings', scroll down, and select a theme. To switch to a dark theme, either hit 'Dark' or 'System Default' or use the Android phone's built-in dark mode (similar to iOS).
The approach to Mac is very similar to iOS in that the system-wide control handles everything related to dark mode Apple Music.
Unfortunately, Windows users are now missing out on the dark mode party. There are no signs that dark mode Apple Music will implement in the foreseeable future, even though people frequently complain to the company. In addition, the iTunes Windows app's Apple Music interface seems old-fashioned compared to the Mac version. iTunes/Apple Music for Windows currently does not support dark mode. However, Apple will likely do so in the future.
Part 3. How to Enable Apple Music Dark Mode on More Devices
Converting audios that have been protected by DRM, such as Audible and iTunes audiobooks or music from the Apple Music app dark mode, to formats that can be played on a wide range of devices is a crucial feature of the AudFree Audio Converter for Windows and Mac applications.
DRM-protected and non-DRM audio files are the two main types of audio files. Digital rights management (DRM) is an access control method to guard against the unauthorized use of copyrighted material. To play a DRM-protected audio file, you must use a specific device, while an unprotected audio file can be played on any device. Therefore, to make Apple Music dark mode available on other devices, here's the AudFree Audio Converter for you to download songs from Apple Music and play them on any device.
How to Enable Apple Music Dark Mode on More Devices
Check out the detailed instructions below to learn how to use this handy program to remove DRM from Apple Music and convert songs for getting Apple Music dark mode on more devices.
Step 1

Start AudFree Auditior on your PC or Mac

If you have not already done so, please download and install AudFree Auditior on your computer or Mac. You can launch the app by clicking on its icon on your desktop after it has been installed. Afterward, go to the menu bar and select 'Register' to activate the full version. Since the registration is case-sensitive, no spaces are allowed before or after the reg code.
Step 2

Import Apple Music to AudFree Auditior

The program will be loaded in parallel with AudFree Auditior when launched. Finally, you can search your computer's hard drive for audio files like Apple Music songs and audiobooks and click the first Add button to import them into AudFree Auditior for conversion.
Step 3

Adjust output format and settings for Apple Music

Using AudFree Auditior, you can choose from various output formats once the files have been added. Simply click on the "Edit" icon and select the Apple Music output format you need to convert as well as define the audio properties.
Step 4

Begin to download and convert Apple Music

Let AudFree Auditior begin converting your Apple Music songs to your selected formats by clicking the "Convert" button. Once the conversion is complete, you can get the converted Apple Music files from the History folder for offline enjoyment.
Part 4. Conclusion
Now it's clear that the dark mode Apple Music will be here to stay. The dark mode is now available on all operating systems, including Android, Windows, and Apple's iOS, for those who want to protect their eyes from the bright lights of their devices. If you use your iPhone in the dark or wish to make the OLED screen on your iPhone appear excellent, you can utilize the dark mode. Apple Music dark mode has never been more popular, and our eyes couldn't thank us enough for that.