As of 2023, there are ad-free 100 million songs in the Apple Music catalog now. With $10.99 per month, customers are able to stream or download Apple Music ad-free with lyrics view and listen live to local radio stations from all over the world. At the price of $16.99/month, the Apple Music family plan can accommodate up to 6 members of a household.
With all these miscellaneous features and its great compatibility on multiple devices ranging from iOS devices to Bluetooth speakers, Apple Music has gained millions of users. But can you listen to Apple Music on a PC? The answer is yes. In the article, we will go through how to listen to Apple Music on PC in 4 different ways with detailed steps illustrated. Also, we will introduce the best Apple Music M4P to MP3 converter in this post.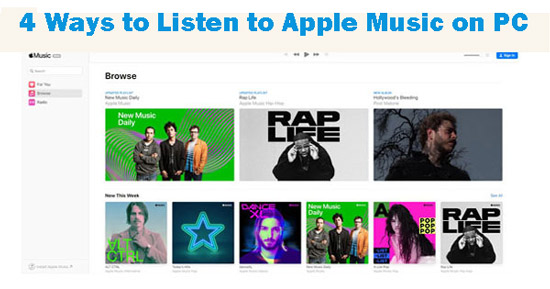 Part 1. Play Apple Music on PC via Apple Music for PC App [Windows 11]
A great number of people may opt to access Apple Music on the new Apple Music PC app: Apple Music Premium, developed by Apple and can be an alternative to the beta Apple Music. In the first part, we will talk about how to install the latest version of the Apple Music Preview Windows 11 app and listen to music on the Windows app.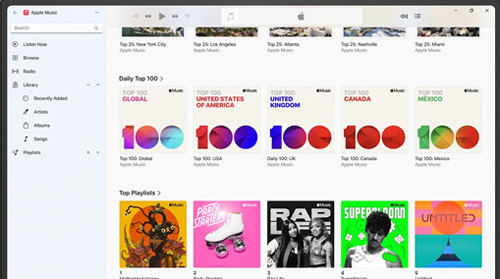 Install Apple Music App for PC and Play Apple Music on Windows 11
Step 1. On the Microsoft Store app or navigate to its website and search for 'Apple Music Preview'.
Step 2. Then tap on the blue 'Get' button to make the preview version of Apple Music app download and install for PC.
Step 3. You may need to enter your email, phone, or Skype for Microsoft login.
Step 4. Tap the 'Launch' button to open Apple Music.
Step 5. Sign in with your Apple ID and buy an Apple Music Preview subscription to start to use the Apple Music Preview Windows 11 app.
Step 6. Browse and search your favorite songs, albums, or artists in the search box of Apple Music Preview. It also allows you to download Apple Music on your PC.
Part 2. Listen to Apple Music on Windows PC with iTunes [Windows 10 & Windows 11]
The Apple Music app is only available smoothly on Windows 11. If you prefer to use Windows 10, you can get assistance from iTunes, which allows you to play Apple Music on both Windows 10 and Windows 11. Now, let's take a look at the below description on how to get Apple Music for Windows 10 with iTunes.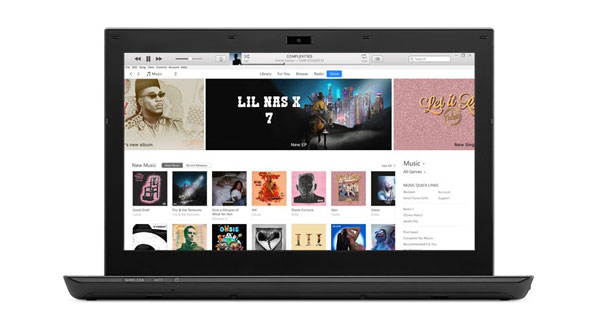 Step 1. Access the Microsoft Store on your Windows 10 PC, search for 'iTunes', and install it.
Step 2. Launch the iTunes app and go to 'Account' from the top-left bar and 'Sign in' with your Apple ID and password.
Step 3. Switch to the 'Music' section and click 'For You' or 'Browse' for some Apple Music HiFi on PC now.
Part 3. Access Apple Music on a PC via Apple Music Web Player
Some users complain that Apple Music not working with iTunes on PC sometimes and have no idea how to fix it. It may stem from the internet connection and incompatibility for online listening. To avoid such issues, you can also get Apple Music for PC from the Apple Music web player. For people who are reluctant to install extra applications on their PC, this is a good way to enjoy Apple Music on a PC. With an Internet connection and following the steps below, you will be able to enjoy Apple Music on Windows.
Step 1. Visit music.apple.com in a web browser.
Step 2. Log in with your Apple Music subscription account from the upper-right corner.
Step 3. Then you will be taken to your music library. Select your favorite song to play now.
In the interface of the Apple Music web player, you can browse for music recommendations, radio, or discover new music. With a control bar above, you can control your music playback.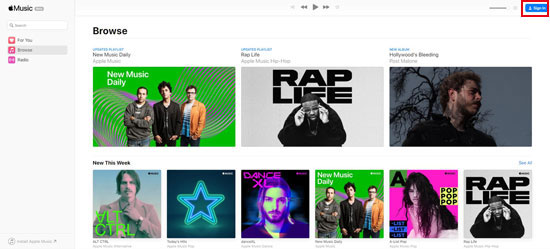 Part 4. Best Way to Listen to Apple Music on PC without iTunes [All Windows PCs]
Though the Apple Music subscription allows you to download Apple Music for offline listening, the downloaded Apple Music will be saved as temporary cache files and will disappear when the subscription expires. And you may encounter Apple Music not working with iTunes on PC issue if you stream Apple Music with iTunes while connecting WiFi network. Most importantly, you are still in the iOS ecosystem and only able to play Apple Music on Apple-supported devices.
So, for people who are discontent with temporary Apple Music cache files downloaded with Apple Music Premium and limited supported devices, a workaround is to use a free Apple Music converter for computers to download Apple Music as local files for offline listening forever on any media player and device.
Here we meet AudFree Apple Music Converter, a professional tool designed to help users download and convert Apple Music at 30X speed to 6 universal audio formats that are compatible with most of devices and platforms even most of Android and Windows devices. In addition to preserving the original sound quality of all Apple Music content, this tool is capable of keeping all the metadata such as album cover, title, year, and genre within the downloaded music files. So when you play this Apple Music on other media players, there will be basically no difference noticed.
One great advantage of this method is that even though your Apple Music subscription expires, you will be able to save Apple Music for PC forever for personal use. Without further ado, let's get started to see how to listen to Apple Music on PC on any media player. It is worth mentioning that this smart tool allows you to listen to Apple Music on PC.
How to Get Apple Music on all Windows PCs
This process requires the iTunes app temporarily and AudFree Apple Music Converter for Windows. Please make sure you have well installed these two software. Also, you need to download your favorite Apple Music tracks from the iTunes app in advance.
Step 1.

Import Apple Music to AudFree Apple Music Converter

Please press the 'Load iTunes library' button from the bottom-left corner to select the Apple Music tracks you want to download and play on your PC.
Step 2.

Define output format for Apple Music on a PC

Hit the 'Audio' icon to open the setting window. Here we suggest you set the output format for Apple Music as MP3 as it's the most common format and compatible with all media players. Besides, you can customize other audio parameters including channel, bit rate, and sample rate to create your personal-styled and lossless Apple Music for PC.
Step 3.

Download Apple Music for PC

When all settings are saved, simply click the Convert button to activate the downloading process at 30X speed. The Apple Music downloads will be stored in the destination folder you set before on your Windows PC. After the conversion is done, just hit the Converted button to open the history list where you can visit the destinated folder to view all the converted Apple Music files. Now import them to your preferred media play or devices and enjoy listening to Apple Music on PC without iTunes anymore.
Part 5. Pro Tips for Using Apple Music on PC
In this part, we would like to introduce some bonus tips to use Apple Music on a PC. If you are new to Apple Music, you should never miss this instruction.
How to Search for Favorite Tracks from Apple Music for PC
There are two ways to search for music from Apple Music: One is to enter the name of songs, artists, or albums in the search box. The other is to use the voice assistance Siri to post commands such as "Play a song".
How to Make Apple Music Playlists
That is quite easy. On the Apple Music app or iTunes app, head over to the menu bar. Then tap on 'File' > 'New' > 'Playlist'. Then the playlist will display on the sidebar. Afterward, drag and drop songs to the playlist. You can also rename your playlists.
How to Play Apple Music Albums and Tracks
After finding your loved albums or songs, one-click to open the album and double-click on the single song to play it.
Open the Apple Music app and play a song. Look at the top-right corner and tap the 'Lyrics' button to display or hide lyrics on Apple Music. Most of time, it will show time-synced lyrics. Otherwise, you will see the full lyrics.
Part 6. FAQs about Getting Apple Music for PC
Q1: Can't sign into Apple Music on PC. How to Fix It?
You may disable the authorization of your Apple ID on the PC. Please verify the two-factor authorization while logging in. If the issue remains, please restart your PC and check if you are using the latest version of Apple Music.
Q2: Is iTunes the same as Apple Music for PC?
Nope. Although both iTunes and Apple Music are developed by Apple, they are two different platforms. iTunes serves as a media library, media player, and at the same time, a mobile device management program. However, Apple Music is a music streaming service just like Spotify. You have to pay for each song on iTunes while buying subscriptions instead of tracks on Apple Music.
Q3: Can you listen to lossless Apple Music on PC?
No. Apple Music Lossless audio currently is not available on PC but can be played on iPhone, Mac, iPad, Homepod, Apple TV 4K, as well as Android devices.
In Conclusion
We have presented 4 ways to listen to Apple Music on PC. Furthermore, some pro tips to use Apple Music on a PC and answers to other questions.
We highly recommend using AudFree Apple Music Converter since it can meet most of your needs and avoid some flows happening on other methods. This gadget helps you convert Apple Music to universal formats and play Apple Music on multiple devices and media players not only Apple-supported devices. If you are curious about it, you can download it and have a try. It also offers free trial for its users.