Q: "How to Get Lyrics on Apple Music?" After the releases of iOS 13, it is not a hidden feature any longer to show lyrics in Apple Music. Now, you are not only allowed to manually search lyrics, but you are also supported to view the song's lyrics while playing the song.
The lyrics synchronization is not an innovative feature, but for Apple Music, it actually solved a big issue and improve the user experience. If you still don't know how to view lyrics on Apple Music, well, you come to the right place. There are 3 ways to view lyrics on Apple Music and 2 solutions to solve the "Apple Music lyrics not working" issue in this article.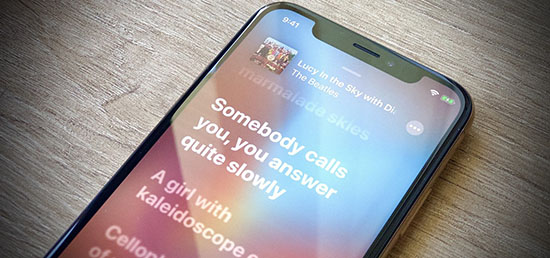 Part 1. How to See Lyrics on Apple Music
Getting Started
Make sure that you have subscribed to Apple Music.
Please confirm that you have upgraded to the latest versions of macOS, iOS, iPadOS, tvOS 13, iTunes for Windows, and the Apple Music app for Android devices.
Make certain that the Internet connection is great.
See Apple Music Lyrics on Mac or Windows Computer
Step 1. Open Apple Music on Mac or iTunes for Windows on PC.
Step 2. Start to play songs. For Mac users, click Lyrics on the top right corner of the Apple Music app. For Windows users, find Up Next Menu bar on the top of the window, and hit Lyrics.
Get Apple Music Lyrics on iPhone, iPad, iPod touch, or Android device
Step 1. Open the Apple Music app.
Step 2. Search for a song and play it. Open Now Playing by clicking to the song which is playing from the bottom of the screen.
Step 3. Find and tap Lyrics.
In addition, there are some tips you should know:
Tip 1. Please notice that Lyrics aren't supported to all tracks.
Tip 2. You can choose to follow the verse that shows in time with the music. Or you can jump to a particular verse by scrolling and tapping on it.
Tip 3. If you want to turn off the lyrics, just repeat the steps above.
Tip 4. To see the full lyrics for a song, you can select View Full Lyrics from the Now Playing, or press and hold the song to find it.
View Apple Music Lyrics on Apple TV
Step 1. Launch the Apple Music app and play a song.
Step 2. The lyrics will appear automatically. Just follow the verse that displays in time with the music. Or you can use your Apple TV Remote to jump to a specific verse.
If you want to view full lyrics, just hit the Menu button on your Apple TV Remote and select View Full Lyrics from the top of your TV.
Part 2. Apple Music Lyrics Not Working: Solved
As we mentioned above, not every piece of the track shows lyrics in Apple Music. Hence, you can use a third-party apple music lyrics app to fill this gap.
Edit Lyrics on Apple Music on Mac or PC
On Mac or PC, you can follow the steps below to see lyrics on apple music.
Notice: Apple Music's active subscription is still required. Alternatively, you can choose to download Apple Music for offline listening forever at first.
Now just catch up with the following steps.
Step 1. Turn on Apple Music on Mac or launch iTunes for Windows on PC.
Step 2. Download the song that you would like to add lyrics to the Apple music library.
Step 3. Select the song and tap Edit > Get Info from the top menu.
Step 4. In the new popping-up window, please find and click the Lyrics > Custom Lyrics.
Step 5. Now you are available to paste lyrics that you searched from elsewhere. Don't forget to click OK to save the modification.
Add Lyrics to Apple Music on iPhone or Android
On mobile devices, you can use Musixmatch to add lyrics to Apple Music. It is one of the biggest catalogs of music lyrics, which you can regard it as a kind of Apple Music lyrics app.
Step 1. Search and download Musixmatch from the App Store or Google Play Store.
Step 2. Open it and register a new account. Or log in it with your Facebook account
Step 3. If it is the first time that you use it, you will prompt to a request to access Apple Music, just click OK.
Step 4. Find Enable the widget for Apple Music. Under the words, click to TRY IT NOW button.
Step 5. Scroll down to open the Notifications Center. Swipe to hit the Today View > choose Edit.
Step 6. Beside the "Musixmatch", click the "+" button " to add the Apple Music widget.
Now you can go for listening to Apple Music. The lyrics will be sent to you as a message through the Notifications Center in Musixmatch.