There are many streaming music services on the market that provide music lovers with high bitrate music and playlists. Apple Music is one such popular music platform that allows users to stream, download and listen to music streams on their favorite devices.
As an Apple Music user, are you fully aware of Apple Music quality for a better listening experience? Do you know what bitrate is Apple Music? If not, it doesn't matter. This article will focus on Apple Music quality and how to improve Apple Music bitrate for better sound quality.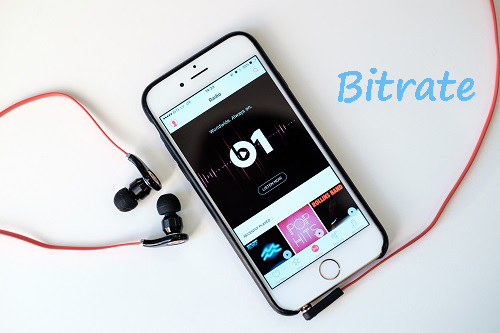 Part 1. Overview of Apple Music Quality and Bitrate
Bitrate is a measure of the bits (audio data) processed in a given amount of time. It is usually expressed in kbps to define the audio quality of a file. So it is often said that a higher bitrate means better audio quality. And different streaming music services have different streaming bitrates.
What bitrate does Apple Music stream at? Apple Music plays music at a bitrate of 256kbps. It uses the AAC format, which is known for its efficient compression and high sound quality. As a result, compared to MP3, Ogg and other audio formats encoding the same bit-rate audio tracks, Apple Music delivers high-quality audio streaming.
What's more, besides the bitrate, other audio parameters such as sample rate and codec have an influence in output audio quality. All in all, you can still get a good listening experience from Apple Music.
Part 2. How to Increase Apple Music Sound Quality on Mac/Windows
Although Apple Music max bitrate is 256kbps with good audio quality, you may also wonder if there is an effective way to boost Apple Music streaming bitrate for better music entertainment? The answer may be yes, here we will first introduce a way to get Apple Music 320kbps.
To achieve this purpose, you need the help of AudFree Apple Music Converter. It is a smart Apple Music tool that can download and convert Apple Music to MP3, FLAC, WAV, AAC, M4A and M4B. What's more, it allows you to customize Apple Music bitrate to 320 kbps, sample rate to 48,000 Hz, and other parameters like audio codecs, channels, etc. With it, you can easily get higher bitrate on Apple Music and listen to high-quality Apple Music on any device with ease.
AudFree Apple Music Converter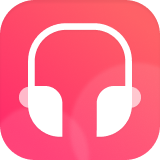 Remove DRM from Apple Music songs/playlists losslessly
Convert Apple Music to MP3, WAV, FLAC, AAC, etc.
Customize Apple Music bitrate as 320 kbps and other audio parameters
Work well with Apple Music, iTunes and Audible audiobooks, etc.
How to Increase Apple Music Bitrate to 320 Kbps
Step 1. Download 256kbps bitrate Apple Music on iTunes. Then launch AudFree Apple Music Converter on your Mac/Windows and click the "+" button to add Apple Music from iTunes library to the program.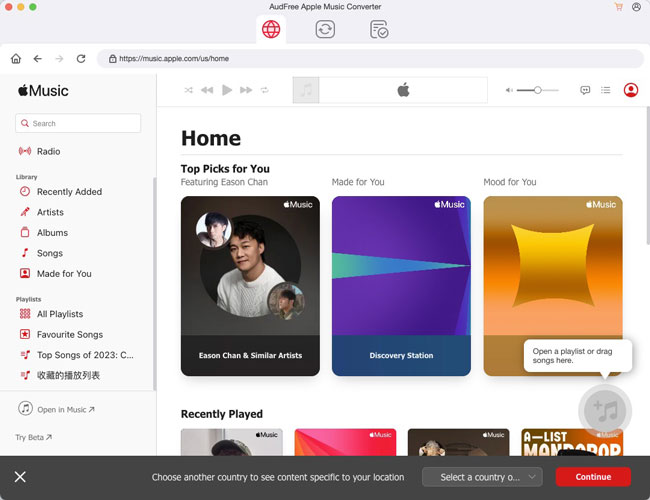 Step 2. Please click the "Format" icon to open the setting window, in which you can personalize the Apple Music kbps quality as 320 kbps and define other audio parameters, like sample rate, output audio format, etc.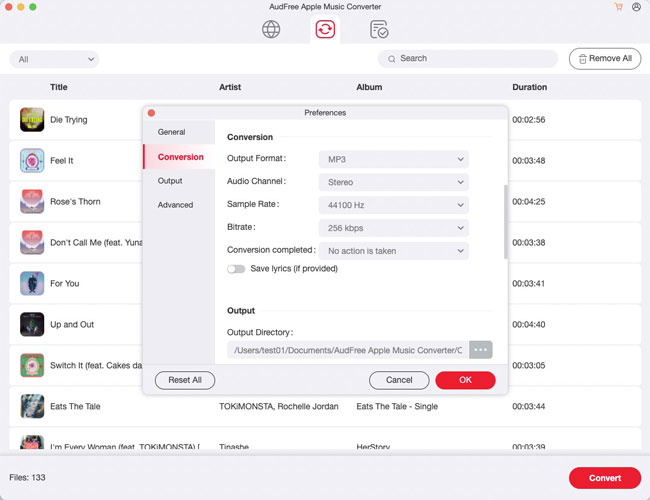 Step 3. When all settings are OK, please simply press the "Convert" button to start the downloading process. And then all Apple Music quality kbps will be downloaded and saved as 320 kbps on your computer for playback.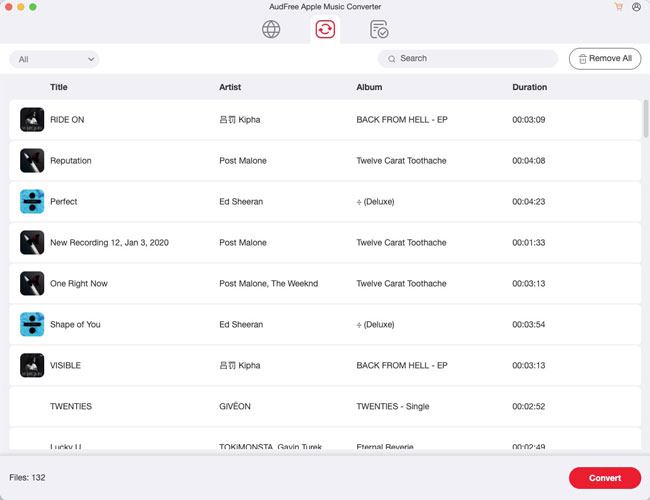 Part 3. How to Reset Apple Music Bitrate on iOS/Android
When you are listening to Apple Music streams on your mobile devices, Apple will automatically change the download quality on Apple Music according to your network. If you are using the cellular data on your Android phone or iPhone when playing Apple Music files, it will reduce the bitrate to a lower level. That's to say, you will stream Apple Music with lower audio quality.
If you are under Wi-Fi network, anything will be normal. But if you are under cellular data network, is there a way to improve Apple Music streaming quality. Fortunately, Apple Music enables users to adjust Apple Music bitrate settings on mobile devices manually. For getting higher bitrate on Apple Music, you can refer to the following simple tutorial.
For iOS Users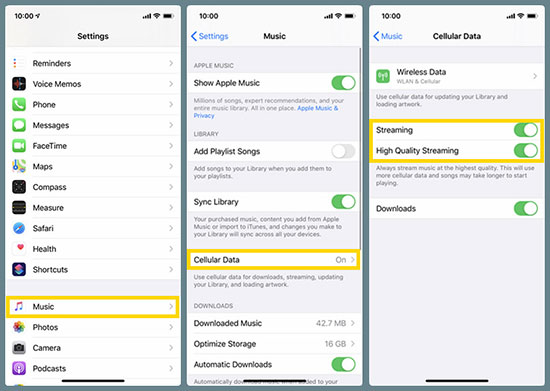 Step 1. Navigate to the "Settings" app on your iOS device.
Step 2. Scroll down and select the "Music" section.
Step 3. Then, tap on "Cellular Data" and click the "WLAN & Cellular Data" toggle button.
Step 4. Turn on "High-Quality Streaming" and you'll be able to listen to Apple Music bitrate at 256kbps on your iOS device again.
For Android Users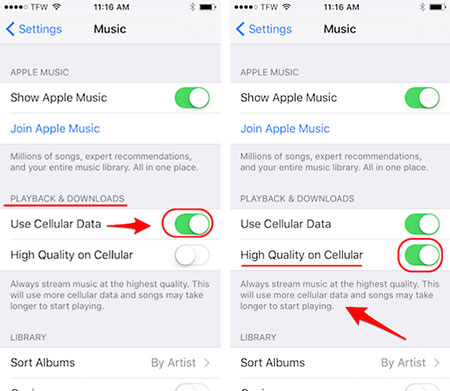 Step 1. Open the Apple Music app on your Android phone.
Step 2. Go to the "Menu" > "Settings" section in the top left corner.
Step 3. Then you can see the "Use Cellular Data" and "High Quality on Cellular" buttons under the "Playback" section. Enable these two features to get better quality Apple Music playback.
Part 4. How to Change Apple Music Audio Quality with EQ Settings
Have you heard of Apple Music Equalizer? The equalizer helps to customize your sound by increasing or decreasing the volume of specific frequencies. Most streaming music services have built-in equalizers, including Apple Music. In this case, you can follow these steps to customize EQ preset to adjust Apple Music quality.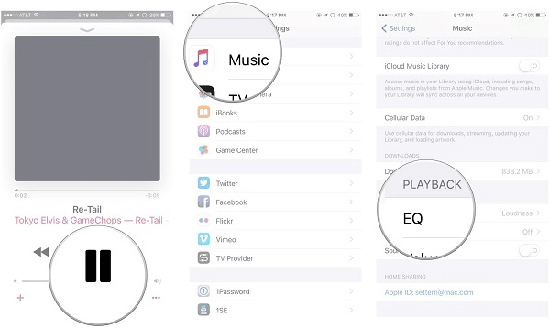 Step 1. Open the "Settings" app on your iPhone/iPad and select the "Music" option.
Step 2. Click the "EQ" button under the "Play" section.
Step 3. Browse all available EQ presets and select the preferred music effect.
Step 4. Now, you can play Apple Music with the desired streaming bitrate.
Part 5. How to Increase Apple Music Bit Rate with Lossless Quality
Today, Apple Music has developed its own Lossless audio, a form of compression that preserves all the original data. As for Apple Music Lossless bitrate, it uses ALAC encoding with a resolution ranging from 16 bit/44.1 kHz (CD quality) to 24 bit/192 kHz. So you can enable the Lossless option to change Apple Music quality.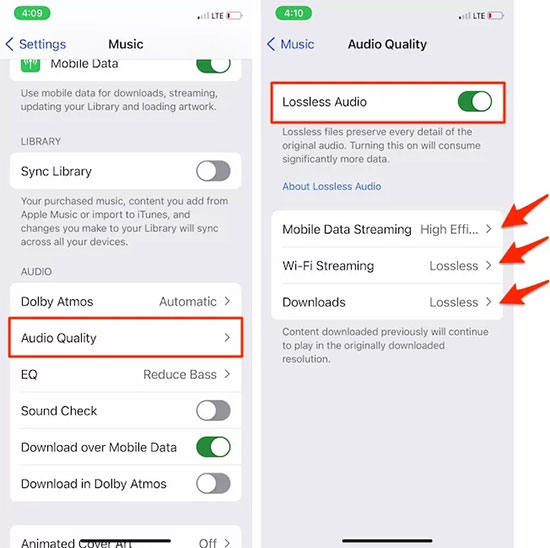 Step 1. Go to the "Settings > Music" section of your iPhone or iPad.
Step 2. Select "Audio Quality".
Step 3. Tap the "Lossless Audio" option to turn on the lossless audio feature.
Part 6. Conclusion
Now, you should have a good understanding of Apple Music sound quality and bitrate. Just follow the methods mentioned in this article to adjust Apple Music quality as you wish. By the way, AudFree Apple Music Converter is not only available to increase Apple Music bitrate to 320kbps, it can also help you download Apple Music for free backup forever.