There are so many streaming music services in the market providing music and playlists with high bitrate for music addicts. Apple Music is such a popular music platform, in which users can stream, download, listen to music streams on favorite devices.
Higher audio quality always comes with a higher bitrate. As an Apple Music subscriber, do you have full knowledge of Apple Music bitrate for getting better listening experience? Do you know which bitrate Apple Music streams are? If not, it doesn't matter. This article will give you the answers as it focuses on an introduction to the Apple Music bitrate and how to get higher bitrate on Apple Music.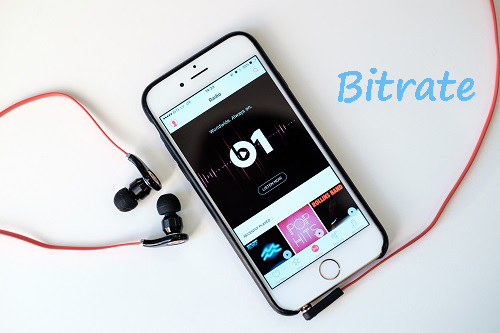 Part 1. Which Bitrate Does Apple Music Stream at?
The bit rate always refers to the number of bits processed in a certain period of time. Different streaming music services feature different streaming bitrate. For example, Spotify bitrate is from 128 kbps to 320 kbps according to the different devices. Tidal streams music in the form of 16 bit, 44kHz FLAC file with the bitrate of 1411 kbps, which is one of the highest bitrate streaming music services. So it can offer Hi-Fi audio quality.
How about Apple Music bitrate? It could be a little lower than Spotify or Tidal since it has only 256 kbps bitrate according to the locally-saved Apple Music files. But Apple Music cites a 256 kbps AAC bitrate, you can listen to audio files with better quality compared to the same bitrate audio tracks encoded in MP3, Ogg and other audio formats.
What's more, not only bitrate but also other audio parameters, like sample rate, codec, etc. have an influence in output audio quality. As a consequence, you can still get a nice listening experience from Apple Music.
Part 2. Reset Apple Music Streaming Bitrate on iOS/Android
When you are listening to Apple Music streams on your mobile devices, Apple will automatically change the download quality on Apple Music according to your network. If you are using the cellular data on your Android phone or iPhone when playing Apple Music files, it will reduce the bitrate to a lower level. That's to say, you will stream Apple Music with lower audio quality.
If you are under Wi-Fi network, anything will be normal. But if you are under cellular data network, is there a way to improve Apple Music quality. Fortunately, Apple Music enables users to adjust Apple Music quality settings on mobile devices manually. For getting higher bitrate on Apple Music, you can refer to the following simple tutorial.
For iOS Users:
Please navigate to Apple 'Music' app on your iPhone and launch it. Then please click the 'Mobile Data' to switch the toggle buttons 'Use Cellular Data' and turn 'High Quality on Cellular' on. You can start to listen to Apple Music at 256 kbps again on iOS device.
For Android Users:
Please go to the 'Settings' section from the top-left menu bar, and then you can see there is a 'high quality streaming option' button under 'Playback' section. Just enable this function and you can get higher Apple Music quality for playback.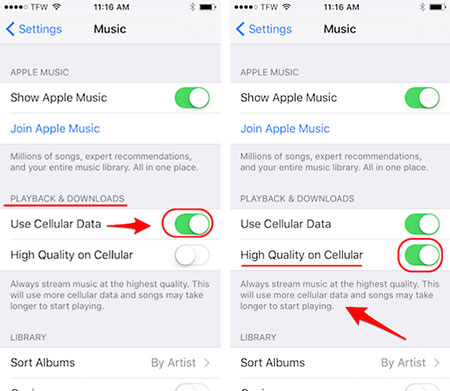 Part 3. How to Increase Apple Music Bitrate to 320 Kbps
Although Apple Music offers a nice audio quality with a bitrate of 256 kbps, you might also wonder to know whether there is an effective way to set Apple Music bitrate to 320 kbps for better music entertainment?
The answer could be positive. AudFree Apple Music Converter is an intellectual Apple Music tool to download and convert Apple Music files to MP3, FLAC, WAV, AAC, M4A and M4B while customizing bitrate to 320 kbps, sample rate to 44,100 Hz, audio codec, channel, etc. With the assistance of this smart tool, you can listen to high-quality Apple Music on any device with ease.
Step 1. Download your 256kbps bitrate Apple Music on your iTunes and click the '+' button to add them from iTunes library to AudFree Apple Music Converter.
Step 2. Please click the 'audio' icon to open the setting window, in which you can personalize the bit rate as 320 kbps and define other audio parameters, like sample rate, output audio format, etc.
Step 3. When all settings are OK, please simply press the 'Convert' button to start the downloading process. And then all Apple Music will be downloaded and saved as 320 kbps audio quality on your computer for playback.
For the detailed tutorial, please visit this source page: How to Convert Apple Music to MP3. Good news to use this way is that you can keep Apple Music forever to enjoy high-quality audio files even if you have canceled the Apple Music subscription.