Are there podcasts on Tidal? Yes. As a streaming music service, Tidal also offers a variety of podcasts, including categories such as hip-hop, art, and lifestyle. You can easily find and listen to podcasts on the Tidal app or web player. If you want to download Tidal podcasts for offline playback, you'll need a premium account.
As for free users, you probably want to download without paying, right? Keep reading and we'll show you how to get podcast on Tidal without premium. You'll also learn about the top 10 best podcasts on Tidal.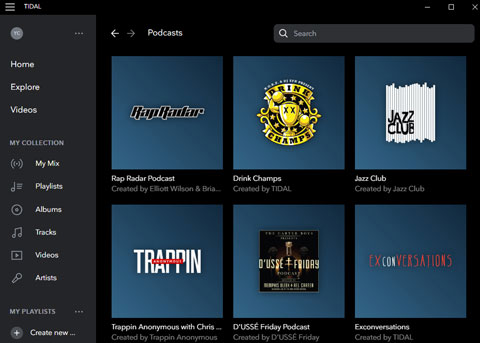 Part 1. Does Tidal Have Podcasts
Can you listen to podcasts on Tidal? Yes. Tidal has curated a number of podcast series focused on intimate storytelling. For free users, you can stream podcasts online. For subscribers, you can also download podcasts for playing without an Internet connection.
How to Find podcasts on Tidal
Way 1. Open the Tidal app or web player. From the 'Explore' section, choose 'Shows & Podcasts'.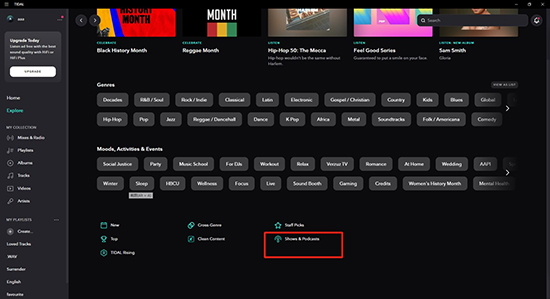 Way 2. Directly search for the name of the podcast.
Part 2. Top 10 Best Podcasts on Tidal
This section will show you the top 10 best Tidal podcasts. You can choose the one you like and then download it for offline playback.
1. Talk of the Thames
This podcast devotes to London's iconic river. It is hosted by Chloe Russell. If you are interested in Thames's history, then it is for you. You will listen to relaxed interviews with the people working around the Thames Estuary.
2. Reveal
This podcast mainly talks about investigative reporting. Hosted by Al Letson, it shines a spotlight on each topic. Besides, it remains interesting and analytical.
3. Get Played
This podcast mainly talks about the very worst and weirdest video games. So, it is very humorous and appropriate for listeners who want to relax.
4. Disaster Recovery Roundtable
With it, you can explore, engage, and educate the emergency management community. Plus, it invites guests from a variety of emergency management disciplines. You can learn much about disaster mitigation, preparedness, response, and recovery.
5. Soulful Streaming
It is hosted by Tina and Ali. Both of them are women who enjoy deep conversation. You will gain lots of inspiration, insight, and in-depth topics. It started with swapping podcasts and then sharing the occasional skate.
6. Conquer Depersonalization and Derealization
Here you will follow the hosts as they explore the world of Depersonalization and Psychotic Dissociative Disorder (DPDR). This blog focuses on what exactly DPDR is, how those with DPDR describe it, and how the psychiatric community classifies it. In addition, it will give some therapies for DPDR, and its relationship to existential thought, religion, and spirituality.
7. The Diva's Den with Tavia
You may know Tavia well as Fabulous Faces, but she's now stepping out from behind the makeup chair and into the foreground! She will be presenting her views on life, love, and the pursuit of happiness. The main topics that will be discussed are goals, parenting, sisterhood, fitness, music, and many others.
8. Research Pages
This podcast is hosted by an academic librarian and a computer scientist. They will cover support for academic research from a completely different perspective. If you are interested in academic research, then step into it and unravel some of the background things that make the academic machine work.
9. The San Francisco Experience
This is a "deep dive" news podcast. The host is Jim Herlihy, a published author. He is a former reporter for The Economist, The Times and The New York Times. He is able to provide listeners with concise, fact-based analysis.
10. Take the Last Bite
The program focuses on interviews and casual conversations to analyze reflections on queer time, space, and place in the Midwest. You will learn about the unrecognized contributions of queer and transgender people to social change.
Part 3. How to Download Tidal Podcasts with Premium
After knowing the top 10 best podcasts on Tidal, do you want to get some? If you subscribe to Tidal HiFi or HiFi Plus, then you can download Tidal podcasts for offline playing. Follow the steps below on how to get podcast on Tidal.
Step 1. Open the Tidal app on your mobile phone. (There is no download option on the Tidal desktop app.)
Step 2. Browse or search for the podcast you want.
Step 3. Choose the podcast and open it. Then turn on the 'Download' option.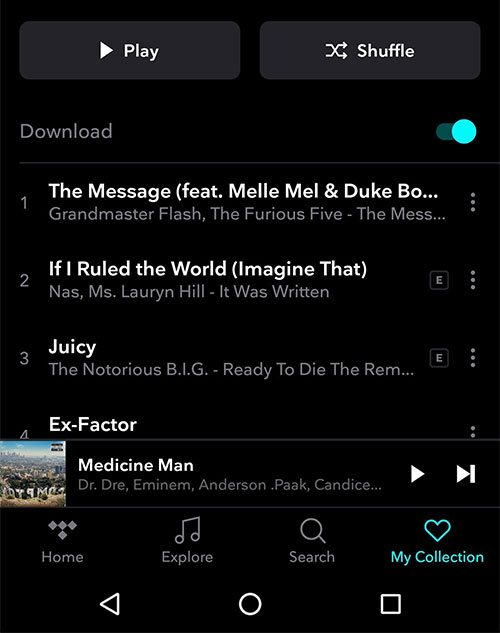 Step 4. When the slider turns blue, the podcast will start downloading.
Part 4. How to Get Podcast on Tidal without Premium
Since there is no download option for desktop Tidal, you need a tool to help you. AudFree Tidal Music Converter is your best helper. With it, you can download podcasts, albums, playlists, and tracks from Tidal without Premium. You can also convert Tidal podcasts to MP3, FLAC, AAC, M4A, M4B and WAV.
Moreover, it can keep lossless sound quality, and ID3 tags will be retained automatically. In this way, it lets you enjoy Tidal music like the original one and manage your music easily. The conversion just takes you a little time as AudFree software runs at 5X faster speed. After conversion, Tidal music files will save to your computer and you can keep them forever to transfer to other devices or platforms for playback.
How to Download Podcasts on Tidal without Premium
Please download and install Audfree Tidal Music Converter on your computer first. After that, you could follow the tutorial below to start to download Tidal podcasts.
Step 1

Load Tidal podcast tracks to AudFree

Please double-click to launch AudFree Tidal Music Converter from your computer desktop and the Tidal app will be opened automatically. Please browse the Tidal podcasts and find the tracks that you'd like to download and keep forever. Once found, please click the item and then tap the 'three-dot' icon > 'Share' > 'Copy Track Link' to copy the URL of Tidal tracks and then paste the Tidal link to AudFree's search box. Now, just hit on the '+' button to load them.
Step 2

Set Tidal output format and other parameters

AudFree Tidal Music Downloader allows you to personalize output audio formats and other audio parameters for your music. Just click the top 'menu' to choose the 'Preferences' > 'Convert' button to open the setting window. Then you can adjust output format as FLAC, WAV, AAC, M4A, MP3, etc. and adjust Bit Rate, and Sample Rate to change output audio quality. Then please don't forget to hit on 'OK' to apply the change.
Step 3

Convert and download Tidal podcast

As all the settings are ready, then you can click the 'Convert' button at the bottom right of the main interface. After hitting on the button, you will see that Tidal podcast tracks are converting. After a while, Tidal audio files will be saved to your computer. To locate the converted Tidal audio files, you could click on the 'file' icon and check them on your computer. Then you can transfer Tidal music tracks to other devices for offline playback freely.