When it comes to music entertainment, listening experience could be put into the first place. With high audio quality, you can explore a completely different auditory feast. Spotify, the world's biggest music streaming service, offers Spotify Free and Premium subscriptions for users to listen to 96 kbps to 320 kbps music streams on computer and mobile devices.
In general, a high bitrate means a high sound quality. As a Spotify user, do you know the detailed info about Spotify bitrate? Don't miss that you can stream Spotify music at higher quality than the default one via setting high bitrate. So, in this article, we will show the complete introduction of Spotify bitrate and the ways on how to enhance Spotify bitrate for better streaming music.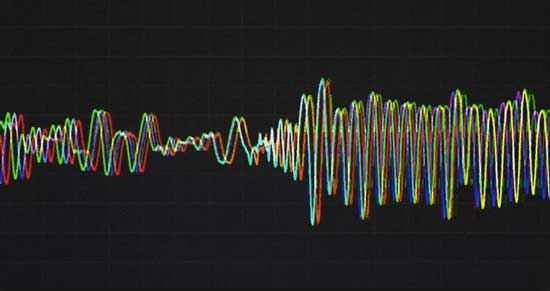 Part 1. Everything We Know About Spotify Bitrate
What's Bitrate?
Have you had a full knowledge of bit rate already? No matter yes or no, let's check what it means again. According to the official definition, bitrate refers to the number of bits—or the amount of data—that are processed over a certain amount of time. In audio tracks, this usually means kilobits per second. Taken Spotify as example, songs or playlists you stream on Spotify is 160 kilobits per second, meaning there are 160 kilobits of data stored in every second of a song. Higher bitrate, more storage. Lower bitrate, you will plain hear a bit of distortion or can't hear the subtle background tracks, etc. So, a higher bitrate track could be the better listening experience.
Which Bitrate Does Spotify Stream At?
As for Spotify audio bitrate, it could be divided into three different parts according to platforms and subscription plans. With using Spotify desktop client, free Spotify users will be able to enjoy 160 kbps standard quality on PC and Mac, while premium subscribers can listen to 320 kbps high quality on desktop client. With using Spotify Web Player, you can enjoy AAC 128 kbps or 256 kbps audio quality for free or paid users. Besides, Spotify has compressed its music down to a bit rate of 96 kbps for standard quality, 160kbps for high quality and 320 kbps for Extreme quality (Premium only) on mobile devices.
Part 2. How Do I Improve the Sound Quality on Spotify
When the network connection is unstable, the music quality could be offered up at lower bit rates automatically according to 'Automatic' setting. Although it's currently not possible to adjust Spotify song bitrate, fortunately, you can define the simple settings to enhance the audio quality in Spotify desktop and mobile apps by doing a few clicks. Let's see how to turn higher sound quality up on Spotify.
Switch on Spotify Premium Bitrate on Desktop
Step 1. Launch Spotify app for desktop version on your computer and sing in your account details via Facebook social account or email address.
Step 2. Click the downward facing arrow in the top-right corner and select the 'Setting' option to open setting window.
Step 3. Scroll down to 'Music Quality' section, and turn 'High quality streaming (Premium only) on. Now you can play Spotify song and playlists in 320 kbps high audio quality.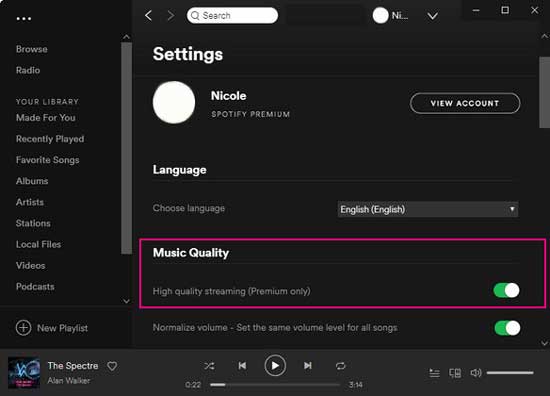 Note: To set Spotify extreme quality bitrate on your computer, please make sure you have upgraded to Spotify Premium.
Improve Spotify Sound Quality on Mobile
Step 1. Open Spotify for mobile app on your iPhone or Android phone. And then tap the 'Your Library' > 'Setting' option in the top right to open setting window.
Step 2. Go head to 'Music Quality' section and then choose your preferred audio settings (available for Automatic, Low, Normal, High, and Very High).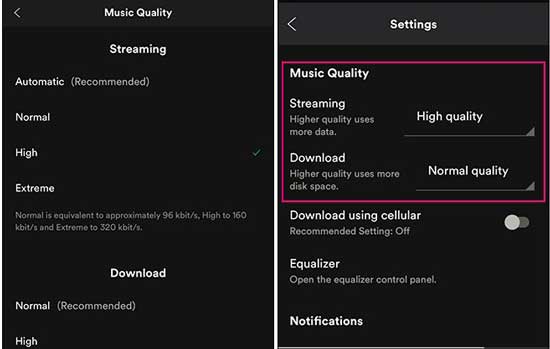 Note: All users can set Spotify audio bitrate at up to 160 kbps. But 320 kbps setting is only available for premium users. Besides, the higher the Stream quality, the more data will be used.
Part 3. How to Download Spotify Music to 320 kbps MP3 files
From the above tips on improving Spotify audio quality, you must be aware that 320 kbps higher Spotify quality means paying for Spotify music service. As a result, without updating to Spotify paid subscription, is there any way to get Spotify audio tracks with Spotify premium bitrate? Thankfully, the answer could be yes. You can directly use the third-party Spotify music solution to download Spotify songs to MP3 files with higher bitrate.
AudFree Spotify Playlist Downloader is such a professional commercial tool for Spotify, which can not only download songs from Spotify as MP3 but also allow users to customize bit rate as 320 kbps to enhance audio quality for better playback. AudFree is specially designed for both Spotify free and paid users to enjoy Spotify 320 kbps MP3 audio files on any device anytime and anywhere. Here we will take AudFree Spotify Downloader for Windows as example to share the detailed tutorial.
Download High-quality Spotify Songs
Step 1. To begin with, please launch AudFree Spotify Playlist Downloader on your computer and then drag and drop music from Spotify to AudFree conversion window or copy and paste the link of Spotify track to the search box.
Step 2. To set bit rate as 320 kbps, please go to the top menu bar to choose 'Preferences' > 'Convert' option and then you can customize output bitrate as 320 kbps, sample rate as 414,000 Hz and set output format as MP3 or others.
Step 3. Please simply press the 'Convert' button in the bottom-right corner of the main interface and then AudFree will input Spotify music as MP3 files with best audio quality. And then you can transfer high-quality Spotify songs to favorite device for playback freely.
Tips: If you are a Mac user, for the detailed tutorial, please refer to How to Download Spotify Music to MP3 on Mac.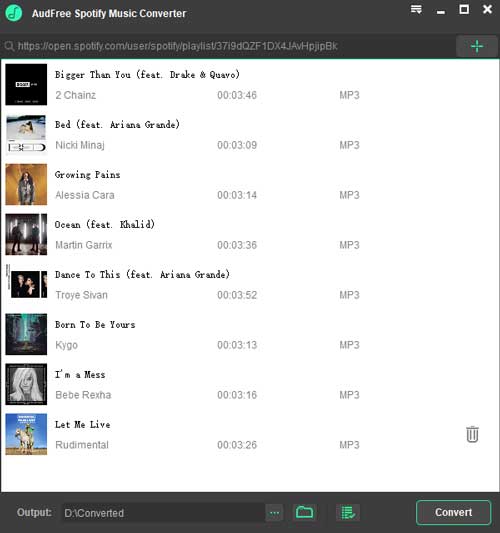 Now, you can choose a way according to the type of your Spotify subscription plan to improve audio quality on Spotify to set the bit rate. And then, you can explore a wonderful listening experience with your Spotify songs and playlists.