As a high-end wireless speaker, Bose SoundTouch supports online or offline streaming of a wide variety of audio files, including audiobooks from the popular audiobook platform Audible. Since Bose SoundTouch can connect to any Bluetooth-compatible device, then you just need to pair the Bluetooth-compatible device that is playing Audible with the SoundTouch, and the playback on Audible will switch to the Bose SoundTouch. In turn, You'll be able to play Audible on Bose SoundTouch very easily.
At this point, one might ask, "Is there another solution to play Audible on Bose SoundTouch when I don't have a Bluetooth compatible device?" Well, congratulations, you've come to the right place. This article will not only cover the common way to use Bluetooth to stream Audible to SoundTouch but also describe the perfect method to play Audible offline directly on your SoundTouch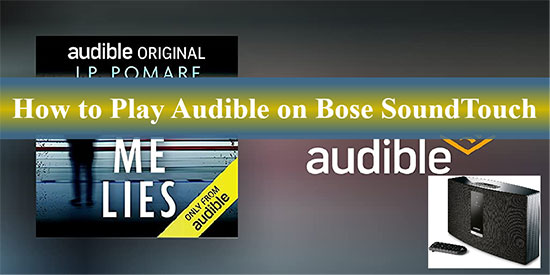 Part 1. How to Play Audible on Bose SoundTouch via Bluetooth
In addition to being able to connect to a WiFi network, the SoundTouch can also connect to any Bluetooth compatible device, such as iPhone, computer, etc. So it seems like this opens up the possibility of streaming Audible to SoundTouch. What you need to do is to pair your Bluetooth-enabled device with Bose SoundTounch. Once paired, you can simply play Audible on Bose SoundTouch. Thus, make sure your device is Bluetooth-enable before you start the steps below.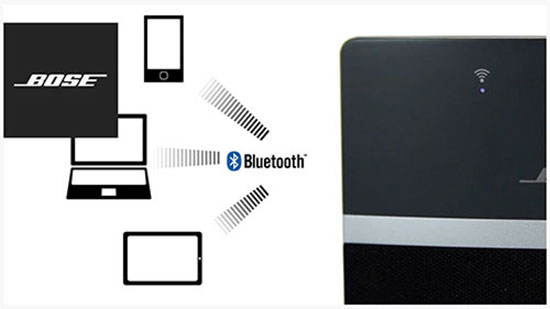 Step 1. Install the Bose SoundTouch app on your cell phone or computer. Install the Audible app on another mobile device or computer with Bluetooth.
Step 2. Turn on Bluetooth on both devices. Open the SoundTouch app, tap to the settings button in the upper left corner and then click the Speaker Settings option. Then you can select the Bluetooth menu in the new page, and in turn go to tap the pairing button. Of course, you can also turn on the pairing feature in the settings of the other Bluetooth device.
Step 3. Usually, your device will take 1 to 2 minutes to automatically search for SoundTouch and pair with it. Once both devices are paired, you can simply play Audible on your phone or computer and it will automatically stream to the SoundTouch. This also means you will no longer have difficulty playing Audible on your Bose SoundTouch via Bluetooth.
Part 2. How to Play Audible on Bose SoundTouch Offline via AudFree Auditior
Although you can play Audible on SoundTouch via Bluetooth, not any devices support Bluetooth. So, is it possible to play Audible directly on SoundTouch like other standard music files? Don't worry, you can find the answer here. The first thing you need to know is that Bose SoundTouch only supports playback of the following audio file formats, including MP3, unprotected AAC and M4A. While Audible audiobook files are protected, and you can't play them directly on devices that aren't licensed by Audible.
Fortunately, you only need to use a third-party Audible converter - AudFree Auditior - to convert protected Audible files to SoundTouch-compatible formats, and then you can play Audible directly on Bose SoundTouch offline. What's more, you won't believe that AudFree Auditior is able to preserve the quality of Audible files and their full ID3 tags during the conversion process. Well, the following tutorial will show you step-by-step how to play Audible on Bose SoundTouch offline using AudFree Auditior.
AudFree Audible Converter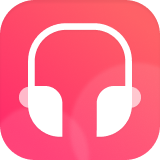 Convert Audible to Bose SoundTouch compatible file
Losslessly download and remove the built-in DRM protection from Audible
Download and convert Audible audio tracks at up to 30X faster speed
Customize Audible output format and related audio parameters, including codec, speed, audio channel, etc.
How to Convert Audible to Bose SoundTouch Compatible File
Step 1

Download and Register AudFree Auditior

First make sure you have AudFree Auditior downloaded on your PC or Mac computer. Then launch and register AudFree Auditior. Fill in the relevant registration information, such as your license key, to make AudFree Auditior a full version.
Step 2

Import Audible Files to AudFree Auditior

You can directly drag the Audible files you need to convert into the conversion window of AudFree Audible Converter. You can also click the first Add button in the bottom left corner of the page to import Audible files. Note that the second button is used to add normal audio.
Step 3

Customize Audible Output Format and Parameters for Bose SoundTouch

Once you have added the Audible file to AudFree Auditior, simply click on the Edit icon or the Format button, and you will be able to select the Audible output format in the new conversion window, then you can convert Audible to MP3 and other Bose SoundTouch compatible formats. Of course, editing Audible information and adjusting related parameters can also be done in this window. After that, remember to check the Keep lossless quality option so that the output Audible file will be saved as lossless quality. Finally click the OK button to save the above settings.
Step 4

Convert Audible to Bose SoundTouch Compatible Files

Click the Convert button at the bottom right. AudFree Auditior will quickly convert Audible to audio tracks that can be recognized by Bose SoundTouch based on your settings above. Once the conversion is complete, simply click on the Converted icon next to Convert, and you will see all the converted Audible files listed here. Besides, these Audible files will also be automatically saved in your computer's local folder.
How to Play Audible on Bose SoundTouch Offline
Tips: Before starting the steps below, please move the converted Audible file to your computer's iTunes Music folder or My Music folder of your Windows Media Player library, after which you can successfully follow the steps below to add Audible to SoundTouch.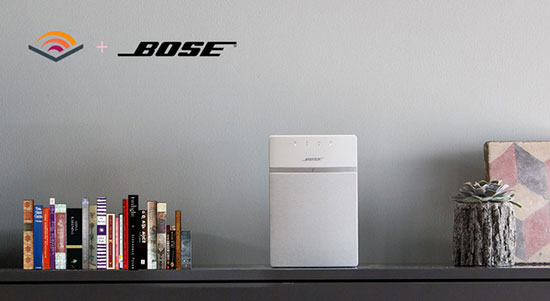 Step 1. Download and launch the Bose SoundTouch application on your computer, click on the menu icon at the top of the page, select the Add Service option, and in turn select the Music Library button on your computer. The iTunes and Windows Media Player options will appear, which one you choose depends on where you previously saved your Audible file. After that, click on the circles next to them to select the type of library you want to add.
Step 2. You can customize a name for the new music library and then select the Add Music Library button. At this point, it will take a few minutes to sync the music library to your Bose SoundTouch. When the sync is complete, this means you have transferred the converted Audible files to Bose SoundTouch. From then on, you'll be able to listen to Audible offline on Bose SoundTouch without any restrictions.
Part 3. Summary
You can pair your device with the Bose SoundTouch via Bluetooth and simply play Audible on your SoundTouch. While if you want to play Audible offline on your SoundTouch directly, AudFree Auditior is sure to be the better choice for you. You can use the AudFree Audible Converter to convert Audible to common files, and then you can not only listen to Audible on Bose SoundTouch, but also on Sony Live Sound, JBL Clip, and other smart speakers with ease. At present, streaming Audible on Bose SoundTouch will be a convenient thing for you. Go ahead and enjoy Audible freely on your Bose SoundTouch.