Before you go to bed, you can help yourself wind down by listening to unfamiliar languages, natural soundscapes, or the screams of animals. On the other hand, listening to some audiobooks can help you relax and get ready for bed if you're having trouble falling or staying asleep at night. It is pretty easy to listen to your favourite stories over and over again when you use Audible.
Audible has launched a sleep timer option that makes listening to books while sleeping more enjoyable for customers who choose to do so. This option is available for those who prefer to listen to their readers while sleeping. Before going to sleep, many of you like to listen to your favourite audiobooks, but you're worried about how to switch them off once you've already dozed off. Who exactly is going to put an end to your audiobook at this point? Have no concerns! You are free to take it easy and kick back and relax.
Follow these instructions on your mobile/PC device in order to use the Audible sleep timer feature.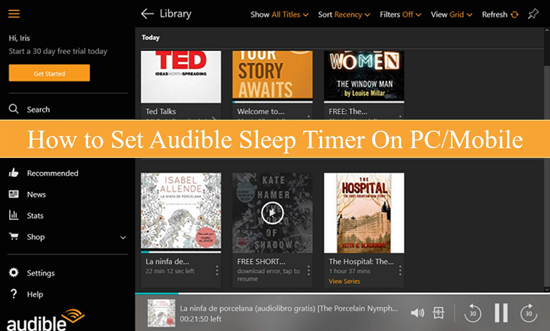 Part 1. How to Set Audible Sleep Timer on Android / iOS
You can start a countdown on a sleep timer that is included into the app to ensure you finish the bedtime story you just finished reading before going to sleep. You won't need to be concerned about your Audible app playing audiobooks for the entirety of the night if you use the Audible sleep timer feature. If you're looking to get some shut-eye while using Android or iOS, here are some detailed instructions on how to use Audible sleep timer Android and iPhone.
Step 1. Install the Audible app by going to the App Store and downloading it.
Step 2. Start the Audible app and select an audiobook to listen to. The player will then appear.
Step 3. It's in the bottom right of the screen. Click on the "Sleep Timer".
Step 4. In most cases, you will be able to set your alarm clock somewhere between eight and thirty minutes after each chapter. Once you have your alarm set for the appropriate amount of time, the audiobook will automatically stop playing.
That's how you can play Audible audiobooks on Android and iOS phones with the sleep timer set up.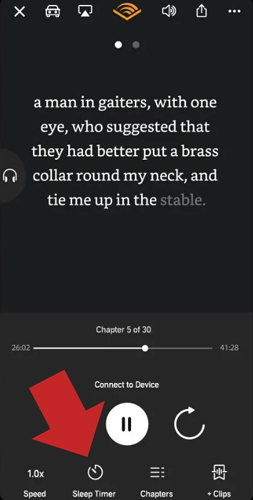 Part 2. How to Set Sleep Timer on Audible on Windows / Mac
How to Set Sleep Timer on Audible on Windows
It is possible to enable the sleep timer on a Windows computer in a manner analogous to how it is done on an Android or iOS smartphone.
Step 1. Launch the Audible app sleep timer on your personal computer. Tap on the audiobook you would like to listen to to bring up the player screen.
Step 2. You will notice an icon for a sleep timer located at the very bottom of the screen.
Step 3. Put in the desired number of hours on your sleep timer.

How to Set Sleep Timer on Audible on Mac
Since Audible does not have a Mac program, you'll have to utilize Apple Books to listen to your Audible books on your Mac.
Step 1. Audible books can be downloaded to your Mac and transferred to Apple Books.
Step 2. Select "More" from the menu that appears after you right-click on the audiobook in the sidebar (three-dot icon). (It is important to note that the More button won't show up till you move your cursor over that area.)
Step 3. Simply bringing up the context menu requires a click on the icon representing the Sleep Timer.
Step 4. Please pick a time from the list that matches to this in the drop-down menu.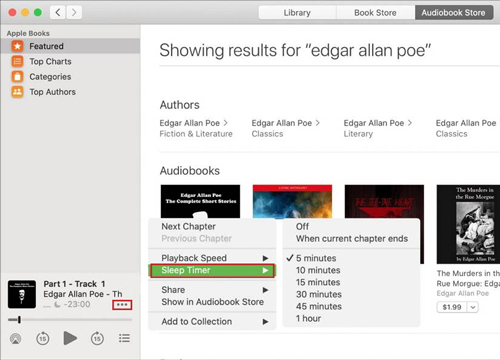 Part 3. How to Fix Audible Sleep Timer Not Working Forever
Because Audible books are protected by a technology called Digital Rights Management (DRM), you will not be able to play them on any device except the one you used to purchase or download them. This restriction on Audible is removed by converting the audiobook to an MP3 version, which allows this version of the audiobook to be played on any audio device.
Fortunately, you can get help with AudFree Audible Converter. It is possible to convert audiobooks from AA or AAX format to unprotected MP3 or other universal audio files. After that, you can freely use any player or device to listen to Audible content, and you can save it in any location you like. In turn, you no longer have to worry about Audible sleep timer not working.
Step 1

Import Audible files to AudFree Auditior

You can add Audible titles to the conversion interface either by dragging and dropping them from Audible or by selecting the first Add button that is located in the top-right corner of the AudFree Audible Converter window.
Step 2

Choose Audible output format as MP3 for sleep timer

Select the Format panel in order to convert Audible to MP3. If you want the output audio quality to be of good quality, be sure to select MP3 as the output file type. In this pop-up window, you can set the bit rate, sample rate and other audio characteristics.
Step 3

Download and convert Audible to set sleep timer

When you click the Convert button, located in the bottom right corner of the main interface of the AudFree Auditior, the program will start the process of converting Audible to MP3. You can gain access to Audible MP3 books that have been converted to MP3 by clicking the icon labeled "Converted".
Part 4. In Conclusion
Once the conversion process is over, you can play any book stored in the player without any restrictions. After that, you can use the professional sleep timer software to schedule a specific time to listen to the Audible audiobook before going to bed. Now you can listen to your favorite Audible books as you drift off to sleep, thanks to the sleep timer you set for your Audible book library.