Q: "I have to read an Audible audiobook quickly in a short period of time, and I can't do it if I follow the original narration speed of Audible. Is there any way to help me speed up the Audible audiobooks?"
In reality, the Audible software has a function to set the narration speed, and you can simply speed up or slow down the speed. If you don't quite understand the trick of changing Audible playback speed either, please keep reading, this article will tell you all the details. In addition, you'll learn a free way to customize the playback speed of Audible audiobooks to meet your arbitrary needs.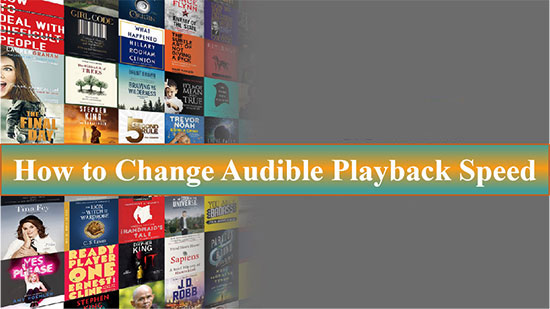 Part 1. How to Change Audible Playback Speed on Mobile and PC
Since Audible has introduced the feature to adjust the playback speed of audiobooks, you can adjust the speed on the Audible app on your phone or computer. One tip you should know ahead of time is that if you synced your audiobooks through iTunes, you won't be able to adjust the narrative speed, you'll have to play them on your phone's built-in audio player to adjust the speed. Without further ado, let's take a look.
How to Speed Up Audible Audiobooks on Mobile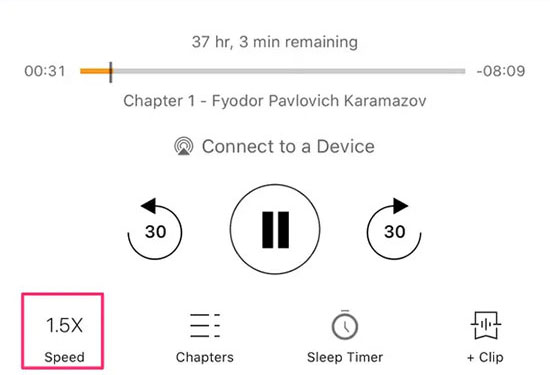 Step 1. Open the Audible app on your iOS or Android device and click on any audiobook you like in the My Library section of the app.
Step 2. At this point, you'll be taken to the Audible audiobook player page. Click on the speed icon at the bottom of the screen and you will find different playback speed options.
Step 3. The usual narration speed is 1X. For iOS phones, you can slow down the playback speed to 0.5X or speed it up to be three times the normal speed. And the slowest Audible playback speed on Android is also 0.5X, and the fastest playback speed you can go to is 3.5X. You can choose the appropriate speed you like to play Audible audiobooks from the list.
How to Speed Up Audiobooks on Audible on PC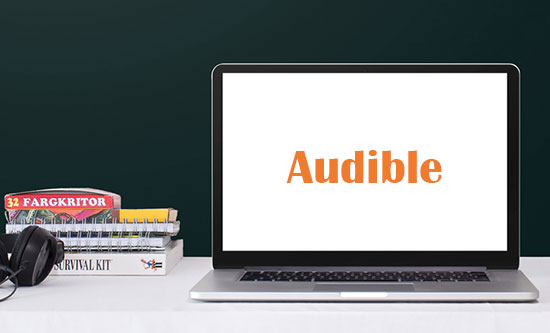 Step 1. Start by opening the Audible software on your PC and click on any audiobook of your preference.
Step 2. Go to the playback page and click on the Narrator Speed button in the bottom left corner of the screen. You can then choose your playback speed from 0.5X to 3.5X. Generally, 1X is the default narrator speed for all audiobooks. After that you can successfully adjust the narration speed of the Audible audiobook.
Part 2. How to Change Playback Speed on Audible in Freedom
As a matter of fact, the official method allows you to choose the playback speed you want among different options, but what if I now tell you another perfect solution to customize the playback speed of Audible audiobooks. Yes, you heard it right, you can customize the speed you need to play. Don't worry, let me tell you more about it.
Thanks to the AudFree Audible Converter, this magical function has become a reality. It makes it easy to convert Audible audiobooks with a customized speed. In addition to helping you achieve any playback speed you need for Audible files, it can also convert Audible AA/AAX to MP3, FLAC, WAV and other common audio formats. What's more, it can download complete audiobooks to your computer locally so that you can play them on any other device and player you like besides Audible.
AudFree Audible Converter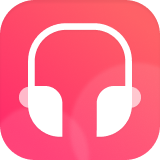 Freely customize playback speed of output Audible audiobooks
Losslessly download and remove the built-in DRM protection from Audible
Download and convert Audible audio tracks at up to 30X faster speed
Customize Audible output format and related audio parameters, including codec, speed, audio channel, etc.
How to Speed Up Audible Audiobooks
Step 1

Import Audible Audiobooks to AudFree Auditior

After downloading and running AudFree Auditior on your PC/Mac, drag the audiobook files on your computer's hard drive to the conversion window of AudFree Auditior. Alternatively, you can use the first Add button to import audio files. If you have other needs, you can click the second button to add common audio.
Step 2

Customize Audible Audiobooks Playback Speed

Once the audiobook files have been added to AudFree Auditior, simply click the Edit icon to select the audio output formats you need to convert, including MP3, AAC, WAV, etc. Please click the Effect button next to the Audible audiobooks you imported to change the playback speed. You can choose any playback speed you want between 1%~200%, just change it directly from the bar graph, or enter a specific value. Finally remember to click OK to save all your settings.
Step 3

Download and Change Audible Playback Speed

Click the Convert button at the bottom right of the window and AudFree Auditior will start converting the audiobooks losslessly. When the conversion is finished, you can click the Converted button to view all converted audiobooks, or check them in your computer's local folder. Finally, you will be able to listen to Audible offline and freely play Audible audiobooks at your customized speed without any difficulty.
Part 3. FAQs About Audible Playback Speed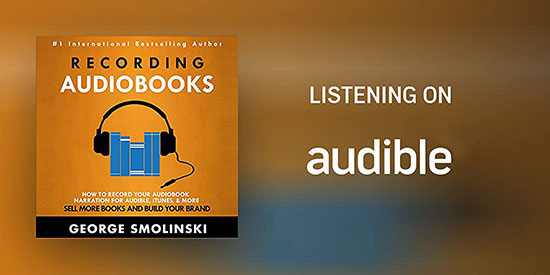 Q: Can you control playback speed on Audible?
A: In order to meet the different reading habits of the public and bring a better reading experience, Audible has introduced the feature of changing the playback speed of audiobooks. You will be able to speed up or slow down your Audible playback speed in the Audible app, such as 0.5X or 3X, etc.
Q: How can I troubleshoot playback issues on Audible?
A: You may have problems such as poor audio quality and missing content during the playback of audiobooks, this may be because the downloaded audiobooks are incomplete or corrupted, you can delete the audiobooks from your device and try to download them again. But if you use AudFree Audible Converter to download and play Audible audiobooks, basically this situation will not occur.
Q: What speed should I listen to Audible Audiobooks?
A: In general, the average person speaks at a rate of about 135 words per minute. This is also the standard 1X narration speed of the Audible application. However, for some audiobook listeners, this speed may be relatively slow. Fortunately, you can choose from a range of narration speeds in the Audible app.
Part 4. In Conclusion
This article provides two ways to change the playback speed of Audible Audiobooks. There is no doubt that AudFree Audible Converter offers you a free way to customize the Audible playback speed, which helps you to have a more enjoyable experience while enjoying the knowledge from Audible. Why not try this perfect way? You will definitely have unexpected rewards.