As one of the most popular audiobook services in the world, Audible brings users an enjoyable experience. But it's far from perfect, as people sometimes encounter problems when using Audible, none more annoying than the issue of Audible app keeps crashing. In this case, no matter how you try to launch the app, you will automatically go back to the home screen.
Indeed, many users often complain the Audible app crashing on Android and iPhone issue from time to time. Therefore, this article will explore the possible causes and common solutions for audible app keeps stopping. Besides, you will get an ultimate solution to avoid the Audible crashing once and for all.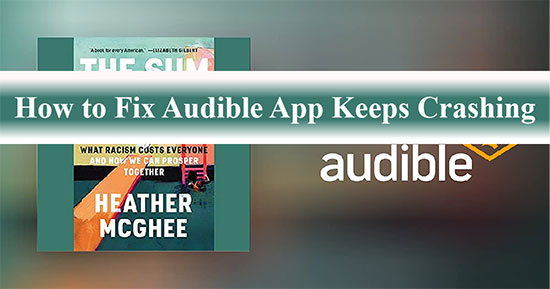 Part 1. Why Does Audible Keep Crashing
First and foremost, it is essential to understand why Audible app always crashes, then you can suit the remedy to the case. The reasons for the Audible app crashing can be varied, and you can check out some of the common factors listed below.
1. Cache buildup and lack of space. Your iPhone or Android phones require to have enough space for the Audible app to function properly. Generally speaking, if you run out of memory space on your device, you will experience Audible app keeps stopping.
2. The Audible application is buggy. Sometimes there are bugs within the Audible app, which can make it difficult to run Audible.
3. System error. If you have an error in your iOS or Android system, although this is very rare, it can also cause this Audible crashing issue.
4. Unstable network connection. Audible app works better with a stable network connection for optimal functionality.
Part 2. Fix Audible App Keeps Crashing - Common Solutions
It's time to troubleshoot Audible keeps crashing or stopping problem if you're ready.
Solution 1. Force Close All Running Apps on Your Device
A simple and effective way is to quit all running applications as it can refresh your Audible application and end certain errors such as Audible constantly crashing issues. Here are simple instructions on how to do so.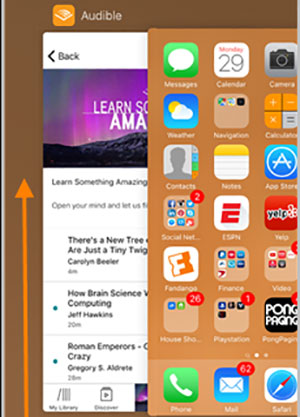 On Android
Step 1. Swipe up from the bottom of the screen, press and hold, then release.
Step 2. After that, use the left and right arrows on your phone's touchscreen to swipe from left to right, then tap the "Clear All" button.
On iOS
Step 1. If your iPhone has Face ID, you can swipe from the bottom to the middle directly to open the app switcher. Anyway, if it's an iPhone without Face ID, you can double tap the Home button.
Step 2. At this point, swipe up on all apps to close all running applications.
Solution 2. Restart Audible App and Device
In general, a simple reboot is a common solution to application crashes, and this method has a 70 percent chance of success. So restarting the Audible application can largely solve the Audible stopping challenge. You can follow the steps below to reboot your device.
On Android
Step 1. Please long press the "Wake" button on your Android phone.
Step 2. Tap the "Restart" option in the pop-up notification to restart your device.
On iOS
Step 1. Press and hold the "Wake" button on your iOS phone until an off slider appears on the screen.
Step 2. Slide the slider to turn off your device. Wait patiently for a while and turn on your phone again.
Solution 3. Update iOS/Android
If your iOS or Android system is out of date, then the Audible software version will also be old, which can easily lead to problem with Audible keeps crashing. It is critical that you keep your device updated to the latest system and software.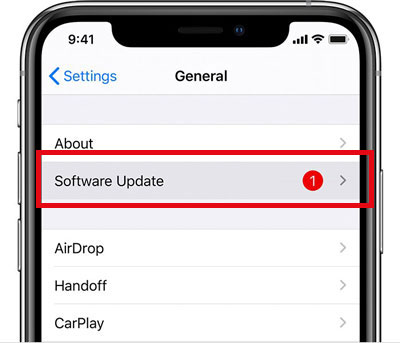 On Android
Step 1. Click on "Settings" > "Advanced" > "System" option on the main menu.
Step 2. Select "System Update" under the "System" list, and check if there is any software that needs to be updated.
Step 3. If you find any updates, then you can promptly download and install the available updates.
On iOS
Step 1. First, click on Settings > General option.
Step 2. In the "General" section list, scroll all the way down until you find the "Software Update" button.
Step 3. Check if there are updates available, and if so, follow the instructions to download and install them.
Solution 4. Uninstall and Reinstall the Audible App
The problem of Audible app keeps stopping may be due to a bug in the application itself, try reinstalling the app. However, please note that once you uninstall the Audible app, the previous data and downloaded audiobooks will no longer exist and you will need to download and access them again.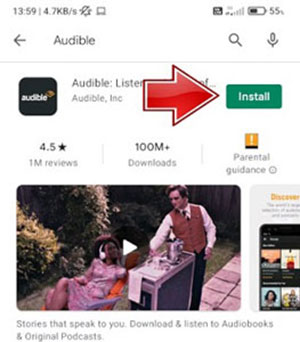 On Android
Step 1. Tap the profile icon in the Google Apps store and go to Manage apps & devices > Installed option.
Step 2. Find the Audible app in the list and tap on the "Uninstall" button next to it.
Step 3. After that tap on the "Install" option next to the Audible app to install the Audible app again.
Step 4. Once the installation is complete, launch the Audible application to see if Audible works properly.
On iOS
Step 1. Press and hold the Audible app icon on your device, find the X symbol on the outside of the app and tap it.
Step 2. Remove the Audible app from your device completely by clicking the Delete button on the pop-up window.
Step 3. Search for the Audible app in the search box on the App Store and reinstall it on your device.
Solution 5. Check the Storage Space of Your Device
Various applications cannot run efficiently if your device's storage space is used up, so it is necessary to make sure that your device has enough space and it is recommended that you have at least 1GB of free space on your phone for the smooth functioning of various apps. You can check the free space as well as the memory by clicking on the "Settings" and "Storage" options.
Part 3. Solve Audible Keeps Crashing - Ultimate Solution
As you may have noticed, the root cause of the Audible app keeps crashing and stopping error actually exists in the Audible app itself, and the above solutions may only get you through the immediate problem temporarily. For this reason, we have a long-term method for you, which is to download Audible books for offline playback without Audible app.
In reality, the downloadable Audible books officially are protected by digital rights and cannot be used on other devices. In this instance, here is the best AudFree Audible Converter to meet your needs as it is dedicated to Audible books download and format conversion.
To tell you the truth, it can convert Audible to MP3, FLAC, WAV and other popular formats with ID3 tags intact. What's also impressive is that you are allowed to split Audible audiobooks by chapter as you wish. As a result, you can play Audible on any device and player without worrying about Audible app crashing or stoppinganymore.
How to Solve Audible Keeps Crashing Forever
Step 1

Import Audible Audiobooks to AudFree Auditior

Click the first "Add" button in the bottom left corner of the AudFree Auditior main interface, after that you can select Audible audiobook files from your iTunes library. Or drag and drop Audible files from your computer to the home page directly.
Step 2

Set Audible Output Format and Other Parameters

Please tap the Format icon in the bottom right corner to open the settings window, then you can change Audible output format, audio codec, channel, bit rate and other parameters according to your needs. You're able to tap the "Edit" icon next to each added audiobook to split the audiobook by chapter and customize the ID3 tags.
Step 3

Download and Listen to Audible without Audible App

Just click the "Convert" button to start downloading and converting Audible books. Once done, all Audible books will be saved to your computer locally and in turn, you have the freedom to listen to Audible audiobooks without being disturbed by the Audible app keeps stopping and crashing issue.
Part 4. In Conclusion
Now, you probably understand the causes and common measures for the Audible app keeps crashing problem. It's hard to say which option you should take specifically, because the reason is always uncertain. But what's for sure is that with AudFree Audible Converter, you can play Audible without Audible app so that it's able to avoid the nuisance of Audible app keeps stopping forever.