Is Audible free with Amazon Prime? No, Audible membership is separate from Amazon Prime membership. But you can sign up for a free 3-month trial of Audible with your Prime. After the trial period is over, you'll need to pay €9.95 per month. But you can cancel it at any time.
Not only that, as part of your Prime membership, you can get free Audible books through Amazon Prime. In total, there are over 50 free audiobooks. These books are rotated regularly, so you don't get a warning when a book is no longer available. And you can't download these books.
But don't worry, we'll show you how to download these free Audible books on Amazon Prime. You can keep these books on your device for as long as you want. We'll also show you how to listen to free Audible books with Amazon Prime on Kindle or Audible.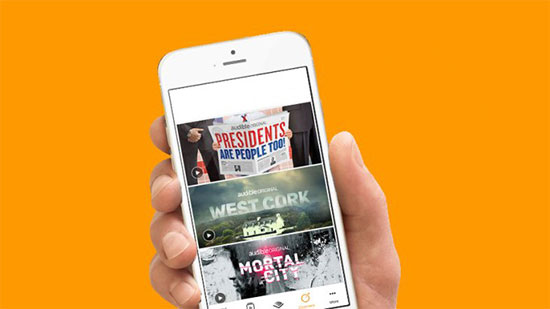 Part 1. How to Find Free Audible Books on Amazon Prime via Kindle
As a member of Amazon Prime, you can stream from a rotating group of more than 50 audiobooks. It is worth noting that Amazon provides a Wispersync service that allows you to read or listen seamlessly. But note that these free Amazon Prime audiobooks cannot be downloaded. To download them, you can go to Part 4.
Step 1. Open your Kindle or Fire device. ( Or you can go to the Amazon website to choose the 'Kindle Store' section.)
Step 2. Search for the book you want to listen to.
Step 3. Select the e-books with a Prime logo and the Wispersync option.
Step 4. Choose to borrow the audiobooks with your membership. Click the 'Read and Listen for free' button. Then you are able to borrow free audiobooks. You can listen to them with a Bluetooth headset or through a Kindle audio adapter.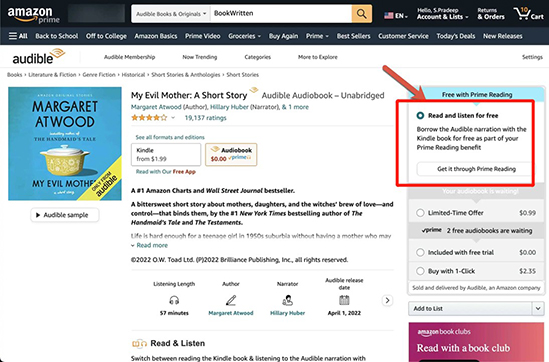 Part 2. How to Access Free Audible Books with Amazon Prime by Audible Channels
Amazon has introduced another benefit for Amazon Prime members: the Audible Channels. It allows free access to Audible's short-form digital programming, as well as a number of free audiobooks.
Members will be able to rotate through a selection of more than 50 audiobooks from Audible's catalog. The audiobook selection will include bestsellers, family favorites, and celebrity-narrated classics. Amazon Prime members will not have to pay for Channels. The shows can be accessed through the Audible app for iOS, Android and Windows 10.
Follow the steps below to use Audible Channels to get free audiobooks with Amazon Prime.
Step 1. Launch the Audible app on your device.
Step 2. Hit the menu 'Channels for Prime'. You can see a list of contents.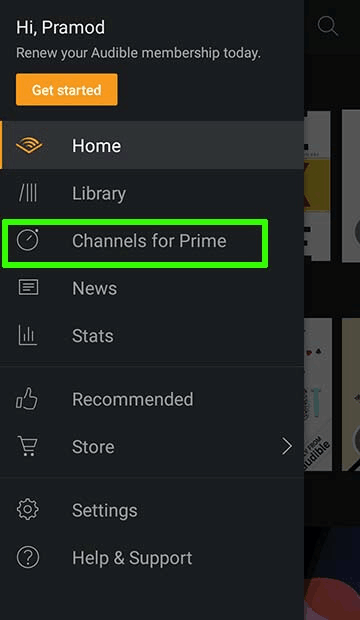 Step 3. Find the channel you want. Open it. Then you can tap on the 'Play' icon to listen to the audiobooks online.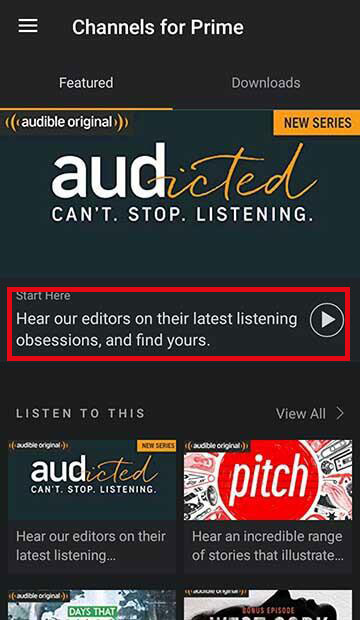 Part 3. How to Get 3 Months Free Audible Trial with Amazon Prime
If you currently have an Amazon Prime membership and enjoy audiobooks, then you can not miss the Amazon Prime Audible free trial for 90 days. You can get 3 months of Audible Premium Plus completely free, without hidden fees. After 3 months, the Audible subscription is $14.95 per month. And you can cancel Prime at any time.
During the free trial, you will also get three free audiobooks of your choice. These are yours to keep and you do not need to continue paying for Audible to listen to these books. If you are not already a Prime member, you can sign up for a 3 months free Audible Amazon Prime at Amazon.com.
Part 4. How to Download Amazon Prime Free Audible Books
As we've shown above, you can access free Audible books through Amazon Prime. However, you can only listen to them in the Kindle app. You do not have the right to download them for offline listening. Moreover, if you want to get them in other apps, this is impossible. In this regard, we recommend an effective tool - AudFree Audio Converter. It is designed to download and convert Audible audiobooks to MP3, FLAC, M4A, AAC, WAV and M4B.
After downloading, you can listen to audiobooks offline. You can also transfer them to other applications or devices for listening. Fortunately, AudFree Audible Converter allows you to get lossless audiobooks. Moreover, you can edit the ID3 tags and split the audio files into small segments according to your preferences. Even then, the download speed reaches as much as 30 times faster. You can take a quick look at the excellent features of this download software. Then download it via the "Download" button above.
AudFree Audible Audiobook Converter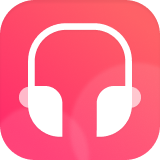 Convert Audible AA/AAX to MP3, AAC, WAV, FLAC, M4A, etc.
Download free Audible books on Amazon Prime for offline listening
Preserve original sound quality and ID3 tags of Audible audiobooks
Split Audible audiobooks into small parts, work at 30X faster speed
How to Download Amazon Prime Audible Free Books for Offline Listening
Step 1

Load Audible audiobook files to AudFree

First of all, launch the AudFree Audible Converter. Then drag the audiobooks which you want to convert to the window. Or you can tap on the left 'add files' button to add them to the interface.
Step 2

Set output parameters for Audible books

Before you convert the format, you can personalize the output format and other parameters. Drop your mouse on the top right, you can reset the output folder and make sure whether you will archive output tracks by Artist/Album or not. Touch the Audible tracks you upload. Hit the 'Edit' icon on its right. You can spilt the Audible files and edit their information like title, album, artist, composer, etc.
Step 3

Convert free Audible books with Amazon Prime

Click the 'Convert' button. Then the conversion will begin. All the files will be converted in batches. Within a coffee time, you will get lossless audiobook Amazon Prime files in the output folder. At last, you are able to play them offline on any players.
Tips: You can only get one-third of each converted Audible track with the free trial of the AudFree software. To have the full transferred file, you are suggested to buy the AudFree Audio Converter.
Part 5. FAQs about Amazon Prime Audiobooks
Q1: Is Audible Free on Amazon Prime?
A: No. Although Audible is an Amazon service, Audible and Prime are two entities that are effectively separate. So, an Amazon Prime membership is separate from an Audible membership.
Q2: Can Amazon Prime Members Listen to Audiobooks for Free?
A: Yes, you can access free audiobooks via your Kindle device or the Audible Channels on the Audible application.
Q3: How Much Is Audible If You Are a Prime Member?
A: The original Audible memberships cost $14.95/month. But if you are a Prime member, you can save 66% and sign up for a 3-month trial for $4.95/month.
Q4: Are There Any Free Audible Books with Amazon Prime?
A: Yes. If you are a member of Amazon Prime, you can get over 50 free audiobooks at no cost.
Q5: How Do I Access Free Audiobooks on Prime?
A: You can go to Amazon's website and search for 'Books with Audible Narration in Prime Reading'. Then you will get some free audiobooks for listening and reading.
Q6: Is There an Amazon Prime Free Audible Books List?
A: The selection of free audiobooks with Prime membership will be rotated regularly. You can get a list of the free Amazon Prime Audible books from Amazon's website.
Part 6. In Conclusion
Today we have shown you three ways to listen to free Audible books with Amazon Prime membership. You can follow the steps and enjoy audiobooks freely. To download these audiobooks for offline listening, you can use AudFree Audible Downloader. It allows you to download and convert audiobooks with 30X speed. After conversion, you can transfer these Audible books to other apps and devices for listening.