Canva Video Editor is a powerful tool for creating stunning videos with ease. If you're looking to add some musical flair to your Canva video project, Deezer is a great option to consider. Because Deezer is a popular music streaming service with a vast library of songs and genres to choose from.
However, many users find that it can be a bit tricky to add music to Canva video from Deezer. No worries, in this article, we will show you how to upload Deezer music to Canva and edit it to create a perfect video. Let's get started.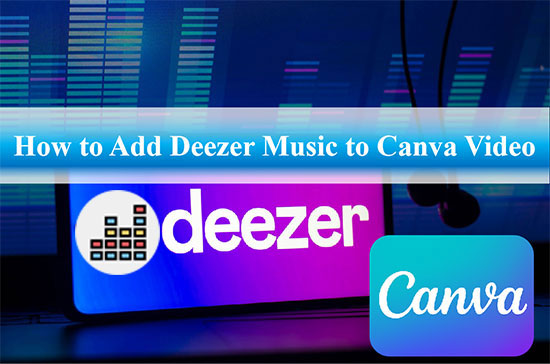 Part 1. Add Deezer Music to Canva - What You'll Need
In fact, Deezer music is not compatible with Canva Video Editor. Since Canva only supports a few common audio formats like M4A, MP3, OGG, WAV, or WEBM, Deezer music is encoded in a special format. To add Deezer music to Canva video editor, you need to convert Deezer songs to Canva compatible format first.
AudFree Deezer Music Converter is exactly what you need, because it is dedicated to convert Deezer songs to MP3 or other common audio formats supported by Canva. It will retain the original audio quality of Deezer music. This means you can enjoy high quality Deezer audio in your Canva projects without any quality loss. Overall, it is easy to use, fast, reliable and makes it possible to add Deezer music to Canva videos.
AudFree Deezer Music Converter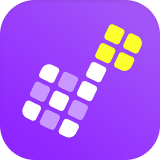 Download all Deezer songs as unprotected local files for free use
Convert Deezer music to MP3, M4A, WAV, etc. for Canva.
Preserve all ID3 information and original sound quality
Add Deezer music to Canva video as soundtrack
How to Download Deezer Music to Canva-Supported Audio Files
Now, let's see how to use this powerful tool to convert Deezer music for Canva projects.
Step 1

Add Deezer Music to AudFree Deezable

Launch AudFree Deezer Music Converter and select the Deezer song you want to add to your Canva video. Copy the URL of your favorite track and paste the link into the search field of the AudFree interface. After that click the + button to load Deezer songs.
Step 2

Customize the Output Parameters for Canva

Tap the Menu in the upper right corner and select the Preferences option to view a settings window. Switch to the Convert tab and start setting the output format of Deezer music to be compatible with Canva. You'd better choose M4A or MP3. You can also set the bit rate, sample rate and channels for the output Deezer files.
Step 3

Convert Deezer Music for Canva

Click the Convert button and it will download Deezer music to Canva compatible format according to your needs. Once done, you can find the downloaded Deezer music by clicking on the Converted icon. After that, it couldn't be easier to listen to Deezer offline for free and import Deezer music into Canva.
Part 2. How to Upload Deezer Music to Canva Video
Now that you have successfully made Deezer music compatible with Canva, it's time to use Deezer music in Canva. You can follow the steps below to learn how to add Deezer music to Canva on your computer or mobile device.
For Windows and Mac Computers
Step 1. Open Canva Video Editor on your computer and click "Create Design" to open a video.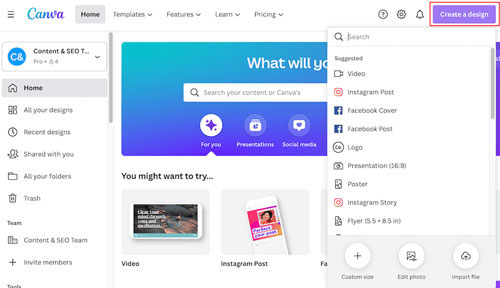 Step 2. Click the "Uploads" tab on the left, then hit "Upload Media".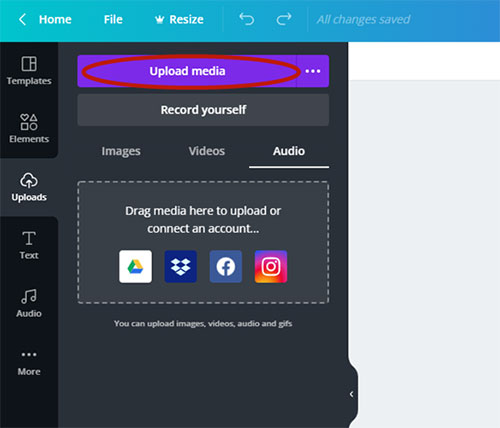 Step 3. Select the unprotected Deezer music file you want to upload to Canva.
Step 4. Deezer music files will now be added to your media library in Canva, click on the "Audio" option on the left to browse them.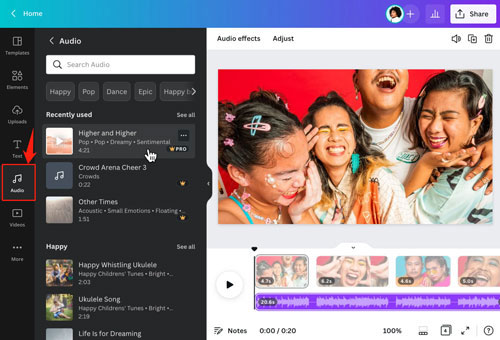 Step 5. Drag and drop the Deezer music to the timeline to add it to your Canva video.
For Android and iOS Devices
Step 1. Make sure to sync Deezer music to your Android or iOS device from your computer.
Step 2. Open the Canva app on your Android or iOS device.
Step 3. Click the "+" icon, then tap "Video" and select the video you want to add Deezer music as background sound.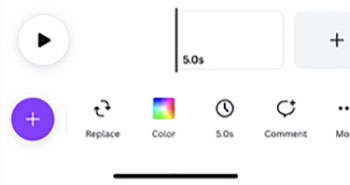 Step 4. Click on "Uploads" > "Upload Media" > "Audio".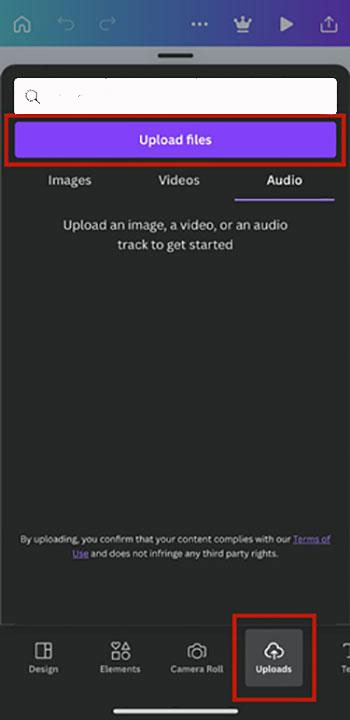 Step 5. Select the converted Deezer file from your device to embed Deezer music into Canva video.
Part 3. How to Edit Deezer Music on Canva Video Editor
After adding Deezer music to Canva item, you can edit it to create a perfect video. You can trim the audio file, adjust the volume, and add effects or filters to the audio file. Just follow the steps below.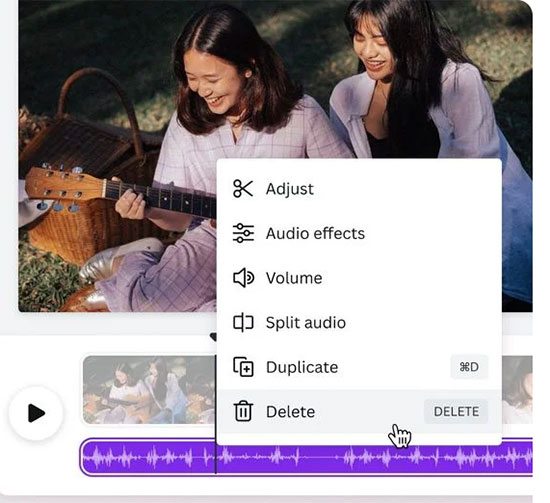 Step 1. Make sure you have imported Deezer audio to the timeline of Canva video.
Step 2. Click on the Deezer music and move the volume slider up or down to adjust the volume of the music.
Step 3. Tap the Deezer song and select "Audio Effects" from the drop-down menu. You can choose from a range of effects such as Reverb, Echo and Distortion.
Step 4. To split the audio, hit the Deezer audio file and move the playhead to the position where you want to split it. Then, click "Split" in the top menu bar.
Step 5. Right-click on the Deezer audio and select "Duplicate" to duplicate the audio.
Step 6. Click the "Save" icon to save your changes, then you can export your edited video with Deezer music track.
Part 4. In Conclusion
It can be a bit difficult to add music to Canva from Deezer directly, but with AudFree Deezer Music Converter, it's easy and simple. You can download and convert your favorite Deezer songs to Canva compatible formats and then upload them to Canva Video Editor to create stunning videos. So, what are you waiting for? Start creating amazing videos with Deezer music and Canva today!