Canva is known by many as one of the most widely used online design tools in the world. It can be used to create graphics, videos, presentations, slideshows, resumes and many other visual contents. Users tend to add audio and music to their Canva designs because it is a great way to boost appeal.
Nowadays, the choice of music is more diverse with platforms such as Spotify, Apple Music. Today, we will focus on Apple Music. This article aims to help you add Apple Music to Canva to create a fully functional piece. Let's get right to the point.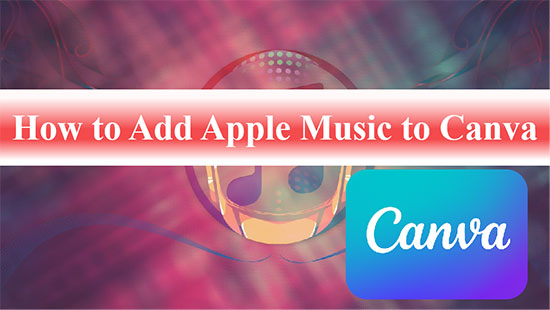 Part 1. Upload Apple Music to Canva Video - Preparation
Can we add Apple Music to Canva videos directly? Unfortunately, we cannot. It is mainly because of format incompatibility. Canva supports uploading audio in MP3, M4A, OGG, WAV, WEBM. While Apple Music is encoded in special M4P format, which makes Apple Music incompatible with Canva media player.
To add music on Canva from Apple Music, you need to convert Apple Music to the common formats supported by Canva in advance. Fortunately, AudFree Apple Music Converter can give you a hand. It is specially designed to download and convert Apple Music to MP3, M4A, WAV, FLAC, AAC and other common audio formats. Then you can add Apple audio to Canva videos for free use.
Besides, this tool allows you to convert Apple Music at 30x speed without any quality loss. Moreover, all the original ID3 tags can be retained. With this amazing tool, you keep the unprotected Apple Music forever and apply it to Canva to add brilliance to your work.
AudFree Apple Music Converter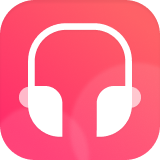 Convert Apple Music to MP3, M4A, WAV, etc. for Canva
Download Apple Music as unprotected local files for free use
Add Apple Music to Canva video, iMovie, Premiere Pro, and other platforms
Keep original sound quality and all metadata
How to Download Apple Music to Canva Supported Format
Step 1. Install and open AudFree Apple Music Converter. click the first Add button to import the Apple Music files you want to add to Canva from iTunes music Library.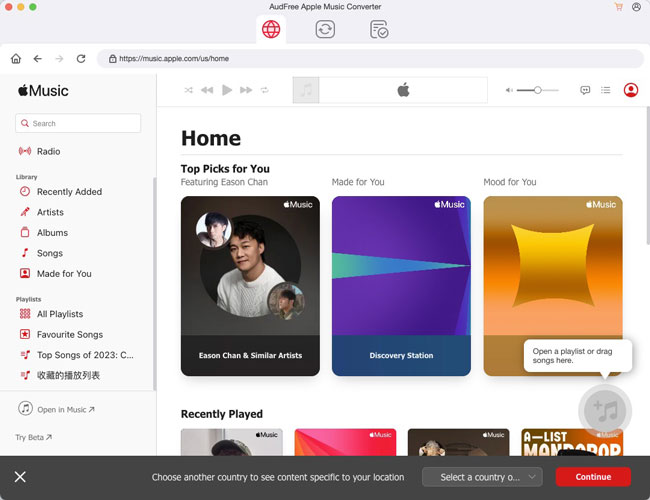 Step 2. Now, you need to change the format of Apple Music to be compatible with Canva. You can do this by clicking the "Format" icon at the bottom right corner. There, you can also set the output parameters such as codec, channel, etc. for Apple songs as needed.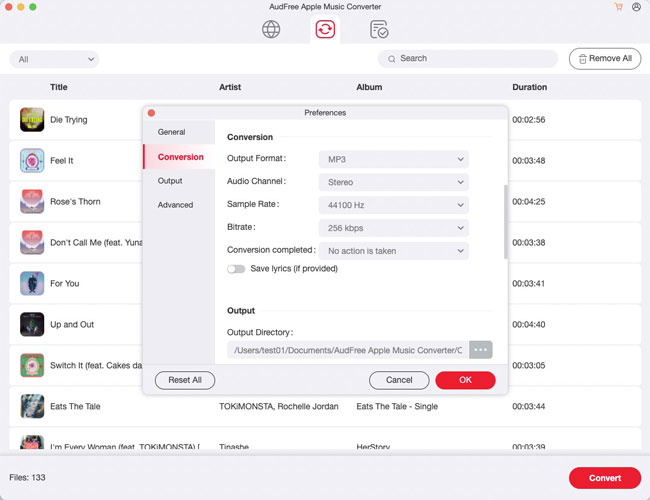 Step 3. Finally, click the "Convert" button to start the conversion process. It will batch download Apple Music songs as unprotected files that Canva can recognize. When it's done, you can tap "Converted" to access Apple Music and upload it to Canva as background music without restrictions.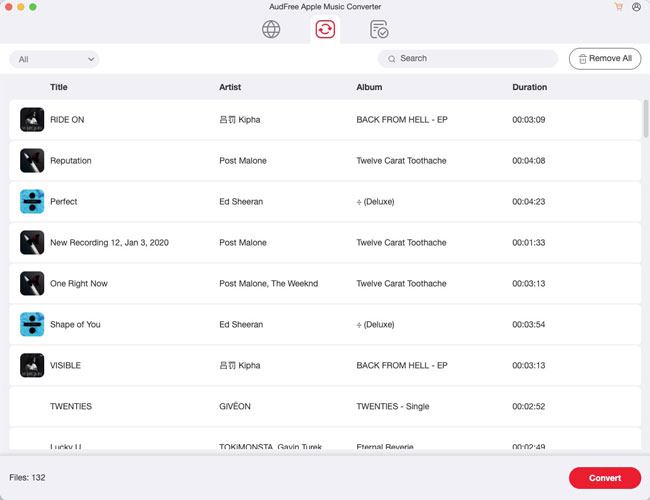 Part 2. How to Add Apple Music to Canva
Since Apple Music has been converted to unprotected normal format, it is no longer difficult to add music to Canva as soundtrack. You can follow the steps below to do it on your computer or mobile device.
View also: How to Add Music from Apple Music to Video
Remember: Your Apple music files must meet the following two conditions.
✔️ The Apple Music format is MP3, M4A, WAV, OGG or WEBM.
✔️ The Apple Music music file does not exceed 250MB.
Import Apple Music into Canva on Computer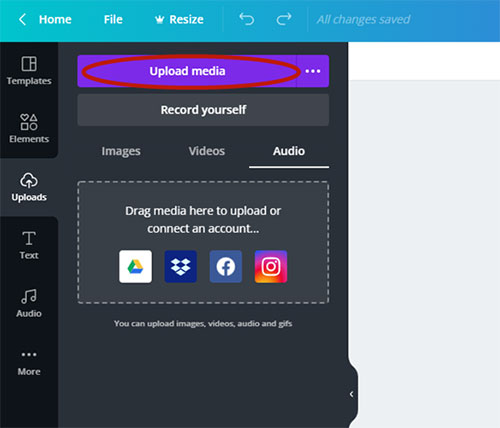 Step 1. Open Canva and upload your own video.
Step 2. Click the Uploads tab on the side panel, then click the Upload Media button.
Step 3. Find the converted Apple Music files and add them to your Canva videos.
Step 4. You can also upload your Apple Music files directly by dragging and dropping them from your computer folder into the Canva panel.
Embed Apple Music into Canva Video on Mobile
Step 1. Use a USB cable to transfer the converted Apple Music from your computer to your mobile device.
Step 2. Open Canva on your phone and start your video project.
Step 3. Click the "+" icon button at the bottom of the editor.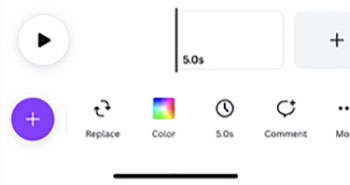 Step 4. Click on the "Uploads" option and select "Upload Media" > "Audio".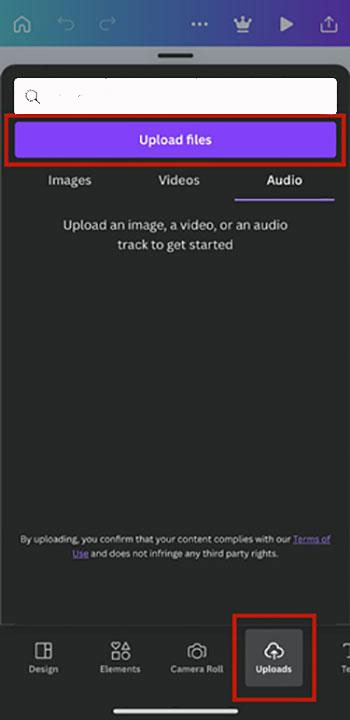 Step 5. Browse and select the Apple Music files you want to upload.
Part 3. How to Edit Apple Music on Canva
To create a good Canva video, you can adjust Apple Music effects such as trimming the audio and changing the audio volume. Follow the process below to complete the video transitions and effects to make it more seamless.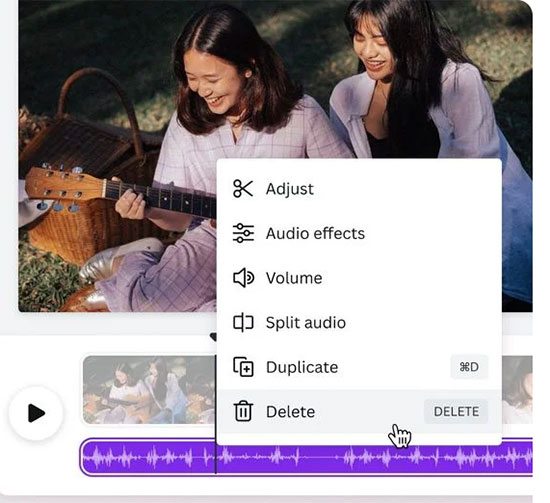 Step 1. Make sure you have followed the steps above to add Apple Music to Canva, then click on the Timeline and it will appear in the toolbar.
Step 2. Hover the mouse cursor over the added Apple Music track and the trim handles will appear. You can drag any trim handle to make adjustments.
Step 3. Tap the Volume button and use the slider to adjust the desired song volume.
Step 4. Click the three-dot icon at the end of the audio and click Adjust. To add Apple Music to the specific location of Canva video, you can drag the audio to the colored part of the sound bar.
Step 5. Click the Preview button to see if the video is created perfectly. Tap the Save icon to save the above settings.
Part 4. In Conclusion
If you want to add Apple Music to Canva, you have to convert Apple audio to Canva compatible audio formats. AudFree Apple Music Converter is an excellent tool that you can't miss to save Apple Music to Canva supported MP3, M4A, WAV formats. Then you can easily use Apple Music as background music in Canva designs, CapCut, and more video editors