As a powerful and free graphic design platform, Canva is continuously attracting more and more users. You can easily create visual content on Canva, such as slideshows, lesson plans, invitations, and more. And none of this requires extensive editing knowledge, as Canva will provide professionally designed templates as well as instructional videos specifically for you.
Moreover, you won't believe you can actually create videos on Canva, just like you would create a slideshow. You can use image library, videos, and music on Canva to create a splendid video. As we all know, music plays a pivotal role in videos, and choosing the right background music for your video is half the battle.
When it comes to music app, Spotify is probably the first choice that comes to most people's mind, because Spotify is a hot music streaming platform with rich music library. Someone will wonder if it is possible to add Spotify Music to Canva as background music? This article will explore this matter and show you the best option for adding music from Spotify to Canva. Let's dive right into the point.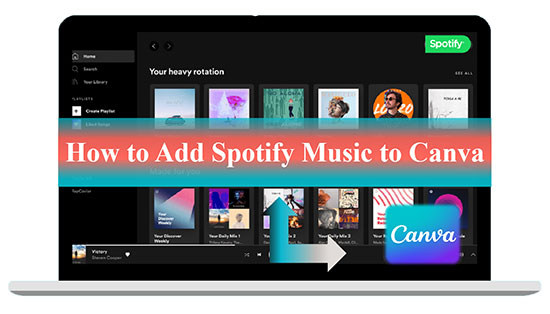 Part 1. Why You Can't Add Spotify Music to Canva Directly
If you've ever tried to add Spotify Music to Canva directly, you'll find that it seems like an impossible task. That's because Canva supports uploading specific video, music and image files for video production. Currently, Canva only supports music files in common formats such as MP3, M4A, and OGG.
However, Spotify is the streaming music service that offers patent-protected songs and is not licensed for any video editor, including Canva. Even if you download Spotify Music, you will unfortunately find that the downloaded Spotify songs are just cached files on your local device. As a result, Canva is actually unable to support protected Spotify Music, and it is not possible for you to add Spotify Music to Canva persentation officially.
Part 2. Tool Required to Add Spotify Music to Canva Video
As mentioned earlier, you can't import songs from Spotify to Canva immediately. When it comes to adding Spotify Music to Canva videos, you need to make sure that your Spotify Music is a Canva compatible audio file. In fact, AudFree Spotify Music Converter is the answer to your immediate dilemma.
AudFree SpoDable is an efficient Spotify Music converter and downloader. You can use it to download any Spotify Music, albums and playlists and convert them to MP3, FLAC, AAC or other common audio formats. Then, you can add Spotify Music to Canva videos without any trouble.
Please move on to the next section and you will find what you need. You can get knowledge of a detailed tutorial on converting Spotify Music with AudFree SpoDable and the whole process of putting Spotify Music in Canva video.
How to Convert Spotify Music to Canva-supported Format
Step 1

Import Spotify Music to AudFree SpoDable

Please first download the appropriate version of AudFree SpoDable on your PC. Double-click the shortcut icon to launch this smart software from your desktop. Whether you are a Spotify free user or premium user, you can add Spotify Music in two ways. The most common way is to drag and drop Spotify Music directly to the conversion window of AudFree SpoDable. The other way is to copy and link the URL of the track to AudFree SpoDable's search box, and then press the Add button on the right.
Step 2

Customize Spotify Music Output Format for Canva

Please click on the menu bar in the upper right corner and select the Preferences button. A new window will open and then you can choose to convert Spotify Music to MP3, M4A and other Canva-compatible formats. In general, AudFree SpoDable sets MP3 as the default output format. In this step, you can also configure other output parameters of Spotify Music, including audio channels, sample rate, etc. After that, you are allowed to set the output Spotify Music as album or artist to organize the music library.
Step 3

Download and Convert Spotify Music for Canva

After setting up the above two steps, click the Convert button and AudFree SpoDable will start converting Spotify Music according to your settings. Once the conversion process is finished, you can get those Spotify Music on your local computer. After that, you can listen to Spotify Music offline without premium and use Spotify Music on any device or video editing application like Canva.
Part 3. How to Add Spotify Music to Canva Video
Once you have finished converting Spotify Music, add Spotify Music to Canva Video is a breeze for you. You can easily add your own Spotify music to Canva video for editing. Please thoroughly follow the following simple steps.
Step 1. First launch Canva, then create a new video or open an existing video. Press the Add button at the bottom left of the editing page and find the Upload tab in the bottom menu bar. Click the Upload button, then select the newly appearing Upload Media option.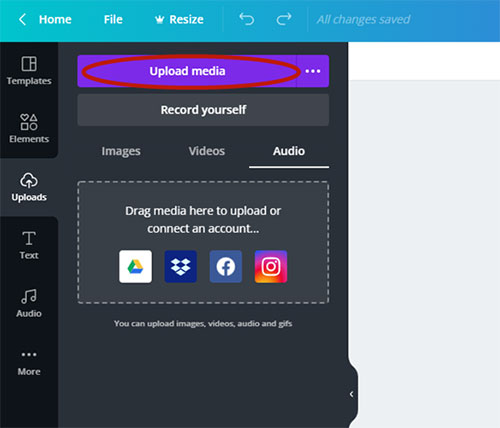 Step 2. Then you can select Spotify Music files from your device. Tap to Spotify Music tracks directly so that you can add them to Canva. At the same time, you can also drag your Spotify Music files directly from your computer folder into the editor to upload them.
Step 3. Click on the Audio tab in the menu bar. You'll see your uploaded Spotify Music files, and then click them to add Spotify Music to your Canva video. After that, if you have other needs, you can also press the relevant volume button to edit Spotify Music on Canva accordingly.
Part 4. Conclusion
Adding Spotify Music to Canva is not as hard as you think, right? And it mainly depends on this comprehensive AudFree Spotify Music Converter. Now you can easily download and convert Spotify Music, then add background music to Canva video from Spotify at will. Give it a try to create an outstanding video you like.