If you're a gaming enthusiast, you're no stranger to PS4 and PS5, the two popular Sony consoles. They are powerful, well-designed and offer over 4,000 games to choose from. Some gaming users may prefer to immerse themselves in the audio of the game itself, while some will choose to play their favorite music while playing to enhance the gaming experience.
Now, some music streaming platforms have also partnered with PlayStation, but the hot Deezer music is not included. Then is Deezer PS5/PS4 possible? Of course, this article will present an ultimate way to play Deezer on PS4/PS5 as background music.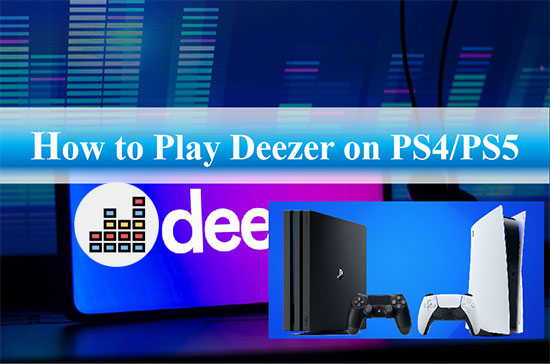 Part 1. How to Play Deezer on PS4 and PS5 - Tool Required
So far, Deezer is not integrated with Sony PlayStation, then you can't play Deezer on PS5 and PS4 directly. Fortunately, PlayStation allows you to listen to music from a USB drive. You will need to convert Deezer songs to PlayStation 4 and 5 compatible formats such as MP3, AAC or FLAC and then you can import Deezer music to PS5 and PS4 via USB.
In order to remove the format restrictions of Deezer music, you need to turn to AudFree Deezer Music Converter. It is specially designed for all Deezer users to download songs, playlists, albums, etc. from Deezer. What's more, it can also convert Deezer music to FLAC, MP3, AAC, WAV, etc. so that PS4 and PS5 can recognize it well.
In addition, it maintains the original quality and ID3 tags of Deezer tracks for a perfect listening experience on PlayStation. In turn, you can transfer the converted Deezer music files to a USB stick and stream your favorite Deezer songs as background music while playing PS5/PS4 games.
Part 2. How to Get Deezer PS5/PS4 Working
Now, it's time to download Deezer to PS4 and PS5 supported audio format with AudFree Deezer Music Converter. After that, you can listen to Deezer music on PlayStation via USB without any problems.
How to Download Deezer Music for PlayStation 4 and 5
Step 1

Import Deezer Music to AudFree Deezable

First, launch AudFree Deezable and the Deezer app on your computer will then be opened. Select the Deezer song you want to play on your PlayStation. Copy the Deezer track link and paste it into the search bar at the top, followed by pressing the + button for loading.
Step 2

Select Output Format of Deezer Music for PS5 and PS4

Tap on the Menu bar in the top right corner and select the Preferences section to launch the settings window. Tap on the Convert bar and you can select the output format, codec, channel, sample rate, bit rate, etc. for Deezer music. In order to play Deezer music on PlayStation, it is recommended that you select MP3 as the output audio format.
Step 3

Download Deezer Music for PlayStation 5/4

Click the Convert button at the bottom right to start converting Deezer Music songs to PlayStation compatible format. Once the conversion is complete, you can hit on the Converted icon to browse through all the converted Deezer music. Now, you can start transferring Deezer songs to PlayStation for entertainment.
How to Stream Deezer on PS4 and PS5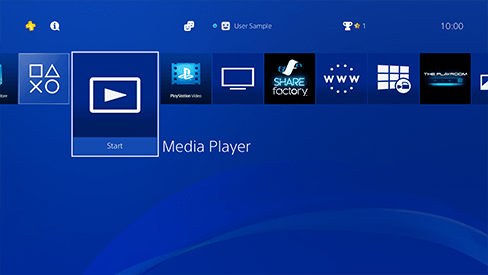 Step 1. Connect the USB drive to your computer and create a file called "Music" on the USB, then copy the downloaded Deezer music files into the Music folder.
Step 2. Insert the USB drive into the PS4/PS5 console and select the Library icon in the content area, the connected USB drive will then be displayed automatically.
Step 3. Select the USB Music Player button and select the Deezer Music song you wish to play on your PlayStation 4/5.
Part 3. FAQs about Deezer and PlayStation 4/5
Q: Is Deezer on PlayStation?
In fact, Deezer does not offer any services on PlayStation. In other words, there is no Deezer PS5/PS4 app to stream Deezer music.
Q: What Streaming Service Works with PlayStation 4 and 5?
There are many streaming services available for PS4, such as Spotify, YouTube, Netflix, Twitch, Hulu, etc. As for streaming music on PS5, you have two options: Spotify on PS5 and Apple Music on PS5.
Q: How to Connect Deezer to PS4 and PS5?
As mentioned in this article, by simply using AudFree Deezer Music Converter, you can convert Deezer content to FLAC, MP3, WAV and other common formats. In turn, you can play Deezer on PS4, PS5, Xbox One and other gaming devices without any restrictions.
Part 4. In Conclusion
In short, you should have learned how to stream Deezer on PS5 and PS4. Although Deezer music is not available on PlayStation, you can make good use of AudFree Deezer Music Converter to download and convert Deezer songs. Then you have the ability to move the downloaded Deezer music to PS4 and PS5 via USB to suit your gaming experience.