What makes Tesla popular, apart from its industry-leading features, is the well-established audio system. Tesla currently works with a number of music streaming services such as Spotify and Tidal. Tesla drivers are able to use voice commands to search for songs, create and stream playlists and play carefully curated streaming radio stations on the road.
However, hot Deezer music is still not available in the Tesla's streaming line-up. To meet the needs of Deezer users, this article will present two effective ways to play Deezer on Tesla. This way, you can enjoy your favorite Deezer music and podcasts during a boring journey.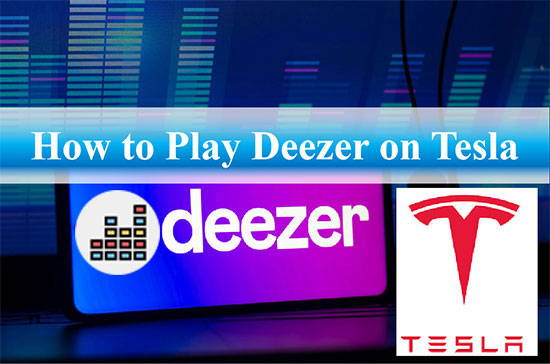 Part 1. How to Play Deezer on Tesla via Bluetooth
Despite the lack of Tesla Deezer integration, it is not entirely impossible to play Deezer music on Tesla. A workaround is to stream Deezer to Tesla via Bluetooth. However, please note that this Bluetooth streaming behavior degrades the quality of Deezer music to compress the data stream for wireless transmission.
How to Get Deezer on Tesla
Step 1: Enable Bluetooth on your phone to make it discoverable.
Step 2: Touch the Bluetooth icon at the top of the Tesla Control screen and tap the Add New Device > Start Search button.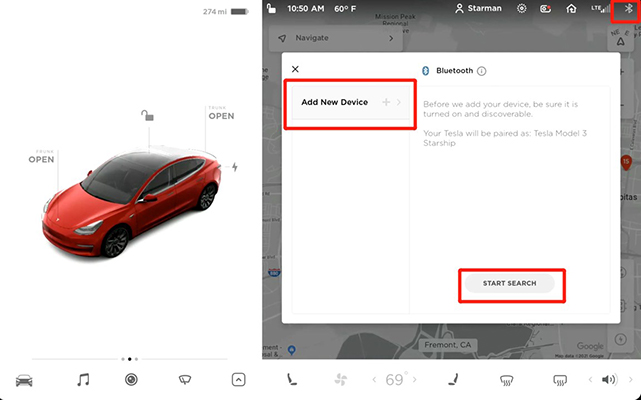 Step 3: Select the phone you want to pair from the list of all available Bluetooth devices.
Step 4: Both the car touchscreen and your phone will display a random number, check that they match.
Step 5: Confirm the pairing information on your phone and play preferred Deezer song in the Deezer app.
Step 6: It will automatically stream Deezer music to Tesla. Afterwards, once Bluetooth is enabled, Tesla will pair with your phone without having to connect them again.
Part 2. How to Get Tesla Deezer Working via USB Drive
In fact, Tesla also supports audio files from USB flash drives. In this case, you can save Deezer music to USB device for offline playback on Tesla. However, bear in mind that songs downloaded from the Deezer app are protected and cannot be recognized by Tesla.
To solve this problem, you will need the powerful AudFree Deezer Music Converter to remove the format lock from Deezer music. This tool can effectively decode Deezer music and convert it to FLAC, MP3, AAC, etc. In this way, unprotected Deezer songs are well compatible with Tesla. In addition, it maintains the original quality and full metadata of Deezer music.
AudFree Deezer Music Downloader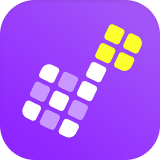 Convert Deezer music to FLAC, MP3, WAV, etc. for Tesla
Download Deezer songs, albums and playlists with free account
Play Deezer Music on Tesla and other car offline
Connect Deezer to Tesla via USB Drive
How to Connect Deezer to Tesla via USB Drive
Step 1

Select Deezer Songs to AudFree Deezable

Open AudFree Deezer Music Converter on your computer and it will automatically load the Deezer app. Browse and select the Deezer songs you want to play on your Tesla, then drag and drop them onto the conversion screen directly. You can also copy the Deezer track link, then paste it into the search box and press the Add button.
Step 2

Configure Output Format of Deezer Audio for Tesla

Click on the Menu bar and select the Preferences option. In the pop-up window, tap on the Convert bar, after which you can set Deezer music output format to MP3, AAC, FLAC, WAV and more for Tesla. You can also adjust parameters such as bit rate, sample rate and channels for your Deezer songs.
Step 3

Download Deezer Music for Tesla

Click on the Convert button in the bottom right corner to start downloading and converting Deezer songs to common format. When the conversion process is complete, you can browse through all the converted Deezer songs by clicking on the Converted button. This way, you can listen to Deezer music offline and transfer it to USB and other devices.
Step 4

Play Deezer Music on Tesla via USB

1. Transfer your downloaded Deezer songs to USB drive from your computer and plug it into the USB port of your Tesla car.

2. Click on the Media Player > USB button on the car screen to view all your Deezer songs.
3. Now, you can select and play your favorite Deezer songs on Tesla through the built-in media player.
Part 3. More About Tesla and Deezer
Is Deezer Available in Tesla?
Although many people have been looking forward to the Tesla Deezer integration, they have not yet established a partnership.
What Music Apps Work with Tesla?
Currently, Tesla Media Player supports various streaming services such as Spotify, Tidal, Slacker, and TuneIn. In addition, FM radio and SiriusXM are also available for the Model S and Model X.
How to Use Deezer on Tesla?
As mentioned above, you can listen to Deezer music on Tesla via Bluetooth. While the best way is to stream Deezer to any Tesla model offline via USB, and it's all thanks to the AudFree Deezer Music Converter.
Part 4. In Conclusion
These are the methods you can use to make Tesla Deezer possible, via Bluetooth or USB flash drive. Obviously, using USB is superior. You can save unprotected Deezer music to USB using AudFree Deezer Music Converter. Then it couldn't be easier to play Deezer offline in Tesla or other car for pleasure.