Have you ever played the traditional Snake game on a Nokia mobile phone in the late 90s? Maybe most of you have played it. It is funny, right? And the good news is that now you can play snake game on Spotify. This is a new feature in the Spotify app. But it is still tested and only available for iOS devices.
In this article, we will show you more about the Spotify Snake game. And we will guide you on how to get and play it and so on. Don't hesitate, let's get started now.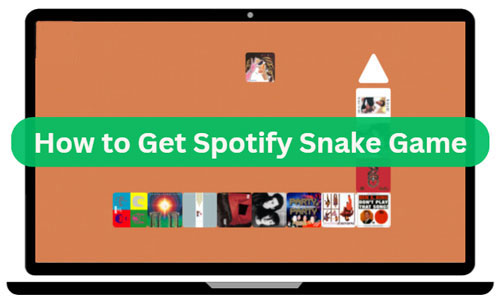 Part 1. What Is Spotify Snake Game
The Spotify Snake game is also named 'Eat This Playlist'. It is noted that this feature is hidden within the Spotify playlists. To access it, users need to open a selected playlist of more than 20 tracks on Spotify. Then start the game and navigate a snake-like line on the screen to eat tracks with cover art one by one. Then the snake will grow longer gradually as you eat a track.
When eating a song, it will start playing. Just like the classic Snake game, you need to control the snake carefully and ensure that it won't touch the border or itself while moving. Otherwise, the size of the snake will be shorter and smaller. By the way, you have three chances before the game is over. When it is over, you can restart the game by hitting 'Try again' and Spotify will continue where you left off instead of starting at the beginning of the playlist. Besides, you can compete against your friends or other users worldwide by climbing up the leaderboard.
While playing the Spotify Snake game, you will explore new playlists and tracks as well as different genres & artists. You can also add the currently playing track to your library by clicking on the '+' button on the top-right corner of the snake game's screen. But you need to do that quickly as the snake is moving to consume the next track.
Part 2. How to Get Spotify Eat This Playlist and Play Snake Game on Spotify
From above, you know what is Spotify Snake game. And now you may be eager to learn how to play this game on Spotify. It is easy. Here we will show you how to eat this playlist on Spotify.
📝Note: Now, this feature is still a beta version and only iOS users can get it. Also, it is not available for global yet. To get this feature, you need to update your Spotify for iOS app to the latest version.
Step 1. Open the Spotify iOS app on your mobile phone or tablet.
Step 2. Pick up a private or public playlist that you want to play a game. Please make sure that there are at least 20 songs in your playlist.
Step 3. On the page of your playlist, click on the 'three-dots' icon next to the 'download' icon.
Step 4. Now, scroll down the options from the list and choose 'Eat this playlist'.
Step 5. Then the game will start. And you can control the snake to eat tracks.
Part 3. Extra Tips: How to Download Music from Spotify for Offline Playing
When you play snake game on Spotify, you will get new tracks in your Spotify music library. Here in this part, we will introduce a tool to you to download music from Spotify. You can use AudFree Spotify Music Downloader. It is designed to download albums, songs, playlists, etc. from Spotify to your computer as local files. So, you can use it to download tracks you added after playing Spotify Snake game. Besides, this tool can convert Spotify to common audio files like MP3, and more with the original quality kept. Also, this tool is available for all Spotify free and premium users. After conversion, you can get local audio files from Spotify and you can listen to them offline anywhere.
AudFree Spotify Music Converter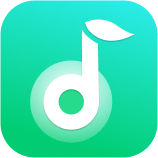 Convert Spotify to MP3, FLAC, M4A, AAC, WAV, etc.
Keep full metadata and high-quality Spotify tracks
Play Spotify Music offline anywhere and anytime
Now, you can follow the tutorial below to start to download and convert Spotify playlists, songs, albums and so on for free with AudFree Spotify Music Converter.
Step 1. First, click on the 'Download' button above to install this AudFree program on your computer. Once installed, start it and the Spotify app will show as well. And then head to the Spotify platform and find any track you want to download. Then get its link address and insert it into the blank box on the AudFree tool. Later, click on the '+' icon. Or, directly drag the audio file from the Spotify app to the AudFree program.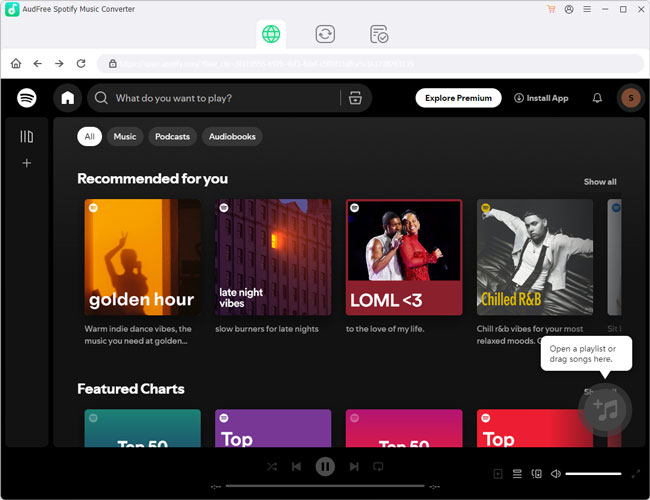 Step 2. Next, tap the Menu icon and pick up 'Preferences'. Then hit 'Convert' in the new window. And then you can start to reset audio format for Spotify to FLAC, MP3, or else. Besides, you can alter bit rate, audio channel and so on for Spotify output files. After that, tap 'OK'.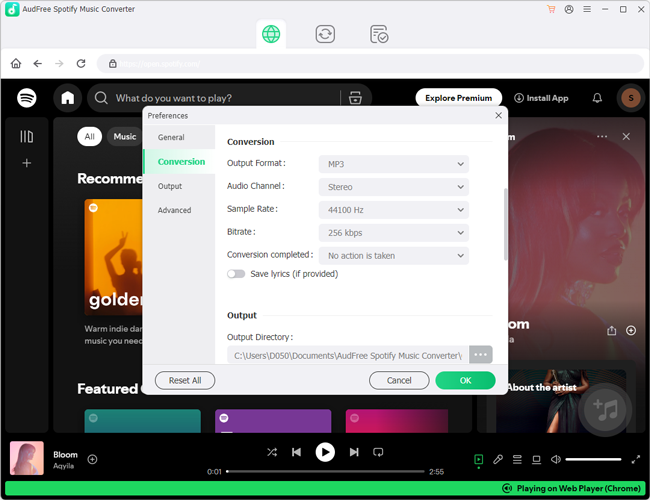 Step 3. At last, press the 'Convert' button to start downloading and converting. After that, the process will stop and you will get local Spotify music files on your computer. You can go to the 'converted' section > 'search' icon to locate them on your PC or Mac. And you can put Spotify audio tracks to other platforms for playing offline for free.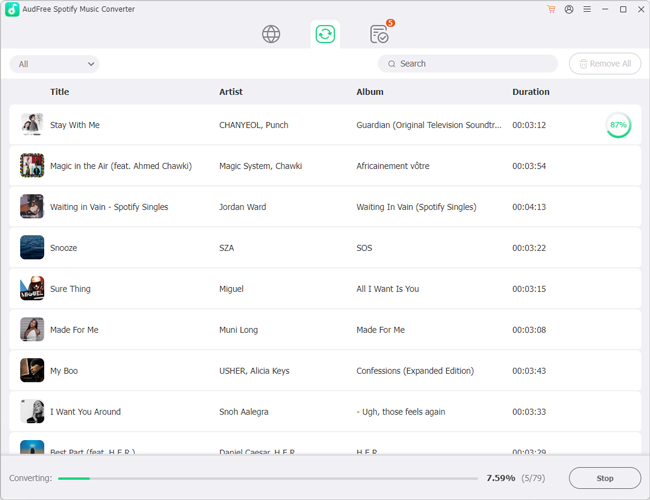 Part 4. FAQs about Spotify Eat This Playlist (Spotify Snake Game)
🧐Q1: How to Do the Spotify Snake Game on Android?
A: Sorry, you can't do that. Now, the Snake game Spotify is not available for Android users.
🧐Q2: Do I Need a Spotify Premium Plan to Access Spotify Eat This Playlist Feature?
A: No. There is no need a Spotify Premium subscription to play snake game on Spotify.
🧐Q3: Can I Play Eat This Playlist on Spotify with Any Spotify Playlist?
A: Yes, you can play Spotify Snake game with any playlist in Spotify. But it is noted that each playlist must have at least 20 songs.
🧐Q4: Why Don't I Have the Spotify Snake Game and Why Spotify Snake Game Not Working/Showing?
A: Currently, this feature is the beta version and it's available for some iOS users. Also, it is not globally released. If you are using iOS device, then update the app and open a playlist to see if there is a 'Eat this playlist' option. Or, you need to wait till Spotify releases the game to all users.
Part 5. Conclusion
Now, you learn how to get Spotify Eat This Playlist and play snake game on Spotify. It is so funny and you could hurry to try it if you are an iOS user. If you don't get this feature now, then just wait for a few time. By the way, you also get the best tool to download audio tracks from Spotify for free without a Spotify Premium account. That's to use AudFree Spotify Music Converter. With it, it is easy to get music from Spotify and save them as local files on your device. Then you can stream Spotify songs offline and move them to other platforms for playing with ease.