People used to listen to music by downloading them as local audio tracks. But as time goes by, it has changed dramatically. Nowadays, no need to download music locally anymore, you have the freedom to play music from cloud storage. Thanks to the advent of streaming music services, music lovers can listen to music files via the internet directly.
Today, we will focus on two popular music streaming services on the market, Deezer and Pandora. They are both nice choices to explore music entertainment online. But Deezer vs Pandora, which is a better? Then, this article will give you the answer. You'll be able to evaluate Pandora and Deezer's features, including plans, sound quality, music libraries, and other aspects side by side.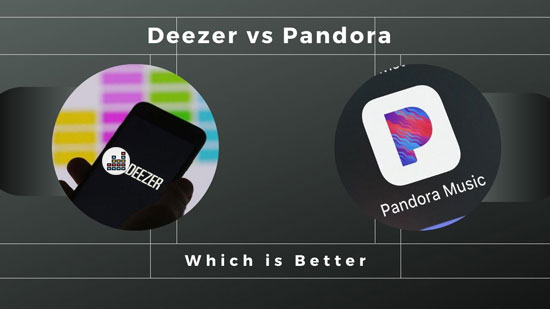 Part 1. Deezer vs Pandora Sound Quality
Pandora has an extensive catalog of music, and this, coupled with its focus on sound quality, makes it an obvious choice for music lovers. Pandora's free members can stream music at 64 kbps while paying subscribers can stream music at 192 kbps. Consequently, premium members get the best sound quality, while free users can expect to hear a lot of background noise.
Compared to Pandora, Deezer delivers superior sound quality thanks to its higher average bitrate of 411 kbps, which is more precise and more uninterrupted than Pandora's for free users.
So when it comes to which provides the best sound quality of Deezer vs Pandora, Deezer wins.
Part 2. Deezer or Pandora: Availability and Compatibility
Deezer is fully compatible with macOS, Windows, Android, and iOS operating systems. Besides, it also supports using on Amazon Alexa, Xbox, Google Home, Apple Watch, and Android TV. In addition to supporting the above devices supported by Deezer, Pandora also supports other devices, like Samsung, LG devices, Android TV, Roku devices, and Vizio smart TV.
It's obvious that you can use Pandora to enjoy music on more devices. But if you want to listen to Deezer on other devices and platforms as well, you can draw support from AudFree Deezer Music Converter. It can help Deezer Free and Premium users to download music from Deezer to FLAC, WAV, AAC, MP3, and other common audio formats so that you can unlock the device limitation.
Part 3. Pandora Music vs Deezer: Cost and Plan
Before comparing Deezer and Pandora plans, let's take a closer look at what Pandora has to offer.
Plans of Pandora Music
For the time being, Pandora offers five different subscription tiers: Pandora Plus, Pandora Premium for Students, Pandora Premium for Retired Citizens, and Pandora Premium Individual. If you're willing to pay $4.99 a month, Pandora Plus provides you access to podcast and music material and an ad-free podcast mode. Ads will continue to be shown during the on-demand playback of the video. Unlimited skips and offline listening are included with the subscription.
The Pandora Premium individual plan, which includes ad-free access to all of Pandora's podcast material, costs roughly $9.99 per month. Unlimited skips, offline listening, and the ability to create and share playlists with your family and friends are all included in this service.
Pandora Premium costs $14.99/month and allows six people access to Pandora Premium Individual's services. Pandora Premium costs $4.99/month for students and $7.99/month for seniors.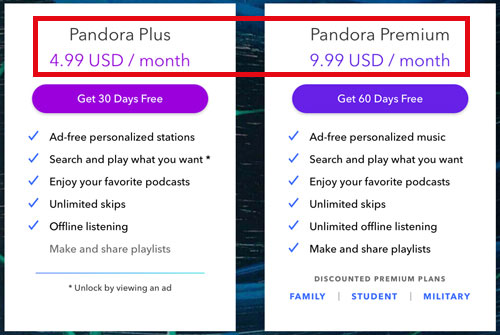 Plans of Deezer Music
When paying for Deezer, you have a few options: the free and student plans, the premium plans, the family plans, and the high-end Deezer Hi-Fi plans. Deezer Student offers a 30-day free trial, after which it costs $4.99/month for students.
With Deezer's Student subscription, students may enjoy ad-free music streaming, tailored recommendations, and unlimited offline listening. With this subscription, you'll be able to stream music at 320 kbps and have unlimited access to both new and vintage recordings.
It costs roughly $9.99 per month or three months in advance, but there are no student discounts for Deezer Premium, which provides the same service as Deezer Student.
On the other hand, Deezer offers a free 30-day trial before charging a monthly subscription fee of $14.99. For the same price as Deezer's Student Pack, you can get ad-free access to the same features as Deezer and 16-bit to 44.1kHz FLAC files for your listening pleasure.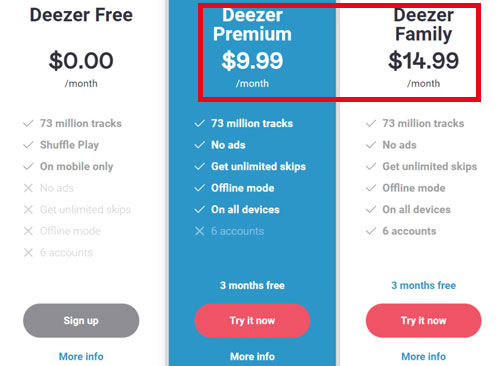 Part 4. Deezer vs Pandora User Experiences
Users will have an easier time navigating Deezer's user interface because it is kept clean and straightforward. According to the WiFi signal and membership package, Deezer provides high-resolution music streaming. There are a few hiccups with Pandora's user interface, but they're minor. Sharing on social media and waking up to your favorite music are two of Pandora's many features.
Part 5. Pandora HiFi vs Deezer for Fitbit
To use Deezer on a Fitbit, you must purchase a subscription. The Fitbit compatibility will only be available to paid Deezer Premium members only. For Pandora, this is also true. A Pandora Plus or Pandora Premium active subscription must listen to Pandora on your Fitbit device.
Part 6. Pandora vs Deezer Music Library
The platform's validity has been evaluated according to the number of tracks available on a music streaming network. On Deezer, more than 56 million records are available in a wide range of languages and musical styles. You may easily find music that matches your preferences using the search bar and download music from Deezer.
Pandora's music library is impressive but falls short of Deezer's. Pandora has 40 million albums in its on-demand library. If comparing Pandora and Deezer music library, Pandora has a small number of library collections, which is understandable.
In this case, Deezer has an advantage over its competitors because of its vast library of music.
Part 7. Pandora vs Deezer Free Trial Plan
Yes, both Deezer and Pandora have free options for those who don't have a lot of money. Deezer Free is an ad-supported plan restricting customers' access to music while displaying intrusive advertisements. For the accessible version of Deezer, the streaming quality is limited to 128 kbps MP3 audio, although the service does allow for shuffle play and personalized recommendations.
Pandora also offers a free service, called Pandora Free, for those who don't want to pay. With this subscription, you'll get full access to the podcast's entire music selection. This plan supports streaming with ad-supported stations and playbacks. There are no track replays and only two skips allowed between each.
Part 8. Pros and Cons of Deezer and Pandora
Deezer
Pros:
1. Huge Music Library
Deezer has more than 73 million songs in music archives, making it one of the most extensive music streaming services.
2. Integrated Lyrics
When a song is playing, Deezer has a lyrics option that lets users see the song's words.
3. Radio Personalized
Music streaming provider Deezer offers Flow, a radio-like service that plays music based on your tastes.
Cons:
1. Sometimes Songs Skipped
Even if you are a premium subscriber, you may have encountered skips in certain songs.
2. Unsupported Linux
It doesn't have a Linux client, unlike Spotify, which does.
3. Many Songs are Cut in the End
Several songs aren't played until the final chords, and others have audio distortions because of poor quality records. This is a significant source of frustration.
Pandora
Pros:
1. Available on Mobile Phones and in Vehicles
Pandora is currently available on all major mobile operating systems, including iOS, Android, and Windows Phone 7. In addition, it can be installed as an option in many automobiles, many of which have voice controls.
2. Accurately Predicts your Likes
In other words, Pandora can be considered a personal DJ because its music genome algorithms are so accurate.
3. High-Quality Streaming
For the same price as any other subscription streaming service, premium delivers precisely what you'd expect. In terms of functionality and library size, it's very similar. It has become a force to be reckoned with now that it can be tailored to individual tastes.
Cons:
1. Many Ads
Due to frequent audio commercials that are introduced into every few songs, the free edition of Pandora is unusable in social settings. If you don't want to deal with ads, you can upgrade to the premium version or use ad-blocking software.
2. A Restricted Bitrate
The average bitrate for tracks on Pandora Radio is 128 kbps. As a result, tracks on the paid service have a bit rate of 192 kbps.
3. Only a Few Artists
On the service, there are only 1,000,000 songs available. As a result, a large number of artists are absent.
Part 9. In Conclusion
You can't get the best of both worlds with Deezer vs Pandora. Both Deezer and Pandora have a variety of subscription options to choose from. As a result, users might better understand what they're getting if they use both streaming services.
However, if you look at the list of compatible devices, Pandora wins because it has a broader range of devices than Deezer. But if you want to listen to as many as songs, then Deezer wins.