When it comes to high-quality music streaming services, Deezer and Qobuz are two of the most popular options. Streaming and downloading music from Qobuz are both available in high-quality sound comparable to that of a CD. The library of lossless audio files that Deezer offers may be streamed or downloaded to your device.
While it's convenient to listen to practically all recorded music with only a few clicks, audiophiles desire nothing less than the best sound quality possible. So Deezer vs Qobuz, which is the better streaming music service to explore high-quality music entertainment? If you want to get the answer, just read this article to find the complete comparison between Deezer and Qobuz.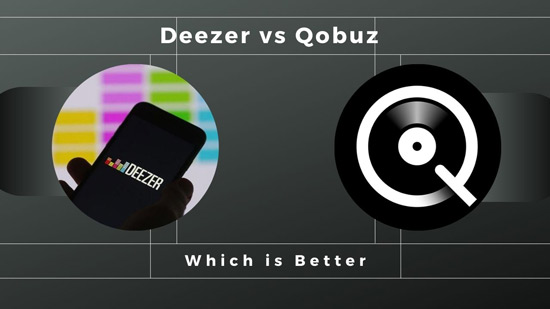 Part 1. Deezer vs Qobuz Sound Quality
Despite its relative lack of popularity, Deezer is an excellent streaming service that offers a clean UI, easy-to-use EQ adjustments, and the ability to play HiFi FLAC files through desktop or mobile.
For audiophiles, Deezer is one of the most outstanding music streaming services, and it offers a variety of streaming options, including high-resolution audio. With the Deezer HiFi subscription, you can also customize the quality of your downloads, at up to 16-bit/44.1 kHz with a bitrate of 1411 kbps. For 360 Audio Quality, you need to download the '360 by Deezer' app.
Besides, if you're using Deezer for Android or iOS, you can use Deezer's built-in Equalizer settings to get better sound quality. The advantage of using an Equalizer is that you may fine-tune your sound to your specific tastes. Additionally, you can manually alter these parameters based on your music genre and hardware device to improve sound quality.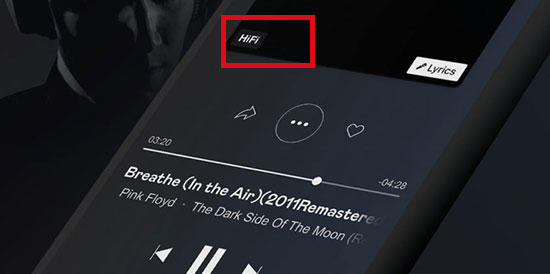 When it comes to Qobuz sound quality, it could be better than Deezer. It can stream music not only in HD with a minimum quality of 16 bits / 44.1 kH but also in 24-bit / 48 kHz, 24-bit / 96 kHz FLAC, and 24-bit / 192 kHz (Hi-Res Audio).
Qobuz includes an editorial side for true music fans in addition to better-sounding audio. Digital linear notes are our favorite element of this. The booklet we used to receive with a CD or vinyl record purchase has been converted to digital form. An album's background and significance are fascinating to delve into after listening to it. Although these booklets are available for some albums, they aren't available for all.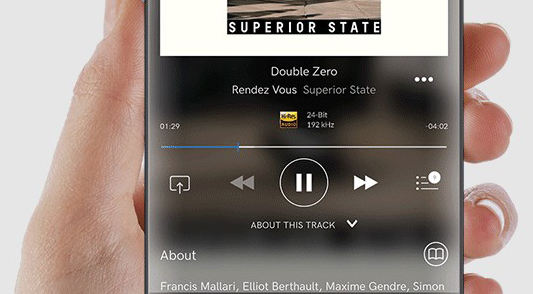 Part 2. Qobuz vs Deezer Discover Weekly
Discovering new music on either of these services is a breeze. To help you find out contemporary artists and genres, Qobuz offers its Discover Weekly playlist via the 'My Weekly Q' feature. Every Monday, a new one with 30 tunes is delivered to you. Up to six personalized daily mixes are also generated using your listening habits. For those who prefer discovering new music, the service provides a "Release Radar" playlist of tracks it believes you'll enjoy.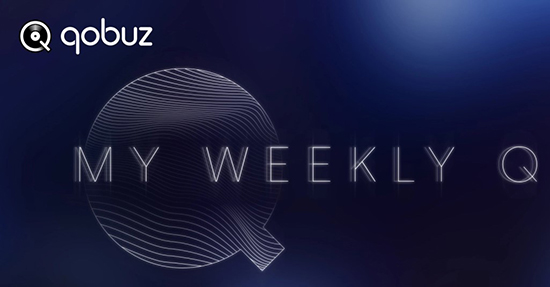 Every Monday, Deezer releases a Discovery playlist, which features tracks you haven't heard on the service yet. The New Releases playlist features tracks from your favorite artists, while the Chill playlist features tracks for relaxing over the weekends. More than this, based on your listening habits, Deezer develops personalized playlists for you that feature well-known and lesser-known songs. Besides, the "Flow" feature for Deezer improves at determining what music you like in less time.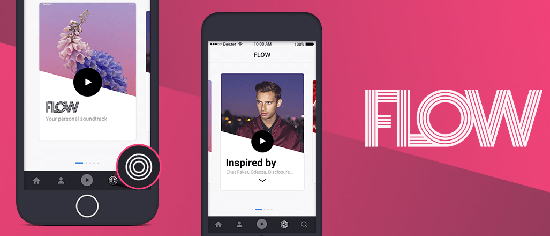 Part 3. Deezer or Qobuz: Availability and Compatibility
Deezer and Qobuz can be accessed through the web or as an app on various platforms, including macOS, iOS, Android, and Windows. In contrast to most other streaming services, the Qobuz OS app is downloaded directly from the Qobuz website rather than an App store. We found the user interface to be simple and intuitive across all devices.
But both Deezer and Qobuz music can be playable on authorized devices above we mentionded. If you'd like to listen to Deezer and Qobuz on more popular players and platforms, it's better to draw support from third-party tools.
For Deezer users, no matter for free or HiFi users, AudFree Deezer Music Converter can help you out. It has the ability to download and convert Deezer music, playlists to MP3, FLAC, WAV, AAC, M4A, and M4B without touching the original audio quality.
For Qobuz members, you can use AudFree Audio Capture, which could be an all-in-one streaming music recorder and converter. It can download music from not only Qobuz but Deezer. What's more, it allows you to cut unwanted Deezer and Qobuz audio clips.
Part 4. Deezer vs Qobuz: Cost and Plan
Studio Premier and Studio Sublime are the two streaming plans offered by Qobuz. Studio Premier is $149.99 per year (or $12.49 per month) if paid annually or $14.99 per month if paid monthly. There is no month-to-month option for Studio Sublime, which costs $249.99 per year ($20.83 a month).
There are also family plans for both membership categories that enable up to six people to use the same account at the same time. If paid annually, a Studio Premier family plan costs $22.49 per month, or $24.99 per month if paid monthly. The monthly cost of a Studio Sublime family plan, which is only available annually, is $41.66.
Premium customers can subscribe to Deezer for $9.99, while the family plan costs $14.99. There was a 50% reduction at Deezer Student plan in this figure. Deezer HiFi has the same price as Deezer Family. Obviously, Deezer could be much cheaper than Qobuz.
Part 5. Deezer vs Qobuz: Design and Interface
Deezer and Qobuz are the global platforms for music streaming. The new appearance and feel of Deezer's app make it easier for customers to browse the company's extensive library of audio content. More space, fewer text, and specific visual treatments for playlists and channels are part of the app's new design. To enhance the user experience, the background color of Deezer's new player is matched to the cover art of the current music.
Deezer's stated goal is to enable music listeners to become music lovers by creating a simple and intuitive user experience. As part of Deezer's new visual identity, the company aims to give its customers the most user-friendly music streaming experience. New features in the app aim to nudge users out of their musical comfort zones. Deezer's logo has been changed to reflect the company's new image better. The legendary equalizer is given a digital makeover. Using Mabry Pro, Deezer's new font, the lowercase logo treatment reflects the company's human and personalized approach through its warm, cheerful, and trustworthy appeal.
Speaking of the user interface and design of Qobuz, there is a long way to go to improve it. Anyway, it is still a nice choice for a certain type of music addicts.
Part 6. Qobuz vs Deezer Free Trial Plan
Both Qobuz Hi-Fi and Deezer HiFi offer a free one-month trial subscription. While we require payment information, your account will not be charged until the end of the free trial time.
The desktop and mobile apps for Deezer and Qobuz Free have only a few options for customizing audio quality. The 'Standard' audio quality level, available to desktop app users, allows for audio bitrates of up to 128 kbps. However, mobile app users have access to a 64 kbps "Basic" audio quality level. It's perfect for people who want to save their mobile data by listening to audio at a reduced bitrate.
Part 7. In Conclusion
When it comes to listening to music, it's perhaps the most significant component. We can't help but analyze it as we compare two music and podcasting platforms, Qobuz vs Deezer. When deciding which music app to use, keep in mind where they work and what they're compatible with because they're both compatible with several different platforms. Anyway, you can try both via the free trial plan to test their performances, and choose your favorite music service to enjoy the music world.