Spotify and Pandora are both popular music streaming platforms that aim to provide users with well-curated and high-quality music. Music fanatics can discover their favorite genres from both music streaming services and put songs on their devices for playback anywhere, anytime.
If you are unfamiliar with the concept of Spotify vs Pandora, then here is a comprehensive introduction. This article compares Spotify and Pandora from different aspects such as music library, audio quality, price, etc. This way, you can fully understand the differences between the two and decide which one is better for you.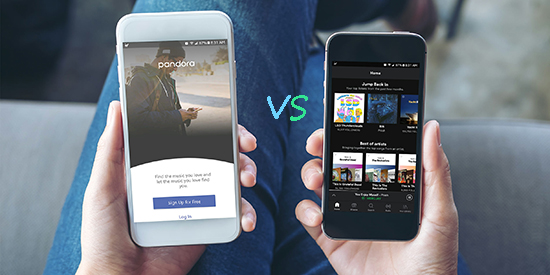 Part 1. What Is Spotify and What Is Pandora
As the world's leading online music streaming service, Spotify provides users with access to over 80 million songs. It was launched in 2008 with a simple goal: to let every user enjoy all his favorite music. And Spotify has gained 456 million users in 183 markets, making it one of the most successful on-demand music services.
Pandora, a subsidiary of Sirius XM, is the largest ad-supported audio entertainment streaming service in the United States. It is powered by the Music Genome Project and creates a customizable and unique music experience for everyone. Since Pandora's debut in 2002, it has created a new standard for online music streaming. Since then, many competitors have been born, borrowing the Pandora radio model, such as Last.mf, iHeartRadio, TuneIn and more.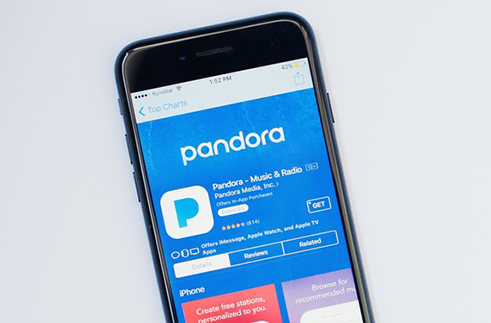 Part 2. Does Spotify or Pandora Have a Better User Interface
Spotify has maintained a dark interface since its inception, which allows images, buttons and featured content to stand out more. The darker background with lighter text is also more comfortable for the user's eyes. In addition, the home page and search page are intuitive, as Spotify arranges its extensive content neatly in visually consistent grids and well-spaced lists. You can simply browse through playlists, artists, albums, podcasts and other tabs by tapping the Library section.
In contrast, Pandora uses vibrant colors, which are reflected by colored gradients blended into the background image. It injects simplicity into its navigation system, allowing users to enter song titles, genres or artists in the search bar to find the right music for their mood. Moreover, the search bar is always on display so that you have full control over your listening preferences and can change stations at any time. In this way, Pandora has pursued a minimalist aesthetic to promote an extremely user-friendly experience.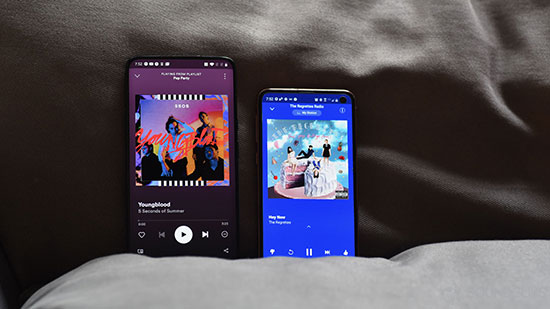 Part 3. Which Has a More Extensive Music Library, Spotify vs Pandora
Music library is also an important consideration when choosing an online music streaming service. spotify's biggest selling point is its large and extensive music catalogue. Spotify deals with many record labels in order to access as much of the music catalogue as possible. And Spotify users have access to over 80 million songs, with around 40,000 new songs being added every day. That's what makes Spotify so successful.
Pandora's original catalogue was small and following the acquisition of Rdio, Pandora signed deals with major record labels to cover all major and mainstream music genres. Currently, its music catalogue has grown to 60 million songs. Then you will be able to find all your favorite artists in the Pandora collection.
Part 4. Do Spotify or Pandora Subscriptions Cost a Lot
The price factor always determines whether you buy Spotify or Pandora. There is no need to rush into a decision, you can start by reading the Spotify vs Pandora comparison table below in terms of price.
| | Free | Premium Individual | Premium Family | Premium Student | Others |
| --- | --- | --- | --- | --- | --- |
| Spotify | Yes | $9.99/month | $15.99/month | $4.99/month | Premium Duo: $12.99/month |
| Pandora | Yes | $9.99/month | $14.99/month | $4.99/month | Pandora Plus: $4.99/month Premium Military: $7.99/month |
As for Pandora vs Spotify free, the free version allows users to play music freely, but with limitations in terms of quality and advertising. Pandora Premium, on the other hand, is similar to Spotify Premium in that they allow users to listen to unlimited songs with no ads. And you can download Spotify music and Pandora songs of your choice for offline playback.
Part 5. Pandora vs Spotify, Which Has Better Audio Quality
Both Spotify and Pandora use the lossy AAC file format, with Spotify also using the lossy OGG Vorbis format. In terms of audio quality, neither Spotify nor Pandora offer a higher quality. When it comes to the free version, Spotify free users have a bitrate of 160kbps on mobile and desktop, while Pandora free has 64kbps.
As for the Premium version, Spotify Premium users can choose a high audio rate of 320 kbps. While Pandora Plus and Premium users get 192kbps on their computers. Besides, on mobile devices, Pandora Plus users get 24kbps to 64kbps, while Pandora Premium users get 192kbps.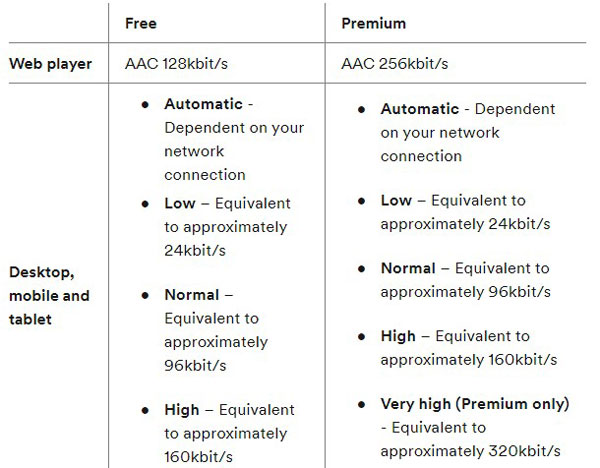 Part 6. Does Spotify or Pandora Have Social Features
A very popular social feature of Spotify is the ability to create collaborative playlists with friends. As soon as you send a playlist link to a friend or family member, they can add or remove songs from this playlist. In addition, you can view your friends' listening history and live listening activity by following them. Of course, you are free to turn this feature off if you feel it is an invasion of your privacy.
You can follow your friends on Pandora and check out their stations and favorite songs. However, Pandora's functionality is limited and you don't have the right to view other people's listening history or create collaborative playlists with friends.
Part 7. How Much Do Spotify and Pandora Pay Artists
In terms of paying artists, Pandora pays $0.0013 per stream, while Spotify pays $0.0033 per stream. At this payout ratio, Pandora is far behind streaming services like Spotify. If artists want to make more money at a faster rate, Spotify is the better choice. According to incomplete statistics, there are a little more top artists on Spotify than Pandora.
Part 8. Tips to Download Music from Spotify and Pandora
Now that you know the difference between Spotify and Pandora, it's time to find out how to download your favorite music from them. Here, we'll present two effective ways to download songs from Spotify and Pandora without a subscription. Read on to find out more.
How to Download Spotify Music Without Premium
As you probably know, the offline download feature is only available to Spotify Premium subscribers. For the convenience of free users, here is a third-party tool that can help you, namely AudFree Spotify Music Converter. It is the best and most professional Spotify downloading tool dedicated to downloading Spotify songs, albums, playlists locally.
In addition, it can easily remove format locks and convert Spotify music to MP3, M4A, WAV, FLAC, etc. What's more surprising is that it retains the original quality and ID3 tags of Spotify songs. Then you can keep your Spotify music for a long time and transfer it to other devices and players offline.
Visit this page for a detailed tutorial: How to Download Spotify Songs without Premium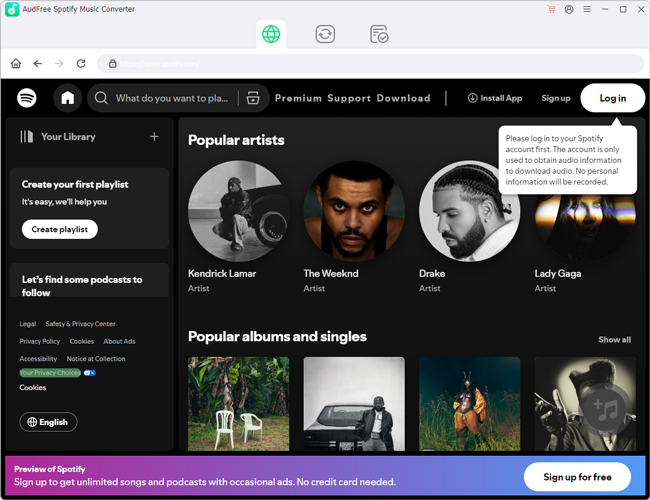 How to Download Pandora Music Without Premium
If you want to download Pandora music without subscription, you need to turn to AudFree Audio Capture, which can effectively record and download Pandora music on Mac and Windows. With the free editing function, you are allowed to set the bit rate, codec, trim or merge Pandora tracks.
Please refer to this page: How to Download Music from Pandora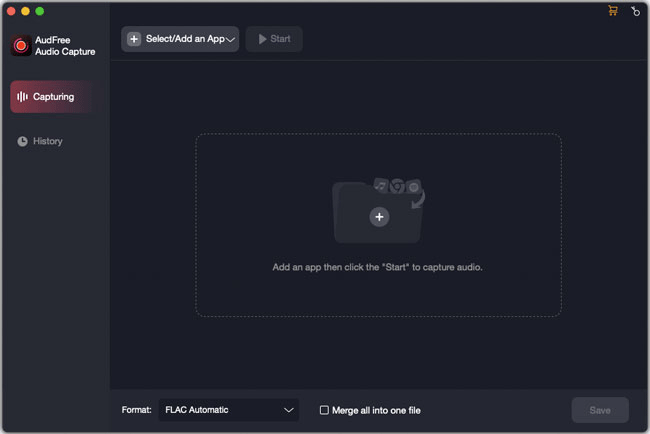 Part 9. Which Is Better: Spotify or Pandora
By now, you should have a better understanding of the pros and cons of Spotify vs Pandora. To help you visualize the differences between them, you can refer to the comparison table below.
| Streaming Service | Spotify | Pandora |
| --- | --- | --- |
| Max streaming quality | 320kbps | 192kbps |
| Supported Formats | AAC, OGG Vorbis | AAC |
| Per Stream | $0.0033 | $0.0013 |
| Music Library | 80 million | 60 million |
| Availability | Nearly 80 countries | US, Australia, New Zealand |
| Social features | Facebook, Instagram, Tinder | Facebook |
| Free Trial | 3 months | 3 months |
| Users per Account | Up to 6 users | 1 user |
| Supported Systems | Android, iOS, Desktop | Android, iOS, Desktop(not for free users) |
On balance, Spotify outperforms Pandora in terms of its usability and versatility. Spotify has cost-effective subscription plans, more flexible app for different devices, larger music library and better social features. If you're looking for a music streaming service, Spotify is the optimal choice.