Spotify and Pandora are both popular music streaming platforms. They all aim to provide their users with the most popular and high-quality millions of copyright music. Music lovers can discover their favorite genres from these two music streaming services and put the songs on their devices for playing anywhere anytime.
Spotify online music streaming service was launched in 2008, providing users with more than 40 million audio tracks. It simply aims to let every user to enjoy all his favorite music. Spotify has gained 140+ million active daily users. And it has become one of the most successful on-demand music services.
Pandora is powered by Music Genome Project, serving for music streaming and music recommendation. Since Pandora debuted in 2002, it created a new standard for online music streaming. Since then many competitors have been born borrowing the Pandora Radio mode, such as Last.mf, iHeartRadio, TuneIn, and more. Pandora is very successful in radio-style.
If you are a music lover and wonder in subscription plan on Pandora Premium vs Spotify Premium, you should have full learning on the difference between Spotify vs Pandora, in order to put your money where your mouth is. We'll help you enumerate their differences, so you can decide which is better for you.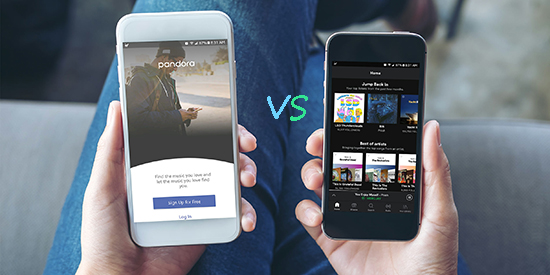 Spotify vs Pandora: Music Library
The important thing you should consider about when choosing an online music streaming service is the music library. The most competitive point for online streaming is that you are able to access more music than your personal music collection. That is to say, you not only can access your favorite songs, but also can explore more recommended options.
The biggest selling point of Spotify is the large music catalog. Spotify makes deals with many record labels so as to access as many as possible music catalogues. And Spotify users can access more than 40 million songs. This is where Spotify's success lies.
However, Pandora comes with smaller music library. Pandora only has more than 1 million songs in the music catalog. Pandora does not have the same business deal with the record labels as the Spotify does, so it does not have the same labels as Spotify has.
Spotify vs Pandora: Audio Quality
Spotify keeps upgrading its audio quality. Recently, Spotify is testing lossless audio. Until now, Spotify has compressed its "Normal" sound rate down to a bit rate of 96 kbps on mobile devices and 160 kbps on desktop. As a Spotify Premium subscriber, you can have high-quality audio rate option of 320 kbps on desktop. For more detailed information about Spotify audio quality, please visit this source page: Spotify Bitrate.
Pandora vs Spotify sound quality is both in the high level. Pandora also provides users with high-quality audio tracks. As a Pandora free member, you can have the music in the quality option of 128 kbps MP3 and 64 kbps AAC+. If you are using a computer with Pandora One to enjoy Pandora music, you will get higher quality music.
Spotify vs Pandora: Music Discovery
Spotify has made acquisitions so that to get more and more music sources. In the "Discovery Weekly" playlist, you can get 30 songs' list every Monday, showing you the music you love and you will love. Spotify keep optimizing the music discovery feature, so you can discover all the time. Simply click on the "Discover" tab on Spotify and the personalized recommendation is special for you.
Pandora music discovery feature is its backbone. The Music Genome Project of Pandora comes with unimaginable ability to provide users with songs recommendation according to their favorites in large amount of variables. For Pandora Premium users, it helps you to manage your playlist and add music automatically once you have just selected a few songs.
Spotify vs Pandora: Cost/Price
The price factor always determines whether you buy Spotify or Pandora. There is no hurry to make decision. You can learn the benefits from Spotify Free vs Pandora Free. Also you can compare the Spotify Premium vs Pandora Premium subscription plan.
Spotify Free allows users to freeload unlimited music but with limitation on quality and ads. With a $9.99 monthly fee for Spotify Premium, you now can enjoy Spotify quality music with no ads interruption. And you can download the Spotify music for offline listening on any of your devices.
Currently, the $9.99 monthly fee includes Hulu (ad-supported) plan, so you can also get unlimited access to Hulu streaming with the Spotify Premium. And the Premium for Family plan at $14.99/month allows up to 5 people to live with your same address. The Spotify Premium Yearly is $119.88. If you are a college student, you can get Spotify Premium student discount that is $4.99 per month.
Tips: If you don't have a Spotify Premium subscription but still like to download Spotify music and playlists for offline listening, you need to get help from AudFree Spotify Music Converter, which enables free Spotify users to listen to ad-free Spotify files offline anywhere.
Pandora Free allows you to enjoy music stream online for free but with annoying ads. The Pandora Premium plan is the same as Spotify Premium at $9.99 per month. It has the same feature that allows users to listen and play unlimited songs with no ads.
If you want, you can download the music for offline listening. Pandora provides users with Pandora Plus subscription at $4.99/mon with limited feature, which is that plus users don't have the Download option. For this situation, you can only choose to record and download Pandora music for offline playback with the assistance of AudFree Audio Capture, an all-in-one streaming music recorder.
Spotify vs Pandora: Restrictions/Limitations
Spotify has its limit for offline download at 10,000 songs on five devices, so you can get the offline download in 50,000 songs in total. And another limit on Spotify is that you cannot have the maximum library size you want. You are able to save up to 50,000 songs on your handful of devices, but you cannot have the same amount of songs in your Spotify library.
As mentioned before, Pandora does not do business with the labels companies as the Spotify does. So there are less copyright tracks on Pandora when comparing with Spotify. If Pandora would like to increase its music library and get more licensed music, they have to negotiate with record labels, which can be time-consuming and costly.
In Conclusion: Pandora or Spotify
Though come after Pandora, Spotify is superior to Pandora in its usability and versatility. Recently, Pandora has done more to introduce massive music to let its users to enjoy more, but Pandora is still pretty far behind Spotify. Spotify has cost-effective subscription plan, more flexible apps for different devices, larger music library and better social feature. If you are looking for a music streaming service, we recommend you to choose Spotify.