As a world-renowned music streaming service, Deezer has more than 90 million songs, podcasts and radio channels for free and paid subscribers to choose from. For Premium users, you will enjoy unique features such as ad-free playback, offline downloads, unlimited skips, etc. But for free users, you have to put up with low quality Deezer songs with ad distractions.
Fortunately, Deezer offers every new user a one-month free trial to enjoy all the Premium features in advance. Here, this article will present a detailed tutorial on how to get Deezer free trial. Also, you will learn an effective way to enjoy Deezer Premium and HiFi Music forever after the free trial expires.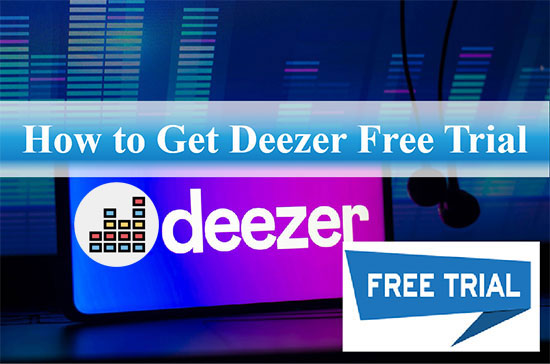 Part 1. How to Get Deezer Free Trial 1-Month
Deezer Music free trial is available for users who have not tried Deezer before. As long as you are a new Deezer user, you can get Deezer Premium and HiFi for one month for free. Read the tutorial below to start your free trial.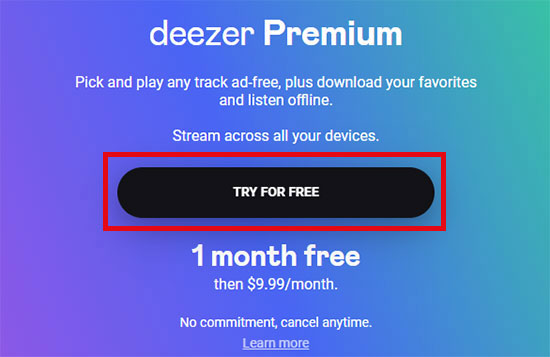 How to Activate Deezer Free Trial
Step 1. Visit the Deezer website and select Deezer Premium or Family plan in the menu, then click on the "Try For Free" option.
Step 2. Follow the on-screen instructions to open a Deezer account, you will need to enter your email address, personal credit card information, etc.
Step 3. Now, tap the "Start my free trial" button to activate the Deezer Premium free trial.
Part 2. How to Cancel Deezer Free Trial
In fact, after the Deezer one-month free trial expires, you will be automatically charged a monthly renewal fee unless you choose to cancel and revert to the Deezer free service. Here's how to cancel your Deezer Music free trial.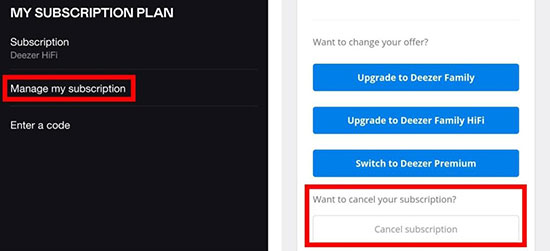 Step 1. Go to the Deezer website and click on the Login button in the upper right corner, and then tap on your Profile icon.
Step 2. Go to your Account Settings to select the Manage my subscriptions option, followed by clicking on the Cancel my subscriptions button.
Step 3. Now, simply select a reason for cancellation and hit on the "Confirm" button, then you will be able to cancel your Deezer subscription without any problems.
Part 3. How to Keep Deezer Music Forever after Free Trial
Usually, a one-month Deezer HiFi free trial is not enough. Once the trial ends, you won't be able to enjoy more exclusive features unless you continue to subscribe to Deezer. In this case, we have found a perfect solution to get Deezer Premium and HiFi for free forever without any subscription.
As long as you have AudFree Deezer Music Downloader, you can download your favorite songs directly from Deezer and save them on your computer locally. Moreover, this tool is designed to convert and download Deezer to FLAC, MP3, AAC, WAV, etc. with 100% retention of the original song quality. Thus, you can enjoy free Deezer Music on any media player or device without any limitation.
How to Keep Deezer Music Forever
Step 1

Edit the Output Format of Deezer Music

Launch AudFree Deezer Music Downloader on your desktop and click Menu > Preferences at the top right. In the settings window, tap to the Convert section, after that you can start setting the output format, audio channels, bit rate, sample rate and other parameters of Deezer Music as you wish.
Step 2

Import Deezer Music to AudFree Deezable

Browse and select your favorite Deezer songs in the Deezer app. Then tap the Share and Copy button to copy the track link so that you can paste it into the search bar in the header of the downloader. Don't forget to click on the '+' icon to load Deezer songs.
Step 3

Download Deezer Music for Free

Now, simply tap the 'Convert' button in the bottom right corner to start the download process. Once the download is complete, you can view all your free Deezer Music on your computer's local folder. In other words, you can get Deezer Premium free forever without worrying about the free trial period anymore.
Part 4. FAQs about Deezer Free Trial
Q1: Is Deezer Free Tier Really Good?
On the one hand, you can access more free Deezer songs, playlists and albums. On the other hand, you have to put up with some disadvantages it brings, such as lower audio quality, Deezer ads, inability to go offline, etc.
Q2: How Long Is Deezer Free Trial?
Currently, you can get a free one-month trial of Deezer Premium or Deezer Family plans. If you want to get a long term Deezer Music free trial, AudFree Deezer Music Downloader is especially beneficial for you.
Q3: What Happens When Deezer Free Trial Ends?
When the free trial ends, users will be automatically charged for Deezer membership unless you cancel the free trial. Once you cancel the Deezer free trial, you will only have access to the limited Deezer free tier.
Q4: How Much Does Deezer Cost after Free Trial?
For the Deezer Premium plan, it will cost you $10.99 per month. If you choose the Deezer Family Plan, it costs $17.99 per month.
Part 5. In Conclusion
This article shows the short and long term solutions to get Deezer free trial. It is clear that using AudFree Deezer Music Downloader is the optimal solution. It's time to take action and start Deezer's free journey. Also, if you find other ways to get Deezer Music free trial, please feel free to share them with us in the comments section.