Q: "I have a Tesla Model 3 and want to listen to music while driving. I know there are various apps and services that can be used on Tesla. Does Tesla Premium connectivity include Spotify? How do I get Spotify on Tesla Model 3?"
Yes, there is Spotify in Tesla. Since 2019, Tesla owners can enjoy many entertainment services on their cars. However, for now, Spotify streaming on the Tesla is only available for Spotify Premium. But don't worry, if you don't want to pay for Spotify Premium, we've found a way for you to do that too. Read on and you'll be able to enjoy Spotify in Tesla without any problems.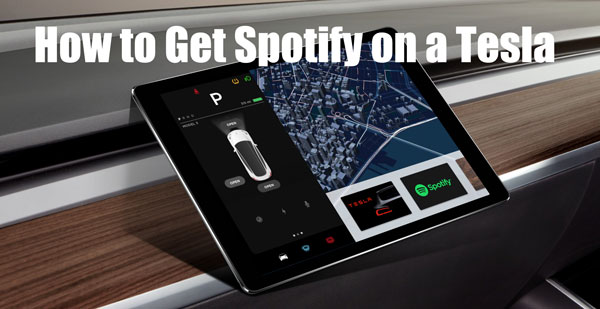 Part 1. How to Play Spotify on Tesla with Premium Account
Previously, Tesla owners could only play Spotify in the car via Bluetooth from their phones. Whenever you want to switch songs or search for new music, you need to pick up your phone. This can be very distracting on the road. But now, thanks to the Spotify Tesla integration, Tesla owners can easily play Spotify directly from their Tesla.
Make sure the software in your car has been updated to version 10.0. If your Tesla is connected to WIFI, it should automatically receive the update. And, you'll need to have a Spotify Premium account to use Spotify.
How to Log into Spotify on Tesla for Streaming: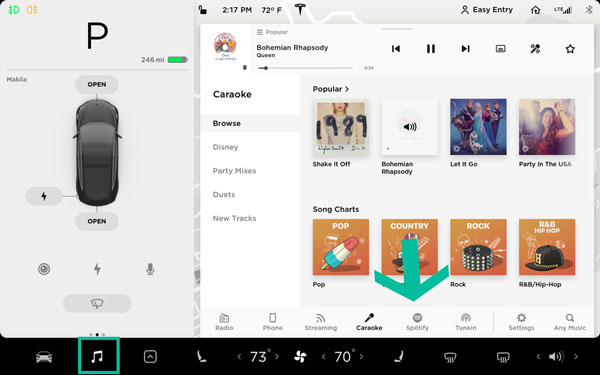 Step 1. On your Tesla touchscreen, tap on the second "Music" icon from the bottom row, and then tap on "Spotify".
Step 2. Log in with your Spotify Premium account or a Tesla Spotify Premium account that comes with Tesla's Premium connectivity pack.
Step 3. Once the setup is done, you can use the voice commands to play whatever Spotify music you like while you are driving.
(Note: If you choose the Tesla account, then the car will sign in with its own Spotify premium account. This allows you to stream any song without ads or interruptions. Once you've logged in, you'll see that the main screen of the Spotify app has five folders, Songs, Albums, Artists, Stations, and Playlists.
If you sign in with your own Spotify Premium account, you'll see the exact same interface as before. The only difference is that all your library folders contain songs, playlists, and artists that you've added to your personal Spotify account over the years. A big advantage is that you can sync your Spotify playlists on your phone, tablet or laptop with your car. The rest of the features are the same.)
Part 2. How to Use Spotify on Tesla without Spotify Premium
For those who do not have a subscription to either the Tesla Premium connectivity pack or Spotify Premium, we will present an easy way to enjoy Spotify in Tesla.
First of all, you will need AudFree Spotify Music Converter, a professional tool designed to solve various music streaming problems. It enables you to play Spotify on Tesla or any other cars you want. You can use Spotify music and all the Premium features without paying for it. You can use it to download Spotify music and then transfer the downloads to a USB drive. Then you can easily play Spotify in Tesla via a USB drive.
AudFree Spotify Music Converter can download all Spotify content at 5x the speed and with lossless sound quality. It detects all ID3 tag information such as album cover, title, artist and genre while downloading. This way, it will save you a lot of data on your phone when you play Spotify music in your Tesla car for offline listening.
With the help of this excellent software, you will be able to download Spotify music locally with a Spotify free account and then play them on Tesla. Now let's see how to enable Tesla Spotify without Premium connectivity in simple steps.
Step 1

Import Spotify songs to AudFree

Launch the AudFree Spotify Music Converter, and the Spotify app will pop up automatically. You can copy the URL of Spotify music from the Spotify app and paste it to the search bar of AudFree. Then press on the "+" button to load all Spotify songs into AudFree. Or simply drag and drop the songs into the AudFree software directly.
Step 2

Customize Spotify music output settings

Go to the top-right corner of the AudFree, then hit on "Menu" > "Preferences" > "Convert". For Mac users: You are supposed to find the "AudFree Spotify Music Converter" from the menu bar of your Mac system. A new window will pop up, where you can adjust output formats and other parameters like bit rate, sample rate, and channel according to your needs. We here suggest you select the output format as MP3, as it takes up the least storage on Tesla. Or you can select FLAC, WAV, and AAC, which are also compatible with Tesla.
Step 3

Download music from Spotify for Tesla

Now please tap on the "Convert" button from the lower-right corner of AudFree to start downloading Spotify music for Tesla. A few moments later, you can tap on the "Converted" button to open the downloaded Spotify music in a local folder.
Step 4

Play Spotify on Tesla via USB drive

You are now ready to transfer Spotify music to a USB Drive and plug it in your Tesla car for offline listening. With the Tesla built-in media player, all the music information including album cover will be displayed on the screen.
Part 3. Troubleshooting Tesla Spotify
When you have a Spotify Premium account or a Tesla Premium connectivity pack, you can directly play Spotify from your Tesla touchscreen. But there may be some issues while using. So, we are here to provide you with some solutions.
1. Tesla Spotify Not Working
Solution 1: Change the system language. Navigate to the "menu" page > "display" settings > "language". The default language is English, you can click on it to change from English to Dutch. Then complete a system restart.
Solution 2: Update the Tesla system version. Sometimes an old version of the system will cause Spotify not working in Tesla. To check for system update, navigate to the "menu" page.
2. Tesla Model 3 Spotify Not Loading
Solution 1: Turn off your Tesla. Try turning off your car and then turning it back on before waiting for a few minutes.
Solution 2: Disconnect the internet of your Telsa. This can solve the problem that is caused by the internet.
Solution 3: Reset your Tesla system. You can reset the infotainment system to fix the Tesla Model 3 Spotify not loading issue.
Solution 4: Check for system updates. You might have an issue if your car's system has been dropped.
3. Tesla Spotify Not Syncing
Solution 1: Log out and log back in. Check your Spotify Premium account and then log it out. Wait for a few minutes and log back in to see if it works.
Solution 2: Check the Spotify app is up-to-date. Updating Spotify will solve some problems.
Solution 3: Check your internet connection. If your internet connection is poor, the Spotify Tesla not syncing problem will occur.
Part 4. FAQs about Spotify Tesla
Q1: How to Log Out of Spotify on Tesla?
A: You cannot log out of Spotify on Tesla on the home screen. To do it, go to a Spotify playlist, and scroll all the way to the bottom. Then you will find the "Sign Out" button, click on it.
Q2: Does Tesla Premium Connectivity Include Spotify?
A: Yes, Tesla Premium connectivity includes music streaming services, such as Spotify and Slacker. It also includes video streaming services, such as Netflix, YouTube, and others.
Q3: Do You Need Spotify Premium for Tesla?
A: Yes, you need a paid subscription to access Spotify on your Tesla.
Q4: How to Connect Spotify to Tesla?
A: You can get Spotify on your Tesla in three ways. The first way is to sign into your Spotify Premium account on your Tesla. The second way is to pair your phone with the Tesla using Bluetooth and then play Spotify on the Tesla through Spotify on your phone. The third way is to use Tesla Spotify offline through a USB drive. you can download music from Spotify using the AudFree Spotify Converter and then transfer the downloaded music to a USB drive. This way, you don't need a Spotify Premium account.