Does Tesla have Spotify? This answer is an absolute yes now. About a year ago, Tesla introduced version 10.0 of its in-car software in September 2019, which was a huge software update. This major update includes a lot more entertainment options such as Spotify Premium, YouTube, Caraoke, etc.
Though Tesla drivers can stream Spotify music in a Tesla car via Bluetooth the whole time, the Tesla Spotify integration is still an excitement for the majority, since the album art can finally show up on the Tesla display. If you are interested in how to get Spotify on Tesla, keep on reading this guide which we will go through the two ways for you to enjoy Spotify on a Tesla car.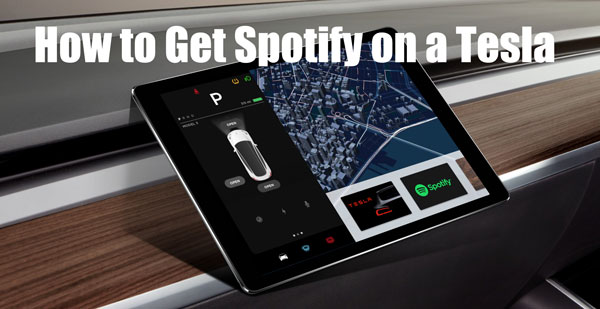 Part 1. Get Spotify on Tesla with Premium Account
Spotify is one of the main Tesla music streaming services that people use on a daily basis. Before this update, Tesla customers use Spotify in the car by Bluetooth streaming the music from the phone into the car, but it ends up being a very cumbersome experience. Every time you want to switch the songs, play an album on-demand, or search for some new music, you need to pick up for phone to perform all these operations, which is distracting you off the road.
Thanks to the software update, Tesla drivers are now able to enjoy the Spotify Tesla integration with a Spotify Premium account. Now let's take a look at how to listen to Spotify on Tesla.
Make sure the software in your car is updated to version 10.0. If your Tesla is connected to WIFI, it should receive the update automatically. And once again, you will need to pay for the Spotify Premium subscription to access this new feature.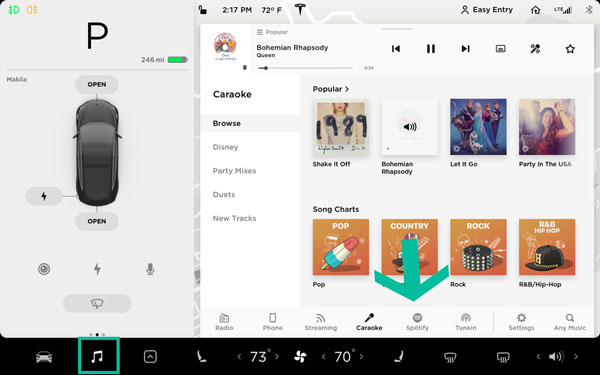 Tap on the second from left Music icon from the bottom row, and then tap on Spotify. Then you will be directed to a new window, where you are required to login in with the Spotify Premium account or a Tesla Spotify Premium account that comes with Tesla's Premium connectivity pack. If you put in a Spotify free account, you will fail to log in as it is considered as an invalid account.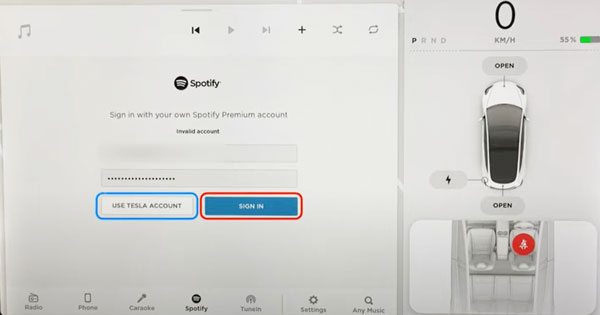 If you choose the Tesla account, then the car will log in with its own Premium Spotify account which enables you to stream any song without ads or interruptions. Once you logged in successfully, the main screen of the Spotify app you'll see is your library where there are five folders: Songs, Albums, Artists, Stations, and Playlists.
If you log in with your own Spotify Premium account, you will be presented with exactly the same interface as before. The only difference is that all your library folders contain the songs, playlists, artists you have added on your personal Spotify account over the years. One great advantage is that you get to sync Spotify playlists on your phone, tablets, or laptops with the car. The rest of the functionality is the same.
However, one downside for the Tesla Spotify app is that it won't let you create new playlists or even add songs to existing playlists no matter which kind of accounts you are using. You can only follow public playlists, but you can also use the Song folder as a playlist to save your favorite songs.
Once the setup is done, you can use the voice commands to play whatever Spotify music you like while you are driving.
Part 2. How to Listen to Spotify on Tesla for Free
To this point, some may wonder: Besides Bluetooth, is there a possible way to get Spotify music on my Tesla Model 3 using a Spotify free account? There also exist some other solutions, for example, someone has designed a third-party Spotify remote called TesPlayer for the car browser.
For people who have subscribed to neither Tesla Premium connectivity pack nor Spotify Premium, we are here to introduce an easy way for you to enjoy Spotify on Tesla with album art. Firstly, you will need the AudFree Spotify Music Converter, a professional tool designed to solve all kinds of music streaming problems. It enables users to play Spotify in the car including Tesla models.
AudFree Spotify Music Converter is capable of downloading all Spotify contents at high speed with zero sound quality loss using the Spotify free account. It is also intelligent enough to detect all ID3 tag information such as album art, title, artist, and genre while downloading. This way, when you play Spotify music on your Tesla car for offline listening, it will save you a lot of cellular data and present you with album covers for each track.
With the help of this excellent desktop software, you will be able to download Spotify music to local with a Spotify free account and then play them on Tesla. Let's get started and follow the simple 3 steps below.
Step 1

Import Spotify songs to AudFree

Launch the AudFree Spotify Music Converter installed on you computer, and the Spotify app will pop up automatically. You can either copy the URL of Spotify music from the Spotify app and paste it to the search bar of AudFree, or simply drag and drop the songs into the AudFree software directly. Then press on the '+' button to load all Spotify songs you'd like to play on Tesla into AudFree.
Step 2

Select Spotify music output settings

Go to the top-right corner of the AudFree, then hit on Menu > Preferences > Convert. For the Mac users: You are supposed to find the "AudFree Spotify Music Converter" from the menu bar of your Mac system. A new window will pop up, where you can adjust out put formats and other parameters like bit rate, sample rate, and channel according to your needs. We here suggest you select output format as MP3, as it takes up the least storage on Tesla. Or you can select FLAC, WAV, AAC, and WMA which are also compatible with Tesla.
Step 3

Download Spotify music to local

Now please tap on the Convert button from the lower-right corner of AudFree to start download Spotify music for Tesla. A few moments later, you can tap on the Converted button to open the downloaded Spotify music in a local folder.
You are now ready to transfer Spotify to a USB Drive and plug it in your Tesla car for offline listening. With the Tesla built-in media player, all the music information including album cover will be displayed on the screeen.
Bottom Line
You have learned how to get Spotify on Tesla using the Premium account or a Spotify free account. Which is a better option for you? Let us know by commenting below.