Released on May 25, 2018, Shawn Mendes's third album, Shawn Mendes: The Album is here. Now the Shawn Mendes is not only on behalf of the Canadian singer and songwriter, but also the self-titled third studio album that is primarily a pop album with influences of pop rock, blues and R&B.
Shawn Mendes' was released his first album Handwritten in 2015, which debuted at number one on the Billboard 200 and followed it up with the second album Illumination (2016), which reached the top 10 in several countries.
The two albums come with lots of popular singles, like 'Stitches', 'Treat You Better' and 'There's Nothing Holdin' Me Back'. And now, it's time to extend your music collection with new blood from Shawn Mendes's third album, like 'Lost in Japan', 'Youth', and more.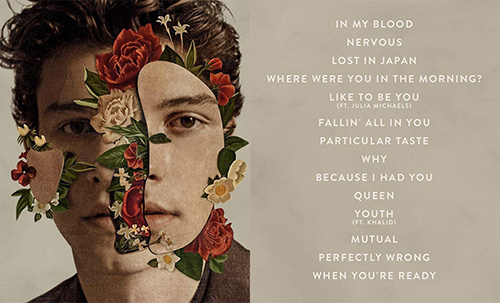 Part 1. Best Shawn Mendes MP3 Download Tool You Need Have
To make favorite Shawn Mende's songs together, the first thing you need to know is Shawn Mendes album download. When it comes to downloading Shawn Mendes album, you just need to subscribe to one of the popular music streaming services, such as the hottest Apple Music and the world's biggest Spotify. But if you would like to play Shawn Mendes album on portable devices, such as MP3 player offline when you are doing exercise outside, you should know that all Shawn Mendes downloaded songs are encoded in special audio format with DRM protection.
What if you need to download Spotify Shawn Mendes album to MP3 format for playback? Fortunately, there are some professional Shawn Mendes MP3 free download software to download and convert Shawn Mendes' album as MP3. Here, you can get help from AudFree Apple Music Converter for Mac/Windows or AudFree Spotify Music Converter for Mac/Windows to extract MP3 tracks from Shawn Mendes album on iTunes and Spotify app.
Part 2. Shawn Mendes: The Album - Everything You Need to Know
Before we get started on the detailed tutorial to download Shawn Mendes album, let's introduce the complete information of this album. With 182,000 album-equivalent units, Shawn Mendes opened at No.1 on the US Billboard 200 as the third No.1 album of Mendes in the US. 'In My Blood' as the lead single in this new album peaked at number 11 on the US Billboard Hot 100.
Shawn Mendes Album Review
As the third album of Shawn Mendes, it received a great deal of positive reviews from music critics. Most of them praise its maturity and new musical direction. According to David Mirzoeff, who said that there are many ways to grow up in pop music, such as testing a new genre or changing up the look, etc., Shawn Mendes has passed the test with his new Shawn Mendes album by transitioning the career from teen to adult.
What's the Whole Sound Tracks?
Shawn Mendes new album 2018 is consist of 14 songs. This album begins with the single 'In My Blood' that was released on March 22, 2018 and follow it up with the exceptionally catchy 'Nervous' as well as the lovely duet 'Like to Be You' co-wrote by Julia Michaels. The Khalid duet 'Youth' is also recommended expected highlight. The other 10 songs include 'Lost in Japan', 'Where Were You in the Morning?', Fallin' All In You', 'Particular Taste', 'Why', 'Because I Had You', 'Queen', 'Mutual', 'Perfectly Wrong' and 'When You're Ready'.
Updated: Three New Remixes from the Album
Today, Dec. 21, 2018, Shawn Mendes has released three new remixes from this third self-titled album, Shawn Mendes: The Album. There are 'Why (Remix)' featuring soul artist Leno Bridges, 'Where Were You in the Morning? (Remix)' with kaytranada, record producer as well as 'Youth (Remix)' featured Khalid and Jessie Reyez.
Here, you can stream and listen to Shawn Mendes' new full album below or through Spotify App.
Part 3. Detailed Tutorial on Shawn Mendes MP3 Free Download
If you would like to get Shawn Mendes MP3 download for free, you can download Shawn Mendes' songs from Spotify, since Spotify Music Converter allows free users to download and convert the new album from Shawn Mendes to MP3 files. With free registered account on Spotify, you can refer to the following steps to download Shawn Mendes album.
Step 1

Import Shawn Mendes Album from Spotify to AudFree

If you have already gotten the URL of Shawn Mendes album, you can directly paste this link to the search box of AudFree software and click the '+' button to import Spotify Shawn Mendes' album to AudFree. Or you can drag and drop the target album from Spotify to AudFree's main interface.
Step 2

Set output format as MP3

There are a wide variety of output formats you can choose by navigating to the top menu-> Preference-> Convert button. Of course, you can set MP3 as the output format to rip MP3 files from Spotify album. Besides, you will be able to customize other audio parameters, like bit rate, sample rate, etc. as you like.
Step 3

Download Shawn Mendes Album as MP3

After customization, you can launch the downloading and converting process by touching the 'Convert' button at the bottom-right corner of the main interface. And then AudFree software will start to download 14 songs from Shawn Mendes album as MP3 and save them to the local folder on your computer.
Download Shawn Mendes: The Album as MP3
Congratulations! Now, you can freely transfer Shawn Mendes MP3 album to any device and music player for offline listening. If you have met some troubles in downloading Shawn Mendes album to MP3 files by following the above guide, you can leave your questions on the comment area and we will give the further assistance for you as soon as possible.