When you listening to a piece of music, you may want to understand the meaning of lyrics or humming with the song. Then you may access the lyrics and it could be better if the lyrics are synced with the music. As one of the most-used streaming music apps, Spotify also offers real-time lyrics feature to users on Android, iOS, computer and smart TVs. By the way, this lyrics function is delivered by Musixmatch.
In this article, you will learn about how to get lyrics on Spotify on PC/Mac/Android/iOS/TV. Also, you will learn how to share lyrics on Spotify on mobile. Plus, here are some useful solutions to solve the problem of Spotify lyrics not working. Now, you can follow the tutorial in the following parts to make it.
View also: How to Get Apple Music Lyrics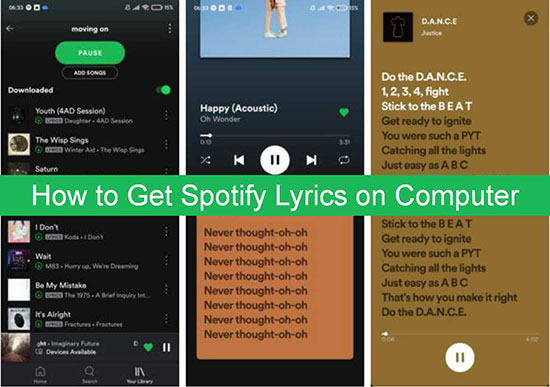 Part 1. How to See Lyrics on Spotify PC/Mac/Android/iOS/TV
The full lyrics are not applied to all Spotify tracks. To identify the supported songs, you could find and see a "Lyrics" sign next to the artist's name in the playlist. If you don't see the sign, then the lyrics are not available for the song which is playing. Now, let's see how to turn lyrics on Spotify on desktop, mobile and smart TV.
On Windows/Mac Computer:
Step 1. Open the Spotify desktop app on your Mac or Windows PC. You can also go to Spotify Web Player via a web browser.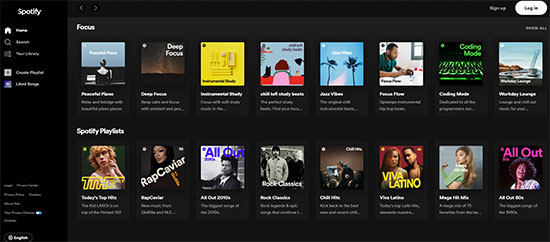 Step 2. Log in to your account if you haven't signed in.
Step 3. Locate and play the track that you want to see lyrics.
Step 4. Click on the 'microphone' icon at the bottom bar on the Spotify's interface.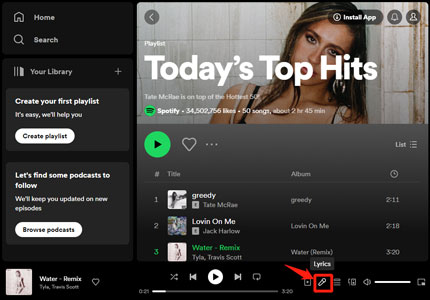 Later, it will show real-time lyrics for you.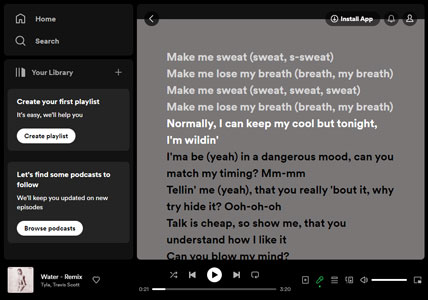 On iPhone/iPad/Android: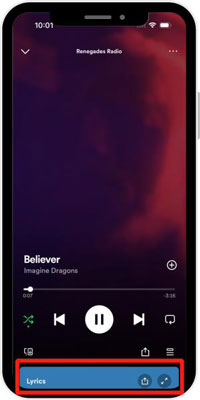 Step 1. Start playing a track on your mobile phone. Click the Now Playing icon from the bottom of the screen.
Step 2. Scroll down to see "Behind the Lyrics". Now, it shows the full lyrics of the current song instead.
Step 3. You can expand to get Spotify lyrics on the whole screen by clicking on the 'full screen' button. The current verse will highlight in white to let you sing along.
On Smart TV:
If your smart TV is compatible with the Spotify app, then you can head to play music and check Spotify lyrics. Here let's follow the steps below to enable lyrics on Spotify TV app.
Note: You can only access Spotify lyrics feature on Android TV, Samsung, LG, Sky, FireTV, Roku and Comcast.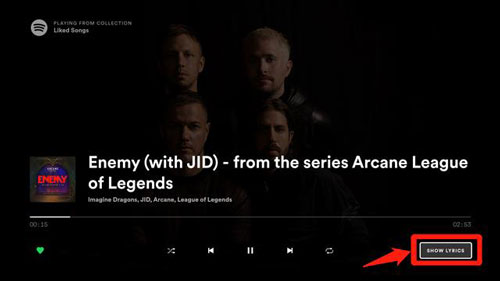 Step 1. Power on your smart TV and open the Spotify app to play a song you like.
Step 2. Hit on the 'SHOW LYRICS' button at the Now Playing screen. Then you can get lyrics on Spotify on your TV.
View also: How to Play Spotify on Smart TV
Part 2. How to Share Spotify Lyrics on Mobile
After getting lyrics on Spotify, you are allowed to share it on your social account. But it is noted that you can only do that within the Spotify mobile app. Here let's check how to do that.
Step 1. Open the Spotify app on your Android or iOS mobile device and start to play a song.
Step 2. On the Now Playing screen, click on the 'more' option on the lyrics section to view lyrics in full screen.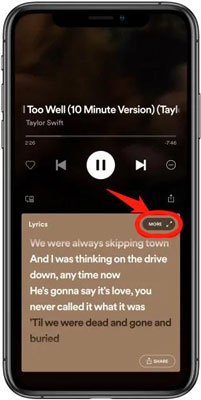 Step 3. Tap on the 'upload' or 'share' icon at the bottom right corner of the screen.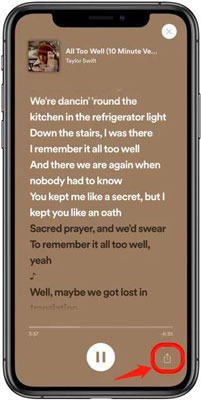 Step 4. Scroll and locate the lyrics that you like to share. Then choose and press on them. And it is noted that you can only select up to 4 lines to share.
Step 5. Once picked up, touch the 'Share' button at the bottom.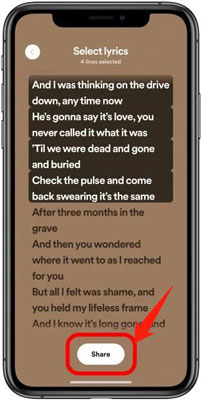 Step 6. Now, you can see some social platform options like Twitter, Instagram Stories, or Facebook. Then you can choose the target platform you want to share Spotify lyrics.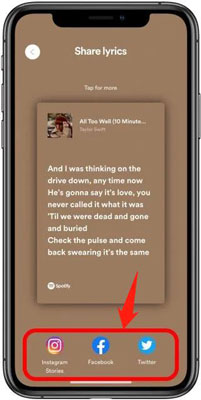 Part 3. How to Solve Spotify Lyrics Not Working
Why can't I see lyrics on Spotify? Lots of factors that can lead to this issue. If you are facing Spotify lyrics not loading/showing/syncing, then you can try out the fixes below to resolve it.
Fix 1. Check If Lyrics Is Available for the Target Song
First, you need to check whether you can view lyrics on other Spotify songs. If you can, then there is an issue with that song you play. That song doesn't have lyrics via Musixmatch so you can't access it.
On Android/iPhone/iPad: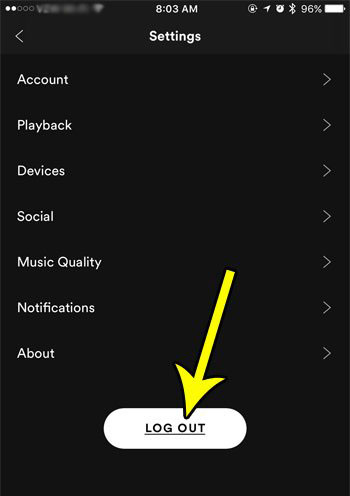 Step 1. On your device, click on the 'gear' icon in the Spotify app.
Step 2. Scroll down to the bottom on the screen and click on 'Log Out'.
On Windows/Mac Computer: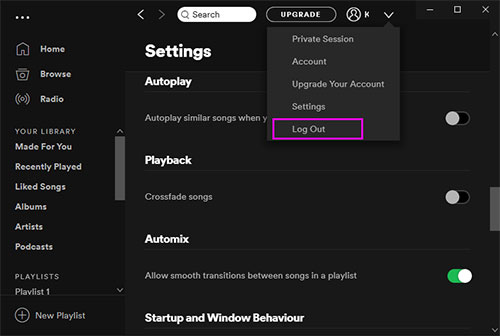 In the Spotify app or Spotify web player, hit on the 'profile' icon and then choose 'Log Out'.
On Smart TV:
It is not easy to sign out of Spotify from a smart TV. In this case, you'd better sign out Spotify everywhere. Here is how to do that.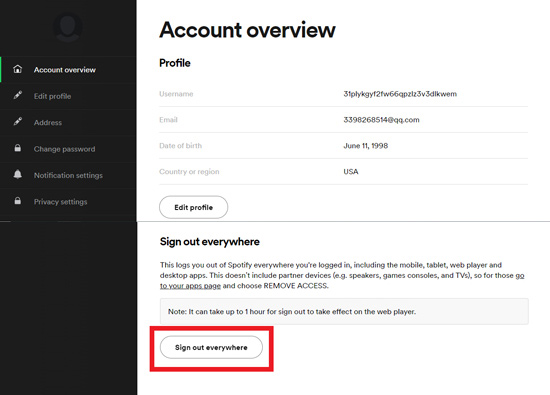 Step 1. Go to Spotify Account Overview webpage via a web browser on your device.
Step 2. Scroll down to the bottom at the Account Overview section. Then choose 'Sign out everywhere'.
After logging out of Spotify on different devices, you can then log in to your Spotify account again to see if lyrics on Spotify will show or not.
Fix 3. Clear Spotify App Data and Cache
In the Spotify app on your device, go to the Settings section and then you can hit on 'Clear cache' button under 'Storage'. Later, you will delete cache from Spotify app.
Fix 4. Uninstall and Reinstall Spotify App
Uninstalling the Spotify app on your device and then reinstalling it again is also way that you can try. Please go to uninstall Spotify app from your desktop or mobile device first. Then re-download and reinstall it at once and check if Spotify lyrics shows when playing a song.
Fix 5. Use Third-party Tools to Add Lyrics to Spotify
You can try to use some third-party tools to get lyrics on Spotify. To do that, you can try SoundHound, Genius and Musixmatch. You can connect your Spotify account to them and continue to load Spotify lyrics when listening to a song.
Fix 6. Contact Spotify Customer Service
If you still can't get lyrics for Spotify songs by the fixes above, then you can go to contact Spotify support team for further assistance. You can head to Spotify Support webpage and then contact them via email, Twitter or Spotify Community.
Part 4. How to Download and Play Spotify Music with Lyrics
In this part, we will show you an ultimate way to show Spotify lyrics while playing music. To do that, you need to get help from a third-party tool called AudFree Spotify Music Downloader.
This smart tool is completely safe and clean, so you can use it with ease. It offers 2 main functions: download Spotify songs as local music files and convert Spotify music to MP3, AAC, WAV, FLAC, M4A and other common formats. Every converted Spotify stream will keep the original sound quality and entire ID3 tags, such as artists, albums, album art, and so forth. With the help of this tiny but powerful program, you are able to download any favorite Spotify song for forever collection. And then you can use other tools to help get Spotify lyrics.
There are 2 versions of AudFree Spotify Music Converter. The unregistered version only supports to convert 1 min of each Spotify song, while the registered version can accommodate full Spotify song. In the following tutorial, we will take the registered version as an example to show you how to download and use Spotify lyrics.
Step 1

Choose and import Spotify music to AudFree

Install and open AudFree Spotify Music Converter on the computer. Then the Spotify desktop app will automatically launch. On the page of Spotify, select the songs that has the problem of lyrics not working. Then drag and drop the song to AudFree's interface. If you want to load an entire playlist, it is more convenient to copy the URL and paste it to the search box in AudFree. Then hit the "+" icon.
Step 2

Change the output settings as you prefer

Click the menu icon on the top side menu list. Open "Preferences" and choose the "Convert" part. There are many output parameters for you to reset, including formats, bit rate, sample rate, etc. It is suggested to choose MP3 which is the most compatible format. Please remember to save the changes by hitting on the 'OK' option.
Step 3

Convert Spotify music to get lyrics

Now, you can click the "Convert" button to start converting. The phase will last some time, depending on the number of tracks and the network speed. Wait until the process finished. After that, you can check the "History" icon to locate the converted files.
Step 4

Use the SoundHound app to see lyrics

Download and open the SoundHound app on your computer. Start playing the converted Spotify tracks out loud. Then turn to SoundHound and tap to detect the song that is playing. Or you can directly search for the track that you want to view the lyrics. The lyrics will show on the screen and scroll along with the music.
Part 5. In Conclusion
Here you have learned how to look at lyrics on Spotify on PC, Mac, Android, iOS, and smart TVs step by step. Also, you got solutions to fix Spotify lyrics not working issue. Besides, you can download Spotify songs to computer via AudFree Spotify Music Converter. Then you can use other tools to show lyrics of Spotify song. Not only that, you can transfer the converted Spotify music files to other devices and platforms for offline listening with ease.