"Hi! I just woke up only to find out that my Spotify liked songs are not showing. I'm so annoyed. Can someone please help me out?"
Apparently, many Spotify users experience the "Spotify liked songs not showing" issue after updating their Spotify app. When this happens, users are met with a blank playlist, even if they try to refresh the page. If you skim through the Spotify community forums on the internet, you will find that many people have this same problem. And currently, there is no official announcement from Spotify about this matter.
So, what can we do to fix it? If you have encountered the above dilemma, we are here to help you! In this article, we will attempt to establish the causes for liked songs not showing up on Spotify and furnish you with some solutions that might help you fix the problem.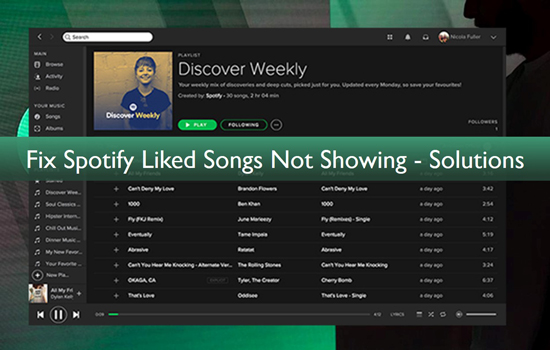 Part 1. Why Are My Liked Songs Not Showing on Spotify?
There could be a couple of reasons why your liked songs are not showing up on Spotify. We have listed some of these reasons below:
Virus Attacks: One of the most common reasons for the "liked songs not showing Spotify " error is a virus attack. A virus or malware can easily corrupt your Spotify files and cause this error.
Expired Subscription: If your Spotify Premium subscription has expired, you will not be able to see your liked songs. In this case, you will have to renew your subscription.
Internet Connections: If you are using a spotty internet connection, it could be the reason for your problem, as a bad internet connection can interfere with how Spotify syncs your data.
Deletion: It is also possible that someone has deleted your liked songs by mistake.
Part 2. Solutions to Fix Spotify Liked Songs Not Showing
Now that we have looked at some of the reasons why your spotify liked songs not showing on phone, it's time to look at some of the solutions below for your reference.
Solution 1: Check Your Internet Connection
As we mentioned earlier, one of the reasons why your liked songs might not be showing is a bad internet connection. Therefore, you should first check your internet condition and ensure it is working properly.
If you are using a Wi-Fi connection, try restarting your router and see if that fixes the problem. For mobile data connection, make sure you have enough data left.
Solution 2: Renew Your Subscription
Also, your favorite songs may fail to appear because your subscription has expired. In order to fix this issue, you will have to renew your subscription.
To do this, open the Spotify app and click on the "Account" tab. Then, click on "renew my subscription". If you are using the Premium version of Spotify, make sure your payment method is up to date.
Solution 3: Uninstall and Reinstall Spotify App
If the solutions above don't work, try uninstalling and reinstalling the Spotify app. This will help to get rid of any corrupted files that might be causing the problem.
To do it better, go to your "Settings" and click on "Apps". Then, find the Spotify app and click on "Uninstall". Once the app has been uninstalled, visit the Spotify website and download the latest version of the app.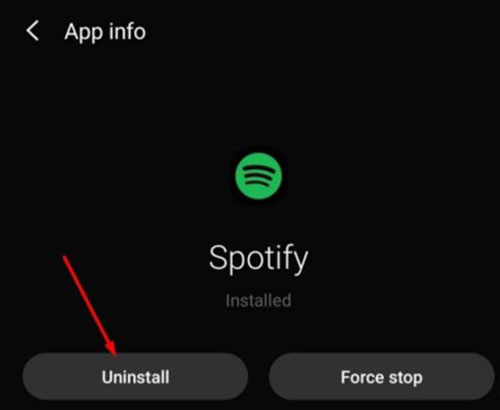 Solution 4: Use a Different Device
If you are still having problems, try using a different device. If your liked songs are showing up on another device, it is most likely that something is wrong with your current device, not Spotify.
Part 3. How to Fix Spotify Liked Songs Not Showing Forever
In general, coming up with a Spotify playlist of songs you like requires a premium account. This means that if you are using a free account or your premium account has expired, you will not be able to see the songs you like. Also, more often than not, you will be unable to access the playlist, especially if you do not have an internet connection.
In essence, there are many limitations to accessing your liked Spotify playlist. In this instance, we would like to introduce you to an ultimate solution that will help you fix Spotify not showing all liked songs problem forever. This method requires you to download your favorite Spotify playlist for offline use at all times and places. However, downloading Spotify music is daunting, especially with Spotify download restrictions.
Fortunately, AudFree SpoDable is the perfect solution to this problem, it is dedicated to download any Spotify songs, playlists, albums, etc. for offline playback without Spotify Premium. More importantly, it can convert Spotify songs to MP3, FLAC, AAC, WAV, etc. and thus successfully help you get rid of Spotify's protection restrictions. Just follow the steps below and you can easily download your favorite Spotify music locally without worrying about Spotify not showing liked songs.
Tutorial: How to Fix Spotify Liked Songs Not Showing via AudFree SpoDable
Step 1

Download and install AudFree SpoDable

Before learning how to downlaod Spotify songs without premium, please install AudFree SpoDable on your computer first. There are two versions available: one is for Windows and the other for Mac. Just choose the right version according to your computer system.
Step 2

Add Spotify liked songs to AudFree SpoDable

Launch AudFree Spotify Music Converter, and it will load the Spotify app automatically. Then go to 'Library' and drag & drop any song, playlist or album from Spotify into the main interface of AudFree SpoDable. Or you can copy and paste the song's URL onto the search box and click on the "+" button to import songs from Spotify.
Step 3

Set output parameters for Spotify liked songs

Click on the main menu bar, select "Preferences" > "Convert", and a pop-up window will show up where you can choose the output format, audio channel, bit rate, sample rate, and more. In normal circumstances, we recommend you to set MP3 as the output format since it is widely used.
Step 4

Download Spotify tracks for offline listening

Click on the "Convert" button at the bottom right corner to download songs from Spotify. Once the conversion process finishes, you can find all converted Spotify songs by clicking on the "History" button.
Now you can add these downloaded MP3 files to any device and play them offline without a Spotify Premium account forever. Moreover, you can also create a new playlist with these Spotify liked songs and listen to them whenever you want.
Part 4. In Conclusion
That's all for how to fix Spotify liked songs not showing problem. As you can see, with AudFree SpoDable, you can download and keep Spotify music forever for offline playback without any restriction. Moreover, it can also convert Spotify music to MP3, FLAC, AAC, WAV, etc., and play them on any device you want. Download the app today and enjoy a lifetime of offline Spotify music.